Luckily, these days a vegetarian restaurant is never far away, especially in Barcelona! This city adds a vegetarian twist to some wonderful Catalan dishes and are considered some of the best in Spain. The restaurants below offer modern and exciting gastronomy in lovely, atmospheric spaces.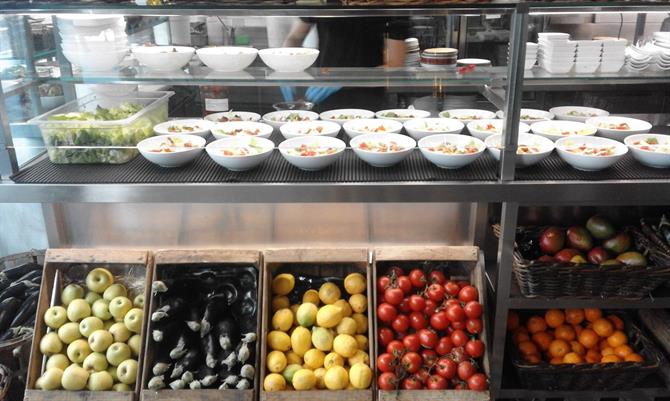 In Barcelona´s vegetarian restaurants you will find a wide selection of dishes made with delicious, locally grown ingredients and healthy juices of all flavours. Here, we have chosen to list six of the most centrally located and top quality vegetarian restaurants and with prices ranging from budget to luxury, a visit is a must for everyone during your holiday.
Espai Mescladis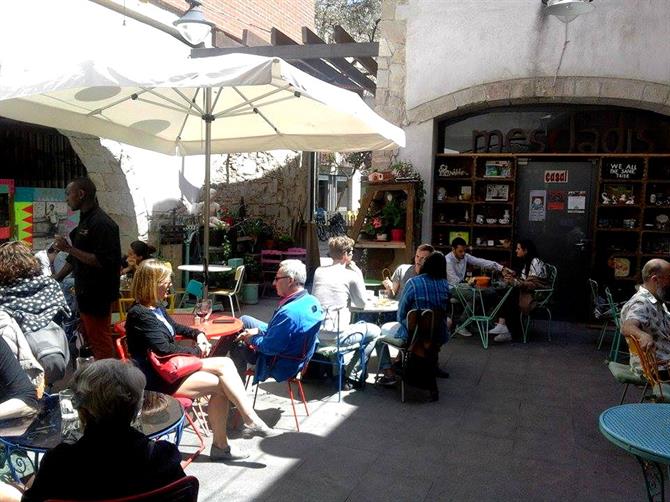 Espai Mescladis prides itself on providing organic, fair-trade and locally grown produce. The wonderful restaurant which offer a pretty, private terrace is located in the heart of the El Born neighbourhood and is always jam-packed when the sun is shining.
Dining at this restaurant gives you the feeling that you are enjoying a meal out in the quiet of the countryside, away from the noise and stress of the city. It also has a book and games shelf for those who want to stay here and relax a little longer.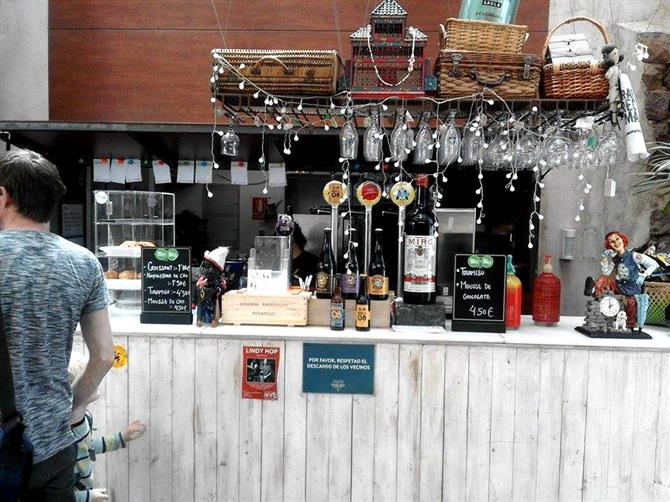 The menu here is a delicious mix of both vegan and vegetarian options. Lunch is served for 12,90€ and main courses are from 6€ - 9€. On the menu you will find all sorts of tasty treats like lentil salad, vegetarian quiche, veggie burgers and of course, you can also order a beer or glass of wine.
Address: Carrer dels Carders, 35, 08003 Barcelona, Spain
Opening hours: Sunday to Thursday, 10:00 - 22:00 and Friday to Saturday, 10:00 - 24:00
Rasoterra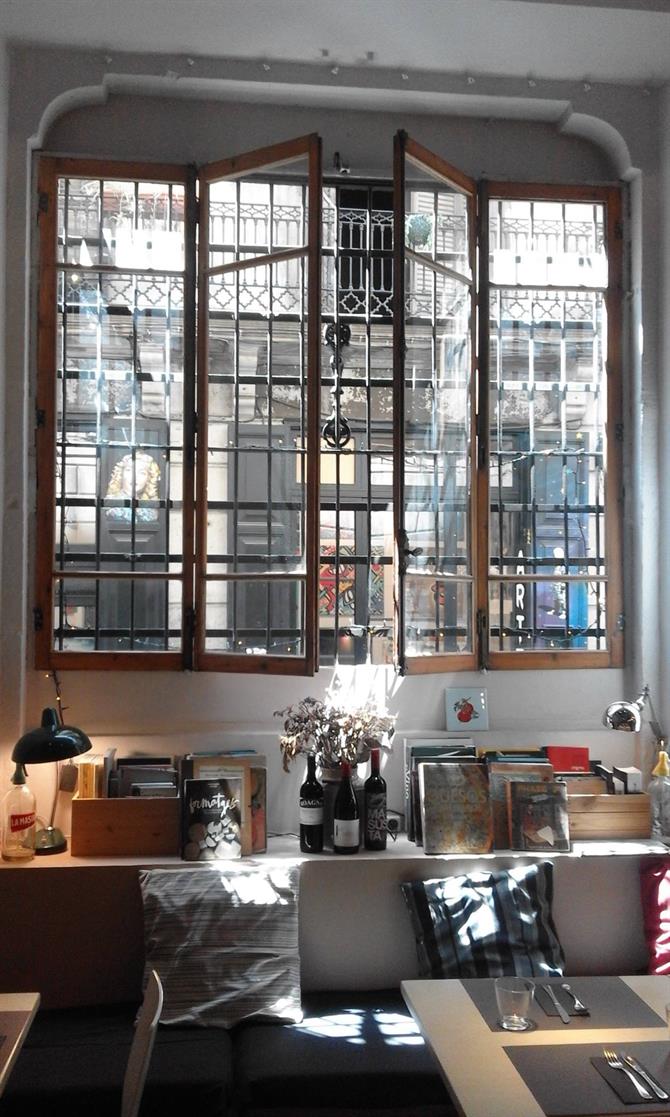 Welcome to one of the most popular vegetarian restaurants in the whole of Barcelona! The kitchen at Rasoterra uses only locally grown vegetables from the Barcelona area to make irresistible homemade ravioli and paella, plus a classic Catalan menu featuring exciting seasonal dishes. The Menu del Día (menu of the day) costs between 10€ and 12€.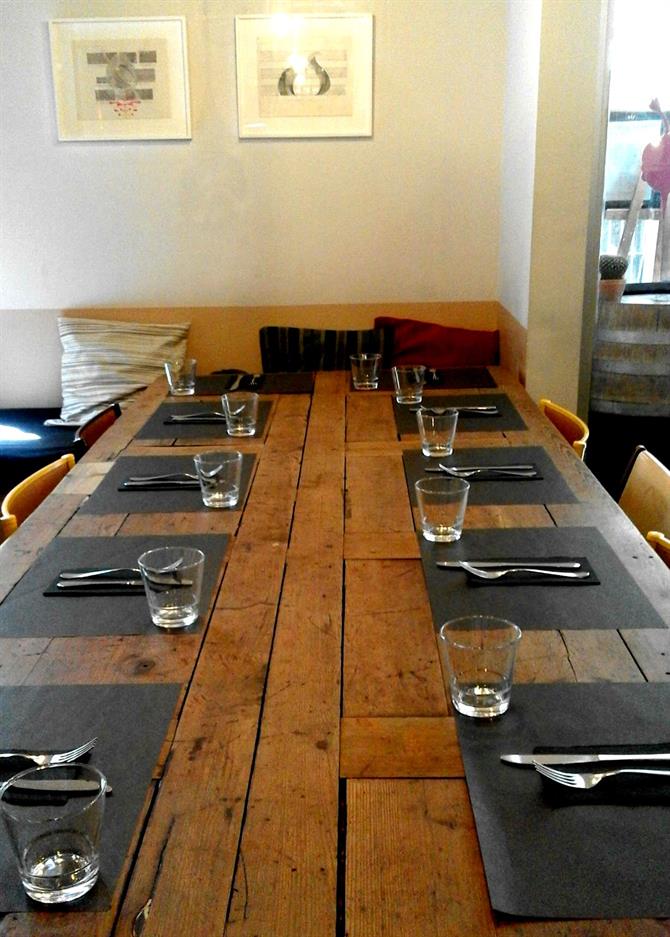 Rasoterra is located in a small, light space on a discreet street by the Plaça Sant Miquel which is located in the bustling Gothic Quarter. Its large, beautiful windows let in generous amounts of sunlight and the restaurant has a clean and minimalistic style. You can also drop by here to enjoy Belgian beer and organic wine.
Address: Carrer Palau, 5, 08002 Barcelona
Opening hours: Tuesday to Sunday, 13:00 - 16:00 and 19:00 - 23:00
Teresa Carles
Teresa Carles is a luxurious restaurant which offers visitors a wonderful experience with good food and friendly staff all set in an airy, elegant room. At the entrance to this restaurant, the windows offer views of the kitchen and decadent displays of fresh vegetables and juices.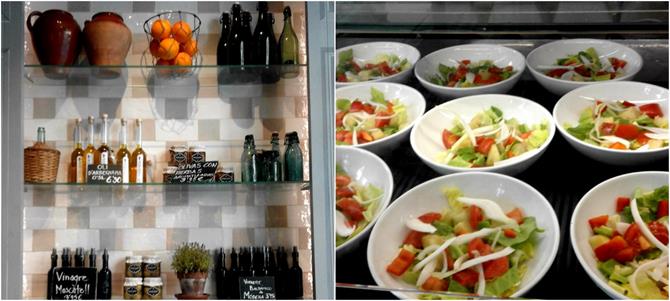 Try one of the healthy fruit and vegetable juices here with names like Virus Killer, Recovery Party and Vegan Vampire. The drinks menu here is a fascinating concoction of cold-pressed juices and purées, veggie-nut "mylks", healthy smoothies and wellness elixir shots. If you fancy a meal to go with your juice, lunch costs around 10€ - 15€.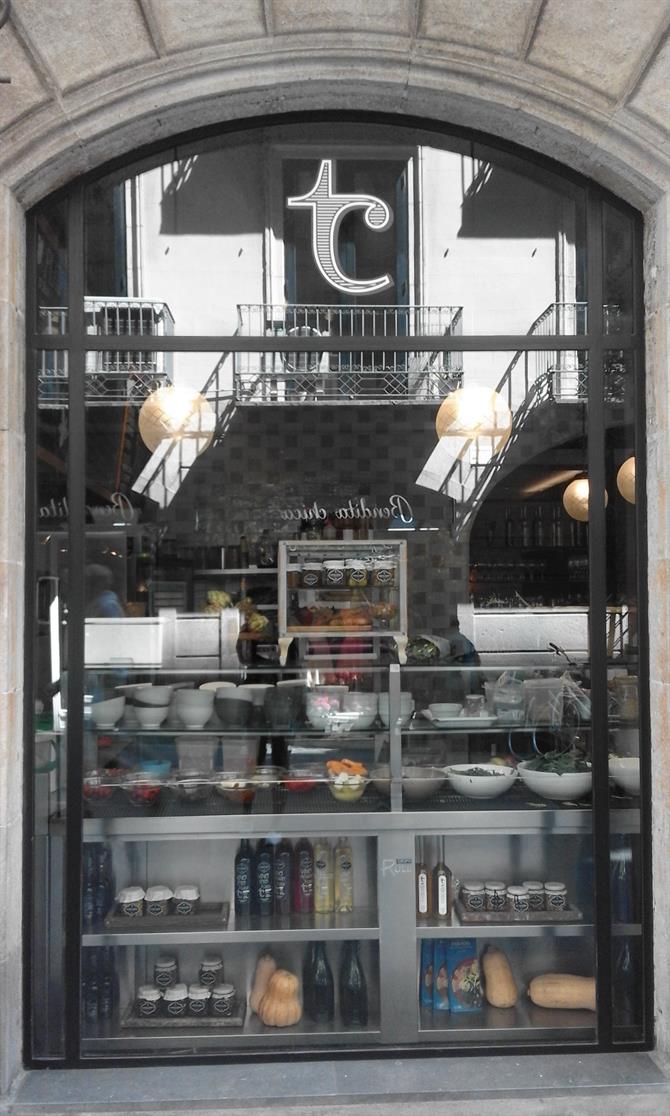 This restaurant also offers varied menu with plenty of vegetarian and vegan options and they also serve tapas and other snacks. Be sure to take a look at their wine list as well! Find this restaurant on a small side street between Plaza de Catalunya and Universidad.
Address: Jovellanos 2, Arago - Tallers, 08001 Barcelona
Opening Hours: Monday to Sunday, 9:00 - 1:00
Flax & Kale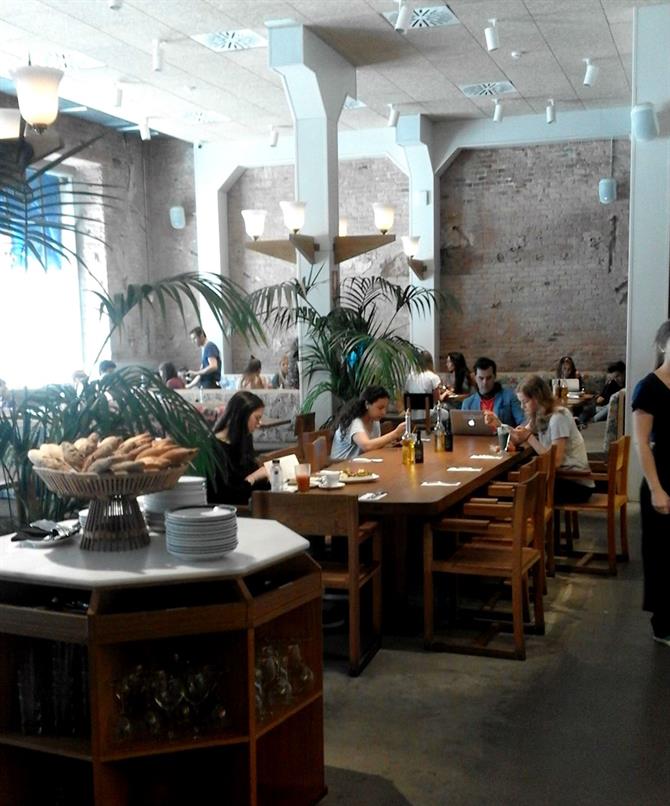 This bistro-style restaurant offers beautiful, simple dishes made from locally grown produce. The room is spacious and bright with an open kitchen and offers a varied menu with starters like kale chips for 3,50€ and the meze platter (a mixed sharing platter of crackers, hummus, quinoa and salad) for 20€. For main courses choose between delectable delights like vegan lasagna and vegetarian red curry.
The main dishes are priced around 15€ and they also serve a selection of nutty and fruity desserts, perfect for the sweaty explorer. There is a large outdoor area which is perfect for relaxing and cooling off in the shade after exploring the hot city.
Flax & Kale offers excellent service and a tasty experience. The restaurant is centrally located between the MACBA (Museu d'Art Contemporani de Barcelona) and the metro station Universitat.
Address: C / Tallers 74B, 08001, Barcelona
Opening Hours: Monday to Sunday, 10:00 - 23:30
La Cereria
This pretty, artistic venue has a relaxed, retro vibe which you will either love or hate. Charming jazz music is streamed into a dimly lit room filled with artwork, paintings and instruments.
Try their lunch menu which consists of three vegetarian dishes for just 12,50€. You also have the option to go vegan, so just ask the staff who all speak a good level of English and are very accommodating. La Cereria has a homely, welcoming feel so you can come here and enjoy homemade gazpachos and soups in a warm and peaceful environment.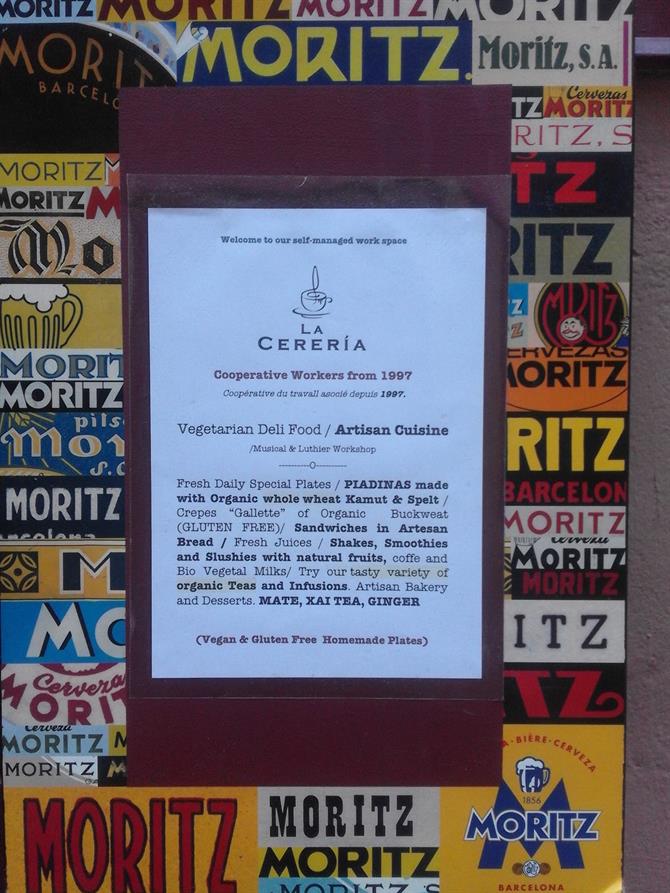 If you aren´t hungry, you can always drop by for a beer or two. The restaurant is located in the Gothic Quarter, in Plaça Sant Miquel.
Address: Baixada de Sant Miquel, 3, 08002 Barcelona
Opening Hours: Tuesday to Saturday, 13:00 - 00:00 and Sunday, 13:00 - 20:00
Sesamo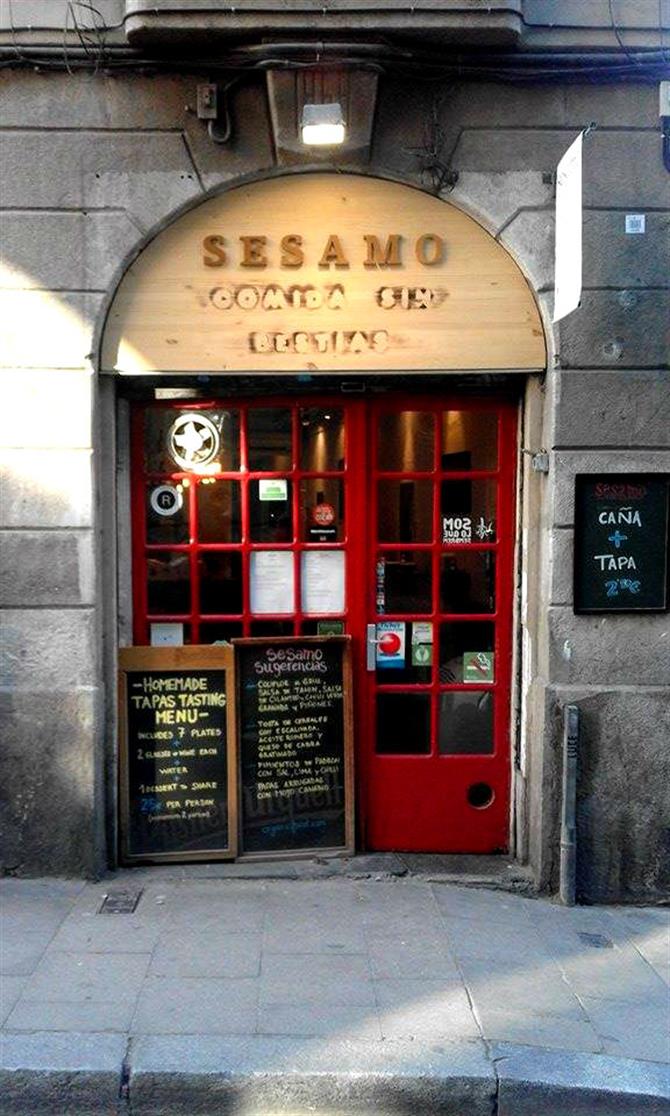 The quaint, intimate restaurant is the perfect location for couples and small groups. The majority vegetarian menu is short but interesting but also offers a few vegan options, with Indian influences, gluten free options and of course, delicious tapas. One of their most popular meals is the seven course dinner which costs just 25€. Apart from that, there are plenty of salads for 6€ - 13€ and main courses from 6€ to enjoy.
This restaurant has an unassuming exterior but an intimate interior. Here, you can enjoy a quiet date without being interrupted by the noise or presence of too many bodies.
Address: Sant Antoni Abat, 52, 08001 Barcelona
Opening Hours: Saturday to Sunday, 20:00 - 00:00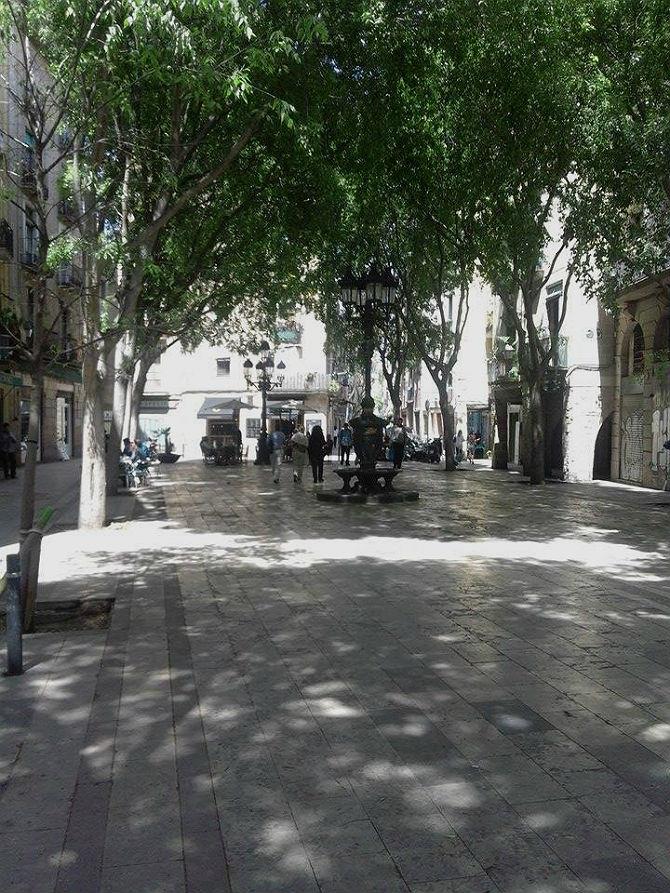 All of the restaurants featured on this list are officially considered vegetarian, but many of them also serve vegan food. You just need to ask. If you want to know more about the specifically vegan options available in Barcelona, then take a look at our list of five vegan restaurants in Barcelona.
Typical of this wonderful city, in Barcelona you can enjoy a high quality dining experience, with pleasant staff and beautiful locations without missing out on great food, taste and enjoyment.