Once the centre of aristocracy during medieval times, Born (sometimes called "El Born") is one of the most fashionable places to hang out in Barcelona. Artists and entrepreneurs make their marks here while hanging out in its chic fashion boutiques, trendy cafes, or just having a smoke in its quaint plazas.
The essence of Born is its narrow, winding medieval stone streets — you can't help but wonder if you'll discover a new artsy gallery or chic designer shop every time you turn a corner.
Parts of Born are quiet, and trendier areas stay alive well pass the wee hours. It's no wonder it's become one of the most desirable and most expensive places to live in Barcelona, especially for the young folks who thrive in its constantly buzzing energy.
History of El Born
Because of its proximity to the port, traders lived in this area and gained wealth during the medieval period. They built lavish palaces which still currently line the street of Carrer Montcada.
A centre of medieval activity, Born even inherited its name from the word "jousting field" a historically popular sport. Life was prosperous until the 16th century when Mediterranean trade crashed, and much of the neighborhood was torn down by Felipe V.
The area was renewed in the 19th century, but overcrowding and poor living conditions became rampant after the 1929 Barcelona Universal Exposition. When the city council overhauled the city in the 1980s, Born started emerging as a trendy neighbourhood, showing more popularity in the last decade.
What to check out
El Born Cultural Center (Mercat del Born)
This 1870 Moderniste masterpiece was Barcelona's primary wholesale food market, but it closed in the 1970s when the market moved to Zona Franca. It endured 42 years of inactivity after indecision of its use. With plans to finally make it a library in 2002, it was learned that Roman ruins existed underneath the building. Plans changed, and it was then converted to be the cultural center that it is today.
The center has a full agenda of activities, where you can learn about Catalan language, literature, music, film, and more. But just go inside — the ruins take center stage, but the main highlight is the glass and wrought-iron interior, beautifully designed and preserved.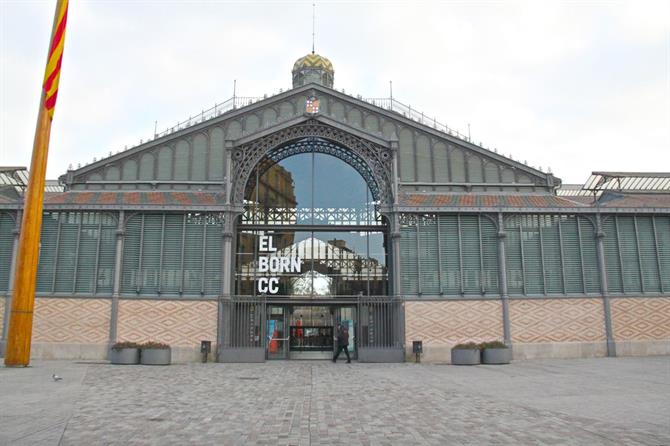 Passeig del Born
It's the most lively promenade of El Born, where strolling folks shoot the breeze or enjoy a meal during the day. And at dusk, it's the heart of Born's vibrant nightlife at its packed bars and restaurants. It's hard to imagine that in its olden days, jousting tournaments were held here. And on a dark note, heretics were even burned in this spot during the Inquisition.
Basilica de Santa Maria del Mar
You may have heard of the famous novel "La Catedral de Mar" by Ildefonso Falcones, which is based on this 14th-century church. The interior is all dark, somber, yet breathtaking for its Gothic style of airiness and grandeur. And its grand size makes a bold statement in the middle of its surrounding tight streets of a raucosy Born. If you're lucky, you'll catch a wedding here, where newly-happy Catalan couples emerge from its Gothic doors looking like majesty. (Even wedding guests are dressed to the nines.)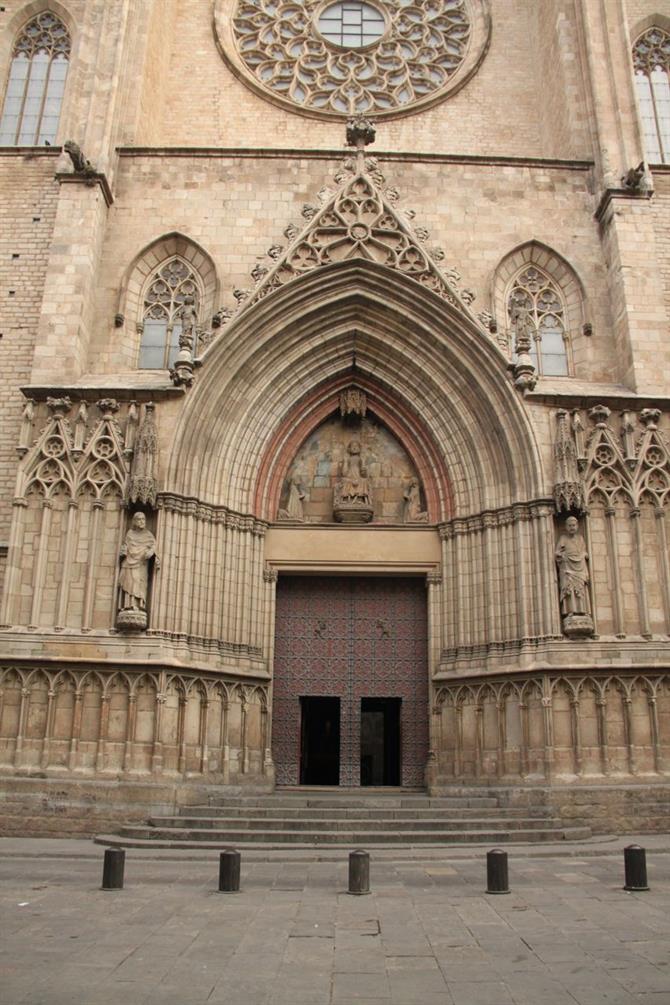 Fossar de Les Moreres
When you're walking by the Basilica de Santa María de Mar, you'll notice people stopping to read the inscription on this tall monument. Look up, and you'll notice a flame — it's constantly lit to commemorate the last defenders of Barcelona, who were executed by the Spanish army in 1714 in that very spot. People didn't warm up to the monument at first; nevertheless every September 11, Catalans gather here in proud, warm patriotism to honor their past fallen brothers and sisters that fateful day.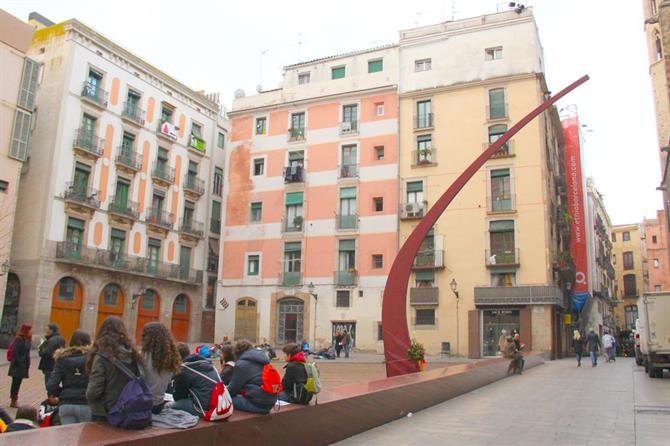 Picasso Museum
Tucked in the narrow street of Calle Montcada are the works of Pablo Picasso, undoubtedly on of the most renowned Spanish artists. The museum takes up five palaces on this block where mid-century bourgeoisie had their heyday. Explore inside, and you'll see gorgeous stone courtyards and staircases. The museum shows Picasso's early work, for what's seemingly elementary sketches and oil paintings, to his final works of his famous doves and animal-themed ceramics. Plan to arrive when it opens or risk waiting in a long queue.
Arc de Triomf
It's hard to miss this smaller structure of Paris's Arc de Triomphe, which stands proudly on Passeig Lluis Companys. It was built for the 1888 Barcelona World Fair and makes for a great backdrop for your next selfie in Barcelona. Head here, and take a walk on its wide promenade, where bikers, skaters, gigantic bubble makers, and everyone else enjoying the space.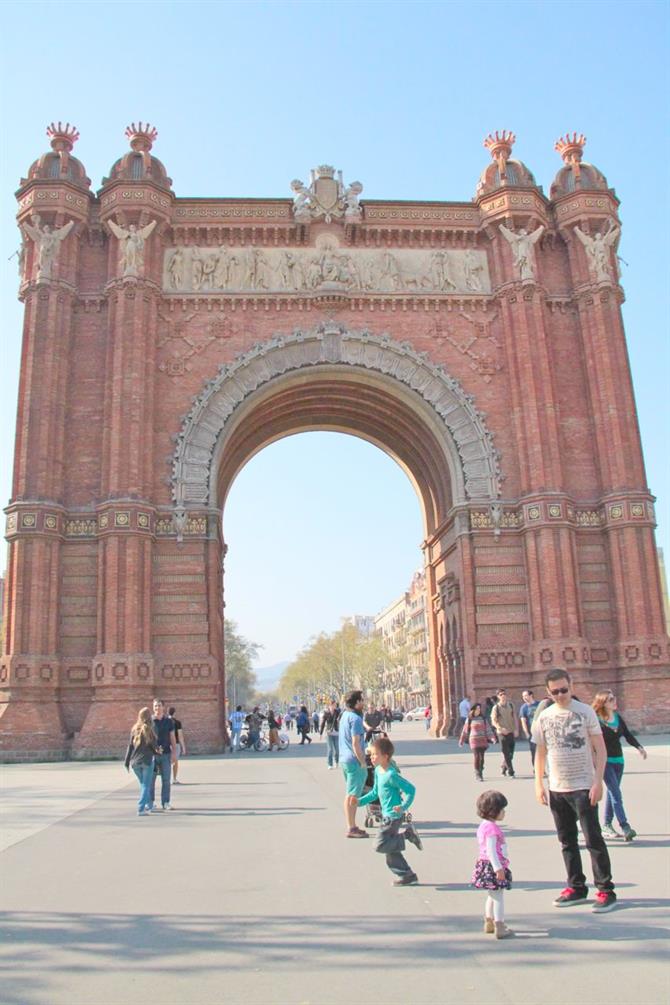 Parc de La Ciutadella
Unequivocally the largest and most green area of central barcelona, the Parc de La Ciutadella has acres of green grass, a small lake for rowboats, a gorgeous waterfall, and several spaces for sports activities. You can read more on the
Parc de La Ciutadella here
.
Where to Eat and Drink
Cafe El Magnifico
Coffee purists, this is for you. And by purists, I mean you know the uses of an aeropress, syphon, or Chemex. Being called as "having the best coffee in Barcelona",, this little cafe has been here since 1919, and it's no wonder it has staying power — their espressos go down smooth. They have over 40 types of beans available, and they even roast their own beans. Plus you get a small cookie with each drink. There aren't any tables to sit at, just a few benches to sip and enjoy. Salut!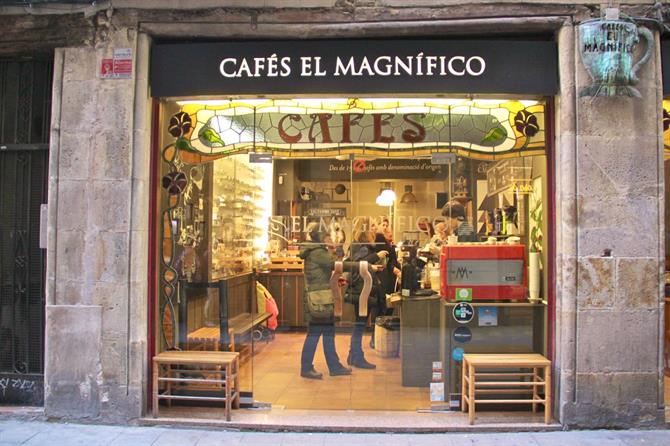 La Paradeta
Before farm-to-table was a "thing", fish-market-to-table was (and still is) a one-of-a-kind concept in Barcelona. You order your calamares, prawns, squid, or whatever seafood you fancy as if ordering from a fishmonger. They weigh your seafood for you, then you take a seat in their cosy restaurant area while those babies cook. There aren't any waiters, so it's all self-service in a relaxed and casually loud environment. This joint fills up fast, queues often go out the door. So come early!
El Xampanyet
Here's another crowd-pleaser with tourists and locals. Perhaps its their delectable tortilla de patatas, smoked bacalao, or mouth-watering anchovies. Of course, you must order it with the house cava to wash it all down. The restaurant boasts a classic Spanish restaurant atmosphere: marble tabletops with Spanish tiled walls, all while waiters yell out orders. And it's all a few steps from the Picasso Museum.
More information