Bike lovers want only the best for their two-wheeled babies, and European countries are becoming more and more bike friendly. While bicycle culture hasn't completely broken through in southern Europe quite yet, select cities are leading the way.
In
Spain
, especially in
Barcelona
, people are becoming aware of how important bikes are to daily transportation. Locals can be seen racing to and from work, their studies, or to daily errands on their own bicycles or
Bicings
, Barcelona's city bikes with stations on every other street corner. With the bicycle scene growing steadily,
rental shops are opening so that tourists can experience the city on two wheels too
. But, caring for a bike can be a little difficult when bike racks are virtually nonexistent.
Fixed Lover understood the issue and decided to help out in a creative way. Read on.

Fixed Lover's 'Fixlosofia'
So what do you do when you repeatedly get confused looks and "no's" when you politely ask if you can take your bike inside a café, bar, or restaurant? Either ride on, defeated, or take action.
Guillem Carmona and Lara Turon, Fixed Lover's t
wo bike-loving Catalans, chose the latter.
They have loved bicycles since they were children, Guillem explains, "today we have more bikes than shoes at home." In 2014, they launched the website Fixed Lover to provide an overview of restaurants and bars where you're allowed to bring your bike inside. The idea behind their 'Fixlosofia' is quite simple: to make it easier to be a cyclist.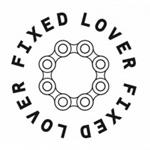 But which bars are involved? Where can you eat and enjoy great beer or freshly squeezed juices without absolutely having to leave your bike at home, or worse, unlocked on the street? Let's get to know seven of a wide range of Barcelona cafés, bars, and restaurants where you can safely bring your precious fixie or well-loved bicycle inside.
Each participating bar has a Fixed Lover decal, pictured above, pasted in their window. Below we tell you a little about seven bike-friendly locations, but remember that there are
lots more great spots on fixedlover.com
. Check them out!
Pudding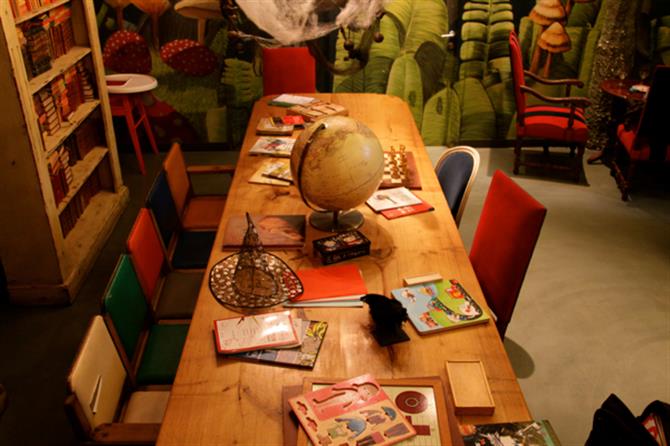 This flashy and colourful café is a different, cozy and a totally ideal place for children and young people to have fun. The café's motto is 'eat - play - think' and it holds various activities that allow youth and students to strengthen their skills in areas such as science, history, and literature. Pudding will also care for children over the age of six if you have made a reservation for breakfast or merienda (a light meal in the late afternoon), so that you can leisurely enjoy your meal, while the little ones are entertained at a large table in the café.
Information:
c / Pau Claris, 90
Barcelona 08010
Tel.: +34 936 76 10 25
www.puddingbarcelona.com
Number of bikes allowed: 10
Granja Petitbo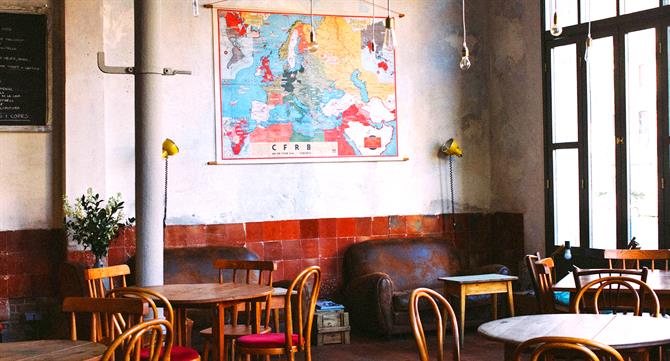 This former
early-20th-century
dairy has been transformed into a modern bistro and bakery called Granja Petitbo. Rustic bricks and large windows form the framework of this restaurant serving homemade dishes with top notch service in a cozy and comfortable environment. On the weekends, you can have their delicious brunch from 10:00-15:30 and try a range of homemade cakes, pancakes, burgers, and chili con carne, all made with organic products.
Information:
Passeig Sant Joan 82
Barcelona 08009
Tel.: +34 932 65 65 03
www.granjapetitbo.com
Number of bikes allowed: 3
A Casa Portuguesa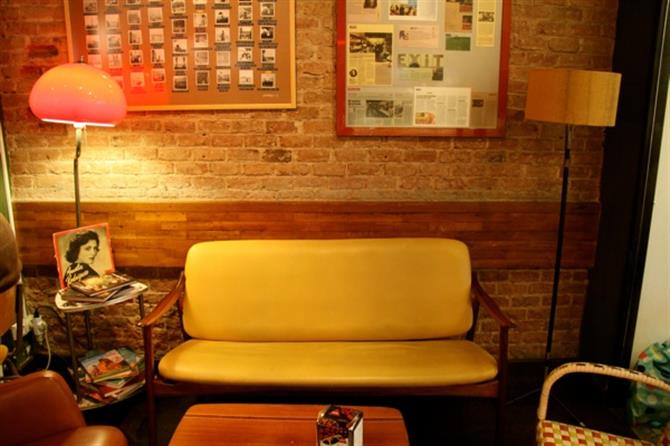 After great success with the first A Casa Portuguesa in the Gràcia neighbourhood, the owners opened a new restaurant under the same name on Carrer d'Aragó in
April 2012,
in the Eixample barrio. The concept is different from their first restaurant, as they have decided to unite a restaurant, bakery, wine bar, and gourmet coffee shop, all based on Portuguese cuisine, in one space. This includes traditional Portuguese recipes with a modern twist, as well as a choice of more than 150 wines. In addition, A Casa Portuguesa hosts a variety of gastro-cultural activities, concerts, exhibitions, special guest chefs, and tastings. Read more on their website.
Information:
c / Aragó 111 (between Villadomat Calabria y)
08015 Barcelona
Tel.: +34 932 26 25 77
www.acasaportuguesa.com
Number of bikes allowed: 4
The Bike Club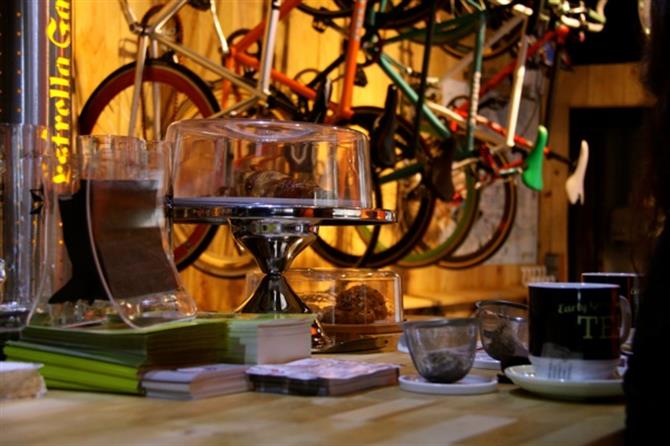 The Bike Club owes its name to a club that was founded in London at the end of last century. The club was inspired by bicycling postmen and colourful taxis that could be seen throughout the cityscape, and Barcelona's Bike Club is holding onto these roots. The place is not a typical bike shop with a business-only perspective, and the owners have worked hard to build a special place for cyclists and friends to come by to get their bikes tuned-up and enjoy a good cup of coffee. Colourful bikes and accessories hang from the walls and ceilings, and you can sit down at one of the many bar stools or at the glass table in the centre of the room. The Bike Club offers both high-speed internet and snacks, and the coffee is some of the best you can find in the city.
Information:
c / 6 Sepúlveda
08015 Barcelona
Tel.: +34 625 32 19 75
www.thebikeclub.es
Number of bikes allowed: 12
Edge Brewing
This brewery is undoubtedly a paradise for anyone who appreciates good, home-brewed beer. Scott and Alan arrived in Barcelona with the clear goal of bringing American-style craft beer to Spain. They wouldn't 'settle' for opening a bar, so they started their own brewery instead. Edge Brewing is located in Poblenou, and since opening in 2013 - due to Scott and Alan's years of experience and excellent craftsmanship - it has become very well known for its beers. While you're in Poblenou, it's also worth checking out if the
Palo Alto Market
is on - it is of Barcelona's coolest new spots.
Information:
c / Llull 62
08005 Barcelona
www.edgebrewing.com
Number of bikes allowed: 10
La Cereria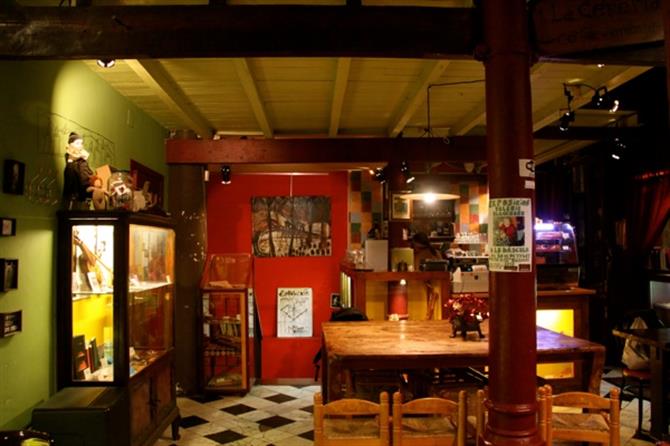 Completely hidden in the Gothic Quarter, La Cereria is a vegetarian bar that has been around since the mid-1990s. The place is co-owned by five members from different countries, and it aims to serve healthy, homemade food with quality ingredients. You can choose between vegan pizza, empanadas with vegetarian fillings, and delicate pancakes - not to mention more than 30 types of tea and freshly-squeezed juice. The service is warm and friendly, and the unique interior features colourful walls, all sorts of knickknacks, and a huge variety of musical instruments, all of which are for sale.
Information:
c / Baixada de Sant Miquel 3
08002 Barcelona
Tel .: +34 933 01 85 10
No website, email is: lacereriacooperativa@yahoo.es
Number of bikes allowed: 8
Bicioci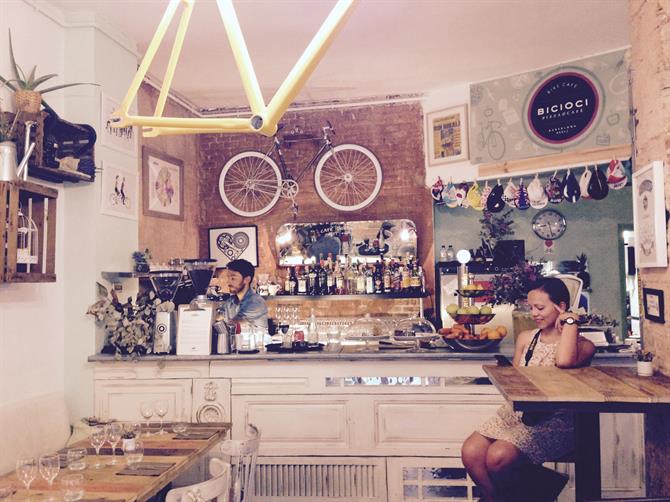 In 2014, two Italians, Andrea y Fabrizio, opened Bicioci to combine their two great passions: hospitality and cycling. You'll immediately notice their fascination with bicycles, which is reflected in both the name ('bici' = bicicletta in Italian and bicicleta in Spanish) and the decor. Bike frames and wheels hang from the ceiling, and the site is characterized by a stylish fixie with its own place on the wall above the bar. Light streams in through large windows and you're seated at huge wooden tables. The menu on the wall shows a variety of pizzas, salads, and soups. Bicioci also serves delicious homemade cakes, good coffee, and healthy juices - all delicious and reasonably priced.
Information:
c / Venus 1-3
08012 Barcelona
Tel .: +34 934 58 20 44
No website, email is: info@bicioci.com
Number of bikes allowed: 5