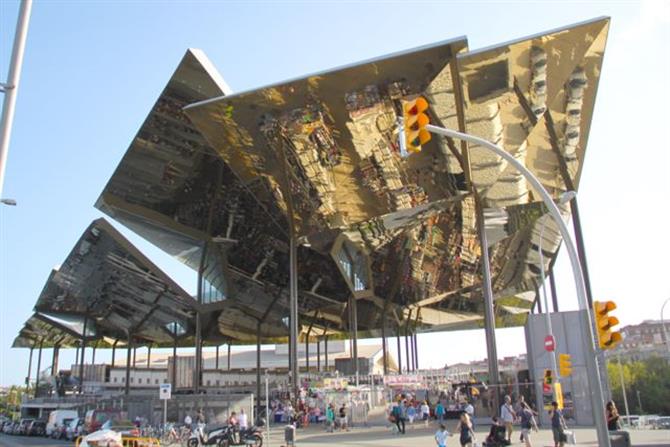 Appropriately called Els Encants Vells market, or "The Old Charms" market, this centuries-old shopping centre is a haven for bargain deals and vintage merchandise. It's also an integral part of
Barcelona's
heritage and history.
With over 500 vendors, El Encants Vells market is full of second-hand treasures like ceramic vases, crystal light fixtures, vintage books, and antique irons. You can also find new items like mattresses, electric bikes, mobile phone accessories, and underwear.
And you don't necessarily need to buy anything to enjoy this new space. Just looking at the architecture is worth the trip — the tilted, golden-hued canopy and its reflective ceiling make Els Encants Vells a modern design showpiece.
A Long-Winded History
Els Encants Vells been around since the Medieval Period in the fourteenth century. Talk about endurance.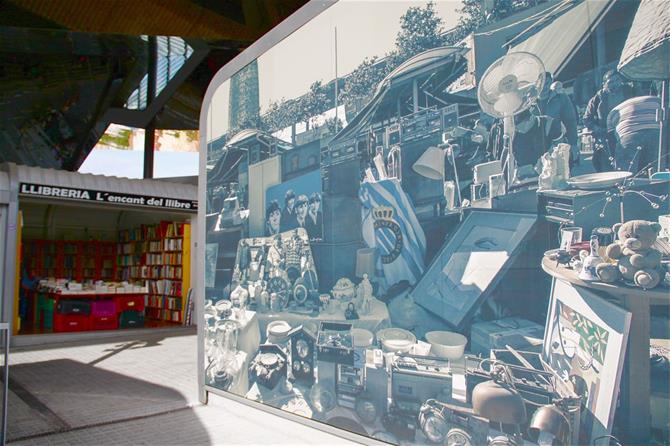 While the location of the market has changed numerous times, locals can remember its previous "temporary" location in the Encants area, which was its home for 80 years. The market was a hectic centre of activity in a gritty, marginalised neighbourhood. You had to squeeze your way through the stalls, elbowing other customers in the way. Perhaps the frenetic ambiance is what gave Els Encants Vells its unique character: its lowbrow retail space with a street edge.
The huge drawback of this area was that almost all vendors had no roof overhead. Extreme sun and pouring rain made a direct impact on sales.
That's until the city gave the market its new home in the Plaça de Les Glories a few years ago.
New Building, New Location
In 2013, Els Encants Vells opened its doors in a new building — an attractive, modernist open-sided space with easy access for vendors and shoppers. The city strategically placed Els Encants Vells into what the city has dubbed the "new" centre of Barcelona, Plaça de Les Glories.
It's the latest area of Barcelona for leisure and modern design. Nearby the market is the Glòries Centro Comercial, the DHUB Design Museum, and the curious Torre Agbar.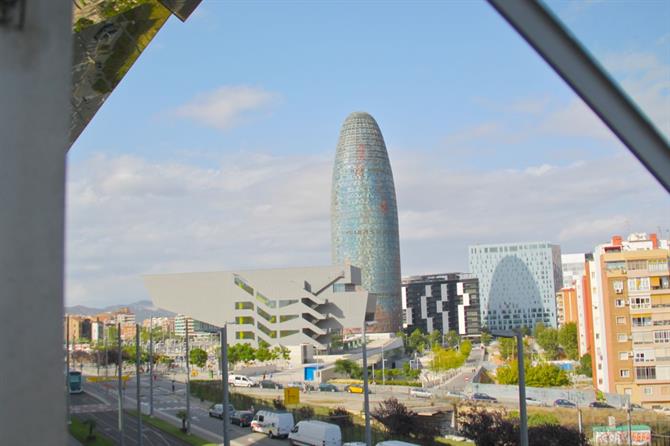 Initially, vendors and locals reacted with mixed feelings about the renovation and relocation. But one thing was clear: the weather was no longer a deterrent from keeping shoppers from shopping.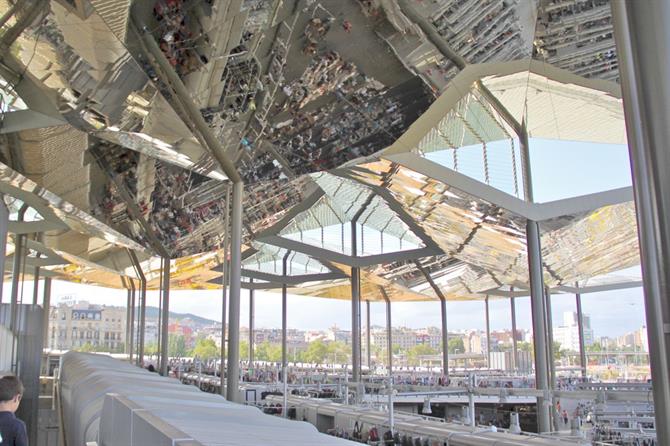 The market was built so that it was accessible on all sides. It's also built on a multi-level ramp. As you shop, you go gradually go uphill without barely noticing.
Its wavy ceiling has lots of multifaceted angles, scattering images randomly below. So you can look at yourself, vendors, other shoppers, and the busy streets outside the market.
What You Can Find Here
With 500 vendors, it's easy to find something you need.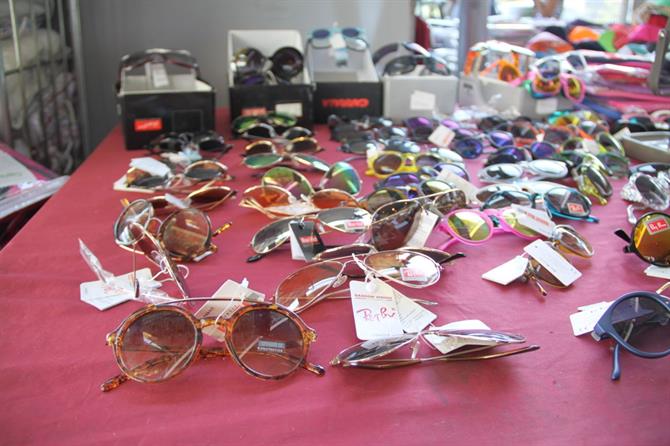 Some stalls have organized displays, and others prefer to throw everything in a pile.
If you're on the street level, you might hear a commotion coming from an unknown place, but can't figure out from where. I'll tell you — it's coming from the bottom floor, the heart of all the hawking activity at Els Encants Vells market.
Here, vendors lay merchandise on the floor and yell out deals, hoping for customers to bite.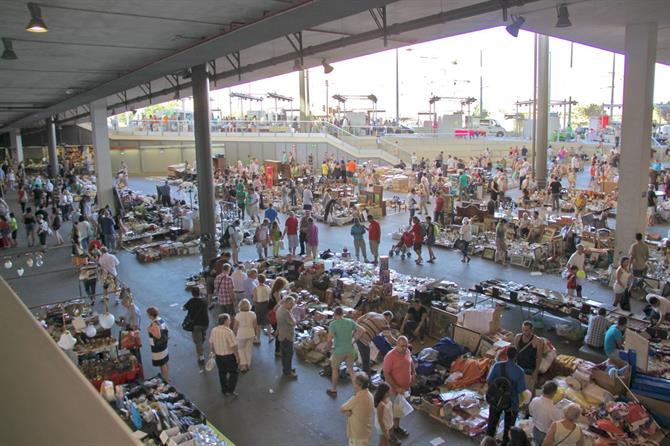 A lot of what they're selling looks like junk and is junk. So to find a treasure, you have to be diligent and have a keen eye for detail.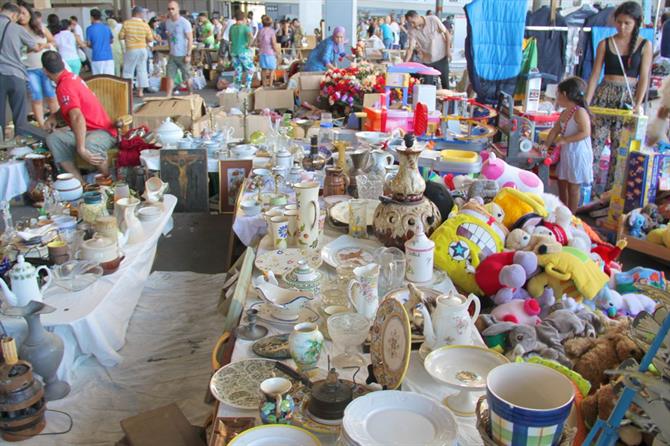 You never know, you could find a valuable antique worth hundreds, maybe.
The Auction
If you're looking for real wheelin' and dealin' in action, don't miss the public auction that takes place on Mondays and Wednesdays from 7am to 9am in the morning.
Vendors sell entire lots of goods, which, in turn, other vendors buy and try to re-sell them separately to customers like you and me. The goods are usually from homes that have been emptied, are overstock, or are merchandise from shops that have closed down.
Where to eat
Els Encants Vells has two sit-down restaurants and a small, casual food court on the top floor. There are a few tables and a lot of high bars for the standing folks who want to share a quick tapa.
Here are some recommendations:
El Mirall dels Encants.
It's a restaurant located on the bottom floor of the market. It's got a m
odern atmosphere with a Spanish twist.
They also have a 10-euro menu that has delicious tapas and
bocadillos
(sandwiches). Order the
choricitos al vino
(small sausages cooked with wine), which have a little kick to it.
Peixets als Encants.
Located in the food court, the restaurant serves seafood as the main fare. The owners also own the Kiosko Universal in the infamous
La Boquería
. Try the fried anchovies, grilled sardines, or the fish croquettes.
Shopping Tips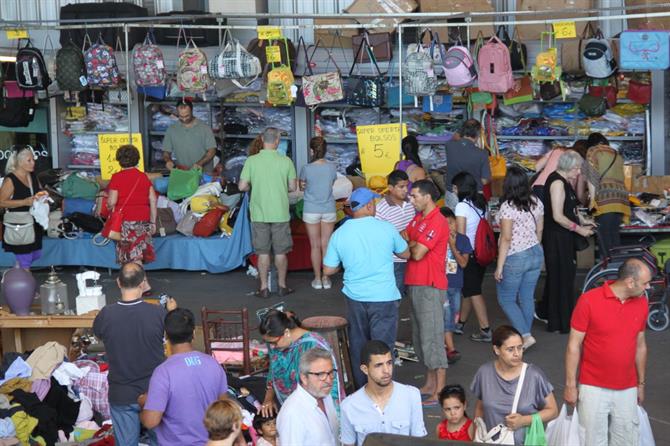 1. Bring cash. Vendors will carry change, but it's not likely that they'll accept credit card, especially on the bottom floor.
2. Don't be afraid to bargain. Let the seller name their price and offer them another deal. Then go ahead and be quiet. See what happens then!
3. Dress down. A fancy-dressed tourist is always a way for vendors to raise their prices.
4. If you're looking for a deal, get there towards the end of the day when vendors are pretty tired and ready to go home. They'll be eager to get rid of their goods. The downside is that most of the best stuff might already be taken.
Essential Information
Open Monday, Wednesday, Friday
9am-8pm
Avinguida Meridiana, 69
08018, Barcelona
E-mail: info@encantsbcn.com
Phone number: 93 246 30 30
How to get there
Nearest metro: L1 Glories, L2 Encants or Monumental
Tram: T4, T5, T6 Glories stop
Buses: H12, V21, 7, 92, and 192
At the moment, Els Encants Vells market isn't a huge draw for tourists, partly because it's set further from from the old centre. So take advantage and inhale the new design area of Barcelona. And enjoy the extra space!