A city rich in culture and variety, Barcelona offers a zillion things to do on any given day. And it doesn't have to cost an arm and a jamón leg to do it all either. In fact, the entire city is actually an open-air museum, so you could enjoy the city...for free! Just walk around, and you'll see eye-catching street art, buildings of beautifully undulated forms, or curious food markets. Here are 7 ideas of where to go in Barcelona, and you don't have open your wallet.
1.Visit the Museu del Disseny, a new meeting place for design aficionados.
It's the Design Museum in Barcelona that opened in late 2014, and it adds to the modern vibe to this "new centre" of Barcelona, the Plaça de Les Glories. The Museu del Disseny is an 8,000 square metre museum, and it combines four previously existent museums in one: the Ceramics Museum, the Decorative Arts Museum, the Textiles and Clothing Museum, and the Graphic Arts Cabinet.
The building itself is dubbed "la grapadora" (the stapler) for its somewhat similarity to the office tool. On Sundays, entrance is free from 3pm to 8pm.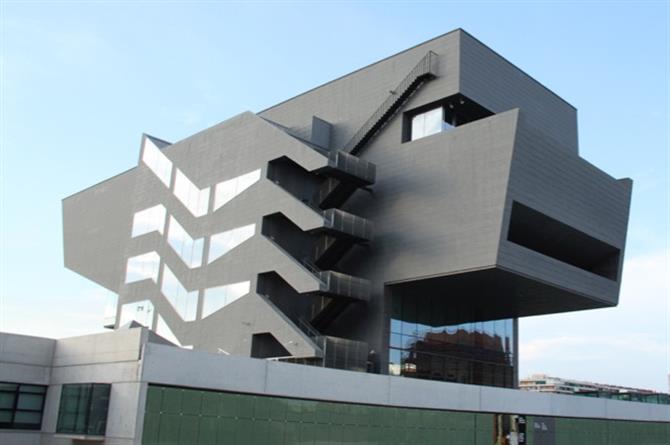 2. Visit other museums on the first Sunday of each month, free all day.
Other museums that offer a free entrance fee are a-plenty.
Palau de la Virreina. In an eighteenth-century mansion, this is the headquarters Barcelona's cultural institute. Enjoy the different temporary and cultural exhibitions on the infamous Las Ramblas.
Museu de la Musica.
With over 2000 instruments in its collection, the Music Museum also houses one of the most famous guitar collections in the world. This museum shows instruments from ancient civilisations all the way to 21st-century modern technologies. Read more about
Barcelona, the city of music
!
CCCB (Centre de Cultura Contemporánia de Barcelona). Celebrating city and urban culture, the CCCB holds thematic exhibitions, international debates, and film festivals. Situated in Raval, it's one of the most visited art centres in Barcelona.
Picasso Museum. Take advantange of this museum because the queues here are long! It has the most complete collection of Pablo Picasso's works, and it's divided into three sections: ceramics, painting and drawing, and engraving. And you can't help marvel at the beautiful architecture of the museum - they're housed in five palaces on Montcada street.
Frederic Mares Museum - Sculptor Frederic Mares donated an eclectic collection of objects this museum -- from pipes to cribs to pharmacy bottles. The treasure of the museum is its gorgeous inner courtyard.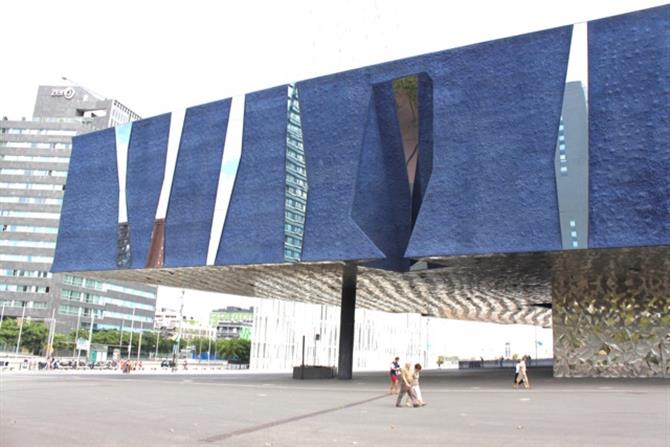 Museum Blau. The Blue Museum at the Parc del Forum is a fun science museum that combines zoology, geology, and botany. Its permanent exhibition, Planet Life, looks at life throughout history, including fossils, animals, plants and microbes. The most impressive part? The huge section of taxidermied animals behind glass.
MMB Maritim Museum. With a gorgeous collection of ships, the Maritim Museum celebrates shipbuilding between the thirteenth and eighteenth century. It's located at the end of La Rambla in the rustic building of Drassanes Reiales.
Ethnology Museum. Looking closely at the vibrant heritage of Barcelona, the Ethnology Museum has 10 permanent collections that explores the richness and intertwining of culture in folklore, once-popular professions, and cultural objects.
MUHBA Museum (Barcelona History Museum).
This museum explores the 2,000-year-old history of Roman Barcelona to the modern-day metropolis that it is today. It celebrates the Catalan heritage through visits and tours, city walks, debates, exhibitions, and more.
3. Walk around the Port Olimpic.
Barcelona's Olympic Harbour was built precisely for the 1992 Olympic Games, and it's remained to be a huge draw for outsiders. That's where you'll find Barcelona's twin towers: the MAPFRE building and the Hotel Arts. You'll also see the oversized, famous "Goldfish" sculpture by Frank Gehry. The area is an ideal place to spend an afternoon also because of its many restaurants, bars, and easy, breezy atmosphere.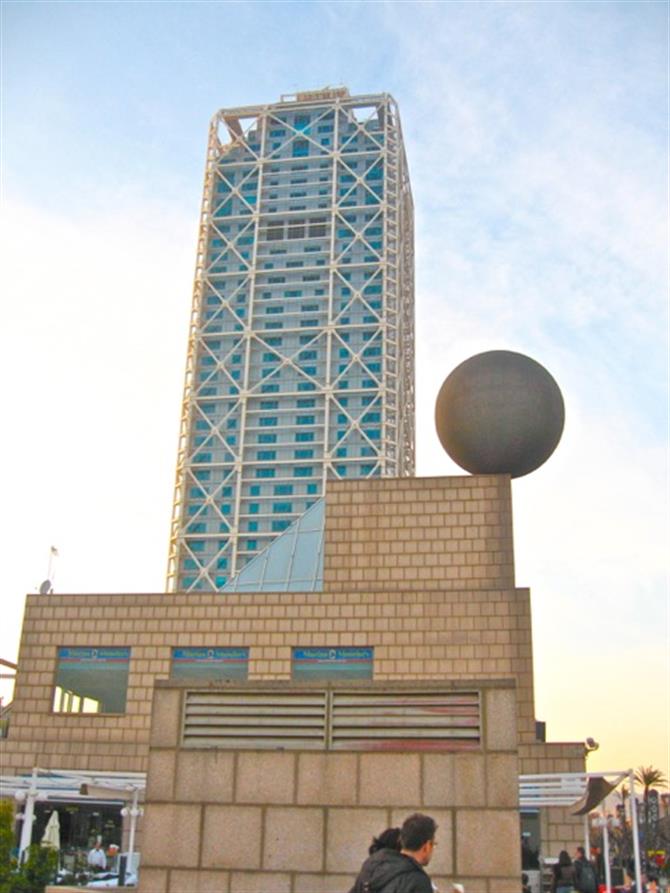 4. See the Magic Fountain near the Plaça Espanya in the evening.
Kids (and adults!) love this one. Built in 1929 for the International Exhibition, the Magic Fountain was restored for the 1992 Olympics. Every weekend, there's a spectacle of rising and falling waters, coordinated with 50 shades and hues of lights while dancing to music. You can see it from ground level but also go around the steps of MNAC. Shows start at every half-hour intervals.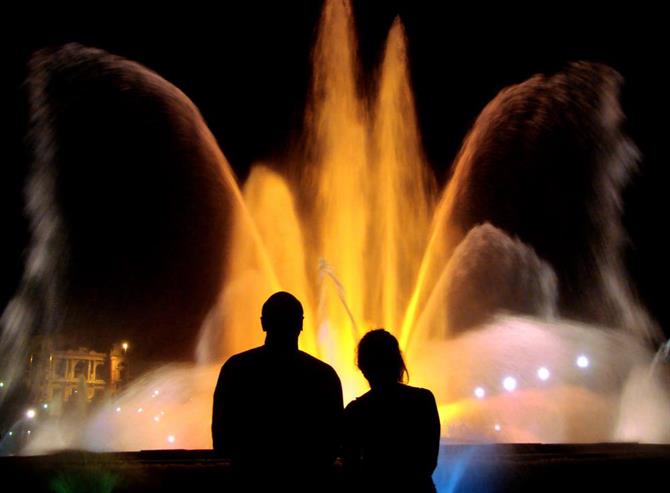 5. Take a street art tour.
Barcelona is a city of art, but we can't forget the street art of ordinary people who put their own spin of self-expression on the walls. The key is knowing where to look to find the street art, which are often found in Poblenou, Born, or Raval. Not sure where to look exactly?
Get a free tour through
Barcelona Street Style Tour
, who offer three tours: El Born & Gothic Street Art Walking Tour, El Raval Street Art Walking Tour, and Poblenou Street Art Biking Tour. Tours are in English and donations are happily accepted.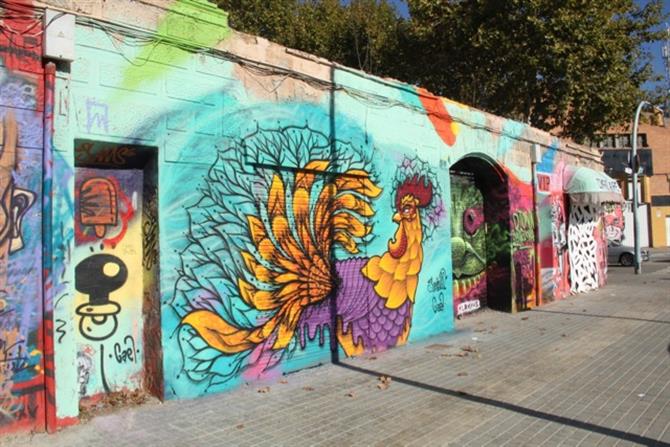 6. Walk down the Passeig De Gracia and check out the Modernist architecture.
Strolling down Passeig de Gracia is a luxurious experience, and the street is considered one of the most expensive spaces of real estate in Barcelona. Its got shopping, restaurants, museums, and beautiful Modernist building and street furniture.
It also has the Mansana de la Discordia, three consecutive buildings which are the best examples of Catalan Modernist architecture. Another Gaudí sight is La Pedrera, a curvy apartment block, which is now a cultural centre.
Even the hexagon-shaped tiles make every step of this street a treat for the eyes.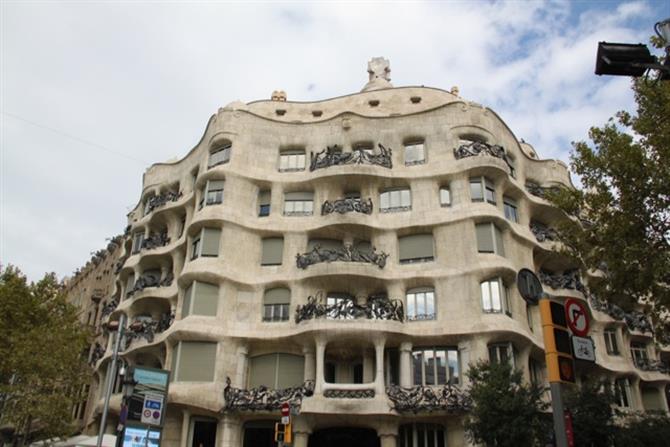 7. Visit the local food markets.
The Catalan people take great pride in their local gastronomy, and it shows through their well-maintained network of local food markets. With its colourful juices, beautifully displayed fruits, and array of fish, La Boqueria, by far, outshines the other markets.
But there are dozens of other lesser-well-known in each of the neighbourhoods of Barcelona that also offer the same amount of boisterous noise and rich array of meats, fruits, and vegetables. They are also much more authentic because they're where the locals shop.
Have you been to Barcelona while not spending money? Can you add any other ideas?