Barceloneta beach is one of the most central and crowded areas in Barcelona. Especially in the hotter months, tourists and locals flock here to revel in its 1100 metres of sand, restaurant-lined promenade, and active beach atmosphere. You're guaranteed to never get bored - its beautiful sculptures, tranquil waves, and animated boardwalk make it a fun area to spend an afternoon.
A Quick History
Barcelona hasn't always been the crazy tourist-filled beach area that it is today in the summer. In fact, it was an old sailors' and fishermen's quarter until the mid-18th century. At that point, r
esidents were forced to move to this housing area after they were displaced by the construction of the Ciutadella Park.
Today on one side, you can still see this residential area, which has some 5-storey apartment blocks with narrow roads
balconies practically touching each other
. Y
ou'll even find few buildings of modern architecture.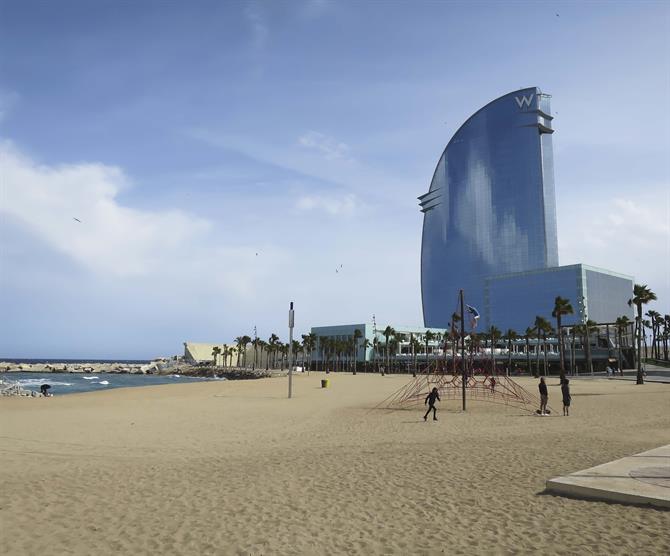 La Barceloneta gets a hidden mention in the classic Spanish novel, "Don Quixote".
Legend has it that this area inspired
Miguel de Cervantes to write
a scene when Don Quixote sees the sea for the first time. Then, a fight scene occurs between the protagonist and the Knight of the White Moon.
It's undeniable that the Barcelona 1992 Olympics changed Barcelona's cityscape (and reputation) dramatically. Today, it's probably one of the most popular, crowded, and lively beaches in the city. As the months get warmer, you'll see mostly tourists scouring the sand, looking for their spot to lay their towel, get some rays, chat it up with friends, have a cold beer, and listen to some acoustic guitar.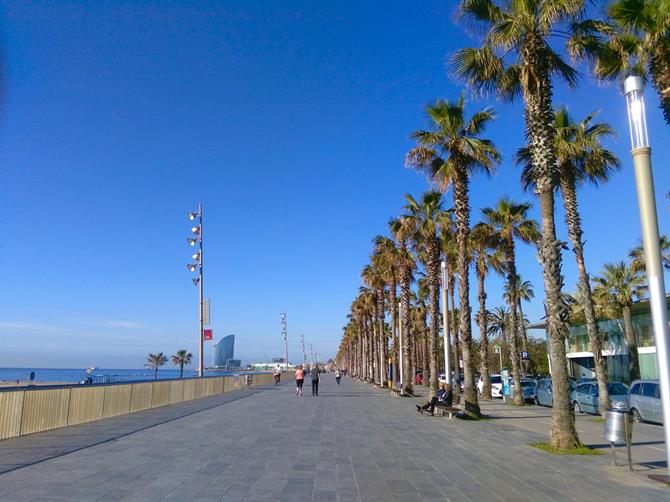 In July and August, expect to practically share a towel with your neighbour, or at best, get full details of their conversations since they'll be about a metre away! Some people don't mind — the more crowded, the better! You're bound to find a string of characters here. Often, you'll encounter illegal vendors trying to hawk a sari, cold drinks, crisps, beaded necklaces, or a back massage. How about a mojito? In the recent years, police have tried to monitor this activity, but it doesn't stop them from coming back and hitting the sand. It's also not a surprise to see topless bathing around.
If you want to show off your athletic side, there's a host of other activities in Barcelona like swimming, kitesurfing, or beach volleyball. La Barceloneta also has its own lifeguards, public toilets, showers, playgrounds, beach tennis courts, and even Wi-fi at designated areas.
The Passeig Maritim de Barcelona
This long promenade runs 1.25 km long and was constructed expressly for the 1992 Olympics. Formerly i
t was a grimy, dusty area with warehouses.
Now it's popular with bikers, skateboarders, rollerbladers, pedestrians, electric bikes, and pretty much anything you can rent from the nearby wheels rental shop.
It's bordered by Passeig Joan de Borbó and ends at the Port Olimpic. In the winter, you'll even see visitors and locals having a stroll in their heavy, dark coats just to get some fresh breeze from the sea.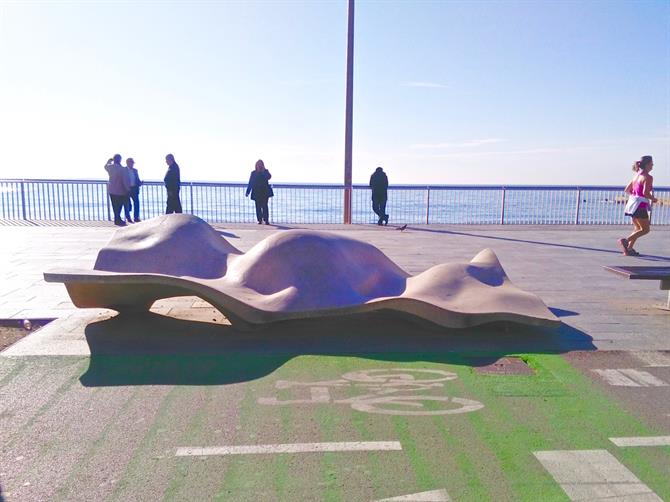 As day turns to dusk, a few nightclubs come alive on the Passeig de la Barceloneta. Are you into gambling? At the end of the promenade, the large Casino Barcelona holds many poker tournaments and is one of Europe's major venues. It also has loads of gaming tables and slot machines.
El Peix
One of the most glorious public art masterpieces in Barcelona is the golden metallic sculpture by famous Canadian architectect Frank Gehry called "El Peix" ("the Fish"). It's not hard to miss, and it's a much-loved and beautiful sight. It's constructed of gilded stainless steel and has a rippled, undulated shape. Facing the Mediterranean sea and sitting at the bottom of the hotel, the sunlight lets the fish shine, giving it the appearance of golden fish scales. It's 35 metres high and 56 metres long.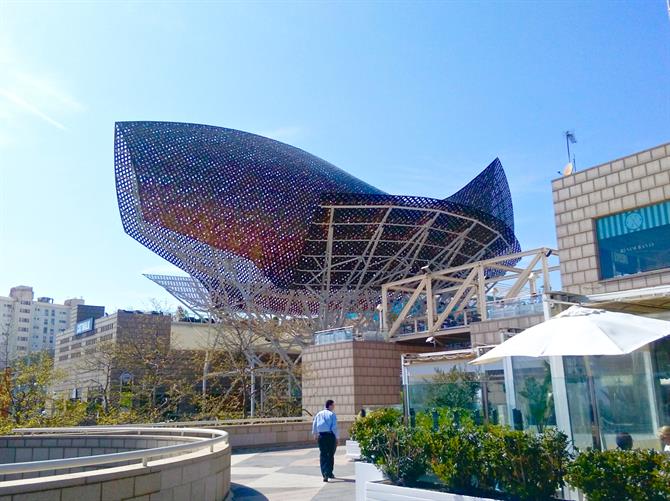 Twin Towers
Often called the Twin Towers, these two buildings are similar in height and are placed opposite each other on the Passeig de la Barceloneta. On top of the one of the buildings, Torre Mapfre, is the highest helipad in Spain. It's an office building with different uses. The other tower is the Hotel Arts, an upscale hotel with 483 rooms. If you're getting a panoramic view from anywhere in Barcelona (like at Parc Guell), you'll see them jutting out along the seafront.
They're the tallest buildings in the city, and also the seventh in all of Spain.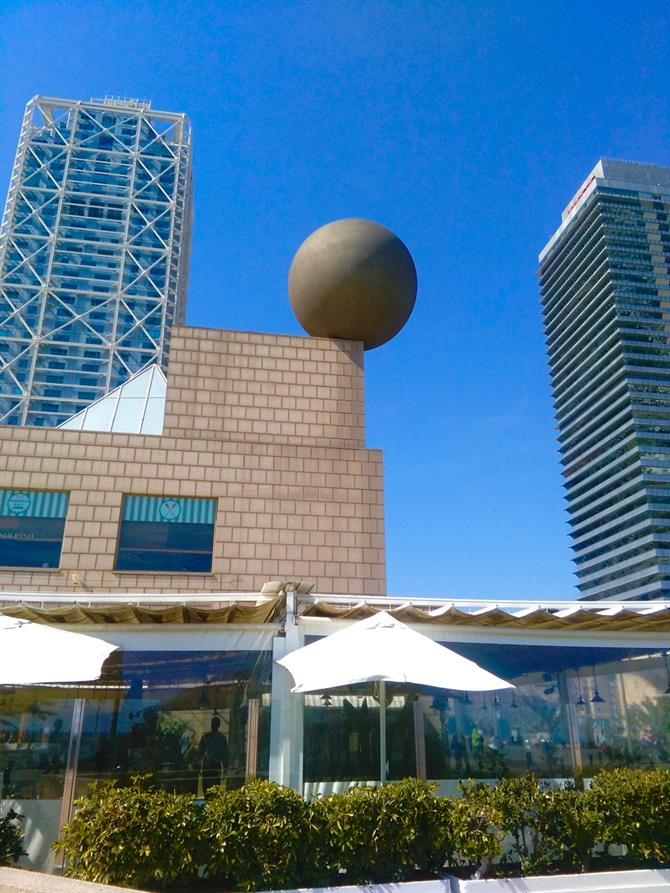 L'estel Ferit
One of the nearby sculptures is the L'Estel Ferit ("The Wounded Shooting Star), designed by German architect Rebecca Horn. It has the appearance of four unstable blocks stacked on top of each other. It's a symbol of the old Barceloneta Neighbourhood, representing the pithy apartment blocks that were build before the area became the showy area that it is today.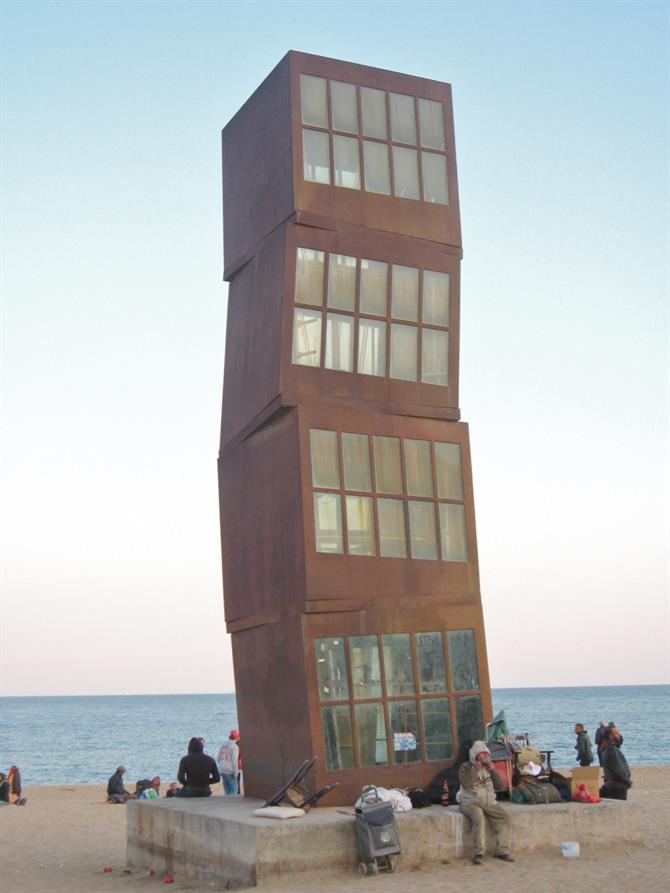 Looking for a place to eat?
You can find various seafood restaurants along the Passeig de La Barceloneta and xiringuitos sitting right on the sand. The xiringuitos are open bars/restaurants that serve drinks, sandwiches, and snacks. A little bit of everyone likes to enjoy these open terraces, where they can people-watch and enjoy a cold beer. On particularly lively days, be prepared for some loud music. Musical taste lean towards "chillout" music, that slow-grooving loungy music with hip beats.
Have you ever been to La Barceloneta? Is it the animated area that I've described? Check out more Barcelona neighbourhoods in this quick guide!