An eclectic and vibrant city, Barcelona has very different neighbourhoods that can fit any lifestyle and personality.
Craving the sun and sand? Head to Barceloneta's boardwalk. Want a more urban, artsy vibe? Born will welcome you with its cool cafes. Here's a rundown of Barcelona's best areas.
Barceloneta
Before the 1992 Olympics, the Barceloneta was an abandoned seafront land.
It's also here that you'll find Frank Gehry's famous golden sculpture called "El Peix", a large, golden and unmissable fish.
Today, Barceloneta is a vigorous touristic area, with a sandy beach, dozens of restaurants, and a busy port. It also has a lively
boardwalk where bikers, skateboarders, and pedestrians pass through while people watching and soaking in the Mediterranean sun.
Popular in the summer, the beach has a party vibe at all times of the day. It's not surprising to see large groups of young friends hanging out while drinking or listening to a guitar.
Because Barcelona is a centre for stag and hen parties, it won't be surprising
to see people in costume, singing songs, and being rambunctious. If you hit the sand, don't be alarmed if hawkers also offer you a beer, a mojito, a sarong, or a massage while getting your rays.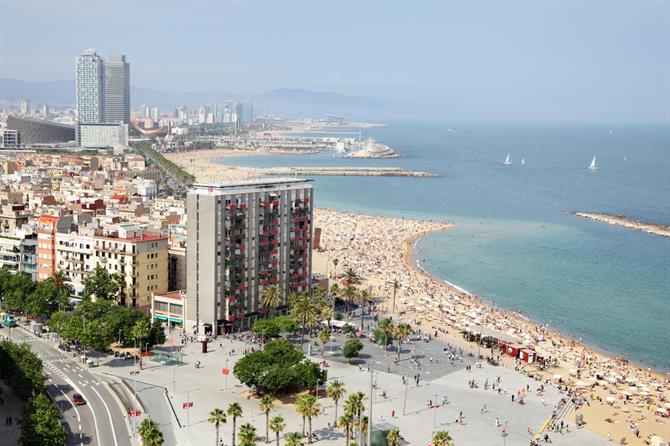 Poblenou
Now an up-and-coming neighbourhood, Poblenou is the home of a burgeoning technological and startup center, called the 22@ District. As this once-slummy district undergoes a renewal, it's also becoming popular for hipster bars, restaurants, and coffee shops.
Still very much a local's neighbourhood, Poblenou has a major breezy pedestrian boulevard, Rambla de Poblenou. It boasts popular restaurants like El 58, Recasens, and the famous century-old Tio Che ice cream and horchata shop. Poblenou also has a vibrant nightlife. A few streets down, you'll find bars like Ovella Negra and the famous music venue and dance hall, Razzmatazz.
The upside of coming here is that there is considerably less amount of tourists than in the centre.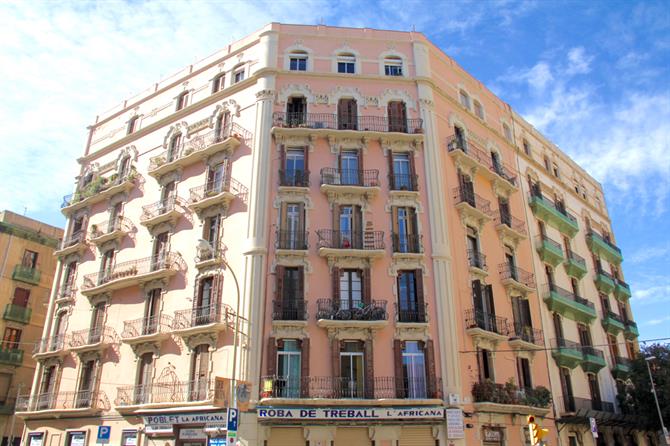 El Raval
A gritty and multicultural neighbourhood, El Raval doesn't disappoint if you're looking for a variety of eclectic foods, cultures, and art. It's where you'll find the halal shops, smoke shops, and tattoo shops within metres apart. It's not odd to see Pakistanis, Filipinos, and Moroccans doing their daily food shopping and buying their native foods here.
In the middle of the tightly-knit streets lies the MACBA Museum, a larger-than-life museum in a white, modern building in a large plaza. The juxtaposition of the modernness and dustiness in the outside streets add to the neighbourhood's edge. It's here in the plaza, where you'll also skateboarders practicing their fancy tricks while young girls giggle around and watch them.
The Rambla del Raval also has "El Gat" sculpture, an oversized and overweight black cat by Colombian artist, Fernando Botero. Everyone is drawn to taking a photo with him or even climbing on his back. Read more about El Raval
here
.
Barri Gotic
The oldest neighborhood in Barcelona, the Barri Gotic is a great place to get to know the old Barcelona. The long streets can seem dark sometimes, but it does have a special charm. Here you'll find the Plaça Sant Jaume, where the City Hall is. On special Catalan holidays, this is where you can get a good view of the castellers, or human castles.
You'll also find some of the city's finest plazas, like Plaça Reial, a large square with outdoor cafes and restaurants. It also has a main shopping thoroughfare on Calle Ferran, a long street with loads of shops but definitely has a touristy feel.
Perhaps the most famous street is Las Ramblas, where it's almost a must-see carnival, where street performers, flower stalls, and tourist stands fill the sides. Be vigilant of your purse here!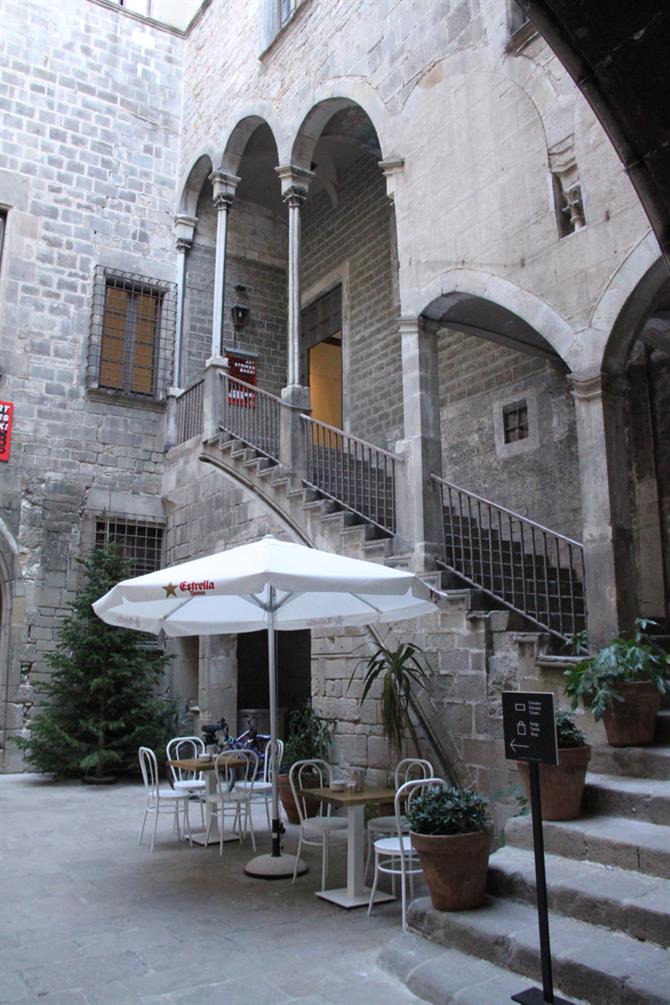 Montjuic
A hilly and mountainous area, Montjuic has a few museums, and lots of grass with fantastic views. People often come here to get away from the urban sprawl. It's a great place to just walk around and feel close to nature.
On top of the Montjuic hill is MNAC, the Museu Nacional de Catalunya. Climb to the doors, and look down, and you'll get a sweet, overarching view of Plaza Espanya and beyond.
If you go beyond the museum, you'll see the Palau Jordi, where concerts and other events are held. There's also the Joan Miró museum, Poble Espanyol (a mini version of typical Spanish towns), Montjuic Castle, and the Olympic Stadium.
You can come up here via rack railway or even by cable car.
El Born
El Born means "jousting" which is where the actual sport happened -- on the main boulevard, Rambla del Born. Today, it's where the cool Catalan people hang out. It's got some hip bar and restaurants and an active nightlife.
It also has a very artsy shopping area, where you'll come across art galleries and brunch restaurants. For culture, you'll find the famous Picasso Museum, which takes up the space of five medieval former palaces on Carrer Montcada.
Born is also home to the beautiful, green Ciutadella Park, a place to relax on the grass or have an afternoon stroll.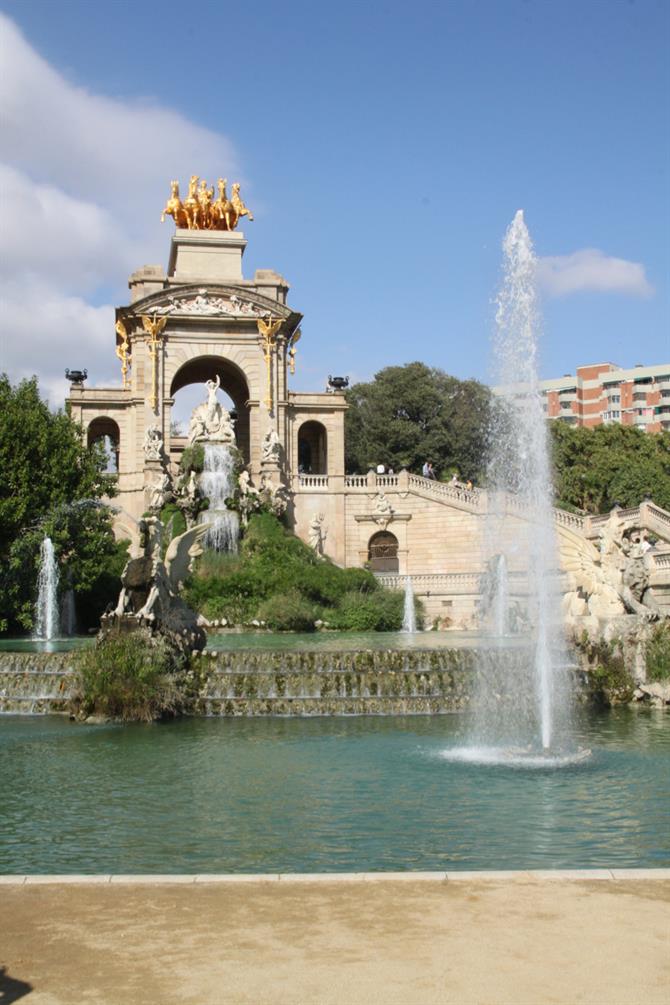 Gracia
Another exciting area with cool bars and an alternative spirit is Gracia. It's a down-to-earth neighbourhood, and home to many creative boutique shops. In August, it lights up during the Festa Major, where streets compete by using recycled materials to decorate the buildings in a unifying theme.
Gracia also has some quaint plazas with some playground and outdoor cafes. Try Plaza de la Vierreina or Plaça Rius i Taulet, or Plaça del Sol to have a coffee. It's also a popular area to have drinks with friends.
Eixample Dreta
Eixample is divided into to areas, Eixample Dreta ("right expansion") and Eixample Esquerre ("left expansion"). Eixample Dreta is part of the expansion of Barcelona at the end of the 19th century. It was constructed in a grid formation, where modernist architectures used this area as a creative playground.
This is where you'll find the elegant buildings in romantic style on the Passeig de Gracia. You'll also find spectacular shopping on Rambla Catalunya and Diagonal. On Plaça Catalunya, you'll find the heart of Barcelona, where all the tour buses meet and where many city events happen. From here, you can head down Las Ramblas all the way to the sea, walk to El Born, or go shopping down the posh Passeig de Gracia.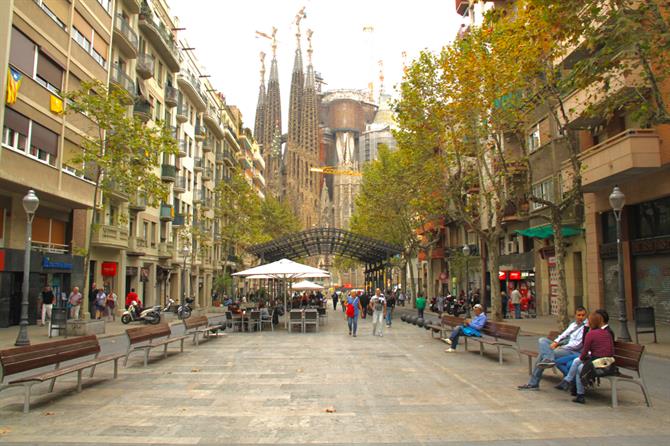 Eixample Esquerre
Eixample Esquerre, is also a grid formation and is largely residential, where many students often share flats because of the central Barcelona University. It also has a large gay community, commonly calling the area "gaixample".
It also has a former bullring which was out of use for a long time. In 2011, it was reopened as a shopping centre and has a spectacular view of the city at the 360º rooftop terrace. Not too far away is the Joan Parc Miró, where you can find the artist's large sculpture called "Dona i Ocell".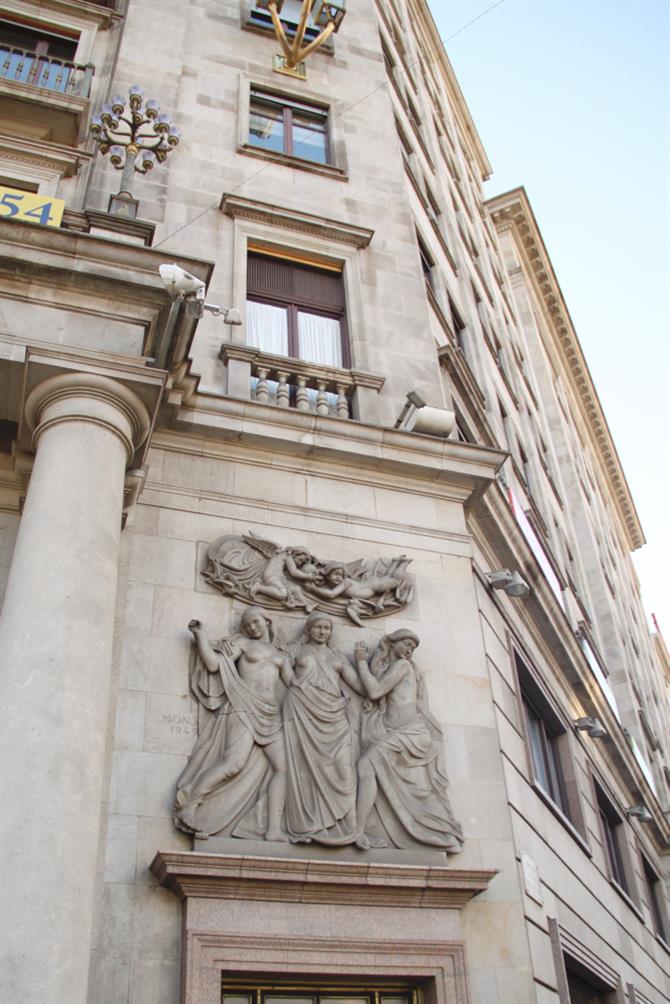 Have you been to any of these Barcelona neighbourhoods? Which is your favourite?