Making time
Sometimes we're pressed for time. A trip last week to Baza (Granada province) was just one of those - not rushed, but squeezed into that compartment of time between autumn and winter here in the south of Spain. Why? Well, because the fast train of winter weather means that after a cold snap and a snowfall we'll find that route impassable. Do you see the poles in this photo? They'll serve as markers once the first serious snow falls - and will act as a guide so motorists can gauge where the edge of the road is. But, we had a date with a certain Lady - so uphill we wound....
Up and away
Up and over the mountains we drove - hair-raising bends and heart-in-mouth drops to the side. The logistics of an oncoming truck and wild bulls by the roadside were just small events compared to the magical views and changing colours of nature - now is a timely opportunity to see the Sierras dressed in their best clothes.
Sunday best
The landscape also goes through a dramatic wardrobe change. Almond and Fig are speedily swapped for Holm Oak and Pine forest, worthy of any picnic lunch - teddy bears optional. Then over the highest ridge and a first row view of the plain - the Hoya de Baza. A scooped out plate of flat valley, with miles of solar panels soaking up the Spanish sun and vast wind-farms busily waving their arms, and calling us down.
So from 2000 metres we dropped over the other side to just 844 - better than any amusement park ride and much closer to nature.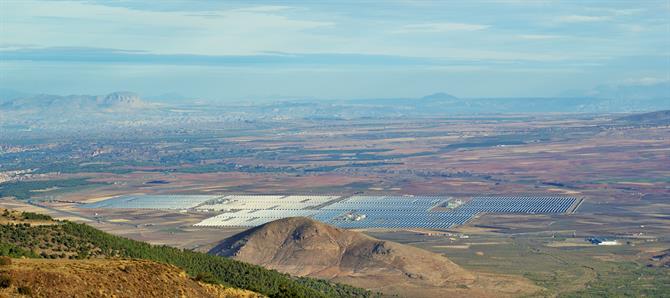 A date
But we were here to see Baza, and a Lady in particular. The Lady of Baza is a little stony faced - a seated stone figure of limestone, ancient and undiscovered until 1971. Actually, I must admit to feeling a little fooled - the original is in the National Archaeological Museum in Madrid, it's the copy that sits in Baza today.
The original dates from 4th century BC, and is painted and seated. She is a clue to the history of this area, Baza has been a settlement since prehistoric times, with the Romans and the Moors making their mark too.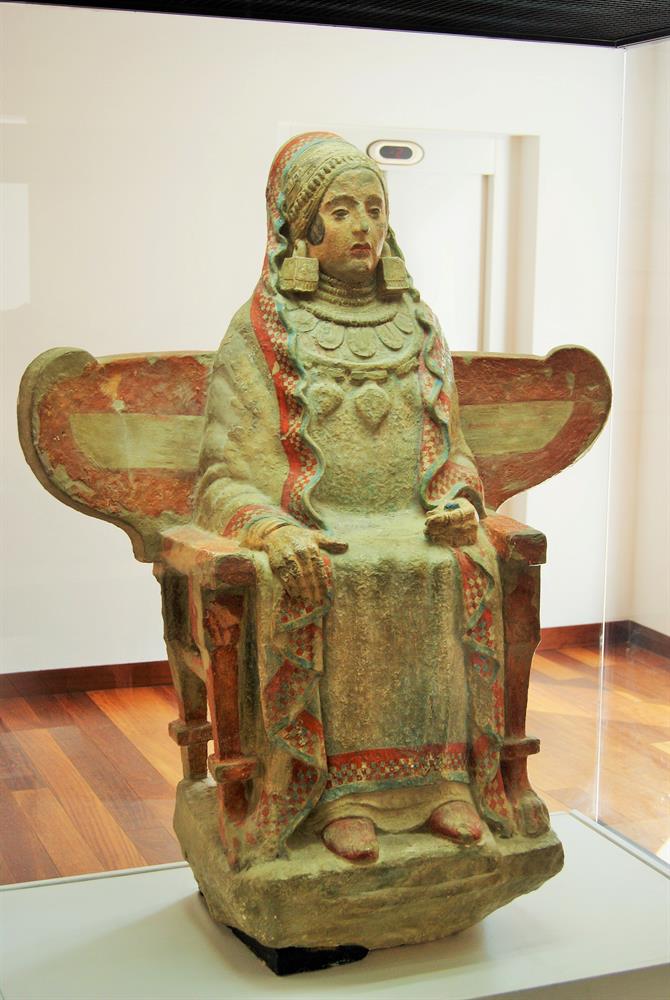 Archaeological Museum
The replica of the Lady of Baza may be seen today in the Museo Arqueológico de Baza, which also doubles as the Tourist Office, and it costs just €3 to gain entry to the museum. As with many provincial museums we visit, we were the sole visitors, left to roam around and take photos by ourselves.
There are various rooms laid out as follows:
Prehistoric

Iberian

Roman

Visigoth

Medieval

Modern

Temporary exhibitions
There were good informative displays and cases containing pottery and other artefacts of interest. The building itself is lovely and you must remember to look up and admire the ancient, decorated wooden coffered ceiling of the main room, which overlooks the Plaza Major.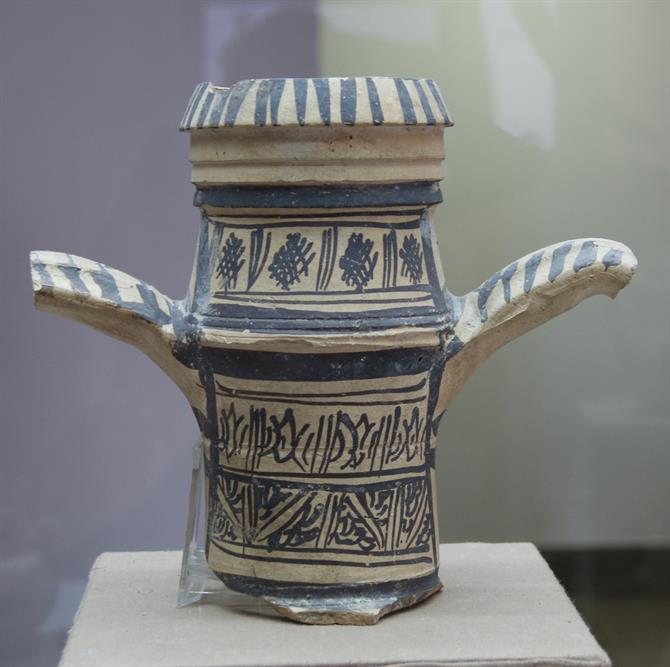 Around Baza
There are plenty of other sightseeing opportunities around Baza. Here are just a few:
Church and Covent of La Merced - 16th century with a marble facade and a Baroque shrine. More about La Merced later...

Enriquez Palace - 16th century and another wooden coffered ceiling to admire.

The Royal Granary - Originally a granary but afterwards it was used for theatrical performances and puppet shows.

The Old Slaughter Houses - These might seem an odd thing to seek out but the wooden balconies are a magnificent example of Mudejar architecture, in fact keep an eye out for this style all around the town.

The Arabic Baths - Once again we found ourselves alone! Dating from the 13th century AD these are one of the most complete preserved Arab baths in Spain - well worth a visit and you'll find them in the Santiago neighbourhood just 5-10 minutes walk from the main square (Plaza Mayor).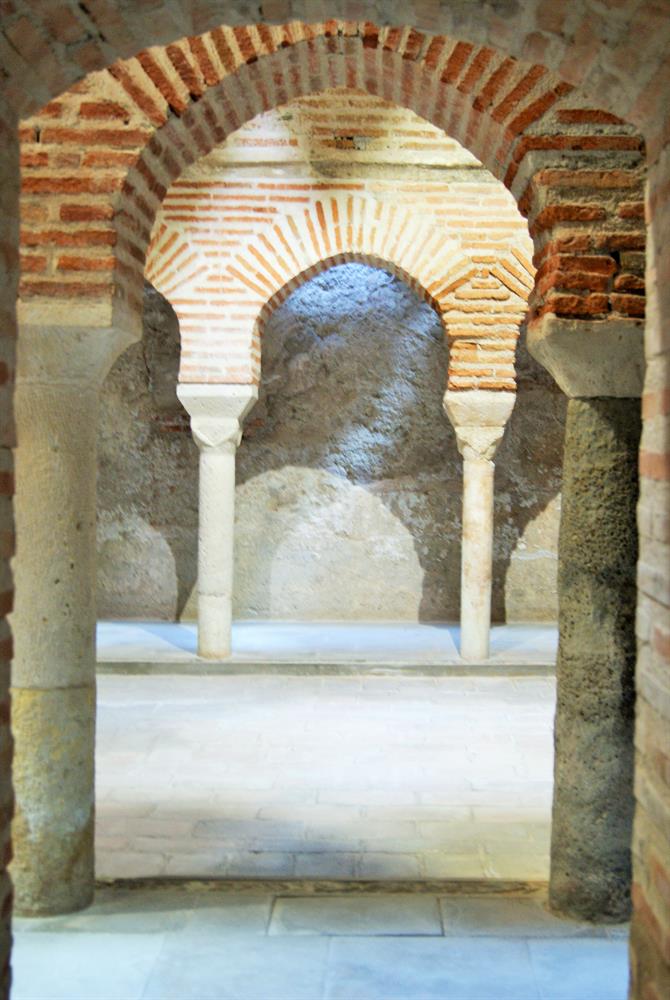 Handprints
As we walked around town, I kept seeing black hand prints - which at first I assumed were just graffiti - but they were everywhere, and different hands too by the shape and size of the prints. It wasn't until we went to the tourist office I discovered the story behind the hand prints and one of a Festival of National Touristic Interest....
El Cascamorras
It goes back to a war of sorts - a rivalry between the people of Baza and their close neighbours of Guadix. Every year a ritual takes place, symbolising their rivalry for the prized possession of the Virgen De La Piedad. A character is chosen, known as Cascamorras, who races to the church of La Merced (mentioned above) and he intends to steal the statue from the church and take it back to Guadix. If he can reach the church door without being covered in black paint, he is fully entitled to his prize. However....! The local kids of Baza gather with black paint and their job is to defend the statue and cover him, his only means of defence is a stick. Guess who usually wins?! I'm sure it's all good, dirty fun!
Other festivals to look out for are the traditional battles of Moors and Christians, and of course the processions during Easter week - always special in any part of Spain.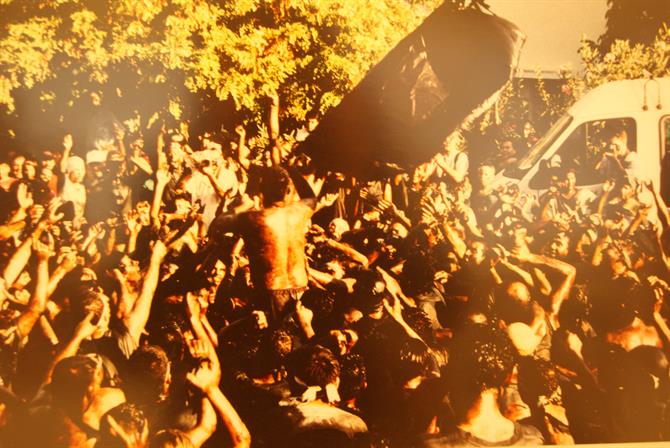 A taste of the Hoya de Baza
These plains have for centuries provided the people with fertile and productive land for growing and providing the best in food products. Specialities of the area include:
Lamb - it's a dish on every menu, roasted lamb is the signature dish of Baza.

Lomo en Cascara - which is Pork Loin with the fat and skin, coated in spices.

Local Olive Oil - granted the prestigious DO (Designation of Origin) and usually labelled as Montes de Granada.

Local wines - the acres of vineyards are the best clue. There a tradition of placing an olive branch outside a bodega to show that they have local wine available. (No, I have no idea why it's not a vine either!)

Liqueurs - Baza and the surrounding area is famed for the manufacture of liqueurs. Sample some of the curious mixtures available, including:

Gloria - Grapes, Coffee and Cinnamon.

Rosoli - Celery, Tangerine, Cinnamon and Sugar.
Or try a sweet shot of their best selling Honey Liqueur - guaranteed to warm up any autumn or winter night, in Baza, or back at home....remembering the best moments of your holiday exploring the hills and plains of Granada.