Playa Fuente de la Salud is located just a short walk from Puerto Marina and borders the beaches of Torremolinos. It's the most easterly beach of Benalmadena.
Its proximity to the city center and all amenities have ensured that Playa Fuente de la Salud is also one of the most popular in the area.
Playa Fuente de la Salud - Fuente de la Salud beach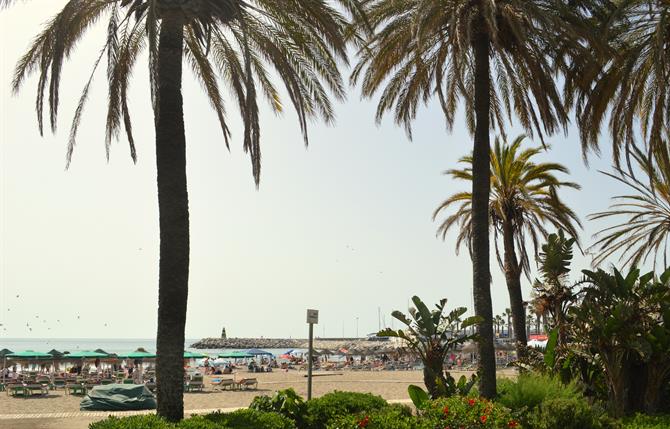 The dark sand beach is about 160 meters long and 80 meters wide.
If wanting to visit the beach during the high season, it's best to arrive early. It does get busy and can be hard to find a sun lounger or parasol.
Playa Fuente de la Salud is popular with tourists, local families and water sports enthusiasts.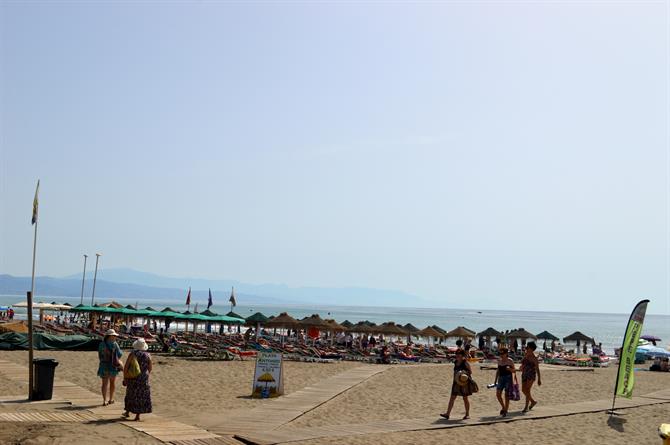 Services and amenities
The beach offers all services and amenities. Showers, toilets, life guards, disabled access, sun lounger and parasol rentals. You can also practice all kinds of water-sports, from paragliding to water pedalos. There are numerous bars and restaurants situated along the breadth of the beach and plenty more within a short walk.
Chiringuito Rafael is just one of many and is the perfect place to sample local seafood at reasonable prices. A paella for two costs around €25, a portion of fried calamari about €8 and salads €5.
For a lighter snack, you could try the Sofli bar, which is located right at the entrance to the beach. A sandwich, orange juice and coffee cost us just €3.50.
Pedro Kayak is the best place to go for your water-sporting needs. Situated right at the water's edge, they rent jet skis, kayaks (€9 per hour), pedalos (€20 per hour for 4 people), SUP boards (€10 per hour - stand-up paddle boards) and even offer sailing courses (best to consult prices, but around €100 for two hours with a private instructor). They also organize dolphin watching trips. Tel. number - +34 629 523 955.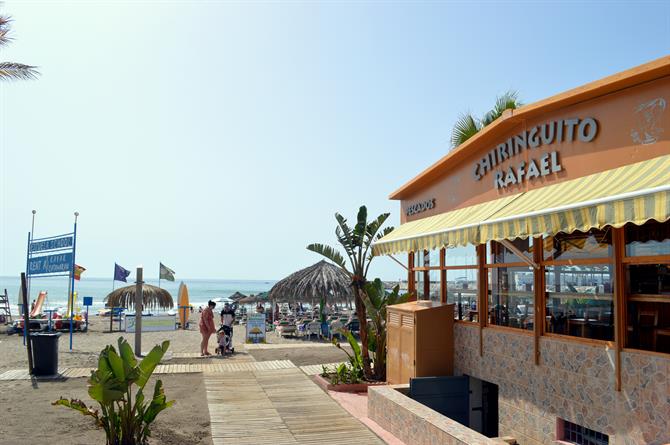 How to get there
Using Puerto Marina as a reference point, Playa Fuente de la Salud is very easy to find. Walk past all the bars and restaurants in Puerto Marina and keep going northwards. Playa Fuente de la Salud is the first beach you come across.
If coming from the centre of Torremolinos, just walk along the Paseo Marítimo, alternatively, you can drive. The best place to park is to take the turning at the Plaza de la Goleta roundabout and continue straight on for 50m, there's a large and free parking just in front of the Monet, Maracas and Mombasa bars.
Google Map of Playa Fuente de la Salud