I have to say, if you're vacationing in Andalusia, you should really try to get yourself onto a boat out on the sea. Of course, the beaches are beautiful and the mountains are breathtaking, but for me there's nothing quite like heading out on the water, feeling the waves, and admiring the beautiful coast that many of us call home.
This video is from an amazing day that we spent in Puerto Marina, Benalmádena. The shoes came off, the GoPros went on, and we were off. Hope that you enjoy this one as much as we loved filming it!
Video of Boating on the Costa del Sol
What types of boats are available for charter?
There is a wide range of types of boats available for charter, suitable for every need and price range.
The fisherman (or fisherwoman) looking to reel in the catch of the day will be impressed by fully equipped fishing boats.
Families and thrill-seekers will love exhilarating high-performance speedboats, ready to take on 360º turns, as well as pull tubes, water skiers, and wake boarders.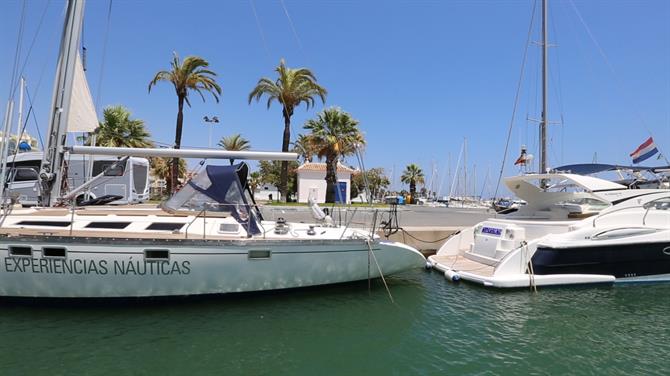 The sailing enthusiast will be wowed by a day out on a sailboat or sailing yacht, the gusting wind ensuring that everyone has a great time.
Traditional wooden Spanish boats are perfect for large crowds who want to celebrate a special occasion, as seen in our video article about boat parties on the Costa del Sol, where bachelors and bachelorettes held a multi stag and hen party.
Perhaps a catamaran will be exactly what you're looking for. Great for a day of relaxing and hops off for dips in the sea, the big catamarans are also popular for events and parties. And you might even spot some dolphins during the ride!
Finally, luxury yachts are also available. These impressive ships, housing a kitchen, dinning room, multiple cabins and bathrooms, and sometimes even a jacuzzi, are perfect for luxury getaways and weddings alike. With the possibility of catering available, there isn't really much you'll have to worry about.
What is included when you rent a charter boat?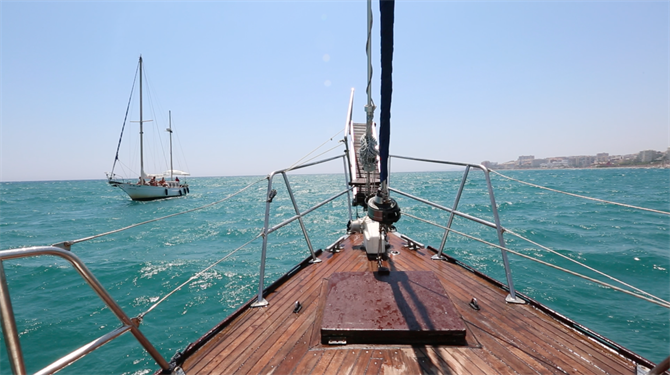 Depending on the charter, different options can be included. Some will have drinks and snacks, while others can feature catering or a DJ. Some boat charters may also include a fuel allowance, but for some you will have to fill up the tank yourself.
All charter boats can be rented with or without crew members.
If you chose to hire a charter with crew, they all have professional qualifications. Those who wish to hire a ship without crew must show a personal licence for the particular boat.
Whether you opt to rent with or without a crew, all boats are flagged and registered and you will be sure to have a wonderful experience.
How much does renting a charter boat cost?
Pricing for hiring a charter boat is vast and is determined by the type of boat, the size, and the amount of time it is rented for.
The port where the boat is docked also affects the price. For example, hiring a charter docked at Málaga's new Muelle uno port or Benalmádena's Puerto Marina usually proves to be more affordable in comparison with Marbella's luxurious Puerto Banús. That being said, the type of boat you're looking for may tend to be located at a certain marina. For example, Puerto Banús is known to be the most exclusive place to rent a yacht in Andalusia.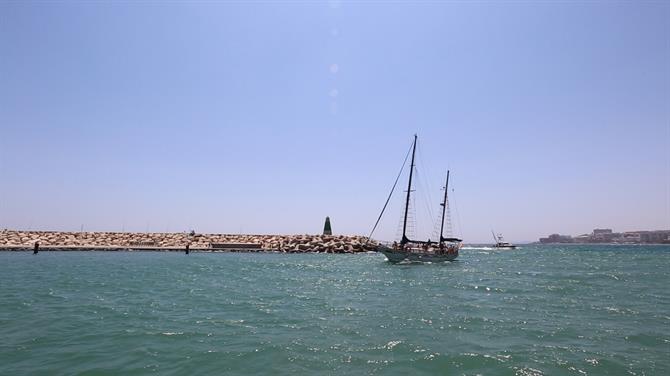 While it varies, pricing can range from 150€ for a one hour rental of a sailboat of under 40 feet (12 metres) or 270€ for two hours.
On the very highest end of the scale there is the Ferretti 94 yacht. At 94 feet (29 meters) in length, this yacht is suitable for 12 passengers plus crew. Moored in Puerto Banús, it runs for 5000€ for a half day (4 hours) or 8500€ for a full day (8 hours) during the June-September high season.
Boats are available for charter for a set number of hours or even for over night and multi-day trips.
Boats can be rented at various marinas, most commonly in Málaga, Benalmádena, Marbella, and Puerto Banús, as well as Estepona, Sotogrande, Fuengirola, and additional harbours in the Málaga Province and Andalusia.
Booking a charter boat in Puerto Marina, Benalmádena
To hire a charter boat of your own from Puerto Marina, Benalmádena, please contact Fernando Soto of Puerto Marina Charters.
Contact:
Fernando Soto
Telephone: +34 636 530 846
Email: info@puertomarinaonline.com
Puerto Marina, Benalmádena Costa
A special thank you to Puerto Marina Charters for taking us on an amazing boat ride and telling us all about renting charter boats in Benalmádena.