The bustling beach town of Benidorm on Spain's Costa Blanca is famous for its nightlife and cosmopolitan appeal.
The beautiful beaches and natural backdrop of the mountains contrast with the resort's tall skyscrapers built to accommodate the millions of holidaymakers who fly in every year.
It's a haven for tourists from around Europe, especially Britain, and across Spain, particularly in the winter months as Benidorm enjoys a warmer temperature than many other coastal and inland areas.
So it is only fitting that the cuisine caters for this international crowd serving dishes from around the world including Italian, English, Chinese, Indian and German. But if you head into the little cobbled streets in the historic old town you can enjoy mouth-watering morsels of Spain from the tapas bars.
It's known locally as Tapas Alley because it is filled with bars serving these tasty treats.
The small dishes of tapas are perfect for sharing and for trying food that you may not feel comfortable ordering as a main course in case you don't like it.
Ordering tapas is also perfect for getting a taste of some of the more expensive dishes, such as Denia red prawns or the more expensive Spanish ham, without running up a massive bill.

As befitting a traditional Spanish meal, what could be better than heading into the traditional old town streets of Benidorm for a tapas lunch or early evening meal?
Instead of ordering all your dishes from the same restaurant or bar, you can order a couple of different tapas from three or four different places to see which you vote as the best.
You'll find many tapas bars in the streets just behind the iconic Balcon del Mediterraneo with its fabulous views over the Mediterranean, particularly in Calle Santo Domingo, Plaza Constitucio and Calle Tomas Ortuno.
It's just five minutes from the beautiful sandy Levante and Poniente beaches so you could always head into the heart of historic Benidorm at lunch after soaking up the rays in the sun.
Another good time to visit is early evening so you can tuck into some fabulous food to whet your appetite for the famous Benidorm nightlife including the fantastic live music bars or drag shows.
What tapas to try in Benidorm?
The range is breath-taking and the temptation is always to order too much – which is why tapas are dishes best shared with family or friends.
Ask the waiter for recommendations as there may be a speciality of the house or they may have bought in some fresh prawns or fish that day.
It makes sense to pick a couple of dishes you are familiar with, such as croquettes, jamon (ham), calamari, or meatballs in tomato sauce. Then venture into the unknown with some more unfamiliar tapas such as bull's tails, fried tiny squid, octopus or offal.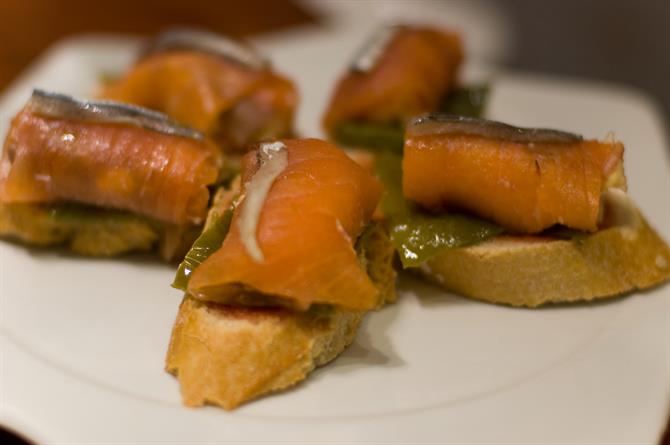 You will find some restaurants will also serve pinchos which are the same as tapas but either spiked with a toothpick or served on a slice of bread rather than in a dish.
Young children can often be persuaded to try tapas because the size of the plate isn't daunting and they are encouraged to eat with their fingers. They might like the creamy Russian salad consisting of tuna, potato and peas, or patatas bravas which are fried potatoes served with mayonnaise and a lovely spicy red sauce.
Even if they can't be persuaded to try too much Spanish food, most people can't get enough of the deliciously more-ish alioli – a garlic mayonnaise – smothered on to bread or great for dipping croquettes or potatoes in.
The other great thing about tapas is how quick they are to prepare. So you can order a couple more if you are still feeling a bit peckish or just pick one or two to accompany a cool beer or glass of wine.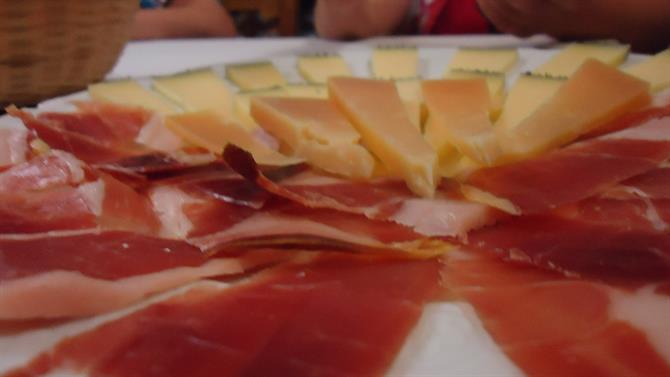 Bar hopping in Benidorm
Tapas Alley is a vibrant area and always seems to be packed with Spanish and other Europeans jostling for position at the bar or one of the tables on the terrace.
But, never fear, there are many bars to choose from so you are not going to go hungry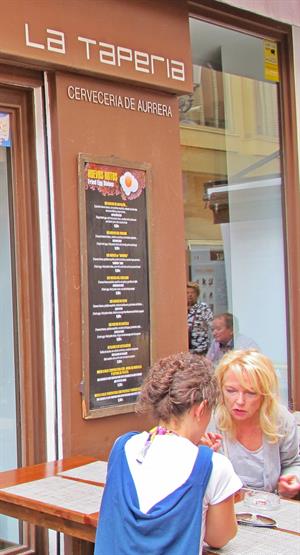 As previously mentioned Calle Santo Domingo is a good place to start and here you will find the popular La Taperia.
It has a traditional look outside with heavy wooden tables and a large wine barrel but the interior is more stylish with stone walls and interesting black-and-white photos.
You can grab a stool at the bar to see the long line of snacks on offer.
The food is a work of art and looks absolutely amazing with some innovative choices using fresh, seasonal products.
The restaurant has an extensive wine menu, not forgetting an impressive selection of beers on offer.
A couple of doors away is Pintxos Aurrera, which is part of the same chain, and also offers a wide range of appetisers inspired by the Basque country, which is arguably the finest in Spain.
One minute's stroll from here takes you to the pretty Plaza Constitucio where you will find La Cava Aragonesa.
If you love the Spanish ham (jamon) this is definitely the place to head for as you walk inside to see rows of hams hanging from the ceiling.
The restaurant is rightly proud of its cuisine and teaches people how to cut the meat as well as giving talks about the history of pigs and different breeds, so this is certainly a great place for connoisseurs of fine food and wine, as it has also won awards in this area too.
This restaurant has been serving visitors to Benidorm since the 1980s and has built up a fine reputation but you will pay more than in other neighbouring establishments.
Foraging for finger food in Benidorm
Heading towards the indoor market, which is another great place to stock up on traditional Spanish food, fresh fruit and olive oil, you will come across Cerveceria La Surena, in Calle Tomas Ortuno, which is perfect for people watching if you can grab an outside table.
You can enjoy a taste of Andalusia, which is its speciaility, as well as morsels from across Spain including marinated fish, squid, prawns, ham, croquettes or chicken wings.
You could also order a fresh salad to share alongside the tapas to enjoy the freshest Spanish vegetables.
La Surena also serves amazing tosta, which is like a pizza, with the bread topped with amazing flavours such as ham, scrambled eggs or mozzarella and cherry tomatoes.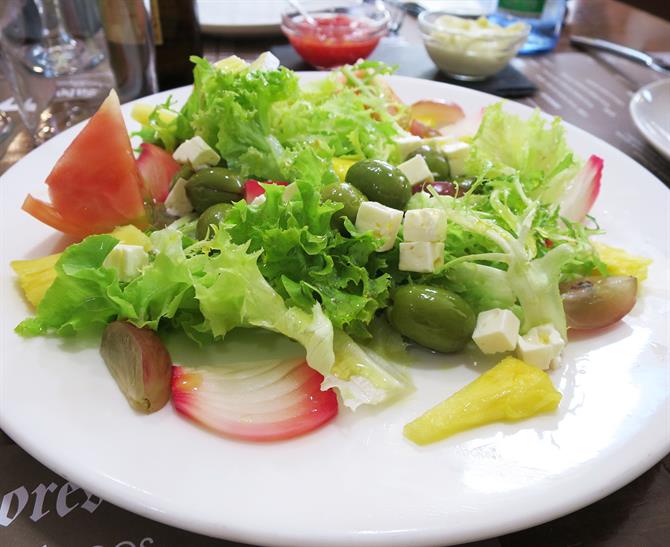 Take a peek at old Benidorm in Gambrinus bar
Practically opposite La Surena is the famous Cerveceria Gambrinus bar.
You need to visit at least once, if only to take a peek inside at the photographs of Benidorm before it became a top holiday resort. It's hard to believe it was once a sleepy fishing village until the 1960s when the mayor had the foresight to turn to tourism because the tuna fishing industry was tailing off.
There's plenty of choice on the extensive menu with garlic prawns, croquettes and tortilla being favourites. The bread and alioli makes a delicious accompaniment along with a salad.
The restaurant is also well-known for its extra-long sandwiches (bocadillos), which are perfect for sharing.
Tapas tours in Benidorm
Each year, Benidorm hosts various events to showcase its cuisine including an annual tapas tour held for one week in May or June.
Participating restaurants will create a special dish – either traditional or avant-garde – so visitors can vote on their favourite.
Look out for details on the official Benidorm tourism website.