Benissa is a small town in the north of the Costa Blanca. With a beautiful picturesque centre, it is an oasis of calm where you can relax and enjoy the well-deserved silence on your beach holiday to the Costa Blanca. A few kilometres away from the centre, you will find the local beaches and calas (coves) which boast crystal clear waters and are set amongst impressive natural rocky surroundings. Work on your tan, immerse yourself in the turquoise waters and explore the rich sea life. Here are the beaches in Benissa that you cannot miss out on!
Benissa Beaches - video
Playa la Fustera
Probably Benissa's most famous beach, La fustera is an easily accessible sandy stretch of about 110 metres long and 40 metres wide. The beach oozes a relaxed atmosphere perfect for spending a chilled out beach day on the doorstep of your Benissa villa. Facilities include a play area for children, a large parking area and a beach restaurant called Mandala Beach. Feast on local specialities such as a wide array of rice dishes and traditional tapas.
Registered as a Blue Flag beach, La Fustera is a favourite amongst families thanks to its calm turquoise water where your children can play and keep themselves entertained all day while you take in the unbeatable view of the Mediterranean from your beach towel. A must do activity at La Fustera is snorkelling to explore the unspoilt underwater scenery full of sea-grass and various marine life.
Cala Els Pinets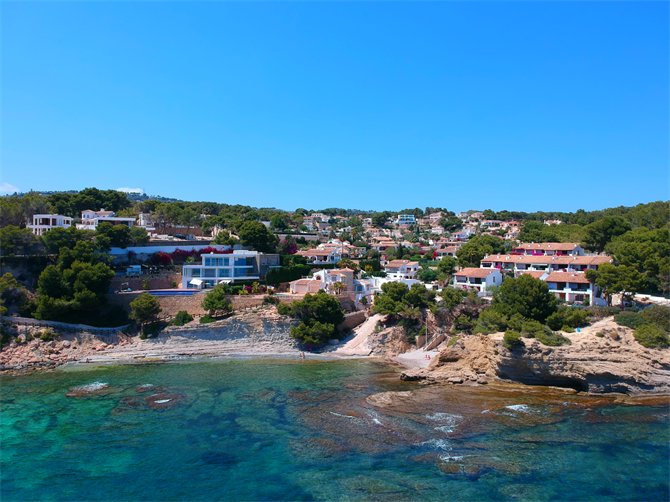 Cala Els Pinets is a small sandy and rocky cove, 20 metres long and perfect for a family day out. A little paradise, Els Pinets is the place for you if you prefer smaller beaches. Its rocks and turquoise water make it a hotspot for snorkelling but from the beach itself, you will enjoy a magnificent view of the famous rock Peñon de Ifach in the background. If you want to move and stretch your legs after relaxing in the sun all day, you can walk the ecological path (Paseo Ecológico) that runs along the whole 4 km of coastline of Benissa and is the perfect way to discover the local coves. From Cala Els Pinets this path will bring you to the ''Mar Morta i Roques Negres'', a natural rock pool of great geological interest. When arriving at the beach, you can leave your car in the car park close to the beach and walk down, there is also a stand to put your bike.
Cala de la Llobella
Pebbled and rocky Cala de la Llobella is the wildest and most unspoilt cove you will find in Benissa. The beach makes for a brilliant place to spend a nice and calm beach day enjoying the natural surroundings and bathing in the clean crystal clear water. Situated in a remote place quite far away from agglomerations, it is a good spot for holidaymakers seeking solitude. Furthermore, the location of La Llobella makes for great snorkelling and diving experiences, many enthusiasts of these sports venture here. The cove is accessible by car with plenty of room to park your vehicle.
Cala Advocat
Cala Advocat is probably best known for its main feature which is a breakwater making the sea rather calm here. Little stairs that run into the sea from the same breakwater make going into the water easy and comfortable much like swimming in a pool. With all necessary facilities present, the calm shallow water and the little protected sandy beach are very suitable for the little ones. Cala Advocat is the perfect location for a family day out and a safe environment for your children to roam around freely.
In the summer season, quench your thirst and silence a grumbling stomach at the local bar serving a great selection of refreshments and food. The views are unbeatable from this Benissa beach with the Peñon de Ifach in the distance and to your right the 47 metres high El Cantalar cliff.
It is possible to park close to the cove, but we would advise to arrive rather early to secure a spot.
Cala Baladrar
To end this guide we head towards Cala Baladrar, a beach which consists of pebbles and rocks. As the beach is naturally protected from the wind it makes a nice spot to just relax on the beach or have a drink in the chiringuito where there are often live artists. With shallow, crystal clear water and a cliff called ''La Polida'' (30 metres high), Cala Baladrar is yet another cala that you cannot miss out on during your holiday on the Costa Blanca.
Travel to Benissa and discover a coastline full of beaches and coves to suit all tastes. Enjoy the natural surroundings and let the crystal clear waters seduce you on your beach break to the Costa Blanca!
Map