The first village of the Costa Brava, Blanes is often called
'el portal de la Costa Brava'
. It has one of the longest beaches of the Costa Brava - S'Abanell. It offers a total of more than
4 kilometres of beaches
and many possibilities for a holiday stay. You can find everything, from campings and hotels to comfortable
holiday homes in Blanes
.

The
former fishing village
attracts tourists from abroad but also locals and
holidaymakers staying in nearby Barcelona
and other places in Catalonia, because of its pretty beaches with clean sand and water, the incredible backdrop of mountain scenery, its old town full of bars, clubs and restaurants, its relaxing atmosphere and attractive natural surroundings.
If you love spending time on the beach, this is what you will find in Blanes:
The beaches of Blanes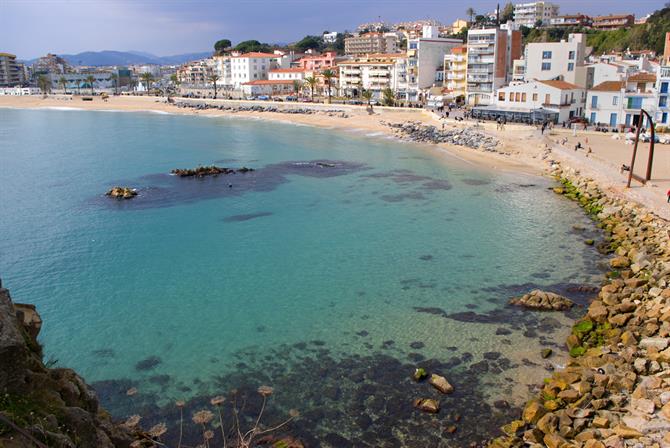 The great thing about Blanes is that it offers a variety, from cute rocky coves to long sandy beaches. Generally, its beaches have good facilities: showers, toilets, refreshments and cleaning services at night. The big central beaches also provide first aid and access for the disabled. Another plus is the long promenade which runs along the beaches, with plenty of nice terraces and even a cycle lane.
The beaches of Blanes are known for their calm water, but if you go on holiday with small children, you should know the water does get deep quickly. This is not true, however, for the south-end of the first beach on our list, the central Platja de Blanes. The northern end of this beach also has a gentle slope into the water, as this part is an extension created when the port was remodeled.
1. Platja de Blanes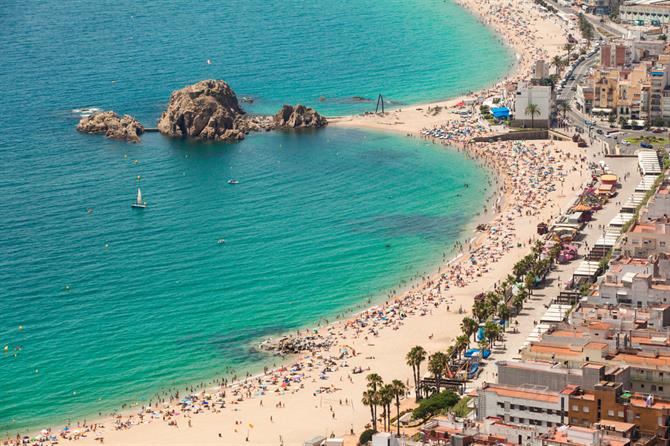 This golden sandy beach in the centre of town is 625 metres long and 30 metres wide. It offers ample space and all the main beach facilities: showers and refreshments, sunbeds, pedalos, lifeguards,... It also has nets for those who want to play beach volley.
Platja de Blanes is located right next to the port. The Sa Palomera rock which separates it from our next beach, 'S'Abanell, is on the right.
2. S'Abanell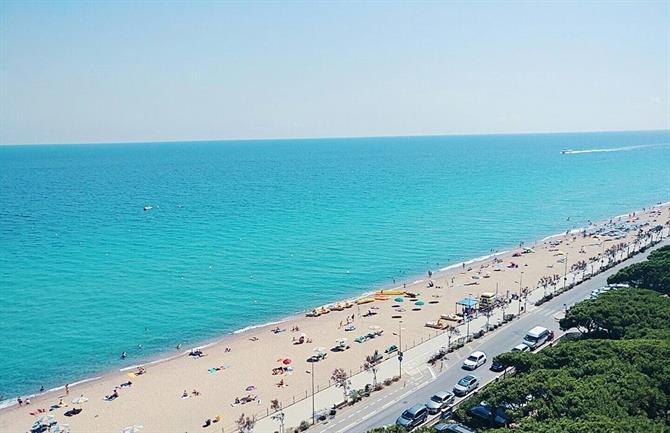 This is the longest beach of Blanes, 3,100 metres. It is 60 metres wide and it starts just 300 metres away from the centre. There are plenty of bars and restaurants.
S'Abanell is a popular beach in Blanes. It has golden sand and the same facilities as Platja de Blanes, plus windsurfing, waterskiing, parasailing, sailing, boat trips,... A beach with lots to enjoy with the whole family. You can go for a pleasant stroll along the promenade in the evening, when there are many market stalls selling things like artisanal jewellery.
3. Cala Punta Santa Anna
On the other side of the port, at the foot of the Blanes convent and close to the Punta de Santa Anna, we find the Santa Anna cove, also known as 'playa dels Capellans'. From the centre of Blanes, it is a pleasant walk of about 10 minutes (about 300 metres). If you go by car, you need to park at the port (paid parking).
This cala or cove is approximately 110 metres long and 15 metres wide. It offers a mix of golden sand and pebbles. The water is crystal clear and perfect for diving or snorkelling. There are showers too.
4. Cala San Francesc
Sant Francesc offers golden sand with calm water, beautifully surrounded by pine trees. The beach is 220 metres long and 35 metres wide. The main facilities are present: showers, refreshments, sunbeds, pedalos, lifeguards, parking facilities and a restaurant, so it's a good place for families with children too.
This cove is also known as 'Cala Bona', which means 'pretty cove'. It's two kilometres away from the centre of Blanes and close to the stunning botanical garden Marimurtra, so it's great to combine a walk along the garden with this paradisiacal beach. There are several easy ways to access it.
To walk there, just take the Passeig de Carles Faust street behind the port. Walk past the Jardín Botánico Marimurtra and continue along the same street for about 500 metres.
To get there by car, drive towards the beach resort of Lloret de Mar. About 100 metres before reaching the exit sign of Blanes, follow the sign 'Urbanització Cala Sant Francesc' and turn right. If there's no free parking space left, you can use the underground car park. Alternatively, you can go by bus.
5. Cala Treumal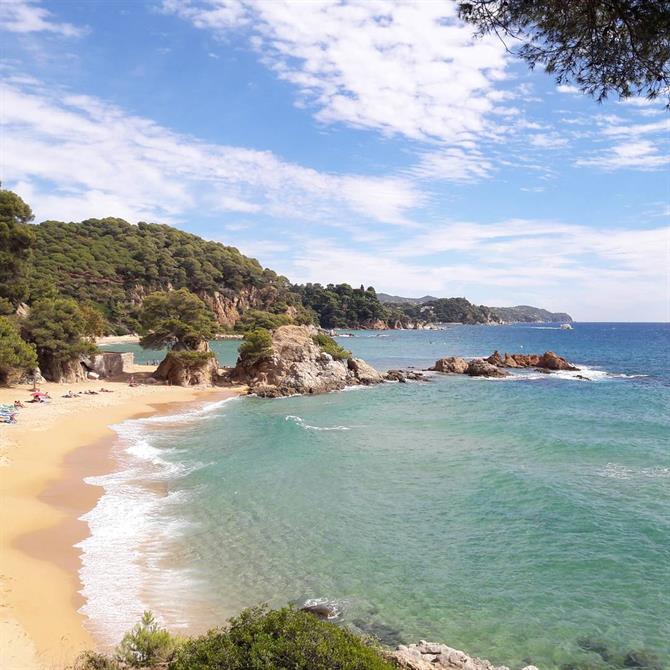 Treumal is the most northern beach, 4 kilometres away from the centre. It is the smallest beach of Blanes - about 100 metres long. A small rock separates it from Santa Cristina beach, which already belongs to Lloret de Mar. Both beaches are located under the chapel or Ermita de Santa Cristina.
You can park your car at about 300 metres distance at the Botanical Garden Pinya de Rosa right above it, as this Garden provides free parking for visitors. Or you can park your car at Santa Cristina beach (paid parking).
Treumal is truly picturesque, with golden sand, surrounded by beautiful nature which belongs to the Pinya de Rosa landscape (declared 'de Interés Nacional'). It has showers and a restaurant for visitors to enjoy.
Map