The Via Verdes of Spain
There are more than 6,000kms of abandoned railway lines across Spain. Most of which, have never been completed, let alone used. There were ambitious plans to connect even the smallest villages by rail. All of these plans fell apart during the Civil War and the years that followed it. For over forty years, the lines lay in disrepair, most of them being slowly consumed by the surrounding countryside.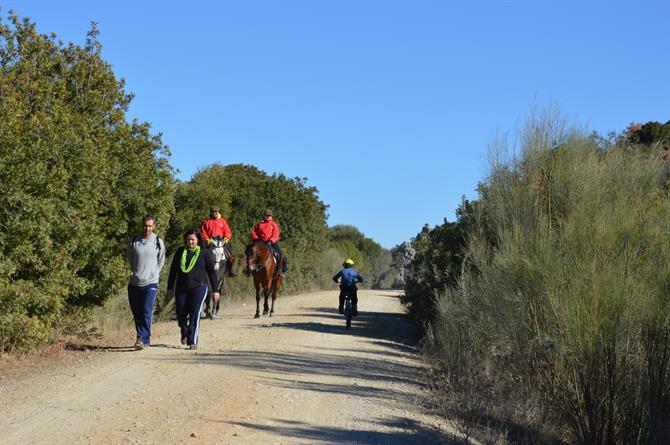 In 1993, the Vias Verde program was launched. The Spanish initiative was modelled on the UK's and the US's Greenways program. Its aim was to introduce environmentally friendly tourism into rural areas, primarily by developing upon the railway infrastructure that was already in place.
The resulting Via Verdes provide ideal cycling and walking tracks for the whole family. Railway lines, by their very nature, are relatively straight and avoid steep gradients. The resulting Via Verdes are flat, traffic free and ideal for cycling or hiking. Most of them also pass through areas of spectacular natural beauty.
As nearly all the vias are tarmaced and properly signposted, they are considered wheelchair friendly and suitable for the elderly.
No motorized vehicle of any sorts is allowed on the vias, providing a unique way to immerse yourself into the Spanish countryside.
Via Verdes in Spain - 20 years of history
Having just celebrated its 20th anniversary this year (2013), the Via Verde program can only be considered a resounding success. There are now over 2,000kms of disused rail track that have been converted into 102 separate routes across Spain. The total cost has been 143 million euros. Several million people visited the Via Verdes in 2012. The ones in the Province of Girona were the most popular, with over 1.5 million visitors in 2012.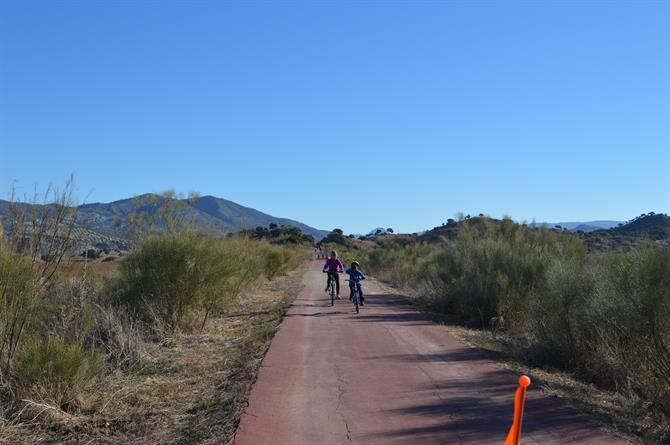 It is estimated that over 100,000 people travelled on the Via Verde de la Sierra alone last year.
The Via Verde de la Sierra, Cádiz
One of most beautiful Via Verdes is in southern-most Spain. It was voted as the best Greenway in Europe in 2009 and came in second place for 'Excellence' in 2013. The Via Verde de la Sierra crosses the mountains in the north of the province of Cádiz and touches on the south of the province of Seville. 36.5kms in length, it runs from the village of Olvera to Puerto Serrano, crossing the municipalities of Olvera, Puerto Serrano, Coripe, Montellano, El Coronil and Pruna.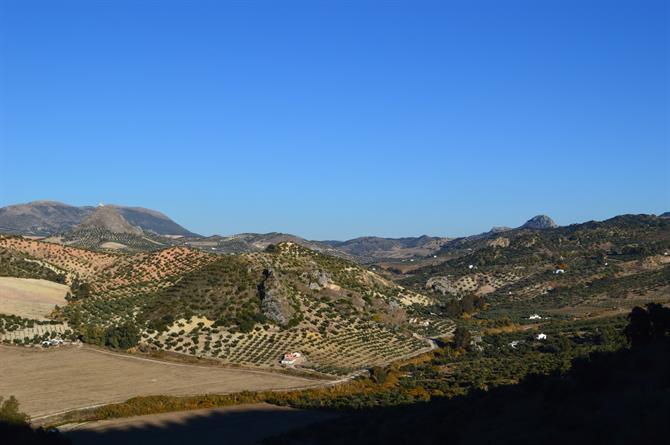 The route is spectacular and goes through some of Andalucia's most beautiful and untouched countryside. You cycle through tunnels of varying length, across bridges and viaducts, through lush valleys, along river banks, through meadows and fields, and past some of Andalucia's most carefully protected natural monuments. There are 30 tunnels in total - the longest of which is over 900m in length. Most have automatic lightening, but not all. It is advisable to bring a good torch and/or headlight with you.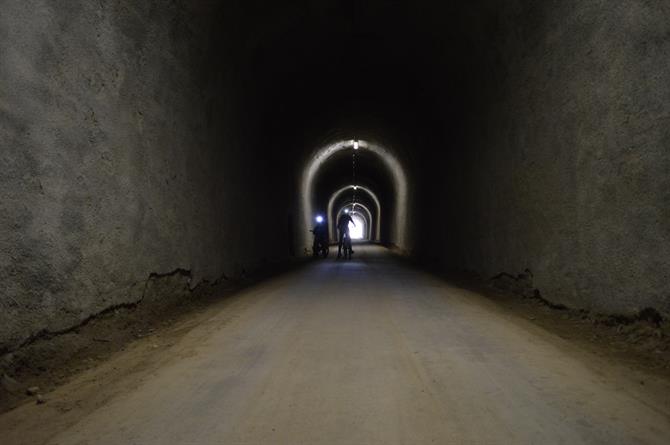 There are four viaducts in total. The largest of which, the Viaducto de Coripe is 237m long. Three former train stations, Olvera, Coripe and Puerto Serrano, have been converted into small hotels with restaurants. They provide good places to start or finish the route, being the only points on the via that are accessible by car.
Peñón de Zaframagón and the Chaparro de la Vega
The two biggest points of ecological interest are Peñón de Zaframagón natural reserve and the Chaparro de la Vega, a protected natural monument. The Peñón de Zaframagón sits almost midway along the Via Verde, on the foothills of the Sierra de Grazalema and right on the border of the Provinces of Seville (Coripe) and Cádiz (Olvera). It is home to one the largest nesting colonies of griffon vultures (Gyps fulvus) in Europe.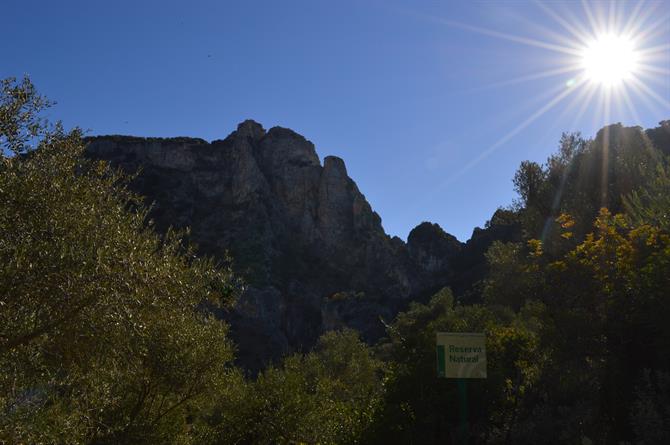 The whole area is an ornithological paradise with numerous other species, including bee-eaters (Merops apiaster), short-toed snake eagles (Circaetus gallius), Egyptian vultures (Neophron percnopterus), owls (Bubo bubo), kestrels (Falco naumanni), grey herons (Ardea cinerea) and common kingfishers (Alcedo atthis).The Zaframagón train station, which sits just next to it has been turned into a visitor's centre and bird-watching post. They have installed two high powered digital cameras hidden high in the mountains, that allow visitors to view the griffin's nesting sites and see them up close in real time. The centre is meant to be open daily (wasn't the day we went) from 10am - 16pm and costs 2€ per adult (1€ for children). Always a good idea to call first - +34 956136372 / 638280184.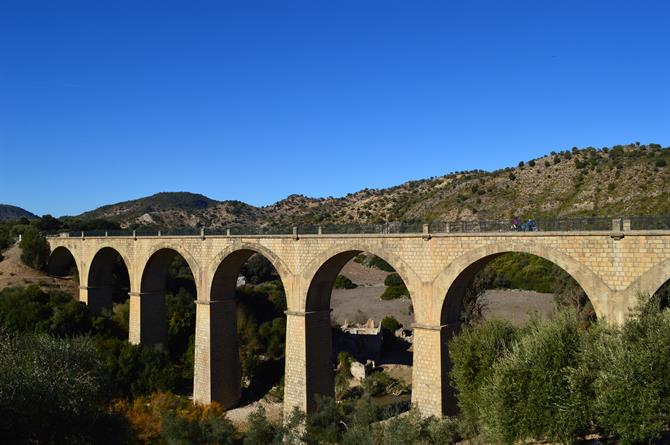 The Chaparro de la Vega is a seven hundred-year-old holm oak with a diameter of more than 28 metres at its peak. To visit it, keep your eyes open for signs just past the Coripe station, there's a small path leading up to the tree. The Chaparro de la Vega has been declared a Natural Monument of Andalusia.
Cycling the Via Verde de la Sierra
Most people start the trip in the village of Olvera and cycle to Puerto Serrano and then back up again. You can rent all kinds of bicycles (children's bikes, tandems, tricycles.....even electrical ones) from Sesca that is situated right at the entrance to the via. Children's seats and separate carts are also available. Prices are on the website and tend to be around 12€ for a whole day. You can reserve the bikes beforehand by sending them an email - see website here.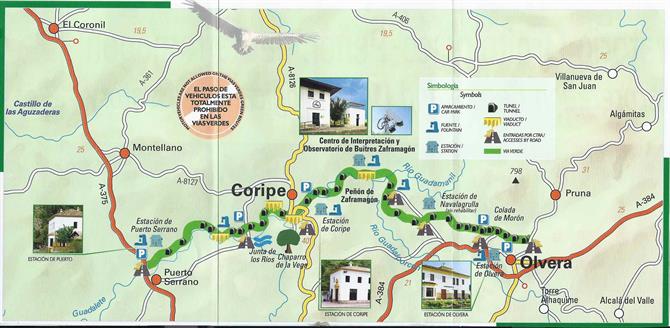 One important point to bear in mind is gradient. If starting and returning to Olvera, your return journey will be uphill. None of the 'hills' are particularly marked or steep, its more of a slow, consistent drag…..but its a drag you will feel after a long day of cycling, particularly the younger members of the family, or if pulling one behind you.
Despite the daunting distances there are various ways to make the route more accessible. Starting in Coripe is one option. It falls almost mid-way on the via and is one of the only points along the Via Verde that can be accessed by car. You can easily make your way back up - direction Olvera to the Peñón and some of the nicer spots on the via. Renting bicycles within Coripe appears slightly more complex, however. Preference is always given to the hotel and restaurant guests. There is only one company in operation (coriperural.es - +34 955858675 / 655526716).
You can also cycle one way and get a specially adapted taxi back to your starting point. The company Sesca - see above - offers this service. At the time of writing, a taxi for four people + bicycles, from Coripe or Puerto Serrano, back to Olvera costs 45€. For seven people, its 50€. You need to call and make arrangements beforehand.
All in all, a fantastic day out for the whole family!!