Spain is so diverse in terms of the different landscapes on offer. In the most northern provinces, you will find stunning beaches hugged by lush green vegetation. Cantabria is no exception, it is home to some of the best beach destinations in northern Spain. Here are the top 10 beaches in Cantabria. Get ready to be wowed.
Berria beach
Comillas beach
Playa El Sardinero
Playa de Langre
Playa Los Locos
Magdalena beach
Playa Mataleñas
Playa Oriñón
Somo beach
Playa de Valdearenas
Berria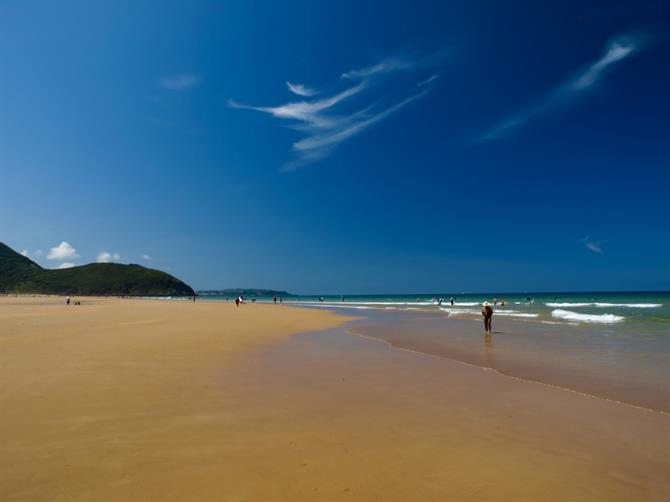 Boasting waves you can ride all year long, this beach with 2km of brazen golden sand, attracts a loyal following of surfers. Clean and serene, a dip in the Cantabrian sea is a great pick-me-up.
This beach is just a short 40-minute drive from the city of Santander. Berria beach is ideal for nature lovers, surfers and stronger swimmers.
Comillas

A traditional fishing village turned resort, lovers of fish and seafood dishes won't go hungry in Comillas. The town itself is steeped in history. Constructed with quirky mansions and a charming historic centre.
This central beach is a popular venue to go diving, sailing, and windsurfing. Just a 45-minute drive Comillas beach flies its Blue Flag proudly. Comillas beach is a naturally sheltered bay with a small fishing harbour to one side.
Ideal for young swimmers, sunbathers and families. The protected bay means that the water is calmer here than some other beaches along this coastline. There are also facilities for the utmost comfort for a day at the beach.
El Sardinero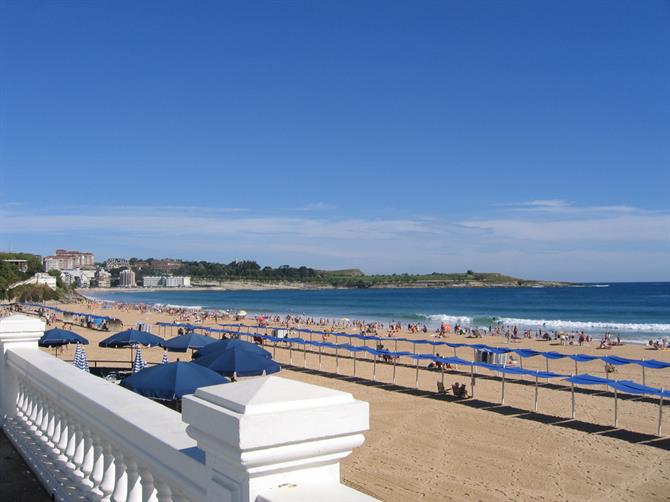 El Sardinero beach lies in the heart of the city of Santander and is one of the best beaches in Cantabria. 1.3km long, this beach is divided in two by the gardens of Piquio where the Tamarind trees bring a little bit of Africa to the shores of northern Spain. The promenade and beach front has been named one of the most elegant beach resorts in Spain.
At low tide, El Sardino beach is joined to La Concha beach. The shallow waters are calm and ideal for children and swimmers.
Langre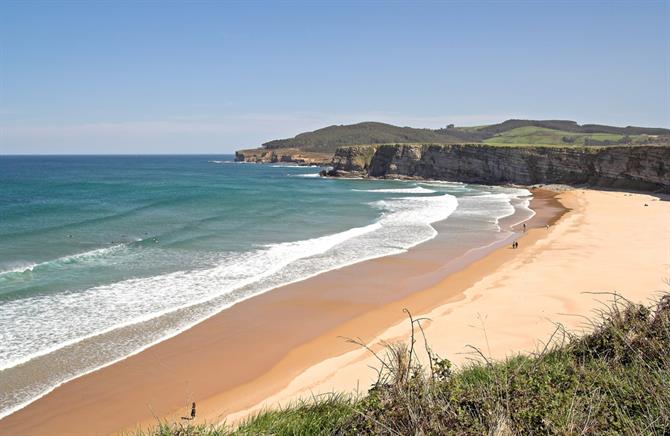 Playa de Langre is a hidden gem on the Cantabrian coast. This wide beach is hugged by dramatic limestone cliffs on either side and often experiences great swells which is why it has been popular with surfers for years.
Just a 35-minute drive from Santander city, once you arrive, take the wooden stairs that lead down to the beach and admire the waves rolling in. If you fancy it, there is a surf school here and 1km of sandy shoreline welcomes all levels of surfers.
This beach is, of course, ideal for surfers, but also welcomes nature lovers and sunbathers.
Los Locos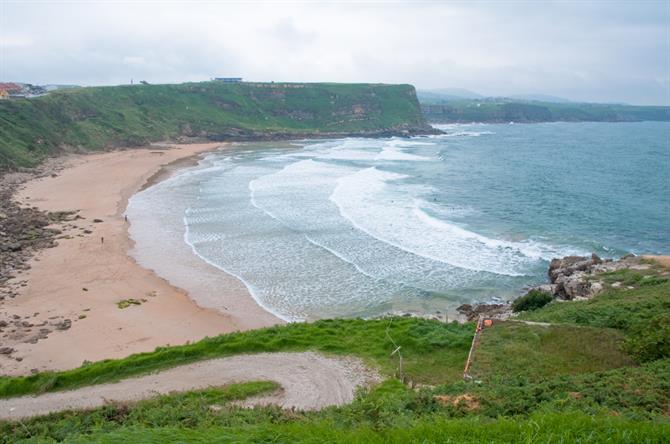 Located in Suances, Playa Los Locos has been declared a Nature Reserve of Surf. The beach is not very wide, but the wild waves make it a surfers paradise. Just over half an hours drive from Santander, this beach is beautifully sandwiched between lush green cliffs.
Playa Los Locos is made up of sand and stones, and swimmers should know that there are often strong undercurrents here. That's why it's generally more popular with surfers than bathers. Above the beach there is an urban area with restaurants and cafes as the beach itself has no facilities.
Los Locos is ideal for surfers and those looking to spend a relaxing day at the beach admiring as the waves hit the sand and watching the surfers tackle the swells.
Magdalena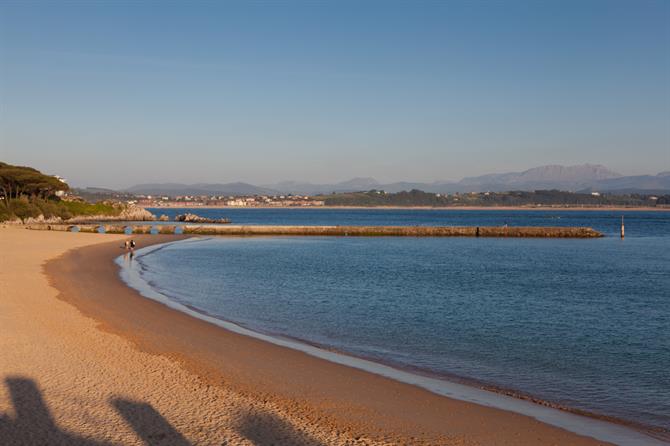 Magdalena beach is another one of the best beaches in Santander. Located next to the peninsula of Magdalena, there is an area designated specifically for swimmers. There are platforms that people can swim out to and sunbathe. One of the biggest attractions of this beach is its natural surroundings. Lush trees and jagged cliff edges make up this area.
Playa de la Magdalena is ideal for swimmers and sunbathers. Once the favourite beach of the Spanish Royal family, while you're here, don't forget to explore the magnificent Palacio de la Magdalena.
Mataleñas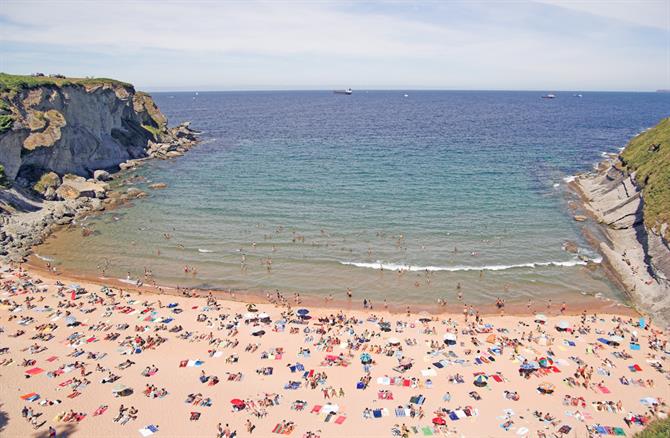 Mataleñas is the perfect family beach and is only a 15-minute drive from Santander. The perfect U-shape, this beach is flanked by the cliffs of Cabo Mayor and Cabo Menor. Climb down to reach this picturesque bay. The shoreline is shallow and often calm as it is protected by the rocky edges.
Playa Mataleñas is accessible by foot down some lengthy stairs which makes it difficult for those with limited mobility. Despite its location, the beach has some facilities as well as lifeguards in the summer.
Matalenas beach is ideal for families and young swimmers. It does get fairly busy in the summer, but it's still worth a visit. You can also reach this bay via a scenic pathway from El Sardinero beach along the cliffs.
Oriñón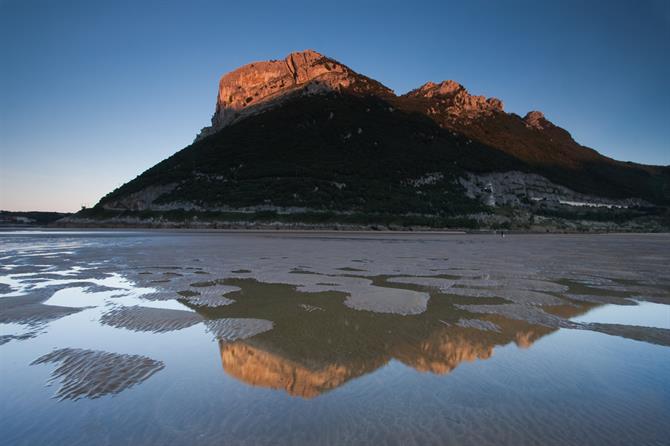 Playa Oriñón is a beautiful horseshoe-shaped beach nestled amongst rocky cliff edges. Easily accessible on foot, this bay is one of the most beautiful beaches in Cantabria.
When the tide goes out, beautiful ripples in the sand are exposed and little rock pools form. Children will have endless fun splashing about in the shallow waters.
Playa Oriñón is located just a 40-minute drive from the popular tourist resort of Laredo. It is ideal for everyone but is particularly great for families with young children.
Somo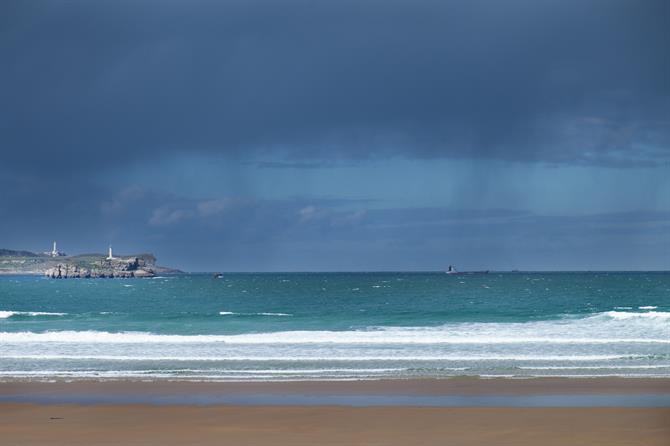 Somo beach stretches over 3km. This beach offers something for everyone and is popular with kitesurfers, surfers and swimmers. To get here, you can take a 10-minute boat trip across Santander Bay. Or reach it by car in half an hour.
There is a surf school here as well as lifeguards in the summer and some facilities. This beach opens out completely to the ocean meaning there are often big swells, but the length and width of Somo beach means there is room for everyone.
Playa Somo is ideal for watersports lovers as well as nature enthusiasts.
Valdearenas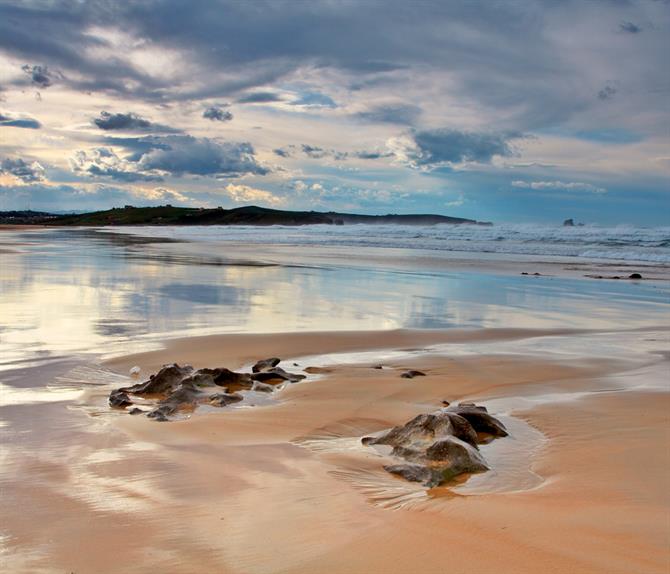 Playa de Valdearenas is a secluded beach around a 25-minute drive from Santander. It stretches over 2.5km and is characterised by rocky areas and golden sand. Another beach in Cantabria that is popular with surfers due to its wide-open location leaving it exposed to the ocean.
This beach is in an idyllic setting protected by the pine-filled Parque Natural de las Dunas de Liencres. Playa de Valdearenas is ideal for nature lovers, surfers and those wanting a relaxing beach day out.
The takeaway
Cantabria has a plethora of beautiful beaches offering something for everyone. The beaches in this part of Northern Spain are a stunning example of a rugged, unspoilt coastline.
Suggested reading for you…