Northern Spain is becoming more and more popular as a holiday destination, perhaps thanks to its beautiful nature, beaches, versatility and the demand for more sustainable tourism.
From the Costa Brava on the Mediterranean to the Bay of Biscay and the windswept Atlantic shores of Galicia. Northern Spain encompasses child-friendly beaches, secret coves and city beaches with entertainment around the corner... But which destination is best suited for you and your holiday to this stunning part of the country? This guide will present you with the best beach destinations in northern Spain to help you make your choice.
Costa Brava
Tossa de Mar
Tossa de Mar is an idyllic beach resort with a medieval feel to it. A stone wall protects the Old Town of Vila Vella and from the cliff, 7 towers look out over the Mediterranean. Find a holiday home in Tossa de Mar and enjoy family beaches such as Platja Gran and Mar Menuda. Alternatively, visit Playa Es Codolar, 80 metres of golden sand on the other side of the Old Town.
The beaches of Tossa de Mar tend to fill up quickly during hot summer days. If you are looking for a more natural scene, you can hike to Cala Pola and the secluded Cala Bona, where you can have a picnic on the sun-warmed cliffs. Cala Giverola and Cala Futadera are two additional stunning coves with blue-green water - a snorkellers paradise. Tossa de Mar is perfect for families and one of the best places for a holiday in northern Spain.
Best suited for: Families, foodies, culture, romantic breaks.
Empuriabrava
The luxury city of Empuriabrava is sometimes called the "Venice of Spain", with countless canals crisscrossing through the neighbourhoods. Many of the exclusive villas have their own private dock with huge boats moored just outside their front door. Rent a holiday home in Empuriabrava and enjoy the stunning beach just below the city centre. This urban sandy paradise is ideal for families with children and has facilities such as sun loungers and parasol rentals, showers, toilets and areas for beach football, mini golf and volleyball. Go snorkelling, take a diving lesson or surf - there are many nautical activities available at this beach.
If you want to discover the local area, walk to the neighbouring town of Roses, or visit the picturesque village of Cadaqués. Cap de Creus - a peninsula with beautiful nature and shimmering turquoise coves - is perfect for a day trip. Empuriabrava is a child-friendly destination in northern Spain and ideal for those who are looking to treat themselves.
Best suited for: Families, luxury holidays, nature lovers.
Cala Montgó
Find a holiday home in Cala Montgó for a beach holiday in northern Spain. Protected in a bay with clear turquoise water, this 600-metre long beach boasts all the facilities. If you want to exercise during your holiday, the Natural Park of Montgrí is just a few steps away.
Best suited for: Families, nature lovers, romantic holidays.
Sa Riera (municipality of Begur)
If you want to pick and choose from sandy beaches and secluded coves, rent an apartment in Sa Riera. This gorgeous seaside town is located in the municipality of Begur and is a great place for a beach holiday on the Costa Brava. Start your day with a dip at Platja de Sa Riera, Platja del Racó or the breathtaking Cala de l'Illa Roja. Another must-see is the stunning fishing village of Sa Tuna with its whitewashed houses over-looking a small beach.
Just south of Sa Riera, you'll find the tranquil Platja Fonda which sits beautifully among cliffs and pine trees. A little further away, is Platja Cala Aiguablava - one of Costa Brava's most famous bays which is busy during the summer. There are countless coves to choose from in the municipality of Begur. If you walk the coastal route of Camí de Ronda you will discover some of the best beaches in Catalonia.
Best suited for: Families, culture, nature lovers, romantic breaks.
Basque Country
San Sebastián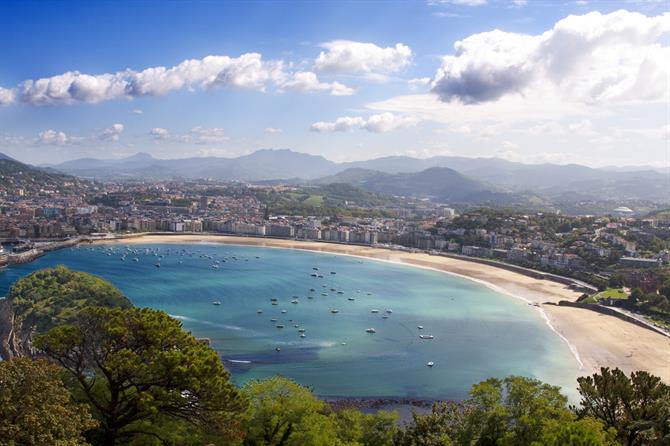 San Sebastián is a buzzing city famous for luxury, world-class food and picturesque beaches. For a beach holiday in northern Spain, a holiday home in San Sebastián is always a good idea. Playa de La Concha - the crown jewel of the city's beaches - can be found at the bottom of a bay shaped like a crescent. Find your place in the soft sand, swim in turquoise water and take in the atmosphere. Just behind the beach, the bustling city awaits to be explored with its countless pintxos bars and vibrant culture. Playa de La Concha has been voted as "The Best Beach in Europe" for three consecutive years by TripAdvisor users.
If you fancy something a bit more relaxed, follow the promenade towards Monte Urgull and you'll reach Playa de Ondarreta. Another great option is to stroll through the Old Town and cross the bridge to the hip neighbourhood of Gros. Below the hipster cafes, tiny shops, food trucks, hostels and bars, the 800-metre long Playa de La Zurriola sits beautifully on the coast. At this beach, there is a cool bohemian vibe, and this is also the best place for surfing in San Sebastián.
Best suited for: City life, luxury holidays, foodies, nightlife, surfers.
Zarautz
Zarautz is a classic beach resort in northern Spain with a 2.5-kilometre long sandy beach just below the centre. The beach can be divided into three sections: the middle part belongs to the surfers, the western side is a perfect fit for families with children, and on the sand dunes below the golf course you'll find more privacy, ideal for couples. A beach promenade lined with bars and restaurants stretches along the seaside town and continues to the neighbouring town of Getaria.
If you are staying in the Basque Country, you can also take many exciting excursions. For example, walk between Zumaia and Deba and discover the natural phenomenon flysch. Or visit the mythical islet of San Juan de Gaztelugatxe, an important Game Of Thrones filming location ("Dragonstone").
Best suited for: Families, foodies, nature lovers, surfers.
Cantabria
Santander
Find accommodation in the city of Santander and enjoy a diverse beach holiday in northern Spain. Santander is located in one of Spain's most beautiful bays with beaches for every taste. Families with children can soak up the sun on the urban beaches of Playa de Los Peligros, Playa de La Magdalena or Playa de Los Bikinis (all are situated next to each other). These beaches are manned by lifeguards, the waves are small and safety nets in the water limit any boat traffic.
On the other side of the Magdalena Peninsula, you'll find the Sardinero area with several sandy beaches, luxury buildings and restaurants. For a more secluded beach experience, walk the path along the bay to Playa de Los Molinucos and Playa de Mataleñas, which sits between two huge cliffs. From Cabo Mayor lighthouse, watch as the sky turns into an explosion of colours when the sun sets over the Bay of Biscay.
Take the ferry across the bay and stay in Somo for more beautiful beaches that are perfect for the more adventurous (choose between Playa del Puntal, Playa de Somo and Playa de Loredo). On these sandy beaches - which seem to stretch to infinity - you can surf, swim or just relax with your favourite book. In addition to the beaches, Santander offers a large selection of trendy tapas bars, restaurants, interesting culture and a great atmosphere.
Best suited for: City life, families, romantic breaks, foodies, nature lovers, basically for everyone.
Laredo
Laredo is a beach resort that offers a lot of activities for families with children. On the impressive 7-kilometre long sandy beach, there is always plenty of space, the water is shallow and lifeguards are strategically placed. Volleyball nets, beach football, and all facilities can be found here. Behind the beach promenade, you can find restaurants, which offer something for toddlers as well as food connoisseurs.
If you are staying in Laredo you can take the ferry to Santoña. The famous anchovies from Santoña are a delicacy sold in grocery stores all over Spain. Just outside Santoña, you'll find the beautiful 2 km long Playa de Berria, which is well worth a visit. The village of Noja, located nearby, also has many paradisical beaches to choose from. Laredo is a perfect starting point for a beach holiday in northern Spain.
Best suited for: Families, nature lovers.
San Vicente de La Barquera
If you want to embrace tranquil beach life and breathtaking surroundings, go to San Vicente de La Barquera. Enjoy amazing seafood in the restaurants and explore the beaches of Oyambre Natural Park. With green meadows, blue sea, sand dunes and the Picos de Europe's snow-capped mountains on the horizon - this area offers some of the most stunning landscapes in Spain. Visit Playa de Gerra and Playa de Oyambre, which are some of the best beaches in Cantabria. No lifeguards or facilities are available, and you will probably meet more surfers than sun-seeking tourists.
Best suited for: Surfers, romantic holidays, nature lovers.
Asturias
Llanes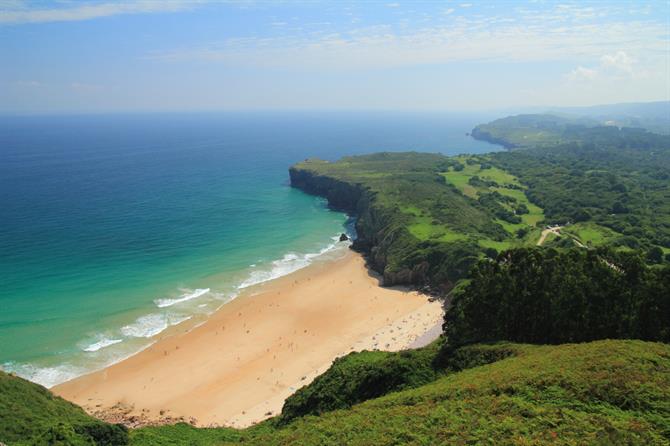 Find a holiday home on the Costa Verde and visit Llanes for the perfect northern Spain beach holiday. Below the city centre, you'll find Playa del Sablón, which is best suited for families. Stroll down further east and you will come across the spectacular Playa de Toró, where cliffs rise from the sea and act as natural breakwaters.
Then it's just a matter of how much energy and many days you have. In the east, there are magical beaches such as Playa de Cué, Playa Ballota and Playa de Andrín. We also recommend visiting Playa San Martín, Playa de Poo, Playa de Torimbia or the unique Gulpiyuri beach in the west, which is actually located 100 metres away from the sea. All these beaches have their own characteristics, but at least one thing in common: they are all situated between green meadows, cliffs and turquoise waters with unparalleled beauty. If you hike along the coast you will also get the opportunity to experience the natural phenomenon of Los Bufones de Pría, "chimneys" where when the sea is rough, shoot out columns of water up to 20-metres high.
During warm summer nights, unwind in a traditional cider house along the harbour canal or in the Old Town of Llanes. Tapas and the local apple cider from Asturias taste great after a day on the beach!
Best suited for: Families, romantic break, nature lovers, foodies.
Ribadesella
Ribadesella, one of the most beautiful towns in Asturias, is located between the sea and the mountains at the estuary of the River Sella. The town can be divided into two: the Old Town, and the quarters by the long sandy beach, lined with elegant villas. In the 19th century, many Spaniards emigrated from these regions to South America and some made themselves a fortune trading, cotton, amongst other things. Eventually, they returned and built extravagant villas in the style of Caribbean architecture - so-called "Casas de Indianos" - which can be visited today.
If you are staying in Ribadesella, you can also take day trips to uncrowded beaches such as Playa de La Vega, Playa Arenal de Morís and Playa del Barrigón. Anyone interested in human history can visit the cave of Tito Bustillo which has cave paintings from prehistoric times. Activities such as surfing, kayaking and hiking are also possible here. Every year, usually in August, the Descenso del Sella is organised - an event where tens of thousands of kayaking enthusiasts paddle from Arriondas to Ribadesella. It is an important sporting event with live broadcasts on Spanish television.
Best suited for: Surfers, nature lovers, culture.
Galicia
La Coruña
La Coruña is a sea town in northern Galicia that offers city beaches, beautiful buildings, squares, great food, sights, and a vibrant nightlife. Praia de Riazor and Praia do Orzán, both with fine white sand and all facilities, are the best beaches.
If you rent a holiday home in La Coruña, you will have an abundance of things to do. After a day at the beach, sit down on a terrace and order freshly caught "pescado del día". In the afternoon, visit Hercules tower - nearly 2000-years-old, it is the world's oldest lighthouse which is still in use. It was the Romans who constructed it and the Lighthouse has been a Unesco World Heritage Site since 2009. If it rains, take the whole family to the impressive Aquarium Finisterrae - an interactive centre of science and marine biology oceanography. It advocates wildlife preservation of the sea ecosystem and sea life. Here you can see sharks, seals, and rays.
Best suited for: Families, city life, culture, surfers, foodies.
Muros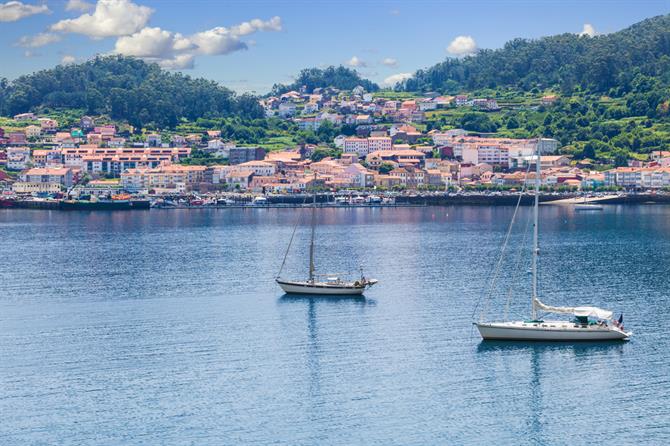 Some of the best beaches in northern Spain can be found near the picturesque village of Muros. Imagine kilometre-long secluded sandy beaches with white sand and turquoise clear water, in the middle of nowhere and sometimes completely empty. Rent a holiday home in Muros and spend the day on beaches such as Praia de San Francisco, Praia de Area Maior, Playa de Ancoradoiro, and Playa de Lariño. These wild beaches are facing the Atlantic Ocean, the waves can be big and the currents strong, so they are not so suitable for children. A bit further away you'll find the 7 km long half-moon shaped Playa de Carnota, which is definitely worth a visit for its beauty.
If you want to discover more breathtaking beaches, continue up the coast and explore the Costa de La Muerte. Stop by the village of Finisterre and the lighthouse on the peninsula, which the Romans believed was the end of the world. The sandy paradises of Playa de Langosteira and Praia do Rostro are two beaches similar to the ones mentioned above.
Best suited for: Nature lovers, surfers, romantic vacation.
Sanxenxo
Sanxenxo is an elegant seaside town where many people from Madrid escape to avoid the fierce heat of summer in the city. There are more than 10 Blue-Flag beaches in the area, and some of the most popular include Praia de Silgar, Praia de Baltar, Praia de Canelas and Praia de Caneliñas. All these beaches are perfect for families, with shallow waters, white sand, many facilities, and services.
A must-visit while staying in Sanxenxo is Playa de La Lanzada, which extends all the way to the O'Grove peninsula and is ideal for water sports (surfing, windsurfing, kite surfing...). Visit the village of O'Grove and enjoy delicious seafood dishes at a typical local fish restaurant.
Another great excursion is Isla de Ons, an island with National Park status. Here you'll find 5 beaches, the most beautiful is the nudist beach of Playa de Melide, which is reminiscent of the Caribbean, with its chalky white sand and aquamarine waters. The ferries to Isla de Ons depart from Sanxenxo, but you must request permission online to be able to visit the island.
Best suited for: Families, luxury holidays, nature lovers, surfers, romantic breaks.
Baiona
In southern Galicia, just 30 kilometres from the Portuguese border, you can rent a holiday home in the beautiful coastal town of Baiona. It was here that Columbus' ship La Pinta first docked in 1493 after returning from the New World. Today you can visit the ship's replica at the Museo de la Carabela La Pinta. Walk the Paseo del Monte Boi and continue to the Virgen de La Roca monument, which looks out over the bay from a small mountain.
Around the peninsula and just outside the town there are 6 great beaches that offer something for everyone. The long beach of Praia América and the surf paradise Playa de Patos are great options. Take an excursion to the Cíes Islands and enjoy Playa de Rodas, which is one of Spain's most beautiful beaches. To be able to visit these islands you'll also need to ask for permission as there is a limit of 1800 people per day. Boats depart from the port of Baiona and Vigo.
Best suited for: Families, nature lovers, culture, surfers.
Now you know some of northern Spain's best destinations for a beach holiday. Choose yours, find the perfect holiday home and get ready to be blown away from the natural rugged beauty in these locations, explore their cities and sample the local delicacies.