The Cabo de Gata is one of the most visited natural parks in Spain - and yet still remains an undiscovered treat for many of us. With a wild and rugged landscape that is almost too beautiful, the beaches and fishing villages that hug this part of the Almería coastline always deserve a second or third look.
It's clear to see, the Cabo de Gata is one of those places that once visited, you'll continue to bookmark as a Spanish holiday destination always worth returning to.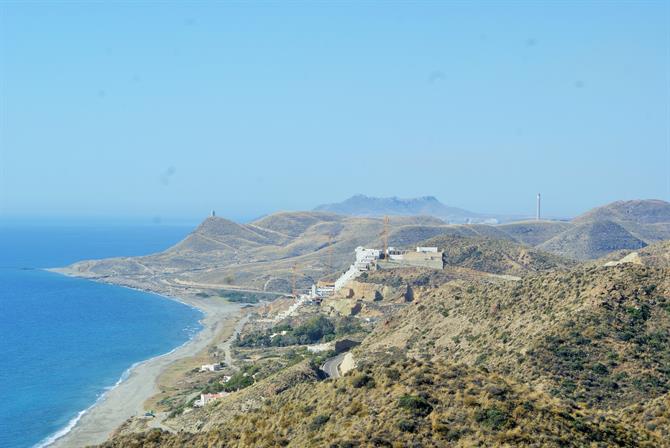 Discovering the villages and coastline
Previously, we had spent time visiting San José and Nijar, as well as several lazy afternoons on the many spectacular stretches of sand along the Cabo de Gata. Recently, we returned to explore in-depth a couple of resorts on the Cabo de Gata that we had previously driven past, vowing to return and take a closer look, one of which was the fishing village of Carboneras.
It doesn't take a lot of convincing to return to any Cabo de Gata destination. Then of course there's always the promise of a decent fish lunch along this superb coastline - how many excuses did we need to take a trip to see more of Carboneras?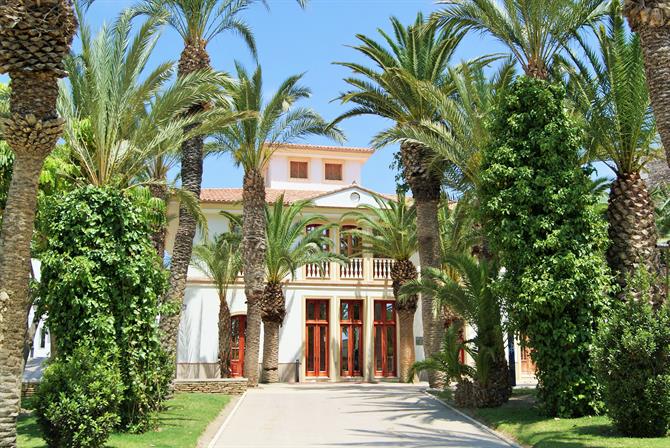 Where is Carboneras?
Set at just 10 metres above sea level in the driest province of Spain, Carboneras is just over 60kms from the city of Almería itself.
What's in a name? Carboneras produced charcoal as the main industry in the past, thus the name. Today you'll spot more signs of the busy fishing industry that Carboneras is famous for, a fleet of coloured boats bobbing in the harbour, having organized lunch for the day.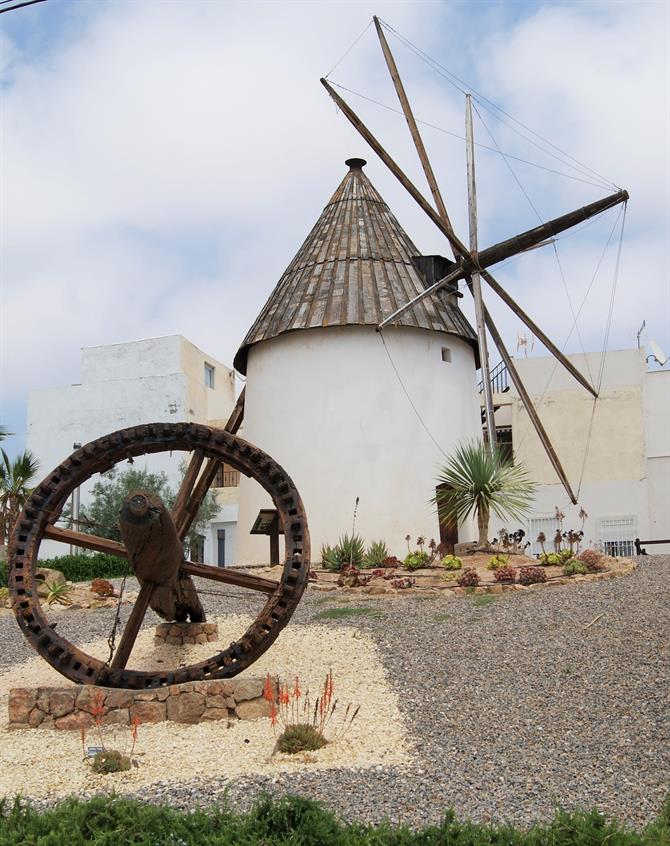 What's to see there?
The superb beach of Los Barquicos (below) should be enough to cast a net around you and pull you down for a much needed rest.
But around town, there's a wealth of local history to discover, should you feel the need to do anything other than relax on the aforementioned beach.
See the castle of San Andreas (you can park around it too). There a sweet little park right behind it, and a very impressive 19th century house known as Patio Andaluz.
The promenade is long and sweeping, making for walks with a view to San Andreas island. Due to the special marine eco-system, the surrounding waters are teeming with sealife.
Take a walk to the Mesa Roldán, which is an extinct volcano right next to the sea going west on the borders of the principalities of Carboneras and Nijar. Built on top is the artillery watchtower, Torre de Mesa Roldán, completed in 1766. There'll you'll also find the lighthouse - naturally a great viewpoint!
What about that lunch?
And so to the serious business of something to eat. Like a plate of good fish? Then pull up a chair. It's futile to resist. Carboneras is first and foremost a fishing village - and the evidence is all around you, from the colourful boats upturned and resting on the sand, to the delicious aromas wafting from pot-clanging kitchens of the beach-side restaurants and tapas bars.
Try the excellent Sea Bass, which is a speciality of Carboneras.
Best advice? Forget your watch. Your nose will let you know when it's time to eat - so give in and drag yourself off that beach around 2pm, when you can sample some of the morning's catch.
Get as close to source as possible and try a seat at Chiringuito J Mariano located right on the beach.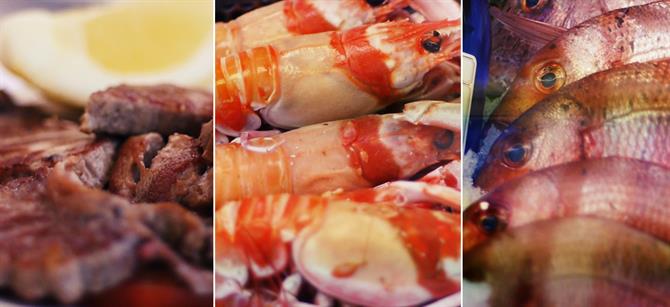 What's so special about this area?
So, what is so special about the area known as the Cabo de Gata?
You'll already be aware that Andalucía is a vast and varied place - the sheer diversity always takes first time visitors by pleasant surprise.
The Cabo de Gata Natural Park is the largest coastal protected area - and comes with a bonus of a desert climate.
It's made up of coves and magazine photo-shoot beaches, cliffs and areas of desert landscape and volcanic rock. The Mediterranean shows her best Spanish side here to the first time visitor - who can only be swept away by the beauty of the clear waters and coral reefs. Snorkelling fan? Jump on in...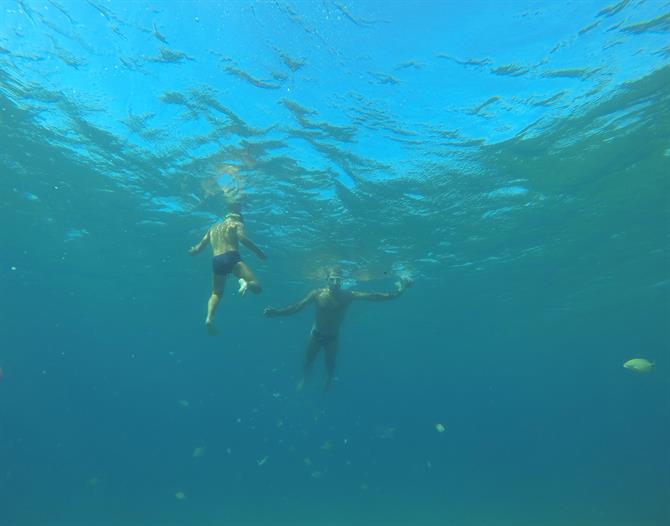 Who does the area appeal to?
First and foremost, nature lovers. Birdwatchers will be twitching with happiness with a visit to the Cabo de Gata, particularly in Spring or Autumn with the bird migration patterns. Even a winter's day proves rewarding.
Much of the flora and fauna is indigenous to the Cabo de Gata, spring is when it's at its best - with the added fragrant herbs and flowers to dress up an already stunning location.
Walkers love this space. Cliff and coastal walks from place to place - going where the car cannot means you'll get to see it all up close and personal.
Families adore the Cabo de Gata beaches. Fine sand and clear shallow waters make a safe and memorable holiday with little ones.
Water babies will be in their element - kayaking and snorkelling are just two of the popular water sports in the Cabo de Gata.
Film buffs will find that the Cabo de Gata sets the scene perfectly. For a Few Dollars More and other famous western theme tunes will set you whistling as you cross the desert-like environment.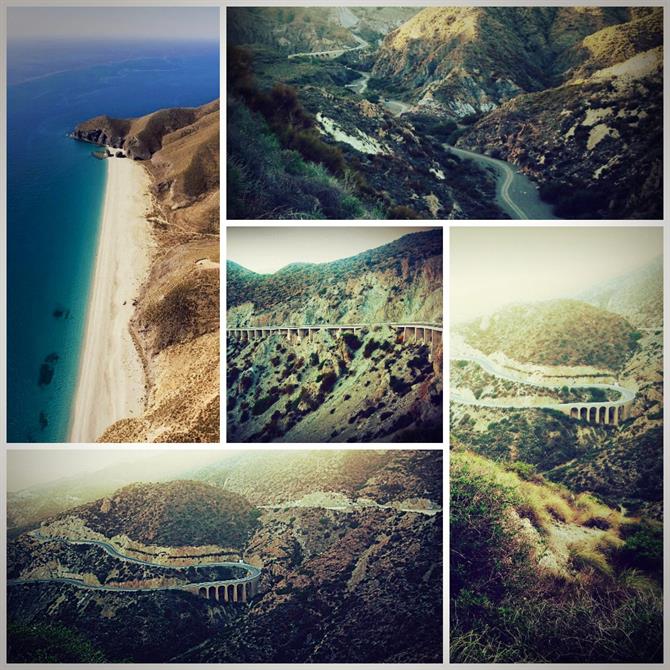 Around Carboneras?
Other places of note in the area to visit in and around Carboneras are:
San José - Bohemian vibe and arty shops - great beach.
Agua Amarga - Superb resort, slightly more upmarket, lovely beach.
Nijar - Inland town renowned for ceramics and pottery. You'll be 'bowl'-ed over.
Cortijo de los Frailes - where Eastwood meets Lorca.
Los Albaricoques - For movie buffs and fans of Sergio Leone.
Las Negras - To the west of Agua Amarga and a little livelier.
Rodalquilar - The home of a long-deserted gold mine and also a botanical garden.
Too much for just one Cabo de Gata holiday? You see? We just knew that you'd be already planning to come back...!