About Comares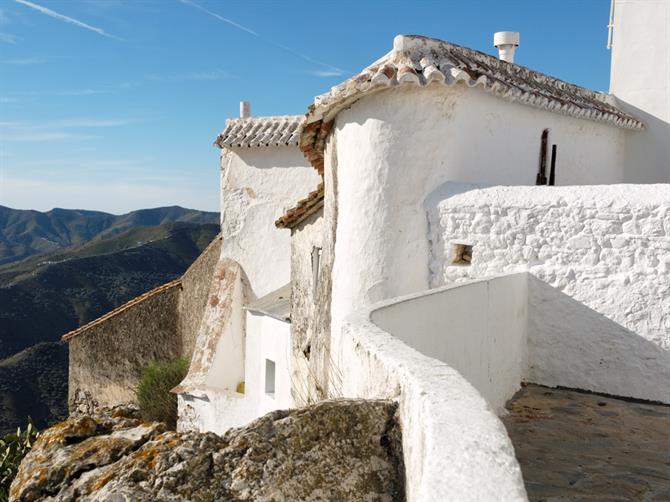 Comares is the highest village in the Axarquia, at 706m above sea level. Commanding views of the surrounding countryside, its location has been of strategic importance ever since Roman times. Indeed, the name 'Comares' is derived from Arabic and can be roughly translated as "Castle in the height."
Villages in the Axarquia don't come much more beautiful than this. The postcard perfect white-washed village is a joy to behold. The best way to visit Comares' maze of narrow, winding streets is by following the ceramic footprints as they guide you around the village, taking you through Comares' old Moorish quarter, past its picturesque squares and best viewpoints.
Things have changed in Comares, it is now firmly on the tourist map and is no stranger to bus loads of camera-wielding '
guiris
.' Of all the villages on the
Axarquia's raisin route
, Comares is the most visited.
What is less visited, but no less dramatic, are the via ferratas, climbing routes and one of Spain's longest ziplines.
Active tourism in the Axarquia
The local townhall in Comares saw the opportunities presented by active tourism early on and were at the forefront of developing it.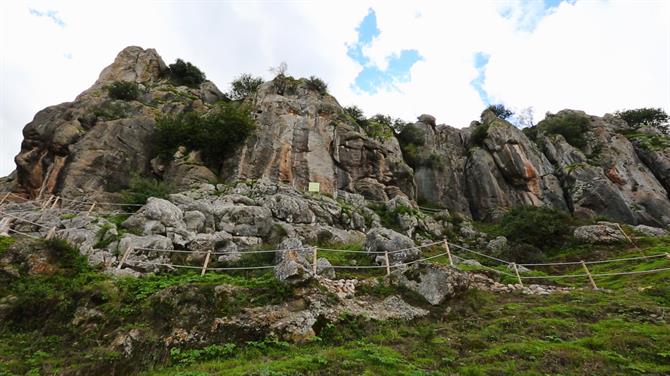 The village is now home to three via ferrata routes, over 30 equipped climbing lines and one of Spain's longest ziplines. An authentic playground for thrill seekers. No other village in the Axarquia comes close.
Despite its proximity to Malaga, the ferrata routes in Comares still remain less known than the ones in the Serrania de Ronda.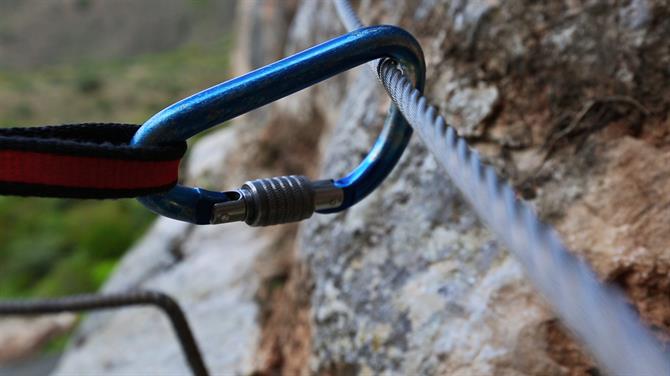 The last two ferratas (Puerta del Agua and the Cueva de la Ventana - see below) are fairly recent additions and were inaugurated in 2013. They still haven't gained the fame they deserve.
Let's take a look.
The Comares Via Ferratas
The zipline, climbing routes and all of the via ferratas are situated in the northern part of the village. The best place to park is near Calle Los Verdiales (Mirador Puerta del Agua) - map. All three of the ferratas finish here.
There's usually plenty of place to park and newly constructed paths that lead down to the ferrata starting points. It's a short walk down, less than 300m.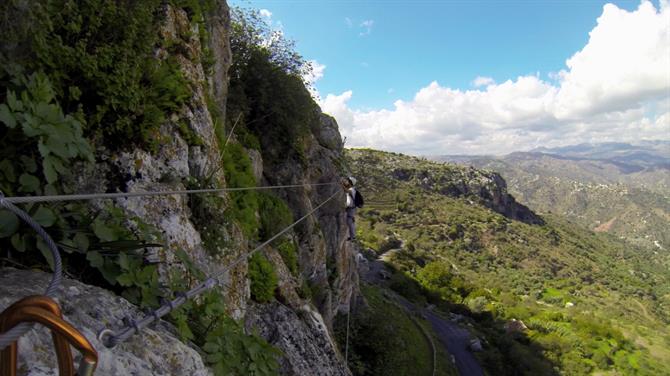 Starting from right to left (when facing the rock face), the first ferrata is called Fuente Gorda (named after the fountain it sits next to): the second is called La Cueva de la Ventana (named after a cave you crawl through ) and lastly, you have the Puerta del Agua Via Ferrata. The routes are also arranged in order of difficulty.
Fuente Gorda is a very straightforward route, it's steep and there's one horizontal pass that you need to traverse, classified as easy to moderate.
The Cueva de la Ventana route is more technical and aerial. There are hanging bridges and a zipline. You'd need to bring a pulley and at least 25m of rope. The via ferrata is named after a small cave that you go through near the top, one that offers some spectacular views.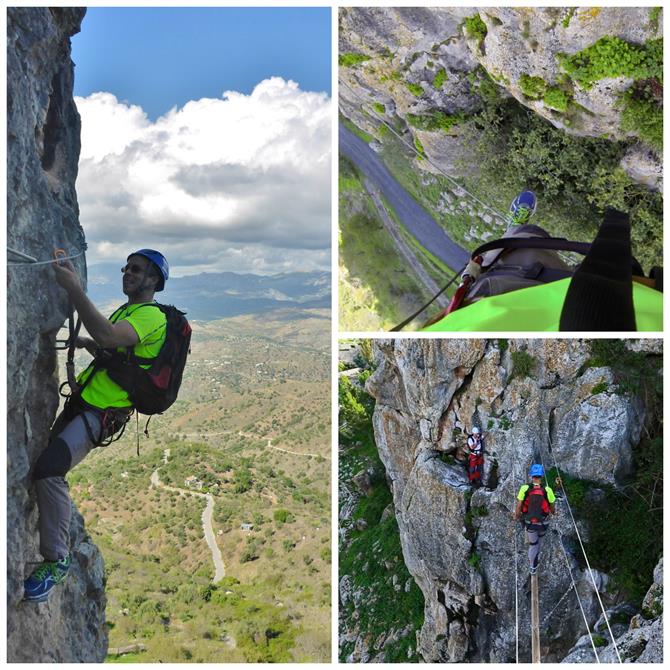 The last one, La Puerta del Agua is the longest and most complicated of the three. A long and vertical route. There are four hanging bridges, two monkey bridges and two Tibetan bridges (including one with logs). You need to be experienced and to be physically fit for this one.
There are several overhangs, horizontal traverses, chimneys and sections that can only be classified as technical. You need a lot of strength in your arms, we were exhausted when getting to the top. Bring a sling with you, it's a good idea to clip in and rest in places.
Technical information for Comares Via Ferratas
| | | | |
| --- | --- | --- | --- |
| October 2015 | Fuenta Gorda | Cueva de la Ventana | La Puerta del Agua |
| Total length (from parking) | 600m | 800m | 1.1kms |
| Accumulated height | 54m | 53m | 61m |
| Difficulty | Easy | Moderate | Moderate - difficult |
| Access | Very good | Very good | Very good |
| Condition | Very good | Very good | Very good |

Equipment - At a minimum: a helmet, harness, via ferrata lanyard and at least one climbing sling with a screwgate carabiner. If doing the second ferrata, La Cueva de la Ventana, you need a pulley and a minimum of 25m of rope. You can avoid the zipline, but it involves some climbing.
The Comares Zipline
The Comares zipline was inaurgated in 2013. At 436m in length it was Spain's longest zipline.
It's been knocked off the top spot by another zipline that opened in Sanlucar de Guadiana, Huelva.
That one is the only zipline in the world where you need to carry a passport when using it, as you cross an international border. You start in Sanlucar in Spain and finish in Alcoutim in Portugal, with a total length of 720m.
Getting there
As mentioned above, all the ferratas and the zipline are situated in the northern part of the village - here.
Permissions for the zipline are fairly hard to obtain. If wanting to do it on your own accord, you'd need insurance, equipment and preferably, to be federated in mountaineering. Even then, the information was hard to come by.
A far simpler solution is to go with a company. Leo from Gestodext (+34 697 218 289 - he speaks English) can arrange the permissions and the right equipment. The cost for a single person is €15, but you need to be in a group of a minimum of 8 people. There are also options to combine the zipline with a via ferrata - cost is around €30 depending on the route you choose. There's more information on the official Comares active tourism site here.