What is the Route of the Caliphate ?
The Route of the Caliphate runs through the Eastern region of Andalusia. It is also referred to as the Route of Al-Andalus. This journey links Granada and Cordoba, both important historic cities in Spain. The route crosses through Jaen Province too. In the middleages this well-trodden path was one of the busiest for traders and travellers on the Iberian Peninsula. It was key in the strategy of the Catholic Kings and witnessed many battles over time.
Ruta del Califato
The complete route is made up of these locations: Aguilar de la Frontera, Alcalá la Real, Alcaudete, Alfacar, Baena, Cabra, Carcabuey, Castillo de Locubín, Castro del Río, Cogollos Vega, Colomera, Córdoba, Espejo, Fernán Núñez, Granada, Güevéjar, Lucena, Luque, Moclín, Montemayor, Montilla, Pinos Puente, Priego de Córdoba, Víznar and Zuheros.
Spanish Castles and Landscapes
This route is scattered with white villages, historic castles and fortresses, as well as breathtaking landscapes. The fortifications and turrets of the time were built above the towns and villages for defence, to see in the distance to prepare for invaders and attacks. This area is agricultural offering lots of views across olive grapevine and almond plantations. Not only are there places of interest in the towns on the route, the countryside as you travel has several ruined towers and picturesque landscapes worth a photo stop along your journey.
Andalusia Road Trip
Visiting the entire route would take several days. Let´s focus on a few highlights along this journey and plan a road trip. These four gems selected are recommended for their historic importance, wealth of monuments as well as choosing a simple route. This one way journey is 183 kilometres. It can be done from Granada to Córdoba or Córdoba to Granada. From the year 929 until 1492 this land was part of the Califato de Córdoba. The two most important cities once in history were Granada and Cordoba. This explains the rich architecture and legacy left behind in these two historic Spanish cities today.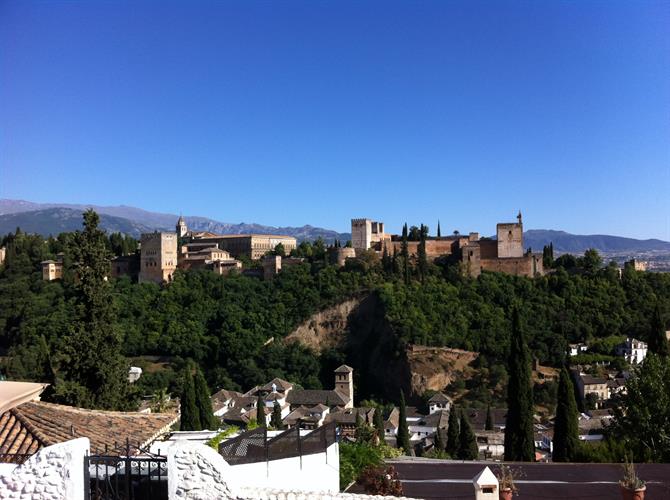 Granada
The Alhambra was the palatial city set above Granada. Still today this is a jewel of Muslim architecture, impeccably designed and detailed. Often it is the most visited monument in Europe. This must see palace will take 2 hours or more to visit.
The narrow streets of the Albaicin in Granada are also a typical area to visit in the city. Left behind from this period, stroll back in time through the streets of Granada and imagine life at the time of the Caliphate. Perhaps you may like to relax in one of the Hammam as they would have done years ago. Try Hammam Al-Andalus or Alijbes de San Miguel for an Arab bath experience in Granada´s old town. Walk along the streets of Caldereria and try a Moroccan mint tea in one of the tea shops to recreate the exotic atmosphere of Al Andalus.
Useful information:
Eat out in Granada at Restaurant Arrayanes (Cuesta Marañas off Caldereria Nueva) to have a typical cous cous and zingy lemonade or choose Granada cuisine in traditional Chikito restaurant Plaza del Campillo,

Underground Parking is available at Puerta Real, Granada and also at Calle de Pedro Antonio de Alarcón, 40.

Granada Tourist office is at Calle Santa Ana (off Plaza Nueva)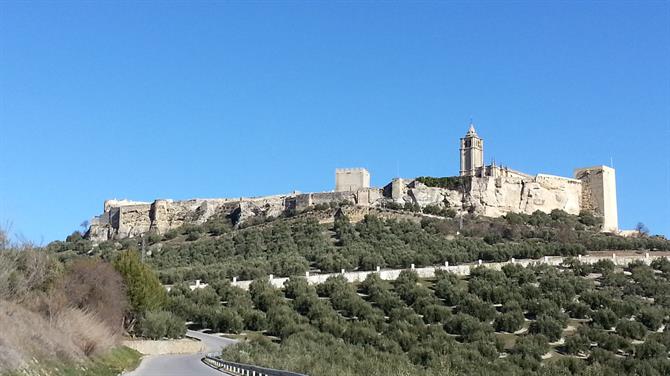 Alcala la Real
El Castillo de la Mota is visible on approaching the town of Alcala la Real. This impressive castle dates from the 13th century. Over the centuries it had modifications and elements added to the fortress. This fortress marked the boundary between Castilla and the Kingdom of Granada. This town is actually in the province of Jaen, the countryside is covered with Olive groves as far as the eye can see. Also worth visiting is the impressive Church Iglesia Mayor Abacial in the town itself.
Useful information:
For food in Alcala la Real try Casa Pepe on Calle Espinosa 4.

Visiting times – Castillo de la Mota: 15 October to 31st March 10.30am to 5.30pm. Then in April to Mid October from 10.30am to 7.30pm

Free Visitor Parking in the castle car park Visit time 90 mins approx.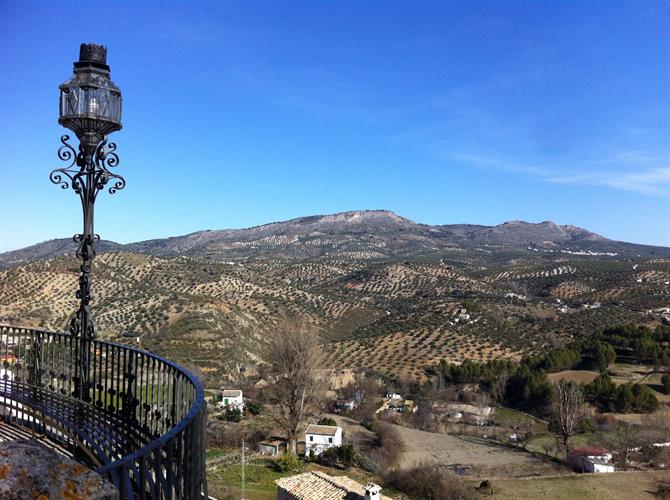 Priego de Cordoba
This quaint town has a beautiful viewpoint across the surrounding countryside from El Balcón de Adarve. This place feels totally Andalusian and unspoilt. Dotted with coloured plant pots, iron crosses and decorations along the whitewashed streets. Make sure you wander through the Barrio de la Vila when visiting Priego. In May the town has it´s Festival of typical patios and also Easter week is celebrated here as in other parts of Andalusia. Enjoy typical food Flamenquin Cordobes, Salmorejo and Aubergines in honey.
Useful information:
Restaurante Califato has an outdoor terrace and great food. (Calle Abad Palomino, 3)

The Tourist information office is located at Plaza de la Constitucion

Parking is available at Carrera de las Monjas and on Calle San Luis in Priego de Cordoba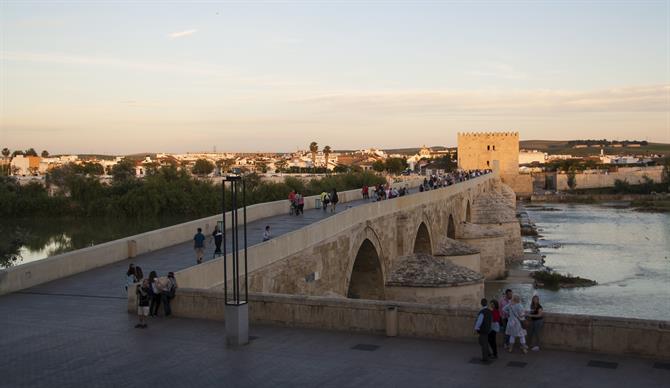 Cordoba
Cordoba was the largest city in Medieval Europe and one of the most advanced societies too. The Mezquita is a must see monument to anyone visiting Cordoba. Although it´s not the only point of interest. The Alcazaba de los Reyes Cristianos is also worth seeing as well as Medina Azahara which lies a short drive from Cordoba. For gardeners and plant lovers the Palacio de la Vila is a quaint palatial home in typical Andalusian style. This has different patios and gardens throughout the house and is impeccably restored.
Useful information:
Cordoba has some great options for food. Try Bodega Campos which is a firm favourite with visitors and locals alike. Calle Lineros, 32 or Taberna El No. 10 on Calle Romero 10

Tourist Office in Cordoba is located on Calle Torrijos, 10

24h Parking is available at Parking La Mezquita on c/ Cariuán (Av. Doctor Fleming)
Route of the Caliphate: Granada to Cordoba
Leave Granada towards Alcalá la Real – 53 kms / 33 miles

Stop to visit the Castillo de la Mota

From Alcalá la Real drive onto Priego de Córdoba. 30 kms / 19 miles

Visit Priego de Córdoba

From Priego de Córdoba drive onto Córdoba. 105 kms / 66 miles