An Oasis of Natural Beauty and Adventure - discover the Costa Tropical Beaches unique to Andalucia.
A few years ago it might not have been the first destination thought of when considering a beach holiday in Spain. Now the secret seems to be spreading that the beaches in Granada, known as the Costa Tropical, are the place you visit if you want to avoid the overly-populated Costa del Sol and some of the other Costas on the coastline of Spain.
It's a great way to dip your toe into 'real Spain' without feeling overwhelmed. You can still experience the comforts that 21st Century travellers expect nowadays but you will also experience the hospitality of locals wanting to show you what their home has to offer and beaches that draw you in with their natural beauty. Staying along the stunning Costa Tropical coastline will leave you feeling that you've escaped the rat-race and touched base with the adventurer that lies within us all.
The Beaches of Granada
Granada, with its rich history, is the capital of this area. The stunning Sierra de Nevada mountain range stands as the backdrop to the whole of the Granada region. So it is no surprise that rugged cliff faces jut into the clear turquoise waters of the beaches near Granada. The lighthouses and watchtowers or 'torres' tower above the rocks as a reminder to visitors of the history that is embedded in this once Arab settlement.
The Costa Tropical beaches are diverse in the range of amenities on offer. Some being no more than small coves, accessed by a scramble down to the sands or only by boat. Others have the full amenities suitable for a more traditional beach holiday. Even so, all of the beaches near Granada feel a little closer to nature, perhaps due to the combination of cliffs, mountains, and abundance of palm trees and brightly-coloured flora which adorn this shoreline.
To start you off on your adventure, here are some of the best beaches on the Costa Tropical!
Calahonda Beach - Motril
Calahonda, meaning 'deep bay,' is a popular name for beaches along the Spanish coastline, but none will be as enchanting as Calahonda beach on the Costa Tropical. Often voted as one of the best beaches in Granada, it stretches for well over a kilometre and is accessed from the picturesque fishing village from which it is named.
Calahonda village has gently expanded over the years to accommodate the increase of travellers but it still maintains that olde-worlde allure. Small fishing boats are part of the landscape here and add to the feeling that you are experiencing a way of life and not just a holiday destination.
The beach is sheltered from the world beyond, embraced by a headland to the east and rugged cliffs that stretch around it, making it a snug haven to relax in and also to explore. Scuba divers and snorkellers are frequently seen bobbing around in the award-winning clean waters in search of the rich and varied sea life beneath the waves.
One of the reasons why Calahonda Beach is on the list of best beaches on the Costa Tropical is for the excellent selection of chiringuitos, bars and restaurants along its sands. Serving delicious, fresh, local produce they truly enhance the feeling that you have found a secret part of Spain that many tourists are yet to discover.
Calahonda Beach is a lovely location and a lovely taste of what the beaches near Granada have to offer. Practical and charming it is one of 7 gorgeous beaches in the Motril area of the Costa Tropical, which are well worth exploring as part of your stay.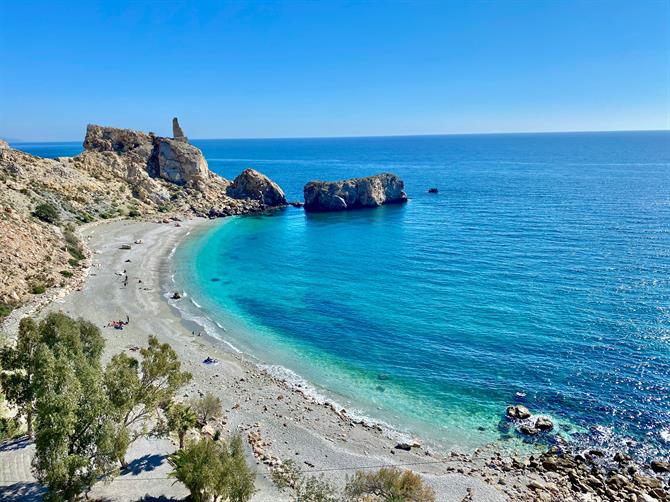 La Rijana Beach - Motril
A jewel of a beach near Granada is La Rijana in the Castell de Ferro area of Motril. It is a 250m bay, ideal for snorkelling and scuba diving. It's one of the quieter beaches in Granada, but its lack of infrastructure makes it one of the more appealing beaches for those who want to feel like they've really escaped. For this reason, it's popular with locals. Even here though there is a little chiringuito where you can enjoy the local fish while sipping on a cocktail. Quite civilised really!
Playa Puerta del Mar - Almuñécar
In the Almuñécar region of the Costa Tropical, you will find no less than 11 beautiful beaches to explore. Most are suitable for families and although beaches like Playa Cabria are secluded and only accessed by driving down a dry river-bed, there are still restaurants right on the beach here and live music is played in the Summer months.
For an all-round beach, it isn't difficult to see why Playa Puerta del Mar as one of the best beaches on the Costa Tropical. It is one of the most visited beaches along this coastline and perfect if you are renting a holiday villa in Almuñécar. Its fine sands stretch for almost a kilometre from the natural rock feature known as the Peñon de Cristobal to the fun-filled AquaTropic Water Park. The views are spectacular from its shoreline, encompassing the aquamarine and turquoise waters to the castle of San Miguel and the impressive rocks of the Peñon itself. Nature sits comfortably with conveniences on offer in Almuñécar. A promenade runs the whole length of the beach with restaurants and bars on one side and palm trees festooning the other. There are the usual water sport activities on offer here along with beachside cabana bars. Below the Peñon there are an array of tropical chiringuitos with outdoor sofas and loungers that make this part of the beach particularly appealing. To mix it up a bit, when you are done with chilling, it is an interesting walk from the beach through the old town of Almuñécar, taking you up to the San Miguel Castle.
Tesorillo Beach - Almuñécar
For a touch of history visit the Tesorillo Beach in Granada's Almuñécar. There are not very many beaches in Granada that can boast a tale about treasure but Tesorillo Beach is named after the ancient coins that were found here. It's a small but impressive beach due largely to the Moorish tower that sits on its rocky crags. The beach is perfect for families as there is a gentle incline into the sea and water temperatures are always warmer than elsewhere. A couple of restaurants on the edge of the beach provide great food and most Fridays there's a real festive vibe with live entertainment.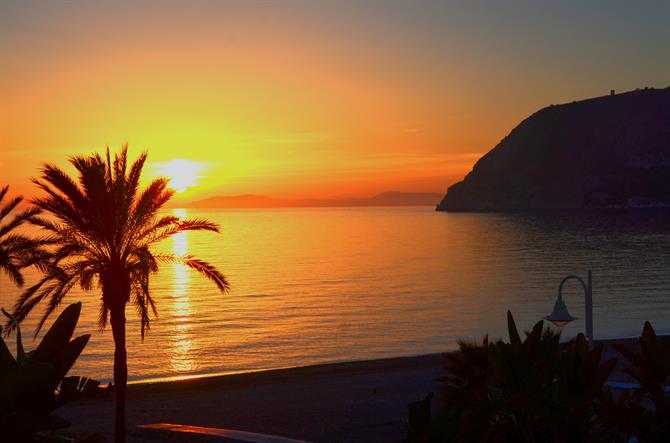 La Herradura Beach
La Herradura is a small seaside village full of charm and has no less than 4 pretty beaches to explore!
The main beach is named Playa La Herradura. Over 2 km long, it sits at the foot of Sierra de la Almijara and it has everything you would want in a perfect beach location. Shops, restaurants and chiringuitos galore! Hammocks and umbrellas can be rented to laze around on the sands. For the more energetic, bikes are available to hire and are perfect for traversing the long promenade. There are several watersport activities on offer here too and one of the most peaceful things you can do is to hire a kayak and paddle to the other beaches in the area. You'll come across a large cave at Cerro Gordo which you can easily manoeuvre into in your kayak. Slightly further up the coast, towards the Costa del Sol there's the Maro waterfall which is also accessible by kayak from Maro itself. The waters around La Herradura are teeming with life. Divers and snorkellers will enjoy swimming with the varied population of fish, including some endangered species.
Extraordinary views from the boardwalk make it ideal for visitors with mobility problems too.
La Herradura Beach is a beach for the whole family to enjoy and that's why it's considered one of the best beaches on the Costa Tropical.
If you stay in La Herradura it would be a pity to miss out on the other well-known beaches on the Costa tropical. There's Playa Berengueles, which is renowned in Spain as a top scuba diving destination. And Playa Cantarriján, a discrete beach protected by the nature reserve and coastal cliffs and one of the few 'playa naturalista' or nudist beaches near Granada.
Playa Calaiza- La Herradura
Within the La Herradura area, you can also find a tiny, hidden gem. It's one of the beaches on the Costa Tropical that lies tucked away and only accessible by boat or by a walk down from the Cerro Gordo pine forest. Once there, you can easily feel like you are on your own desert island for the day. The views from the beach are impressive. It's also a popular breeding ground for octopus which can be seen while snorkelling around the rocks there.
Playa Salobreña
Made up of the main beach of Salobreña; La Guardia and the cove of El Peñon these are the two most popular Costa Tropical beaches and are often referred to as the Salobreña Beach. Paddleboarding, kayaking, windsurfing, scuba diving and snorkelling are all available here. It also has a long promenade that allows for walks or cycling. There is a huge selection of chiringuitos and bars, shops and boutiques make these a convenient choice for a beach holiday near Granada.
The food in the restaurants here is varied and delicious. Traditional and modern menus, as well as live music, add to the reason why this is a busy beach to hang out on, particularly in the Summer.
Playa Salobreña is surrounded by beautiful views of the farms and sugar cane plantations that sit behind the town.
This is a scuba diver and snorkellers paradise as an artificial reef was created not far out from the beach which has attracted an abundance of marine life into these beautiful, clean waters.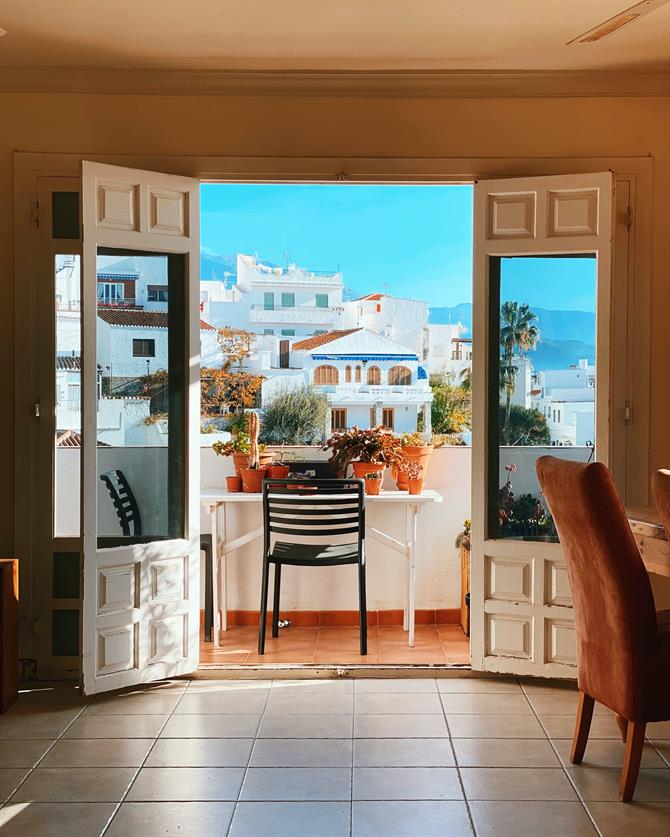 The Coves of Salobreña
For the slightly more adventurous there are coves such as Pargo Cove, which can only be accessed by steep, winding paths that need to be traversed with care. For a more accessible cove and one that is suitable for children, there's a sense of adventure when you take the winding pebbled pathway from the square in la Caleta down to Caletón Cove. It's a picturesque trip down and only takes about 10 minutes. Once down there, you will feel like you've discovered your very own island! It's truly beautiful and feels totally secluded. The rocky beach is small but is an excellent place to fish and there is an array of marine life here amongst the rocks that makes it an interesting place for snorkelling.
The little fishing village of La Caleta is worth an exploration. Little narrow streets with a scattering of cafes make it an ideal place to chill after your Robinson Crusoe adventure in Caléton Cove.
Playa Punta del Río - Salobreña
This is a beach near Granada in the Salobreña area that is popular for dog walkers. It doesn't have any amenities but is a more natural beach to walk along. Totally safe to let your dogs play on the sands and go for a doggy paddle! The mountain river meets its end here and a wetland area at the back of the beach makes this an ideal spot for bird watching too.
The takeaway...
These are just some of the best beaches in the Costa Tropical to whet your appetite. A taste of Spain, taking you a little off the beaten track. And one thing is for sure, when you explore the beaches in Granada you'll realise they are a wonderful mix. Offering something for everyone to enjoy. Sun, sea, sand, sangria, and so much more...
Suggested reading for you...