It is very hard to believe that you are in southern-most Spain. The water is glass-like, crystal clear and exceptionally clean. The landscape is completely wild and untouched, with waterfalls on almost every corner, secluded coves and beaches that can only be reached by kayak, sea caves that reflect different stone colours......all just waiting to be explored.
The underwater scenery is just as impressive with the best diving and snorkelling to had in the region.
Welcome to Nerja's undiscovered coastline. A coastline that will take your breath away.
The Acantilados de Maro-Cerro Gordo Natural park
Everything about the route reeks of pristine virgin territory. Which it is.
Most of the journey takes place within the Acantilados de Maro-Cerro Gordo Natural park.
A natural area that is rigorously protected and is home to some of the best beaches on the coast, including Playa del Canuelo,Cantarrijan, La Caleta de Maro and Las Calas del Pino.
"Paradise Exists – And It Is In Andalucia"
"You don't have to travel thousands of kilometres by air to reach paradise, it is here, in our back garden" so concluded a recent Canal Sur television program.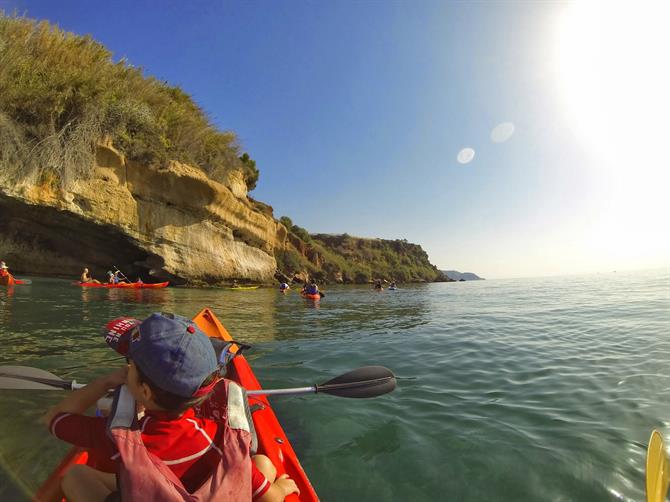 The program was aired in July of 2013 and helped make this excursion popular throughout the summer.
We arrived early and went out of season, the end of October. Even then, there were quite a few kayaks in the water.
The conditions were perfect. There was no wind, it was very sunny and the sea was completely calm.
Children will have the time of their lives.
Exploring the various caves and rock features (Cueva del Lobo, Casa de gaviotas y roca caída, Caletilla de Maro), passing under the numerous waterfalls - several large streams and rivers from the Sierra de Almijara discharge here, forming waterfalls. The largest being the Cascada la doncella and the Cascada grande de Maro.
A special thanks has to go out to our guide, Manuel, who kept all the children riveted with stories of mermaids, wizards and had them constantly scanning the horizons for mountain goats and herons.
The water was so clear he was even able to identify the fish swimming beneath us.
How to get there
The route starts from Burriana beach - map.
The company that organises the kayaking trips is called Educare Aventura. It is best to call beforehand and reserve your places (+34 600620054). Particularly in the high season. Bookings can also be made via email at kayak@educare-aventura.com.
Educare Aventura is situated at the far end of Burriana beach, just beside the famous Restaurante Ayo - a great place to treat yourself to a well deserved paella afterwards.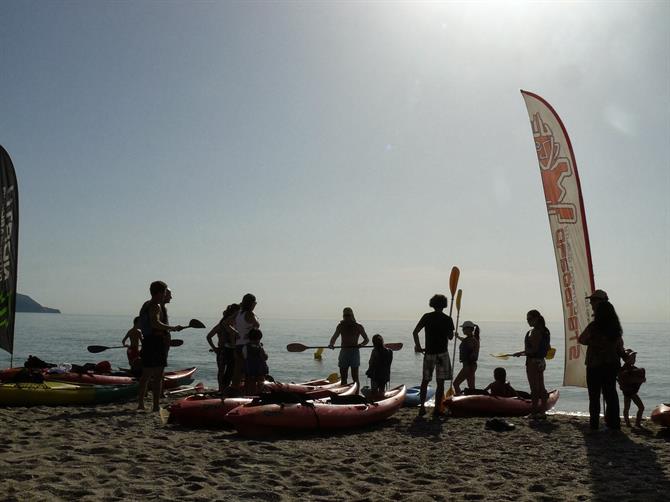 Throughout June, July, August and September they have four groups leaving daily at 10:00, 13:00, 16:00 and 19:00. Prices are dependent on group size, but are usually around 20€ per adult, children cost 12€ (8-15 years). Children who are eight and under (or ones that can fit comfortably between two adults) go for free.
All safety equipment, a brief instruction course and the guides are provided. The company also offers snorkelling equipment at no extra cost.
The route takes between 3-5 hours, depending on the exact itinerary. You need to be fairly fit.
Make sure to bring sunscreen and water. If traveling with small children, its best to bring a sandwich. You can ask for a waterproof container before leaving.
Alternative options
They are variations on the route above. If you have experience and would rather explore on your own, you can rent canoes directly and follow your own itinerary.
There are also several more technical options available. Longer routes and ones where very small groups go diving into the caves, to explore some of the inner chambers and chasms. Stand-up paddle is also a popular alternative in the area.
The kayaking trip is not to be missed. Paradise, does indeed exist in Andalucia!