Bolonia beach, Playa de Bolonia, also sometimes known as Ensenada de Bolonia sits next to a small fishing village, approximately 20km north of Tarifa. Far quieter than its more trendy neighbour, Bolonia is beginning to make a name for itself having been voted into Europe's top 25 beaches by Tripadvisor and regularly featuring on any best beaches in Spain shortlist.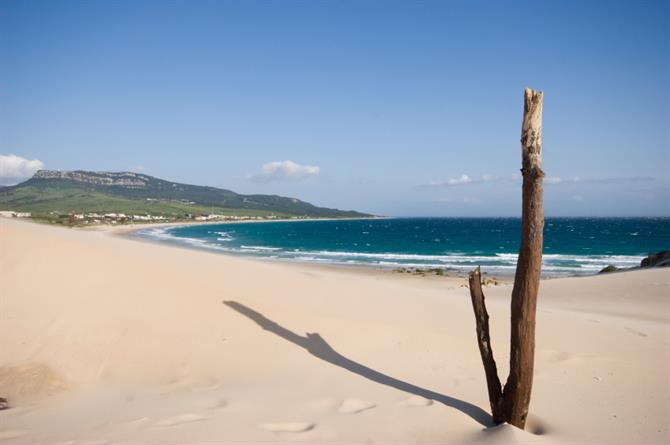 Despite the increasing international recognition, it is still considered by many as one of Andalucia's best kept secrets and is only really popular with Spanish tourists.
When asking Spanish families where their favorite beaches are; Bolonia is one name that always seems to crop up. We try and go at least once a year.
Some of the hip surfers and kite-surfers are making their way down to the beach when the easterly wind - the Levante - picks up, but generally speaking, Bolonia beach still has a untouched/family-oriented feel to it.
Geography
Geography is something that has worked in Bolonia's favour, you need to drive 7km along the CA-8202 to get there. Sitting in a cul-de-sac, there is no drive thru traffic. If on that road, you only have one destination. The beach.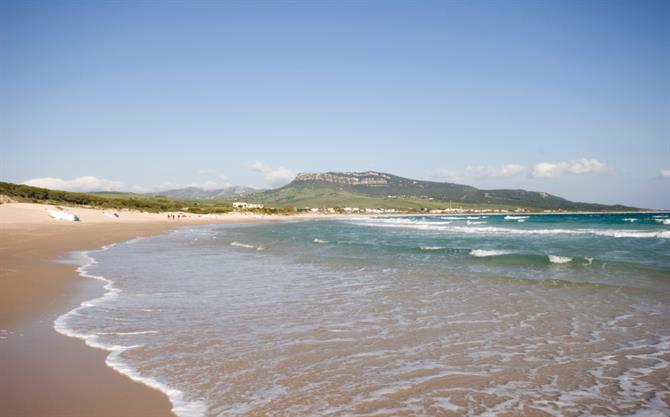 The area sits within the Estrecho Natural Park, El Parque Natural del Estrecho. Planning and construction laws have been rigorously introduced and enforced. None of the twenty or so buildings that make up the village (El Lentiscal) are over two storeys high. Bar a few chiringuitos, surfing schools and hostels, Bolonia remains the perfect place for travellers looking for peace and tranquillity.
The beach was best known for its huge sand dune system, one of the largest in Europe. One particular dune has been declared an Andalusian natural monument and is over 30m in height and 200m in width. The dunes and the vegetation provide protection against the wind.
Baelo Claudia
Just north of Bolonia sits one of Spain's most important Roman archaeological excavations, Baelo Claudia. The ruins of Baelo Claudia are fascinating and provide one of the best examples of Roman urban architecture to be found anywhere on the Iberian Peninsula.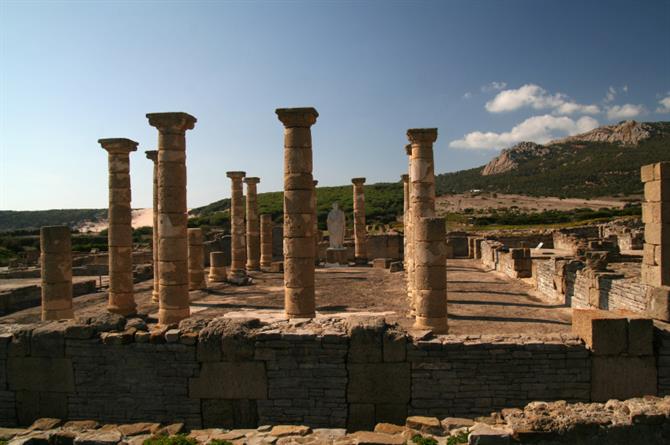 Renowned for its Garum industry, the highly prized salted fish paste that was used as a condiment throughout the Roman Empire. A visit to the ruins is highly recommended.
Miles and miles of fine white sand, crystal clear waters and views across to Morocco.
Bolonia is a place to switch off that mobile phone, unfold the parasol and soak up some of that warm Andalucian sun.
Getting there
Following the N340 – E5 in the direction of Vejer de la Fronter.
After about 15kms from Tarifa, turn left at the CA-8202 and follow the road down (7kms) until you reach the village of El Lentiscal –Bolonia beach is right in front.
Additional information and tips
Best restaurants - the family run Oteroc restaurant (C/ Bolonia, tel. +34-956688594) offers traditional Gaditano cooking at its best - map. Chiringuito La Cabaña (Carretera de el Lentiscal, 1A - tel. +34-956688506) fish dishes, tapas and famed for its mojitos - map.
Activities - horseriding, surfing and rock climbing are all offered by locally based Adventures del Sur - website.
Day trips from Bolonia - The whole area is a natural paradise. There are some nice walking routes around the area, the sea cliffs in Barbate are worth checking out (approx. a 40 minute drive). Bird lovers in particular will love Andalucia's smallest natural reserve the Parque Natural La Breña y Marismas del Barbate and the now abandoned El Palomar de la Breña. Once the world's largest pigeon breeding centre (they were used as a meat source on boats leaving Cadiz to explore the Americas in the 18th Century). And, one of our favorite spots in the area - the beautiful Santa Lucia.
Closer to Bolonia, the neighbouring beach of Zahara de los Atunes - is another must-see on the Costa de la Luz.