The seaside resort town of Cullera is located in the Valencia region. The name Cullera can be seen displayed in white Hollywood-style letters on the Sierra de Les Rabosses mountain range above the town.
Cullera is about 53 kilometres south of the city of Valencia, which is also home to beautiful city beaches La Malvarrosa and Las Arenas.

Cullera is especially popular for its beautiful beaches, with about half recognized by the famous Blue Flag. With fine sand and clean, clear water, these beaches really make for a picture perfect holiday.
Cullera has a total of 11 beaches ranging from family-friendly beaches with full amenities, quiet coves that are perfect for snorkelling, as well as beaches offering water sports. Below you will find brief introductions to each of the 11 beaches, going from north to south along Cullera's coast (see the map below).
With the exception of beaches #1 and #11, which are more secluded, main amenities are always available.
1. Playa Mareny de San Llorenç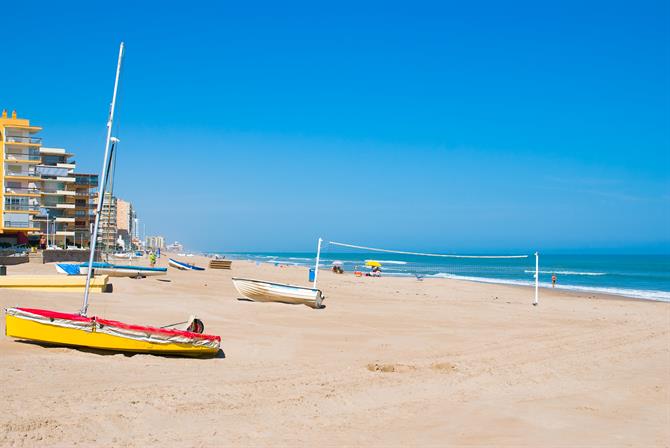 Our first beach is about 3 kilometres long by 40 metres wide; it is one of the quietest beaches in Cullera. Playa Mareny de San Llorenç is bordered by the town of Sueca to the north and is part of the Albufera Natural Park. It is also in a rural area with nearby vegetable gardens and citrus fields. This unspoiled beach has less visitors than others, and there is a section where nudism is permitted. Basic services include lifeguards on duty, and one of the most interesting things about this beach are the sand dunes.
2. Playa Dosel
Playa Dosel has beautiful landscapes, golden sand dunes, and a wealth of plants typical to the Valencian region. The beach measures about 1.6 kilometres by 50 metres. Because it is part of the Albufera Natural Park, amenities are limited - for example, there is boardwalk, but this only makes this beach more of a natural beauty. Playa Dosel has been recognized by a Blue Flag.
3. Playa Faro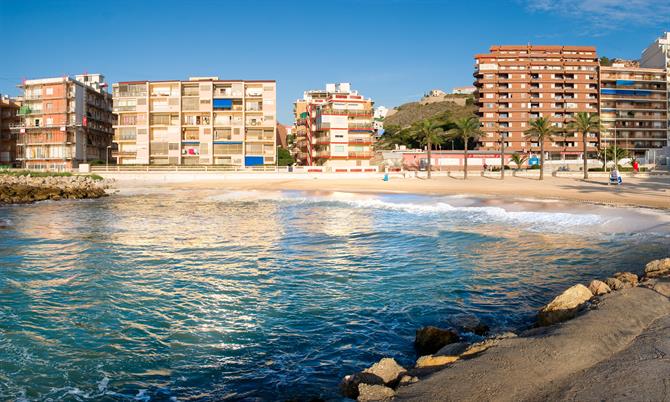 Playa Faro, right on Cabo del Faro, is a cove of fine golden sand nested between two gentle slopes on a rocky stretch of Cullera's coastline. The beach offers clear water and safe swimming, making it an excellent spot for families. There is also good diving and a narrow boardwalk along the beach. At 140 metres by 18 metres, it is small, but it offers the necessary amenities.
4. Playa Los Olivos
Los Olivos is a beautifully-kept cove of 510 metres by 60 metres with fine sand and calm waters, thanks to breakwaters at both ends of the beach. This is another place that is safe for children to swim, making it an ideal family beach. As it is next to Playa del Faro, take the chance to visit both beaches, try out local rice-based dishes at a great restaurant, and take in the stunning Mediterranean views. La Isla de los Pensamientos, the Island of Thoughts, is also nearby.
5. Playa Cap Blanc
This beach is made up of small dunes along 630 metres by 65 metres of fine sand. The surrounding breakwaters mean that there are a lot of colourful fish to be spotted nearby. Cap Blanc is well known as a favourite for windsurfers; both beginners and more experienced surfers will enjoy themselves thanks to the gentle sea breeze in the mornings and the strong winds in the afternoons. There is also a windsurfing school here where you can rent equipment.
6. Playa Racó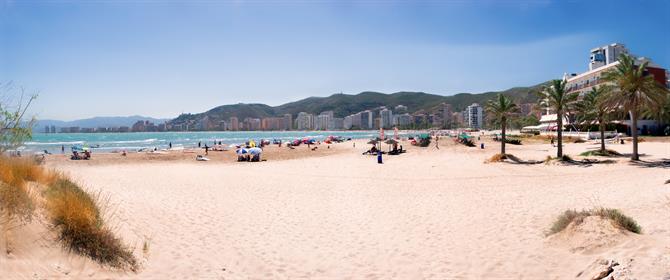 Playa Racó is located south of Playa Cap Blanc and extends to Calle l'Aguila. It is a lively beach town and one of the busiest in Cullera. There is always something to do here! It is a vast sandy beach measuring 1200 metres by 30 metres, offering amenities including beach bed rentals and a windsurfing school.
The seaside promenade, lined with palm trees, attracts many tourists during the summer months and is popular for its markets. For children, there is a playground along the paseo marítimo boardwalk. There are also plenty of bars, restaurants, and cafés where you can enjoy a drink or a meal under the shade of a parasol. Another feature of this beach is that special assistant for disabled persons is offered during the months of July and August.
7. Playa San Antonio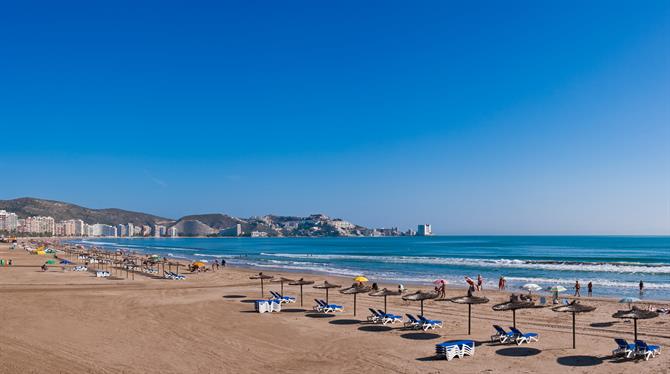 Playa San Antonio is Cullera's central city beach and the best known. It is a cosmopolitan beach with a great atmosphere and a wide promenade. At 1750 metres long by 75 meters wide, this beach boasts fine white sand and beautiful clear water. Like Playa Racó, Playa San Antonio also offers special assistant for disabled persons in July and August.
Read more about Playa San Antonio in our article Playa San Antonio: Cullera's favourite beach.
8. Playa Escollera
This Cullera beach of 537 metres by 75 meters is located at the mouth of the Júcar river and is considered an extension of Playa San Antonio. It is a lot quieter here than at urban San Antonio and it is especially popular among families. While the buildings of San Antonio are nearby, the natural dunes make this place really beautiful.
9. Playa Marenyet


Playa Marenyet is a true beauty. This quiet family beach measures 1800 metres by 18 metres and is made up of fine golden sand. It is located south of the mouth of the Júcar river and north of 'Illa', a small sandbank, in a beautiful area surrounded by ​natural beaches. Because of the winds, it is also an excellent place to surf.
10. Playa Estany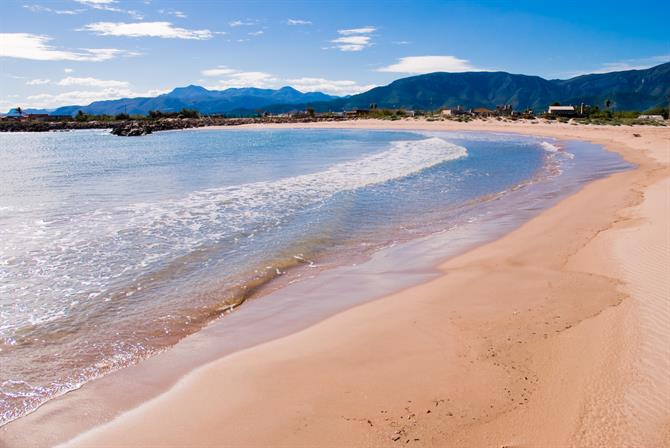 This sandy beach is 1 kilometre in length by 30 metres wide, and is to the north of the mouth of Estany de Cullera, a picturesque freshwater lake. This pristine beach offers not only fine golden sand, but also wonderful clear water coming from the mouth of the Júcar river.
Playa Estany is one of the most quiet beaches in Cullera, because it is somewhat less accessible than others. There are mostly private houses nearby and a few basic amenities. Interestingly, there also seem to be more fishermen than beachgoers. Finish off your day with a paella at one of the neighbourhood's restaurants.
11. Playa Brosquil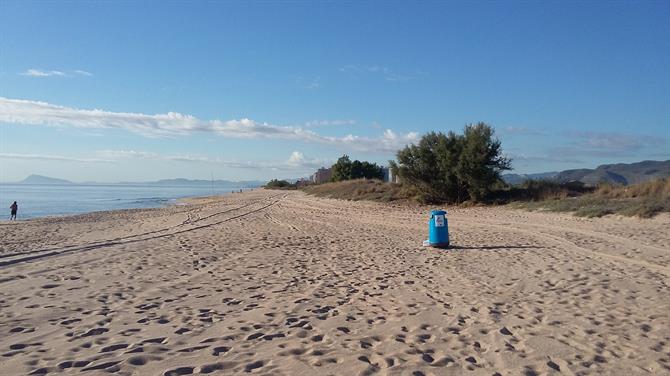 Our last beach is Playa Brosquil, also known as Playa del Dorado, which is located at 5 kilometres from Cullera. Find it south of the mouth of the Estany de Cullera lake. The beach itself is 2.2 kilometres long and 30 metres wide on average. Here you'll find clear waters and absolute serenity surrounded by orange trees. Finally, there are plenty of excellent restaurants nearby to try out local dishes and fresh fish typical to the area.
Want to visit these beaches during your holiday? Check out our holiday rental homes in Cullera and don't forget to pack your bathing suit!
Map of beaches in Cullera, Valencia