How about giving yourself a bit of luxury and escape the usual summer destinations? Since summer is synonymous with magnificent sunny days lying on soft sands or diving in fresh waters, we decided to pick some amazing beaches in Empuriabrava so you can make the most of your summer.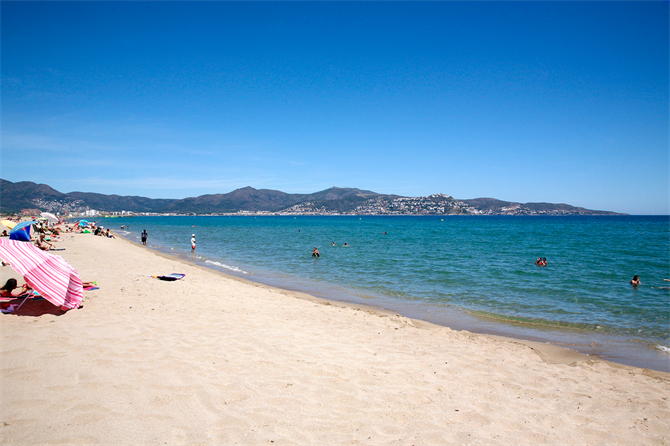 Costa Brava is known for its beaches
. Empuriabrava is located in a privileged coastal area, where the bathing conditions are far more than favourable. In the city you will find a coastline with almost seven kilometres of beaches and is considered by the Spanish authorities of "natural interest", since it is part of the
Aiguamolls de l'Empordà Natural Park
. Lets take the Empuriabrava beach as an example, it's located just next to a residential marina and and few steps from several waterways that cross Empuriabrava as if it was the Venice of Spain. It's not only the main beach of the region but also the most extensive and most interesting.
Playa de Empuriabrava
A Blue Flag beach, Playa de Empuriabrava is 1.5 kilometres long and 90 metres wide and occupies an area that runs from the end of the Muga River (south) to the city gates, where Playa Rubina starts.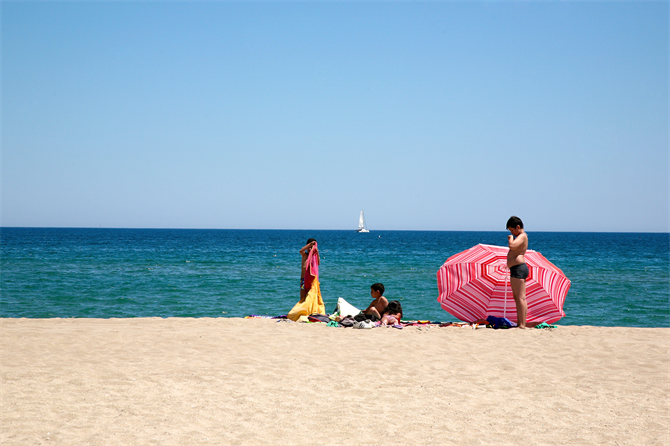 This beach is our favourite not only because it's easy to reach, but in fact it is one of the most recognised bathing areas on the Costa Brava. This is due to the quality of the sea and sand here which is argument enough to pay a visit here. The Blue Flag isn't the only quality certificate which guarantees the general quality of the beach. It also received the distinction of the "Q" mark of Tourism Quality which is recognised by specialised technicians, as well as a ISO 14001 certification which corresponds to an environmental management system.
This means that on arrival to the beach of Empuriabrava you will find all the safety and comfort facilities that you can expect from a popular beach, including a lifeguard, soft sand and clean waters. There are also accessibility services for people with reduced mobility, water sports operators where you can rent surfboards and boats plus many restaurants and bars on the beach to get drinks and food all day long.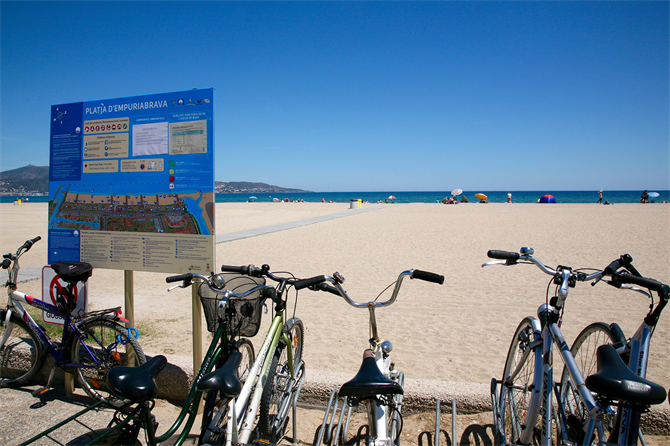 This is definitely a family beach, due to its proximity to the urbanisation of Empuriabrava, many families living in the city choose to spend their free time here. If you want to have a break from laying on a towel, you can have a walk down the beach from one end to the other. Not only to keep fit and burn some calories from your last lunch, but also to fill your soul with beautiful views of the Cap de Creus and the spectacular landscape of dunes in the Natural Park of l'Empordá area.
Playa de la Rubina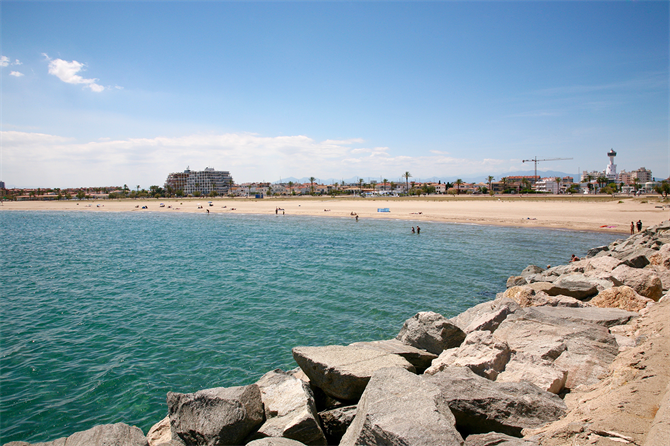 Located in the Natural Park of l'Empordà, between the city of Empuriabrava and Santa Margarita, La Rubina beach is classified as a wild beach. Thanks to its remote situation with no nearby buildings, La Rubina preserves its natural character and allows visitors to enjoy the unspoiled virgin beauty. It's also the only beach in the area that allows a series of activities which are prohibited on other beaches, such as walking dogs or kitesurfing. The views of kites flying above the dunes are spectacular!
Playa de la Rubina is also quite extensive, with a length of 1.8 kilometres along which are many attractions and amusements that you can attend and participate. For example, the southern end of the beach, coincides with the estuary of Empuriabrava, where you can see the boats sailing through the waterways.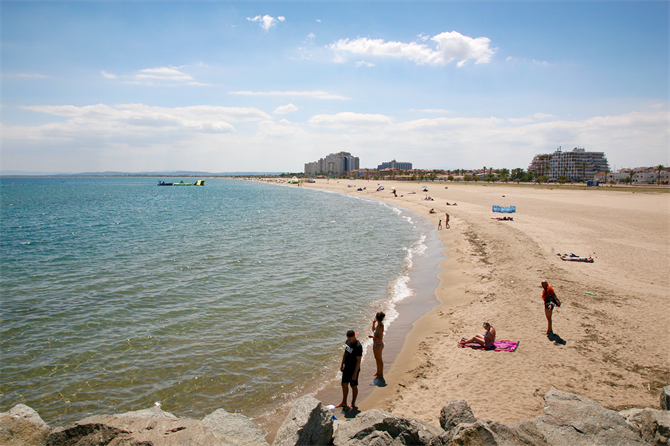 On the south side of the beach there is the Municipal School of Sailing of Empuriabrava (Escola Municipal de Vela de Empuriabrava) so if you have always had a sailor vein within you, find some time to visit and book some lessons on board! The northern side of Playa de la Rubina is where you can enjoy some natural beauties like the small dune ecosystem belonging to the Natural Park of l'Empordà. These dunes are protected by law, since they are a fundamental natural element that guarantee the quality of the beach and the whole zone.
Playa de la Rubina is a natural refuge open to swimmers and those who want to enjoy its beauty without damaging it. It offers all the services typical of the best beaches: lifeguards, beach bars and public showers, rental of sunbeds, etc.
Playa Can Comes
Another beach that we are about to look at is probably the antithesis of the
great urban beaches of Barcelona
. The Playa Can Comes is far from the urban centres, it is hidden in the middle of nature, and is not frequented by many people because the accesses are not as easy as those of the previous beaches. But it's worth it, both for the quiet you get and for the intimate contact with nature. Believe that if you stay in a
holiday home in Empuriabrava
near this beach, you will wake up every day rejuvenated!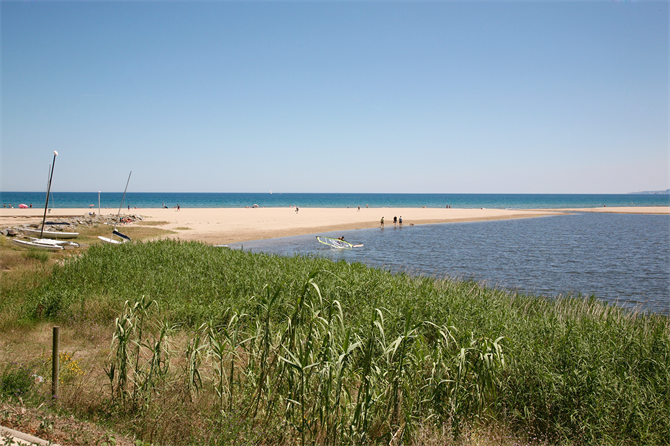 First of all, Playa Can Comes is located in the
Parque Natural de
l'Empordà, between two rivers Muga and Fluvià. Almost 4 kilometres of beach guarantee enough space to have a quiet beach day without too many people to bump into.
This is a 100% natural beach, there are no buildings around and is a part of national park full of wildlife. So don't be surprised that while laying your towel you will be able to observe many species of local birds flying over.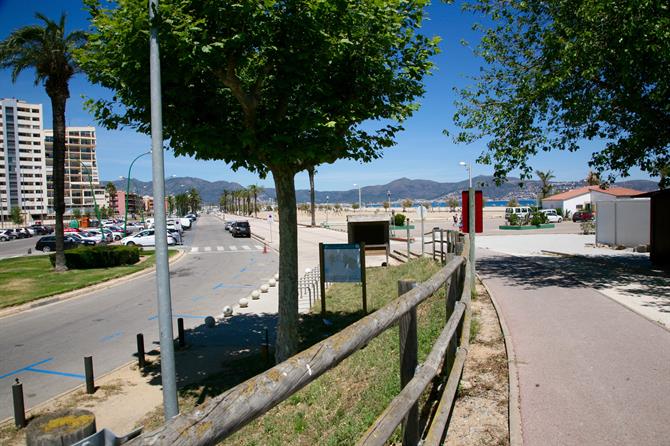 You won't find any rocks on these golden sands but as the place is prone to having big waves, it's no wonder that a lot of windsurfers and kitesurfers choose to come here to practice their nautical skills. Because it's a virgin and protected beach, you won't find any amenities here, be prepared to bring your own trash bag and leave everything spotless when you leave.
Map of Empuriabrava beaches