You've got your sunscreen, your beach umbrella, and your towel. Now you're ready to head the beach in Barcelona. But which beach? And what can you do there?
With nine different beaches of every flavour, it's hard to choose. One thing remains the same - the city beaches are pretty crowded in the summer. No need to worry, with 4.5 kilometres of city sand, there's always room for one more!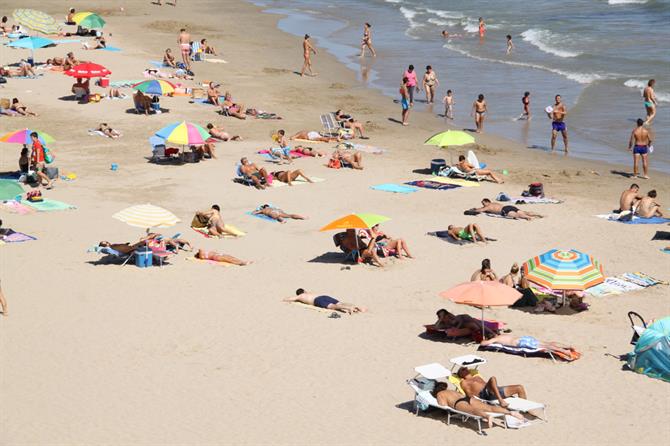 A quick history
Before the beach became a popular leisure area, the Mediterranean Sea in Barcelona was mainly used for trade at the ports. Luckily, the tides changed - it wasn't really until the beginning of the 20th century when rowing, sailing, and swimming clubs started to form.
Barcelona beaches weren't the lively areas before the 1992 Olympics. The only real "beach" area was the Barceloneta. Performing a massive overhaul of the seaside, the Barcelona City Council upgraded the beaches' appearance and are now a complementary feature to the city's richness in history, arts, and culture.
But what are the beaches really like?
Barcelona beaches are relatively clean and maintained. There are tons and tons of services - beach chair rentals, public WCs, outside showers, and all the restaurants, cafes, and chiringuitos (cafes on the sand) that you can ask for.
The truth is, with so many tourists, the beaches can get quite littered at the end of the day. The city does a decent job trying to clean up every morning, but don't expect people to practice common decency to just throw their rubbish in the bin. But you are different, right?
Hmmm...not sure if you should get in the water? The EU flags signify if it's safe - just practice extra caution if you see a red flag, which means currents are high.
A Rundown of the Beaches
Llevant and La Nova Mar Bella
From the north, these two beaches are the most tranquil of Barcelona's beaches because they're furthest out from the city centre. Don't get me wrong -it's still pretty crowded! It's near the barrio district of Poblenou, so a great afternoon would be this: have lunch somewhere on the breezy promenade, Rambla de Poblenou, and then walk all the way toward the sea. Then spread out your towel on the sand!
This area is great for kids because there are several playgrounds at the Parc de Poblenou. There's also one on the sand: one with a pyramid-shaped slide for older kids and a climbing frame.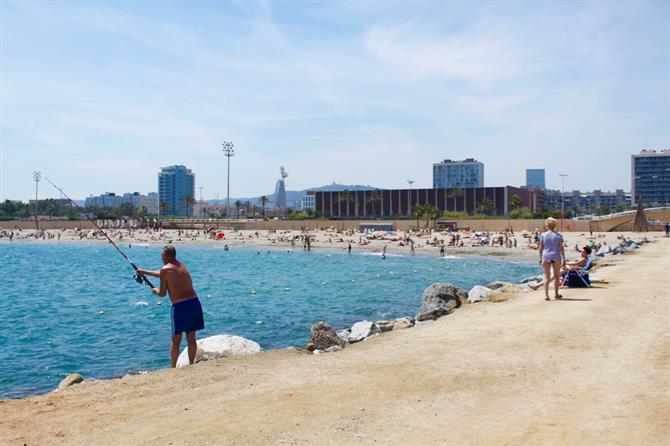 La Mar Bella
Also popular as a gay beach, don't be surprised to also see people letting it all hang out. This beach is shared by unabashed nudists who want to let it free flow in the Mediterranean breeze. There's also a cool skate park and two outdoor gyms if you want to show off your muscles.
Bogatell
A relaxing beach, Bogatell is a leisurely beach for families. There's also a lane especially for people on wheels who want to go fast - particular bicycles, scooters, motorized scooters, or even electric bikes which are becoming so popular. It's also got a long strip of restaurants to choose from.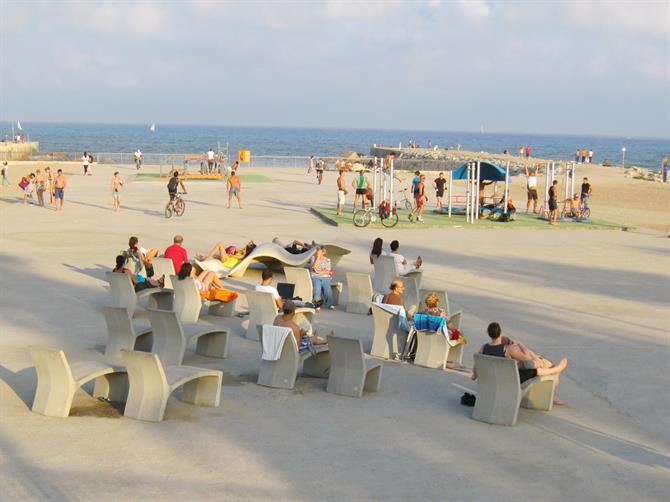 Nova Icária, Somorrostro, and Barceloneta
Have you forgotten your reading material? In Somorrostro, starting in June and running all summer, the Biblioplatja opens. They've got novels, magazines, kids' books, daily newspapers, and more at this temporary library that encourages you to read on the sand. No more dragging around that heavy "Twilight" novel!
In Barceloneta, a massive development of the 1992 Olympics is Port Olímpic, or the Olympic port. It's easily recognizable from the beaches because it juts out of the land, and you can note its many boats parked in the marina.
Port Olímpic opened in 1991, and it hosted the sailing event for the Olympics. It's still a very lively place at the beach. It has a host of restaurants, bars. It's also a popular place to go out at night. Nearby are the Twin Towers, the MAPFRE building and the luxurious Hotel Arts. You also can't miss "The Peix (The fish)", a beautiful golden structure of a fish designed by renowned architect Frank Gehry.
Want to read more about Barceloneta? Find out more about this district here.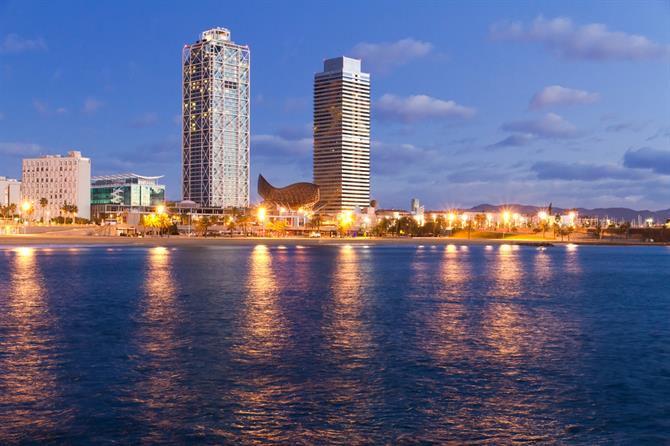 Sant Sebastiá and Sant Miquel
San Sebastiá starts at the iconic sail-shaped W Hotel. This is a convenient beach to go to if you've spent all day wandering around the city because of its proximity to the city centre. It's also a really fun and active beach.
Along with Barceloneta, Sant Sebastiá was one of the first beaches to allow bathing. At this beach you'll see the famous public art piece called Estel Ferit ("the wounded star") by artist Rebecca Horn. It looks like an unsteady stack of boxes. It's a reminder of the less-than-beautiful apartment blocks that have been built before it became the area became the developed place that it is today.
Where to eat
Catamaran is one of my favourite places for a seafood paella. Thick mussels, gorgeous shrimp, and just a squeeze of lemon...delicious! Particularly, I enjoy a crunchy bottom of the pan called socorrat, which is a crust that forms when the rice is cooked just right. Eating paella at the beach is a must in my book. Catamaran, Avenida del Litoral, 44, 08005 Barcelona.
Arenal is a beachside restaurant just almost on the sand. If you're craving some patatas bravas or some octupus (or other seafood!), this has a great view. Passeig Marítim La Barceloneta, 08003 Barcelona.
Other recommended beaches outside Barcelona
If you're willing to travel outside of Barcelona, there are some lovely and less crowded places for you.
Badalona: While the sand here is grainier, the atmosphere at the beach is ideal for families. It's got a wide promenade for strolling, and a nearby outdoor shopping and restaurant area. It's also very easy to get here by the train.
Montgat Nord: The train ride is about 30 minutes from the city, and it goes along the coast. You'll be able to see the beach, so you know where to stop. It's also not so crowded, the water is clear, and it's definitely not so littered with beer cans and sandwich wrappers like in Barcelona's beaches. Definitely recommended.
Ocata: This beach has tons and tons of sand! You won't have a problem finding a spot to lay your towel here. But you will probably be quite far from the water!
If you come to Barcelona's beaches, I can guarantee one thing: you won't be bored!
Have you been to Barcelona's beach area? Did you like it? What was your impression?