Fuerteventura's a short-haul paradise island, boasting many of Europe's best beaches. You could easily spend a week here, lazing in the all-year-round sun. Or you could go explore, ticking items off our Fuerteventura bucket list as you do.
Day one: Hit the north on Fuerteventura
There can be little argument that Corralejo tops Fuerteventura's top 10 beaches. And debate might be just as scant regarding its position in a list of the finest beaches across all Canary Islands. And given the quality of Canarian playas, that's some achievement.
Corralejo's beach stretches to 10km. Meaning there's plenty of room for families, surfers and, indeed, nudists. Located in the north-east of the island, Corralejo's also home to one of Fuerteventura's major resorts. And using the FV-1, it's a near 40-km, 40-minute drive from the island's airport.
Day two: Unlock the promise of the east
Day two, how about spending some more time on a beach? Well, that's what Fuerteventura's famous for, after all, and you're on holiday. Pictured above is Caleta de Fuste aka El Castillo, a near 45-minute drive along the FV-1 from Corralejo.
Caleta de Fuste's your classic horseshoe-shaped beach. Although there's nothing traditional about its texture, with the sand imported rather than homegrown. Active types will enjoy the diving, sailing and windsurfing opportunities, whilst the more leisurely traveller might want to go out on a boat, or even submarine, trip.
If you want a break from the resorts, head to Gran Tarajal. This is a town where locals live, some of which you'll see fishing for a living on a walk along the parade. And, yes, there's also a 800-metre-long beach to visit if you fancy a spot of sunbathing.
Day three: Get out of your comfort zone in the south
North, south, east, west; you're never far from a beach on Fuerteventura. The island's stunning coastline's home to more than 150 beaches. One of the most acclaimed's Sotavento. It's not difficult to see why, even if only based on the evidence of the photo above. Perhaps the setting will inspire you to try a new challenge; maybe giving windsurfing a go for the first time?
But for a break from the beach, how about visiting Fuerteventura's highest point? 807 metres tall, the Pico de Zarza's a four-hour up-and-down hike. A wide track gives easy access, but as you reach the summit be careful of the conditions which can get quite windy at times. Look west for the village of Cofete and its 14-km beach whilst glancing east, you'll be able to make out holy mountain, Montaña del Cardón.
Day four: Enjoy a day out in the wild west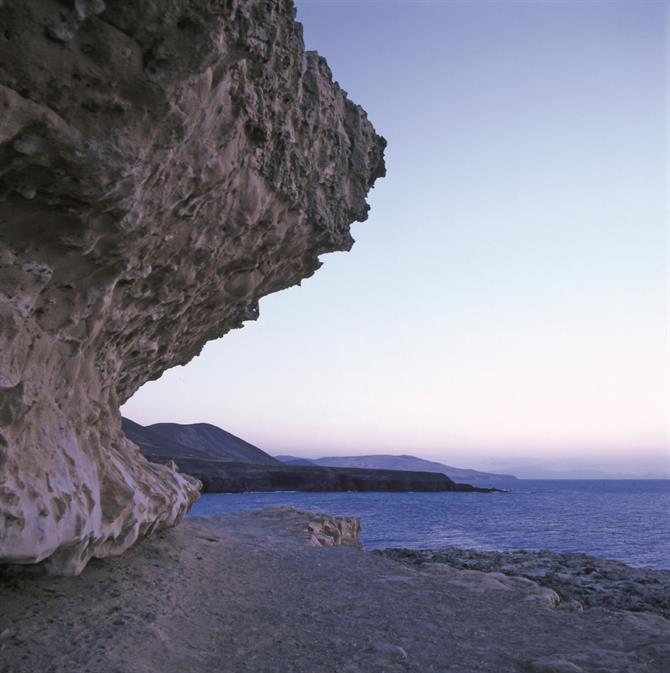 The coast around the isolated fishing village of Ajuy, as you can clearly see depicted in the photo above, is more rough than smooth. It's this rocky western shoreline which French explorer Jean de Béthencourt moored his fleet at in 1402. With his band of 280 settlers reduced by desertion to 63, Béthencourt contacted the Spanish royal family to recruit extra manpower. The island would fall to this Norman conqueror three years later.
At Fuerteventura's west coast, you'll see the Atlantic Ocean at its roughest and readiest. It's here where US ocean liner SS America ran aground in January 1994. Over 20 years later, due to the gradual disintegration of the ship, you can now only see what's left of the wreck at low tide.
For a very different experience than that offered by the resorts, travel to Los Molinos. You won't have any choice on the restaurant front, hola Casa Pon, but you'll mingle with locals rather than tourists as you tuck into Canarian rather than international fayre. Casa Pon's open seven days a week, from Monday to Friday, 10:00am to 6:00pm, and Saturdays and Sunday 10:00am to 7:00pm (10:00pm) in summer months.
Day five: Visit Fuerteventura's centre point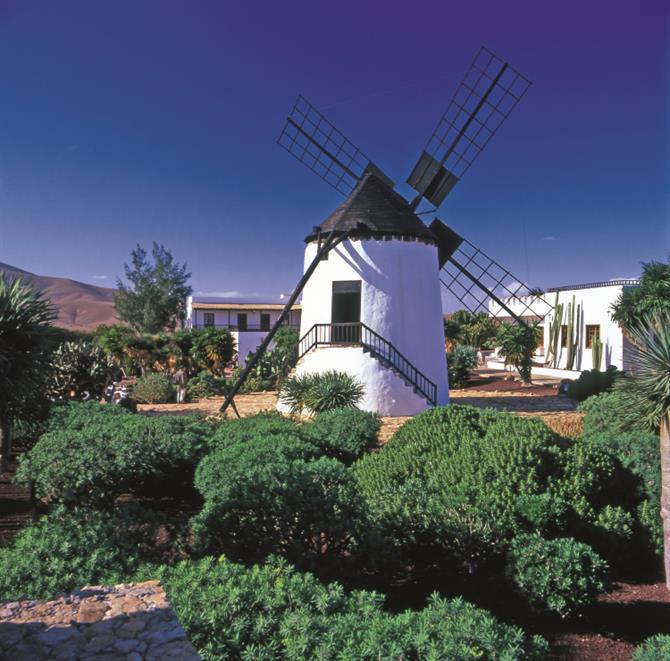 Antigua's one of Fuerteventura's oldest villages. Dating back to the 18th century, it was capital of the island for all of a year. Antigua's windmill has been restored to its former glory and now's home to a cultural centre which has proved a popular tourist attraction.
There's not that much to see and do in Antigua, but what there is remains special. The main square's a botantic garden in miniature, with resplendent flora blooming all year round. Look out for the church, the Iglesia de Nuestra Señora which started life as a basic hermitage.
Day six: Explore Puerto del Rosario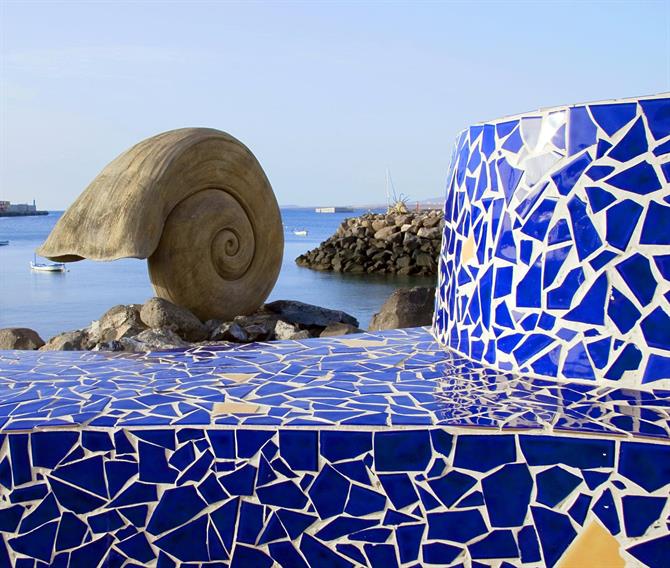 Will a population of under 40,000, Puerto del Rosario's more capital town than capital city. Nevertheless, all roads lead there on Fuerteventura. As it's so well connected, with a regular bus service from and to various locations, it makes for an ideal day trip.
Puerto del Rosario's been capital of Fuerteventura since 1860. Up until 1956, however, its name was Puerto de Cabras (Port of Goats). To this day, there are more goats on the island than people with the locals putting the goat's milk lake to good use by producing the Manchegoesque Majorero, a cheese that's popular with purists.
Very much a working town, nevertheless Puerto del Rosario has been beautified in recent years. More than 100 sculptures dating back to the late 1990s and early 21st century line the streets. A more historic tourist attraction is the Casa-Museo Unamuno which chronicles the time celebrated Spanish intellectual Miguel Unamuno spent on the island after being exiled there by dictator Primo de Rivera in 1924.
Day seven: Head to Betancuria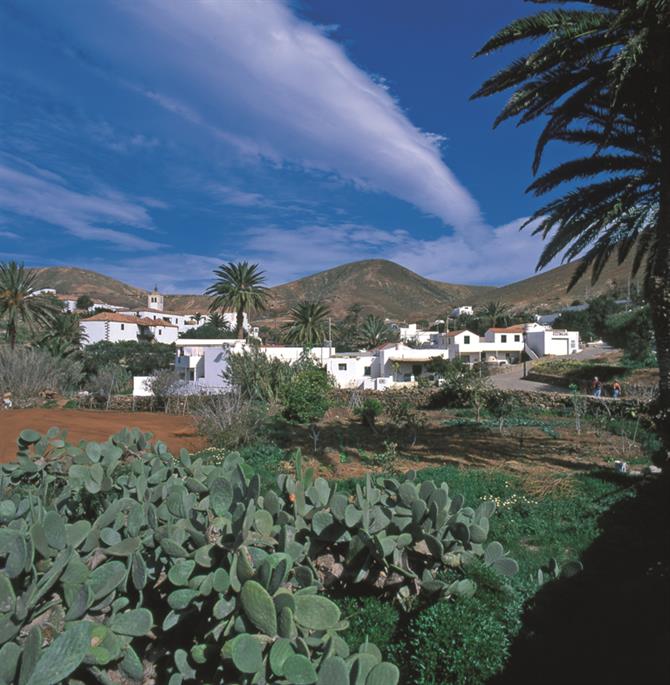 Our old friend Jean de Béthencourt had a plan. He thought a capital would be safe from pirate attack if it was built inland. So, he founded a settlement and named it after his good self after finally winning control of Fuerteventura in 1405.
But this westerly village was more or less destroyed by Jaban, a pirate who it seems was as much landlubber as nautical whizz. Not that Béthencourt lived to see his namesake being razed to the ground, with the attack coming in 1593. Despite this, a rebuilt Betancuria remained capital until 1834.