The Canary Islands are some of the most visited destinations by sunseekers from colder European climates. To know where to head to, we will help you discover some of the best beaches in the Canary Islands.
1. Corralejo
If your view of the Canary Islands is one of the tourists fighting for space to put their towels on sun loungers by a pool or directly on a beach, then you haven't been to Fuerteventura. An island where there are much fewer people, if you seek tranquillity, you're going to have an amazing time here.
Just shy of 10km long, Corralejo is of the best beaches in Fuerteventura and is flanked by a nature reserve made up of impressive sand dunes. There's a resort here too, for all your home comforts.
Best for: Couples, families
2. El Bollullo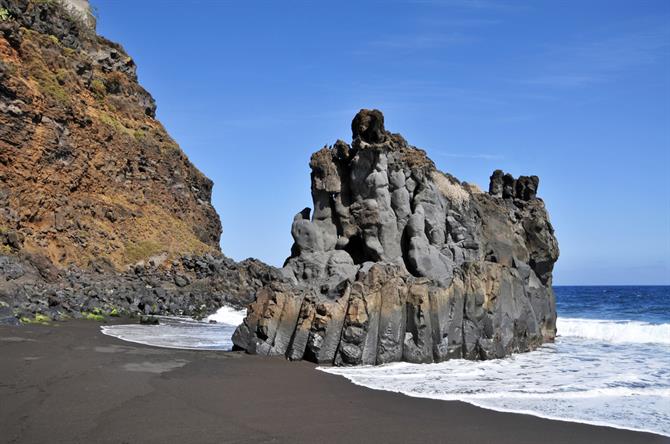 If you are staying in Tenerife, you will notice that there is black magic at work. The Canary Islands emerged from numerous volcanic eruptions over the years, and the sediment of volcanic lava with the continuous roll of the sea is responsible for the black sand that can be found on the beaches today. El Bollullo beach is no exception. This charming black sandy beach is backed by dramatic cliffs and rugged nature at its finest. El Bollullo beach is in a great location. Not far from the popular holiday destination, Puerto de la Cruz, it's easily accessible, but not as well known.
A world away from the resorts of Las Americas and Los Cristianos, the chiringuito (beach bar) on the rocks serves the freshest seafood. And is a great venue to watch the sun go down with one beer or two.
Best for: Nature lovers, couples
3. Playa del Inglés
If you are renting a holiday home in Gran Canaria, you will find Playa del Inglés, the resort, and Playa del Inglés, one of the finest beaches on the island - a stunning 2.7 km stretch of golden sand. Here you will find many nautical activities from banana boating, favoured by families with children, to jet skis for the more daring tourist.
Best for: Watersports enthusiasts, families, groups of friends
4. Famara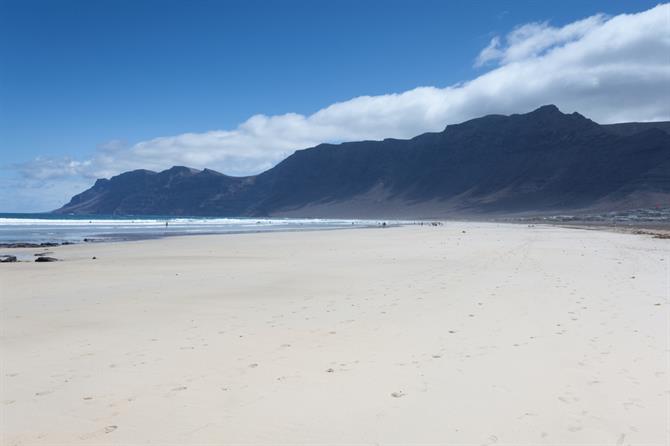 Discover another one of Lanzarote's best beaches on the sands of Famara, an unspoiled beach on the north-west of the island. Sheltered by mountains just over 600 metres tall, Famara's popular with surfers, along with paragliders as it provides the perfect conditions to practise these sports. This beach is rarely crowded due to it being so huge, so rest assured that whatever time of day you arrive, there will be enough space for you to bathe in peace.
Best for: Watersports enthusiasts, nature lovers
5. Hermigua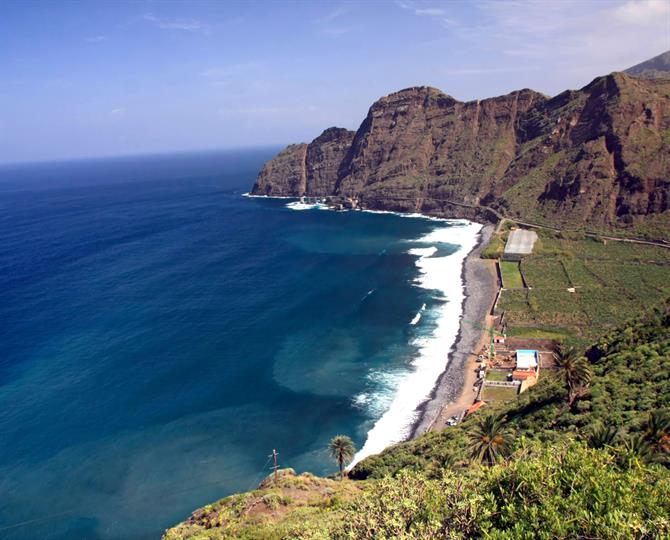 La Gomera's more famous for its Parque Nacional de Garajonay, whose near 4,000 hectares of forest include 30m-tall laurels. It's not without its beautiful beaches, however, with the dramatically-set Hermigua in the north-east of the island which is a real stunner. If conditions are too choppy here, which they often can be, you can always take a dip in the natural seawater pool instead.
Best for: Nature lovers, couples
6. Las Canteras
The area of Las Canteras is a mini Havana with streets of tightly-packed apartments, bars, houses, and restaurants. Las Canteras, the beach, at 2.8km, is the longest on the island. Located in the capital city of Las Palmas de Gran Canaria, paradise doesn't get much more urban.
Best for: Groups of friends, families
7. Las Conchas
Located on the totally tropical isle of La Graciosa, off the north coast of Lanzarote, Las Conchas (The Shells) is the place to go to if you really want to get away from it all. La Graciosa was supposedly the inspiration for Robert Louis Stevenson's Treasure Island. Experiencing its turquoise water and golden sand for the first time, you'll soon see why. A relaxing holiday in Lanzarote is just what you might need.
Best for: Nature lovers, couples
8. Las Teresitas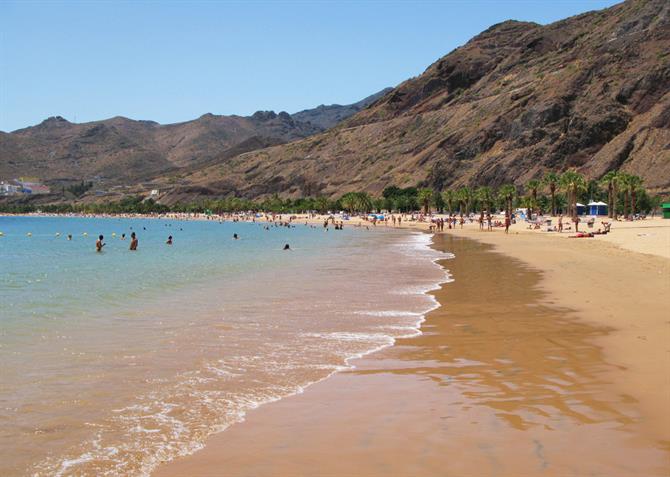 The Canary palm trees on Tenerife's Las Teresitas are more natural than the sand which is brought from Africa. Catch the 910 bus from the capital of Santa Cruz de Tenerife if you want a break from driving. This northern beach belongs to San Andres, a former fishing village which houses some of the best fish and seafood restaurants on the whole of the island.
Best for: Famlies, friends
9. Maspalomas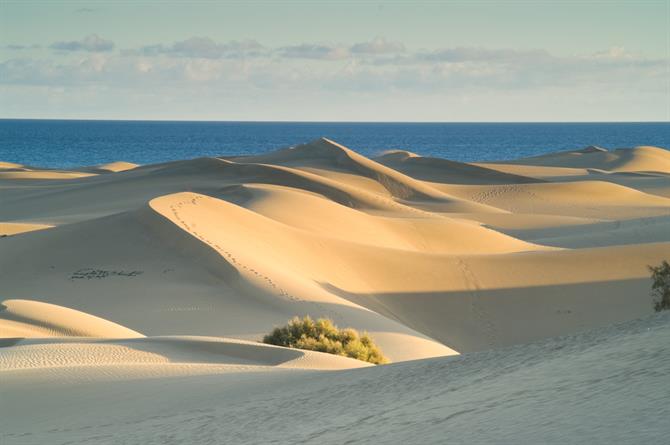 At 2,710 metres, Maspalomas is the second-longest beach on Gran Canaria. This beach is famous for its large sand dunes which are part of the beautiful nature reserve. Maspalomas is also one of the best nudist beaches in the Canary Islands thanks to the isolated sections that can be found between the dunes.
Best for: Couples, naturists, nature lovers
10. Papagayo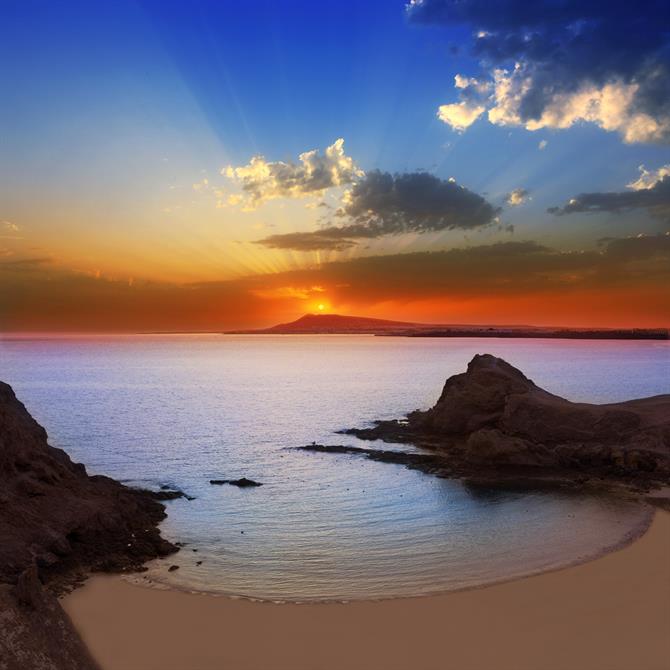 Close to the resort of Playa Blanca in the south of Lanzarote, this beach is tucked away. Get there by a 15-minute drive from Playa Blanca or by water taxi. Part of Los Ajaches nature reserve, its delicate current is a hit with snorkelers. Discover the spectacular Papagayo Beach and its surrounding.
Best for: Snorkelers, nature lovers, couples
Each island in the Canaries offers unique beaches. From those with black volcanic landscapes to those with rolling golden sand dunes. Whether you prefer a busy urban beach with all the amenities or stretches with rocky cliffs to explore, there are beaches for all tastes for your holiday to the Canary Islands.
Suggested articles for you:
Map - Top 10 Beaches In The Canary Islands