You may be on holiday, but Crimbo just isn't Crimbo without a Christmas meal, is it? So let us direct you to the best Gran Canaria restaurants to celebrate this most special of occasions. However, although you can want figgy pudding as much as you like, it's unlikely that it's going to turn up on many of the menus at our recommended restaurants.
Fusíon Restaurant and LoungeBar, Arguineguín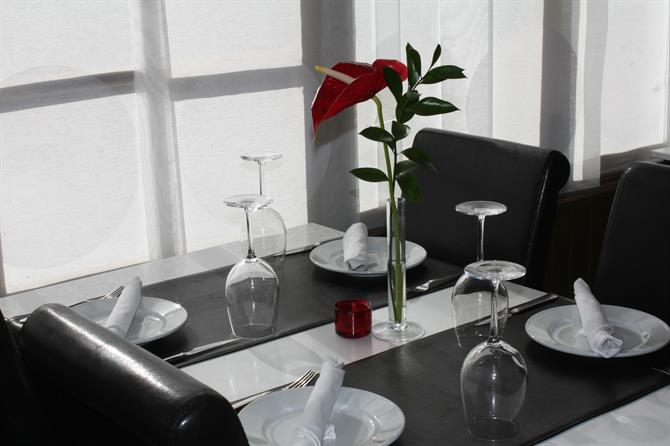 For most of the year Fusíon's a restaurant specializing in south-east Asian cuisine. Indeed, head chef/owner David Gibson's just returned from a research trip to the Philippines. However, on the 25th December, they'll be serving a traditional British Christmas Day lunch, will all the trimmings.
And just like the rest of the time, there'll be vegetarian options. Fusíon also prides itself on its vegan-friendly dishes. You'll find this restaurant in the south-west of the island, in the increasingly popular resort of Arguineguín, where it's ranked No 1 of 24 restaurants on tripadvisor.
Let Me Take You, Tejeda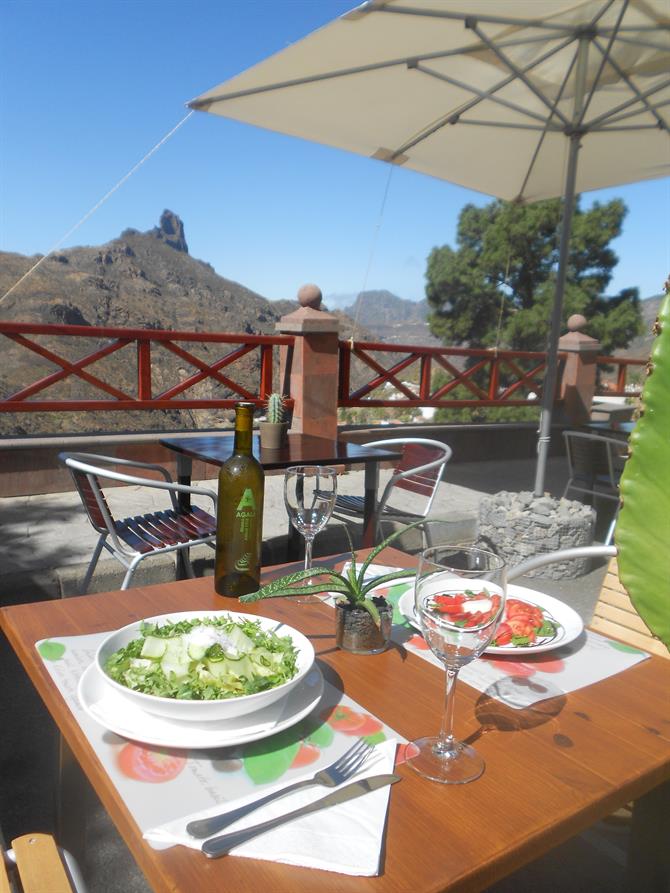 A White Christmas is even more unlikely on Gran Canaria than it is where you live. However, if it's going to happen, it'll happen in the vicinity of Tejeda. Located, as it is close, to the Pico de las Nieves, the highest point on the island, which acquired its Peak of the Snows name after pools were constructed below the mountain by the natives in order to catch the snow.
Nikos and Fernando at the village's Let Me Take You will be offering their winter menu on Christmas Day. As always, there will we up to two extra daily dishes. These may include the likes of Chicken Satay and/or Salmon Teriyaki prepared by the kitchen's resident sushi chef.
Samsara, Maspalomas
There's no special Christmas Day menu at Samsara. However, this elegant restaurant's open on both the 24th and 25th December. What's more, they will be offering a special New Years' Eve menu.
Bear in mind, though, that this Centro Comercial La Charca eatery's open in the evenings only. It's a popular venue too, so booking is essential. The proprietor Juan T. Santiago Hernandez has come up with a menu which fuses western and eastern cuisines.
A. Gaudi by Patrik Hartl, El Tablero

On Gran Canaria, as in the rest of Spain, the locals celebrate Christmas not on Christmas Day, but on Christmas Eve. When it's traditional to eat fish rather than turkey and drink cava rather than champagne. So A.Gaudi by Patrik Hartl's signature dish of sea bass with a cava and lemon reduction has a ring of a Canarian Christmas about it.
El Tablero's located above Maspalomas. It used to be a residential area. However, it's becoming a magnet for tourists, especially after the opening of El Tablero Shopping Center.
Puerto Rico Beach Club, Puerto Rico
Christmas starts early at the Puerto Rico Beach Club. For they offer a menu for the Dia de Santa Lucia. Saint Lucy's Day is a hybrid of a Canarian and Swedish festivity, celebrated every year on the 13th December. There's mulled wine on arrival, followed by a selection of starters which includes lamb and black-pudding pie. Mains feature Iberian pork steak with date sauce whilst desserts are a choice of pumpkin pie or tarte tatin.
The beauty of this restaurant's its terrace. Day or night, you're guaranteed exquisite views. Fresh fish dishes are the Puerto Rico Beach Club's speciality, although more international offerings will appeal more to the non-ominivorous eaters amongst you.