Gran Canaria is rightly celebrated for the quality of its beaches. Serene settings of white sands, crystal blue waters and exotic trees. There are many untouched coves to enjoy. It presents a perfect beach holiday for both friends and families. Here's our guide to ten of the best.
Anfi del Mar
Tenerife's prettiest man-made beach, Playa de las Teresitas, is a slice of paradise. Gran Canaria's artificial Anfi del Mar, in the south-west of the island, is of similar style. With its overlooking palm trees and floral displays, along with the tranquil, turquoise waters make it a calmer part of the Atlantic Ocean. Start with this one and then explore the other fabulous beaches on the Island, choose one of these rentals in Gran Canaria.
Güigüi
Güigüí is a great place to visit if you want to give naturism a try on your trip. That's mainly because you could well have the whole place to yourself, given how difficult it is to reach what are in fact two beaches. Located, as they are, at the bottom of (a) Grande ravine.
Las Canteras
Las Palmas de Gran Canaria, a large cruise ship port, was the island's original resort. It's not difficult to see why when you glance at the 2.8km which make Las Canteras the longest beach on Gran Canaria. Enjoy a mixture of beach and Spanish city living. A great destination for your next trip, see information for rental apartments in Las Palmas.
Maspalomas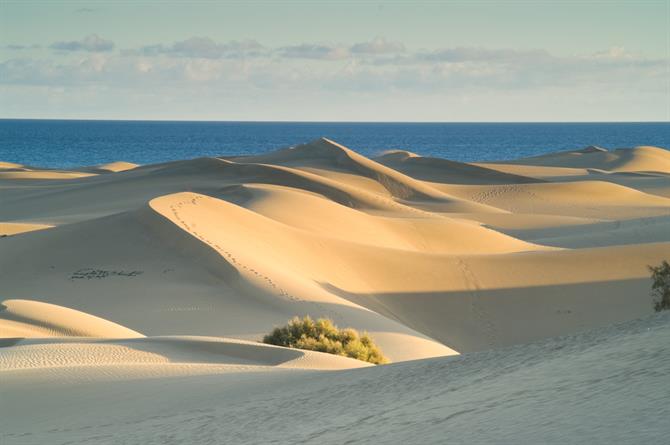 Part desert, part nudist zone, Maspalomas is one of Gran Canaria's most iconic beaches. It is made up of large sand dunes and contains various ecosystems. The area is a protected nature reserve too which stopped the resort taking over the beach. Meaning that no matter how many tourists flock to the beach, there always seems to be plenty of room for everybody.
Mogán
Another man-made beach, this playa adorns charming Puerto de Mogán. A world away from the sleepy-town delights of the municipal capital, this resort's nicknamed Little Venice because of its network of canals. Puerto de Mogán's one of the classiest places to stay on the island and its beach is always pristine and serene. See for information on villas and apartments in Mogan.
Playa del Inglés
Playa del Ingles, also known as the English Beach, but why is anybody's guess. Especially as its adjoining resort also houses German, Scandinavian, and, indeed, Spanish bars. With a length of 2,700 metres long, it's 10 metres shorter than neighbouring Maspalomas, making it the island's third-longest beach. Staying in one of our Playa del Ingles holiday apartments located close-by will allow regular visits to this popular beach.
Puerto Rico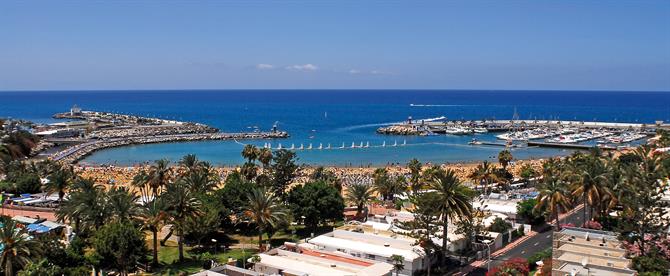 Like the country of the same name, there's very much a Caribbean flavour to Gran Canaria's Puerto Rico. Maybe it's the palm trees. Maybe it's the azure sky and golden sunshine. Or it could have something to do with the laid-back feel of the place. For a relaxing beach break in a Puerto Rico apartment, see more information here.
Sardina del Norte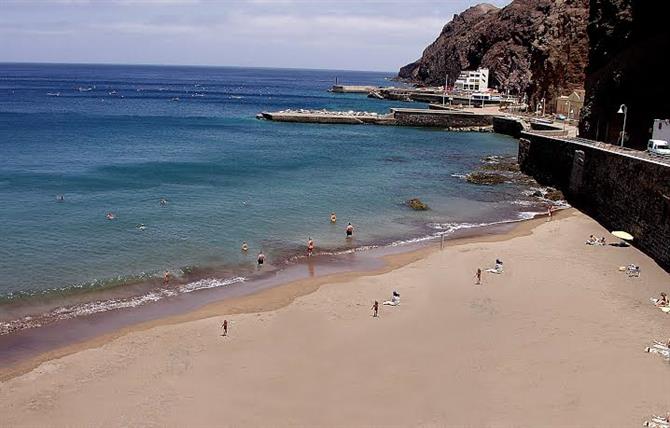 Not to be confused with Sardina del Sur which is located closer to Vecindario, Sardina del Norte's crystal-clear waters are popular with divers. Along with fishermen. With sardines as a fixture on local restaurant menus, served with oil and fresh lemon.
Tauro
At 440 metres long, Tauro is the longest beach in the municipality of Mógan. Which is reassuring, given its popularity. A gentle surf softens the dark sand of the playa which is kept meticulously clean. Browse some of the Tauro Villas here to make your beach break complete.
Amadores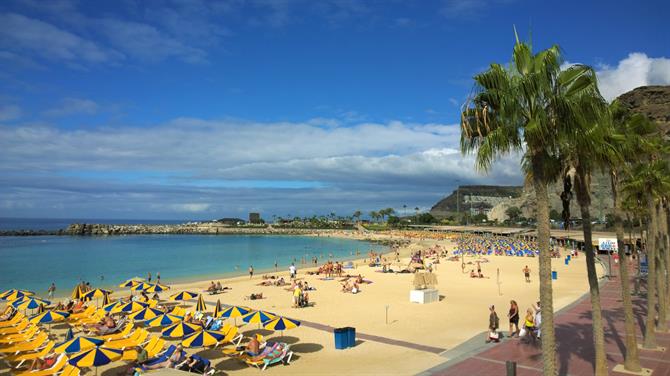 Situated in the south-west of Gran Canaria, Amadores beach is 20 minutes walk from Puerto Rico alongside a picturesque clifftop path. The sunniest beach on the Island, each year the sun warms up the shallow turquoise waters and white sand creating a glorious environment to sunbathe. There are many restaurants that line the promenade, and water facilities which make it perfect for Families. Go snorkelling, diving or rent a pedelo along the east side of the beach. Take advantage of holiday apartments located close to Playa Amadores.