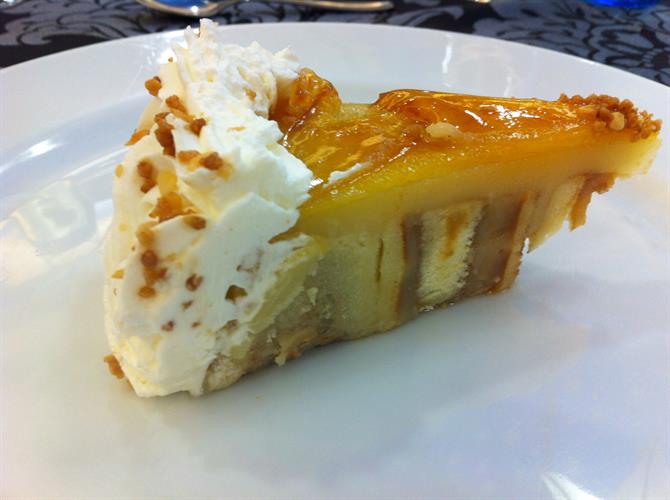 Some people say that Spain doesn´t do cake, I don´t think that is true. After writing the Granada Food Guide I am adding this article on the desserts and cakes of Granada. I´ve included the most typical and traditional ones.
The main ingredients used in this region of Spain are eggs, sugar, almonds, cinnamon and honey. The Arabs certainly influenced the cuisine in Andalusia and desserts are no exception.
Throughout the year the offer of cakes, pastries and dessert changes with the seasonality. In Summer Ice cream and fruit based desserts become more popular, in wintertime, mantecados made with fat are more popular. I have included the dessserts and sweet pastries which are around all seasons on this list. Make sure you try the seasonal variations, you may find a new favourite!
Torta Real de Motril
This traditional recipe dates from over 150 years ago. Typical in the coastal town of Motril it is made with sugar, almonds, water, flour & egg white. There are no other ingredients added. This has shiny white sugar icing on the outside and an almond centre. You will need a hot drink to accompany it as it is deliciously sweet but has a crumbly dry texture. Pastelería Videras is well known for their Torta Real, based in Motril they bake 20,000 kilos every year and have been in business over five generations.
Soplillos de la Alpujarra
Soplillos are Almond Merengues. These white cloud shaped treats are typical from Alpujarra villages. This recipe has not changed over many centuries. Made with eggs, sugar, lemon and almonds. First the egg whites are beaten and lemon is added, the almonds and sugar are blended into the mixture. Then the soplillos are baked in the oven. You can find these in shops in the Alpujarra and Granada. They are sold in boxes of 12.
Pestiños de la alpujarra
Although you will find pestiños in many places around Granada, they are most typical in the Alpujarra villages. These crunchy tube shaped treats are made from flour, sugar, olive oil, lemon, sesame seeds and anise. Although you can get them all year round they are abundant at Christmastime and Easter too.
Flan
Flan is a dessert which probably appears on every menu in Granada. This simple dish is made from eggs and sugar. Flan is made by whipping the egg white like a merengue consistency, adding the egg yolks and then the milk. The mixture is steamed for 20 minutes over hot water in a metal mould. When ready it is often served with caramel on top. Alternative recipes may include other ingredients such as coconut or oranges.
Natillas
Natillas are usually translated into english as custard. Natillas are very similar to custard and are made from almost the same ingredients. They sometimes come with a biscuit on top and are always dusted with cinnamon. Crema catalana is a similar dessert which has toasted caramel on top so you have a crisp sugary layer above the natillas.
Arroz con leche
The Spanish version of Rice pudding. This dessert is made by boiling the milk and rice rather than baking the ingredients. It is served cold. Ingredients are rice, milk, sugar, cinnamon and lemon rind. Arroz con leche often appears on the menu del dia and will be dusted with cinnamon.
Piononos
The most well known of Granada desserts are without doubt the Piononos de Santa Fe. This sweet takes its name from Pope Pius IX or Pio Nono in Italian. In 1897 he visited Granada and this cake was prepared for his official visit. Made from eggs, sugar, milk, lemon rind, cinnamon and rum. You can find piononos for sale in cake shops in boxes of 10. The most traditional shop is Casa La Isla in Santa Fé. You will also find them in restaurants on the dessert menu, This is even made in a larger version for wedding cakes at some Granada weddings. (seen above)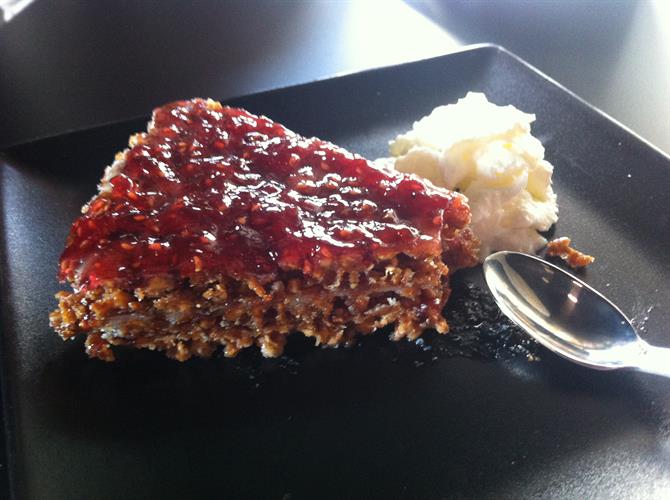 Lágrimas de Boabdil
This Almond based dessert is made with honey and has a sharp raspberry sauce on top. Lagrimas de Boabdil means Boabdil´s tears, Of course Boabdil was the last Nazrid ruler of Al Andalus and the moment when he leaves Granada towards the Alpujarra has clearly inspired the name of this Granada dessert.
Buñuelos de Lanjarón
Buñuelos are similar to a fried doughnut. They have a slightly denser mixture, they should be eaten while hot and freshly fried. Buy freshly made buñuelos at the Kiosk on the main street of Lanjaron. You can also find them at Venta el Buñuelo as they prepare buñuelos in the morning. This bar is on the road from Lanjaron to the Alpujarra.
Cassata Los Italianos
Los italianos on Gran Via are famous for their ice cream specialities in Granada. They have been trading since 1936 and the business has been run by the same family since then. The shop opposite Granada Cathedral is open from San José (19th March) until el Pilar (12th October). However the rest of the year (Nov to Feb) you can still taste some of their creations in local restaurants.
The speciality is Cassata (seen above) which is a tutti frutti style ice cream with a chocolate layer. The coffee cake or tarta helada is also very popular amongst the locals of Granada.
Arab pastries
Along the streets of the Arab tea shops just off Plaza Nueva, there are two bakeries selling arab pastries. On Caldereria Nueva and Caldereria Vieja you can find Baklava, gazelle horns and other delicious treats made on the premises. Enjoy them in one of the tea shops nearby or buy a selection to take home.
Which one will you try?