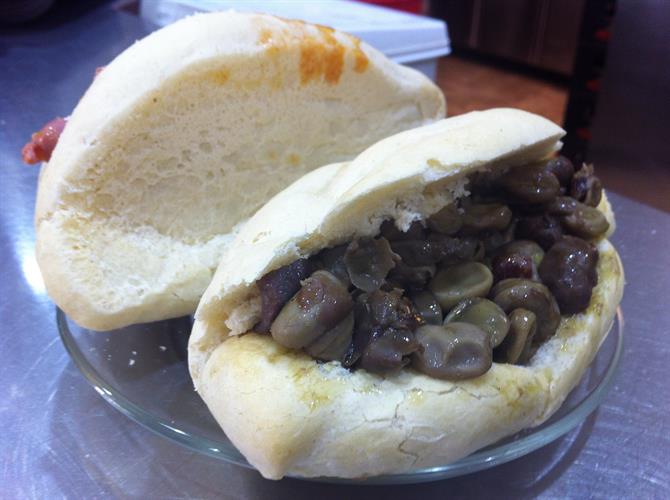 Whether you love food, have a fussy eater in the family or are just curious, this guide to eating out in Granada will help you prepare your meals when you visit the city. It also the home to free tapas and there are so many delicious dishes to try. Experience this traditional food heaven by taking a Granada holiday to fully explore the city and its culinary offerings.
Breakfast in Granada
So what do the locals in Granada eat for Breakfast?
Pastries, most cafés have croissants and donuts. Often you will find a brioche like pastry called Suizo (meaning swiss) it is warmed up and spread with butter and jam. You can also ask for the croissant to be served like this. In Spanish, this is called Suizo mixto a la plancha
Toast is very popular. Ask for boiled ham, jamon serrano, cheese, pate, jam, butter or olive oil. In Granada, the toast comes in small baguette shaped rolls. So you need to decide if you want the whole thing, meaning top and bottom or if you just want half, one piece of the roll. If there are several of you it may work out cheaper to order 2 whole toasts instead of 4 halves. The most popular Andalusian breakfast is toast with tomato and olive oil on. Then there are three different types of bread which are used for toast. Wholemeal, white bread or mollete. Mollete is made in Antequera and is a soft floury bread. Mollete with jamon serrano, olive oil and tomato is a delicious choice.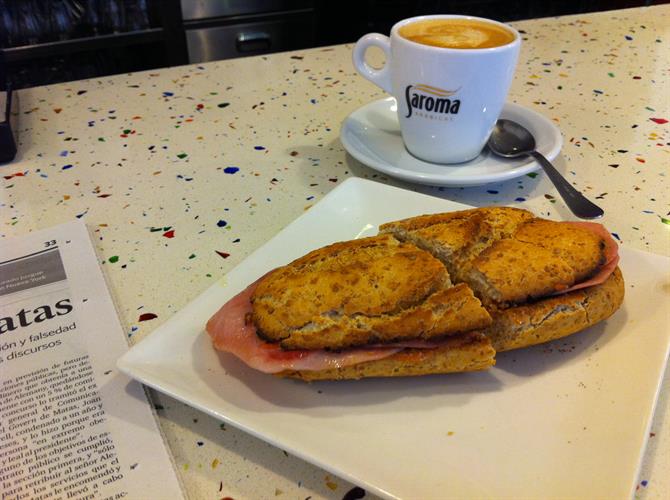 Coffee in Granada
How to ask for your coffee in Granada:
Black coffee, espresso style is café solo
Coffee with milk is Café con leche
Cortado is a short coffee with milk
Leche Manchada is a milky coffee made with less coffee than café con leche
Descafeinado de sobre o de maquina are decaffeinated coffees made with the coffee machine or maybe in soluble form in a sachet.
Also, most places have teas and infusions. The most common ones are
Camommile tea manzanilla
Limeflower Tila
Mint menta poleo.
Some people have the chocolate drink with their breakfast known as Batido de Puleva o Cola cao.
Orange juice is natural and usually made with local oranges. Expect to pay 1.80 euros to 2.50 euros depending on the size of the glass.
Another popular breakfast choice is Chocolate and churros. Rather than an everyday option, people tend to eat this on Sundays or special days. Thick gloopy liquid chocolate and hot churros to dip in. Churros are made from a similar mix as doughnuts and are fried in hot oil
Time served: from 7.30am until around 11.30am
Lunchtime in Granada
From Monday to Friday seek out the Menú del dia this is usually the best value choice during the week. The menu includes three courses. Usually a soup or salad for starter followed by meat or fish dish. Dessert will be yoghurt, piece of fruit or perhaps a homemade dessert. Expect to pay from 8 euros to 12 euros.
Another option is to have a baguette called bocadillo in Spanish. The most traditional place in Granada is Bar Aliatar, on a side street off Bib Rambla square. Typical baguette fillings are Spanish omelette, tortilla de patatas, Spanish ham, jamon serrano and tuna, atun.
Served from 1.30pm until 4pm
In a typical Granada bar or restaurant menu you are most like to come across are:
Starters
Gazpacho/Salmorejo/Porra Antequerana Cold tomato based soups typical in Summer months. Gazpacho is more liquid, not as thick as Porra or Salmorejo which are thickened with breadcrumbs in the recipe.
Mixed salad house Ensalada de la casa Ensalada mixta A typical salad will have lettuce tomato onion and cucumber as the base. Other ingredients may be added depending on the style of the place you choose.
Entremeses – Cheese, Ham and cold cuts of meat. Chorizo, salchichon
Revuelto de esparragos – like scrambled eggs with other ingredients, asparagus, garlic, mushrooms or vegetables.
Huevos rotos con jamon – Fried eggs, potatoes and ham. A great dish for sharing.
Habas con jamon – Broad beans and Spanish ham. Sometimes served with fried egg or onion.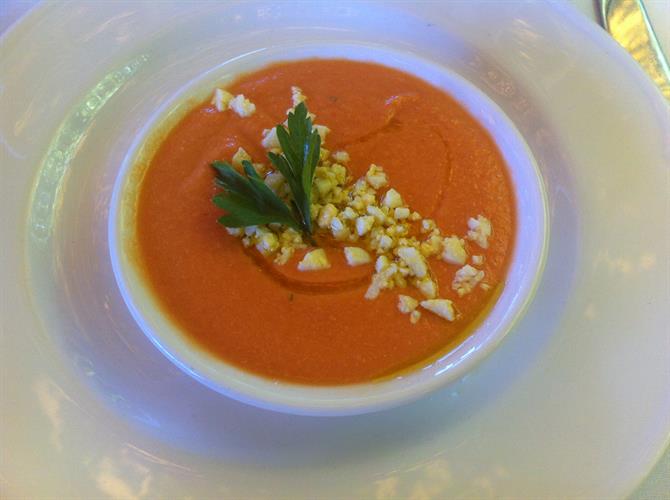 Main course
Bacalao frito – Fried cod
'Pechuga de pollo a la plancha – Grilled Chicken breast
Carne en salsa – Meat in a sauce. Usually pork in tomato and onion sauce. Served often for tapas too.
Solomillo a la pimienta – Pork loin in creamy pepper sauce
Albondigas en salsa de almendras o tomate - Meatballs in almond or tomate sauce.
Dessert
Flan – an egg-based dessert. Made with milk eggs and sugar. The mixture is steam cooked and appears on most Spanish menus.• Crema Catalana is made with eggs and sugar, called Crème brulee outside of Spain.
Natillas, this dish similar to custard, flavoured with vanilla and eaten cold. It is sometimes served with a biscuit on top.
Arroz con leche – Quite like rice pudding. This is made with rice, milk and sugar. Cinnamon is sprinkled on top.
Fruta del tiempo – Seasonal fruit, in summer expect to be offered Melon and watermelon. • Pionono – A typical dessert from Granada. Made with sponge cake, cinnamon, sugar and eggs this small cake has lots of flavour.
Tarta de manzana, tarta de chocolate, tarta de queso… Apple cake, chocolate cake and cheesecake. Many places have cake of the day for their lunchtime customers. Sometimes they are homemade and sometimes bought from local bakeries.
Merienda
With dinner being so late the Spanish often stop off for an afternoon snack called the merienda. Typical things served are:
Maritoñis - a sweet cake made in Granada will a cabello de angel filling (like pumpkin pie)
Palmera de chocolate - a heart-shaped chocolate covered pastry
Cupcakes are known as Magdalenas
Chocolate and churros (same as breakfast)
Different pastries such as croissants or pain au chocolate
Served from 5pm-8pm
Dinner in Granada
In the evening there are different options. Tapas are the free snacks offered with the drinks you order. This may not be enough food for dinner. So you may order an additional racion to complete the meal. Otherwise, you can have a sit-down meal (cena) and order from the restaurant. The options will be similar to the lunchtime menu, however, there will be more variety to choose from of course.
Tapas (free tapas for every drink ordered)
Raciones (portions to share)
Sit down meal
From 8.30pm to 11pm
If you want to eat on the run this Street food guide will be useful too.
Childrens meals
In Spain, some places do have menu infantil but it is not very popular. Generally, children eat the same food as their parents. Families may order a racion or plato combinado to share between two children. Restaurants are usually accommodating to families. Asking for an extra plate to share food is acceptable. (Por favor, podria traer un plato más)