Where to go next in Granada can prove to be a conundrum of sorts. It's certainly not for the lack of opportunity. For a well-planned city visit - it's worth remembering that this historical city has much more to offer than just the stunning Alhambra Palace.
That location may well be the reason for your visit, but take a closer look. There are many monuments worth a second look in Granada.
A plan to hand
Last week we rambled and enjoyed our walk around town in the autumn sunshine - a plan to hand of places to visit and to photograph. The problem is - there's so much more than could ever be written onto a prospective wish-list of places to see. However, we managed a selection grouped closely together so you can see them all in one go - and they don't include the Alhambra Palace which of course will take an entire day to fully appreciate.
The Alcaiceria, Cathedral, Capilla Real, Corral de Carbon and Madraza are all in the same location. The Casa de Los Tiros is a mere 5 minute walk away. Fancy exploring monumental Granada? Then start the ball rolling with a little shopping.
Alcaiceria
For a true taste of Moorish style - head to the Alcaiceria in Granada, which you may enter just down from the cathedral, on the street of the same name. Not exactly a monument, but originally a series of connecting streets, filled with wares such as precious silks and spices during Arabic times.
Today, you can buy your Granada holiday souvenirs here, choose from leather-work, pashminas, ceramics, and clothing. Better gift ideas than a sombrero or a straw donkey. It's a popular and busy spot, the shops are packed inside and out with their colourful goods, and it can get really crowded. Take note: it's also a popular area for pickpockets, easily able to ply their trade when the unsuspecting shopper is busy choosing what to buy.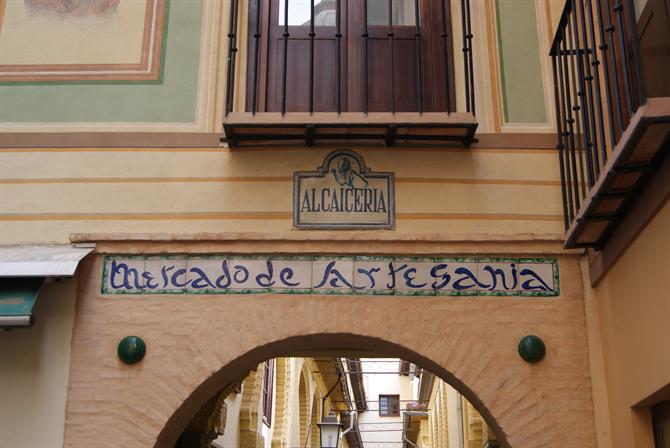 Cathedral
The seat of the Archdiocese of Granada, the cathedral looms large in the city, despite the sky view being filled with spires. Not completed until 1561, the cathedral consists of a rectangular base with five naves and two towers.
It's a vast structure, and the official website is worth looking at before your trip, as it lists any current activities. If you want to take a photo of the outside, you'll have to stand well back!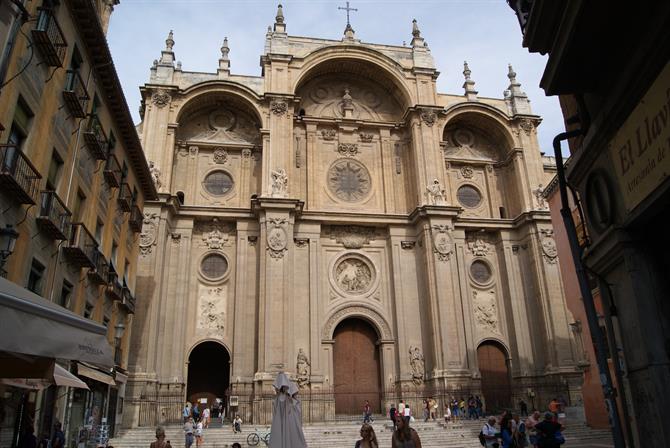 Capilla Real
Personally, I find a visit to the Capilla Real far more interesting than the cathedral, and as it's located right next door - it should be your next stop. The Capilla Real is the last resting place of Ferdinand and Isabella, the Catholic Monarchs, despite the fact that they had originally planned and built their mausoleum in Toledo.
They reconsidered where they should be laid to final rest after the reconquest, and today you can see them in the crypt of the Capilla Real. You may also view their encased jewels, robes, silver, and all the pomp and ceremony that went with them. Here's is an earlier article dedicated to a visit to the Capilla Real.
Corral de Carbon
For history and architecture buffs, it's worth knowing that the Corral de Carbon, on Calle Mariana Pineda, is the oldest and best preserved monument of Muslim Granada. From the double arched gate through to the flag-stoned courtyard, it was originally a goods warehouse. Later on, it was used for stage performances, as it is today, you might catch a concert or recital.
From mid-July to the end of August, you can enjoy a summer night performance of flamenco, poetry, or theatre performed here, it holds about 100 seated spectators in the inner courtyard.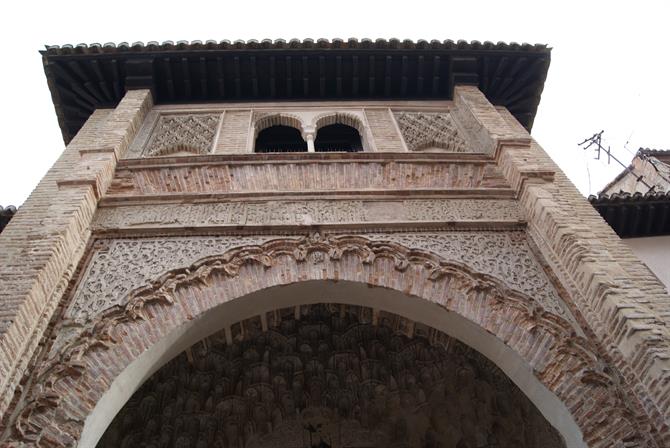 Madraza
Madraza or Madrasah, meaning a building that is used for educational purposes, a Muslim school, that is often part of a mosque. Recently refurbished to a high standard, the Madraza of Granada is situated practically opposite the cathedral.
It's a stunning refurbishment, and it's the reproduced colours on the plasterwork that really catch your eye - you can imagine what the Alhambra Palace would have looked like in its heyday. The guide (Spanish only) takes you on a short 20 minute tour and explains the history of the building, also leading you up the magnificent stairway.
Casa de Los Tiros
The Casa de Los Tiros - Calle Pavaneras, 19 - once belonged to a high and noble family of Granada, they were also supporters of San Juan de Dios and his charitable works.
The first time we walked down this street we almost missed the Casa de Los Tiros, which is certainly tantamount to the quantity of wonderful architecture in Granada - that you can just miss such a beautiful building so easily!
A 16th century Renaissance building, it is now recognised as a museum of traditions and art - containing paintings, sculpture, ceramics and textiles. But if you visit for only one reason, then make it for the sight of the painted ceiling - it's simply breathtaking.