Situated on the northern side of the Sierra Nevada, Guadix can be found nestled into the foothills. A surprising and sudden appearance of a small but busy city, after a long drive across a flat plateau, long and straight Roman roads, and miles of planted Olive and Vine. A stunning picture surrounded by a frame of snow-capped peaks.
If you would like to explore the mountains of the Sierra Nevada during your trip to Spain, find our selection of Guadix holiday home rentals here.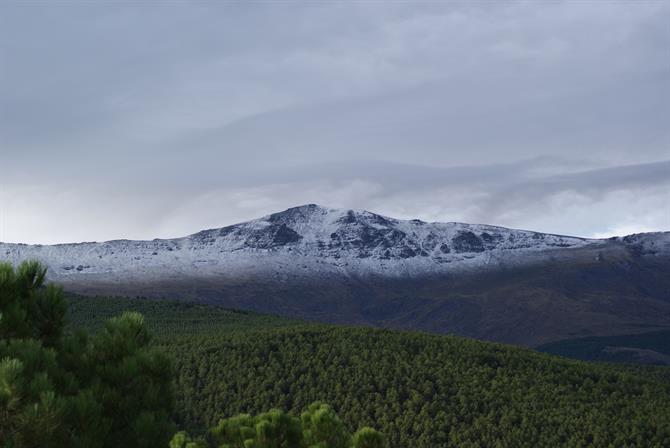 Going to town
Rising up from those fertile, agricultural surroundings, you'll discover in Guadix a fairly provincial place to visit, a walk along the tree-lined main street and the local shops might leave you wondering whether you've stepped through a time portal...if you're a follower of fashion then you might be slightly disappointed.
Old fashioned it might be, but quaint is sometimes good, and there are sights to see. Pedro Antonio de Alarcón of Three-Cornered Hat fame was from Guadix. He was born there in 1833. And then there's architecture by the turret and tower load. Let's go for a walk, and take a closer look at Guadix.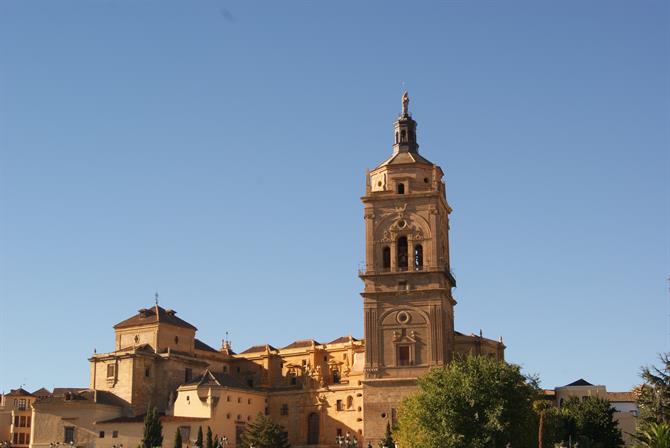 Where to start?
From every available viewpoint you'll see the cathedral, so let's start there. The Cathedral of The Incarnation is a sprawling Gothic build, a Baroque-style building started in the 16th century and built over a former Mosque. The red sandstone gleams in the afternoon Autumn sun, and local train tours start and end there every half hour, for €5 (correct at October 2014) you can hop on and see the local sights without wearing out your shoe leather if you wish. Inside is a paid-for experience, I wandered in after mass to have a look, but was ushered out again by a fussy little man brandishing an enormous key, who seemed keen to lock up and go for his pre-lunch tapa.
If you do manage to get past him, there's also a museum inside with an audio guide.
Main Plaza
To the left of the cathedral, cross over the road and head through one of the arches into the main square known as Las Palmas or Plaza de la Constitucion. Here you'll find the tourist office on the left, where you can pick up lots of local information and a walking map to continue your stroll. Outside, there are also many little bars and cafés under the porticoes offering good value Menu del Día options which are usually chalked up outside - these vary between €8 - €10 for a three-course lunch.
Food is local, fairly plain Spanish country food, well cooked and in season. I was pretty happy with these large clams as a tapas dish, cooked with garlic and sherry into a sticky sauce. Well, actually this photo just shows the shells, so you get the picture...
Meet the Flintstones
After lunch head up to the Barrio de las Cuevas, the cave district overlooking the town. Now, you might wonder what planet you're on up here! Overlooking the many spires, turrets and domed towers of Guadix, this is Flintstone country.
Undulating grass-covered hillsides are interspersed with sprouting chimneys wearing Don Quixotic hats. What looks like façades of normal houses are backed into the dug-out earth, everyone here lives an underground existence, as they have done since pre-historic times.
Cave Museum
You can view the whole place from the Mirador, a 360-degree view, and go down to the square beside the church and visit the cave museum (€2.60 each) as we did, the friendly girl at the ticket office was happy to chat and then show us everything, including a really good video show (also available in English if you want) before leaving us to explore the 'show cave' on our own. It was really fascinating, with interactive displays and loads of information. It should take you about an hour to see it all.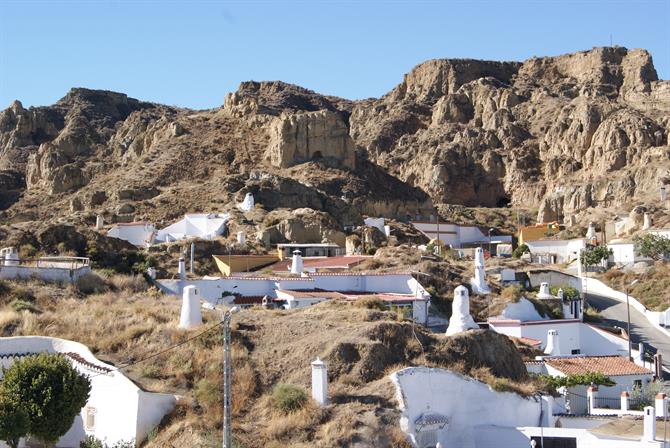 Past times
There's a fascinating insight into times past - designated and furnished rooms to give clues as to the occupants of other times. A bedroom, a kitchen, the pantry. A workroom with tools, even the old pigsty, as the animals would have lived inside with the families. There were framed letters and a story of the original family from this cave, with anecdotes and memories of how happy they were, albeit poor and living in hard times.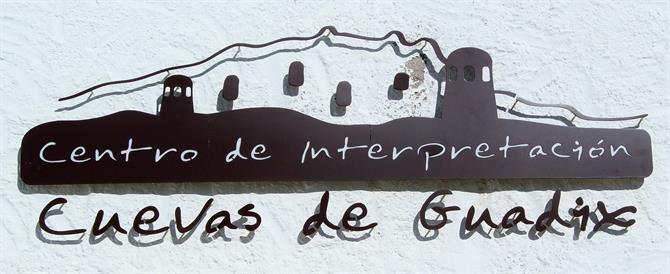 To modern-day cave life
Today there are thousands of people living the Fred and Wilma life in the cave district - although widescreen plasma TV sets have replaced the corrals in the pigsty, and luxury has replaced hardship. Much of the barrio is still considered a gypsy area, and you should be aware of the odd unsavoury character hanging around the mirador, asking for cash or trying to persuade you to visit their own cave.
*Top tip - politely refuse, and stick to the guided tours and official museums.
A steady temperature
Outside and slightly blinded by the white sunlight after the cool and dark cave, we headed just around the corner to a little cave bar for a refresco, where we were also served a tasty tapa. Despite the unseasonable autumn heat outside it was cool and calm inside. I thought at once how cosy this little bar would also be in the depths of a Granada winter, as the temperature in caves stays a steady 18 degrees all year round.
Downtown
Back down the steep hill into town there are other sights to see before you leave.
The old town is the area to explore, you can head back to the newer part later for a bite to eat, or some late night shopping, the shops all stay open until 9 pm, later than normal. So, starting again at the cathedral continue your early evening walk around Guadix. Narrow streets, alleyways, and flights of ancient and worn steps around every corner inviting you to explore and see what lies there.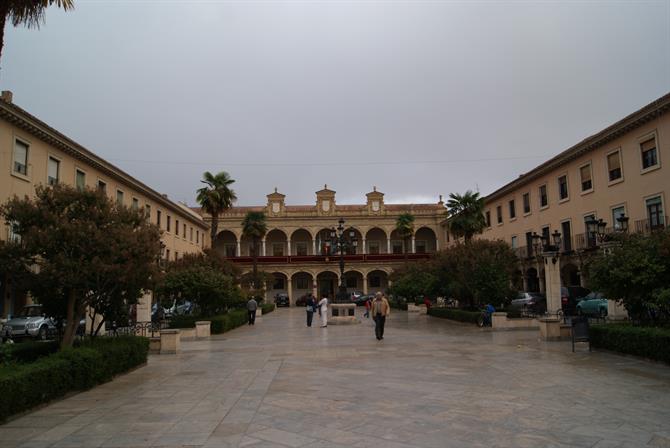 Main Sights
The Alcazaba - 11th century. Looming over the city, and great views across the town and of the aforementioned cave district.

Iglesia of Santiago - pretty and recognisable with a blue and green tiled bell-tower.

The Pottery and Cave Museum - situated by the Alcazaba and includes a good collection of ceramics from different historical periods.

Palacio de Los Marqueses de Villalegre - Aristocratic architecture at it's finest, with twin towers at the corners.

Palacio de Penaflor - Medieval house of noblemen, with wooden angled balcony and another example of the type of architecture that's to be found on every corner of the old town.
Or just happily wander, armed with your camera and see what turns up. There's architecture at every turn. So, it's official: If you visit Granada, then Guadix is definitely worth a closer look!