The beautiful beaches of L'Escala are only a 90 minutes drive from Barcelona and less than an hour from the Girona International Airport, which could make for crowded beaches in summer. Thankfully, they have gone nearly unnoticed by the many tourists visiting Barcelona. A holiday in L'Escala feels like staying in your own personal oasis!
Apart from the amazing beaches (16 in total), the picturesque village of L'Escala itself is also worth a visit because of its historical heritage and its distinct atmosphere. The Greeks and Romans used L'Escala as their most important trade port in the Catalonia region, due to it's privileged location by the sea and its extensive bay. That bay, the Gulf of Roses, is one of the most beautiful bays in the world according to UNESCO.
In this article we have listed the top five beaches of L'Escala so that you can swim in the crystal clear water of the Mediterranean, enjoy the warm sun and summer evenings on the beach. Because, the best things in life are free...
and the beach is one of those
!
A Crown Jewel: The Gulf of Roses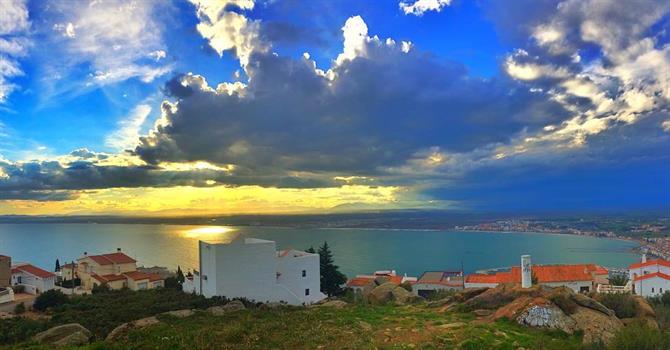 L'Escala's main attraction is the Gulf of Roses, an extraordinary example of natural beauty. It is an immense region with 45 kilometres of beaches, 15 kilometres of coves to explore and 50 kilometres of navigable sea area. It extends from the mountains of Cap de Creus in the north to the Montgí Massif mountain range in the south. Because it is surrounded by mountains the bay's waters are very calm, making it an ideal spot for swimming with children and doing water sports.
Fun fact: Ancient Greek mathematician Euclid, considered the father of geometry, established a model of ideal beauty that he claimed was inspired by nature. His model, known as the Golden Ratio or Divine Proportion, has been applied throughout the ages in architecture and the arts. Euclid could scarcely have guessed that in 1967, two millennia after he established his model, an investigation would reveal that the profile of the Gulf of Roses corresponds exactly to the proportions of the Golden Ratio.
If you are considering renting
a holiday home in Girona
next summer, make sure to visit the Gulf of Roses and spend a day on one of its beaches.
1. Riells – An urban beach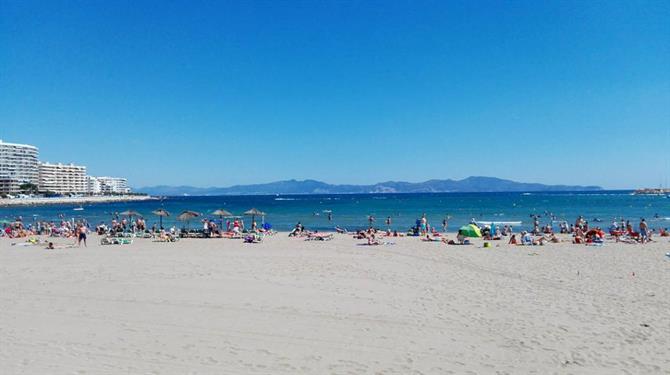 Riells, just outside L'Escala, is known for its long avenue that celebrates The Little Prince by Antoine de Saint-Exupery. It is the perfect place for a day at the beach with the family, thanks to its fine sand, calm waters and closeness to the city.
You will find a wide range of amenities, from shops and bars to water sport companies and events. Many days there is also a fair with artisan products and delicious food. There are plenty of reasons to spend a day at Riells beach!
At the east end of the beach you can find the recreational port of L'Escala (Port la Clota), an excellent fishing spot. If you go in the opposite direction, you can get to Port d'en Perris beach (5 minutes by car and 20 minutes on foot) where it is possible to swim in open sea.
More information:
Type of sand: fine
Area: 34,704 m²
Length: 582 metres
Amenities and services: The beach is equipped with ramps for wheelchairs and trolleys. There are also lifeguards present. Other services include a playground for the kids and facilities to do several types of water sports.
2. Del Riuet – A beach surrounded by nature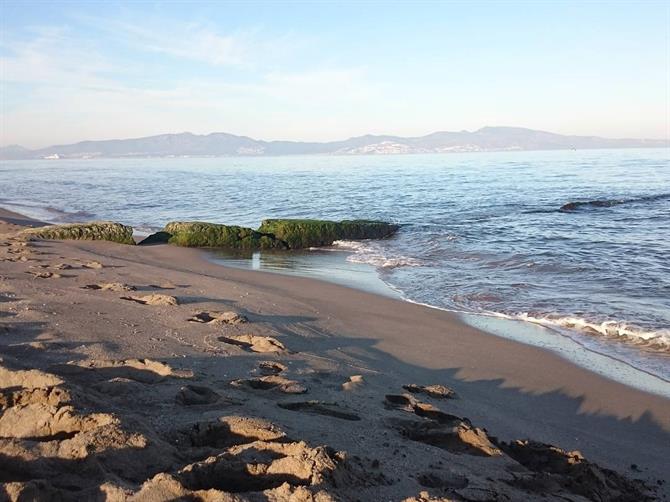 Hidden away to the north of L'Escala, Del Riuet is the perfect spot for a beach retreat and for water sports, especially wind surfing.
The beach is composed of two parts: on one side, accessible via the village of Sant Martí, most bathers gather for a day of sunbathing, swimming and relaxing. On the other side, further north and close to the mouth of the Riuet stream, the beach is wilder and more popular with water sports lovers
in search of an adrenaline rush
.
More information:
Type of sand: fine
Area: 15,667 m²
Length: 445 metres
Amenities and services: There are beach bars, public showers, sun lounger rentals and facilities to do several types of water sports.
3. Moll Grec – Swim next to ancient Greek and Roman ruins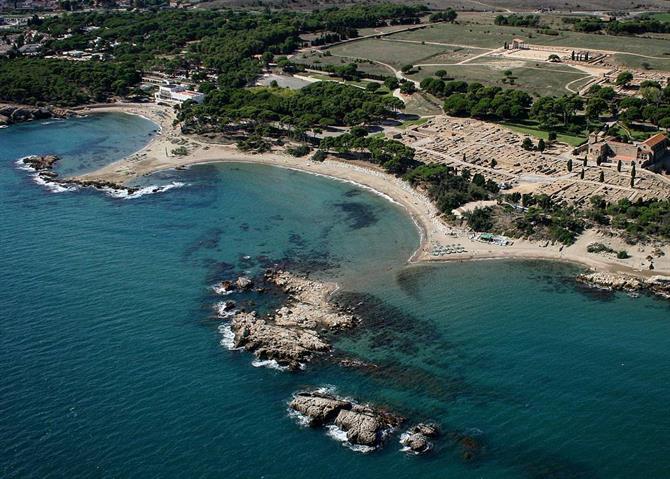 Moll Grec is truly unique, located in a historic setting that you won't find anywhere else: close to an ancient port used by the Greeks and Romans. Being able to sunbathe and swim next to historical ruins makes for a special experience. Moll Grec is an open-air museum combined with a beach!
The majestic structures of over 2,000 years old serve as a reminder of Moll Grec's historical status as the gateway to the Iberian Peninsula. But the beach has more history than that. Opposite of the Greek ruins, you can see the medieval walls that surrounded and protected the seaside town Sant Martí d'Empúries,
Whether you want to relax at the beach, walk along the promenade and the dunes or visit the historical relics, the beach of Moll Grec is a must see for everyone!
More information:
Type of sand: fine
Area: 17,331 m²
Length: 432 metres
Amenities and services: There are beach bars, lifeguards, sun lounger rentals and a playground.
4. Pedrigolet – Your own private beach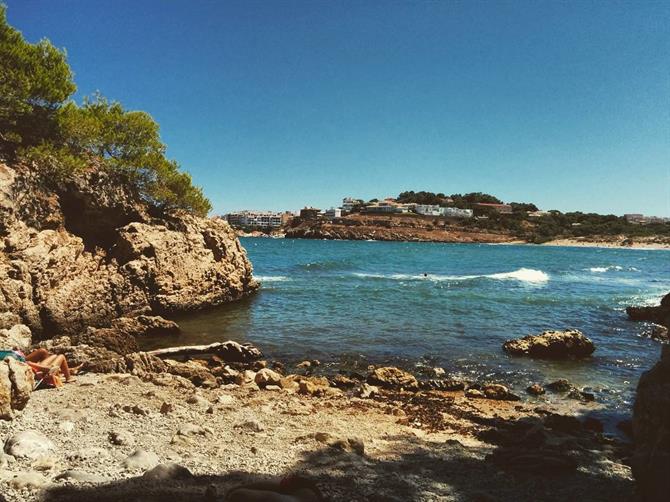 The curious Pedrigolet beach deserves a spot on this list purely because it is so well-hidden that you could spend a whole day there without anyone else showing up. It's like having your own private beach!
The small beach is located between two bigger beaches, Rec del Molí and Portixol, and you can only get there on foot by taking one of the pedestrian routes that start from viewing points in the surrounding area. The beach is protected from north winds by a bay, making it the perfect place for snorkeling.
Unlike most beaches in the area that offer a lot of services and activities, Pedrigolet is the place to be if you are looking for a private place to wind down and relax.
More information:
Type of sand: pebbles and rocks
Area: 6 by 15 metres
Amenities and services: There is a small parking lot. The beach is very suitable for snorkeling and diving.
5. Montgó – A popular beach south of L'Escala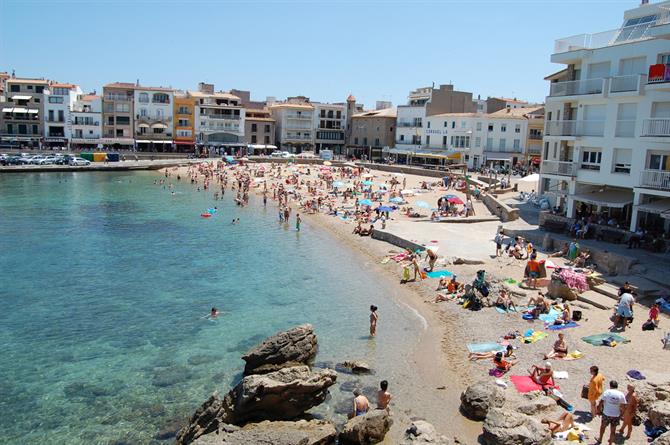 The beautiful Montgó beach is located at the southernmost point of L'Escala, protected from the northern winds by its geographical position. Its calm waters and fine sand make it a favourite among locals and tourists alike.
It is also located near the Montgrí, Medes and Baix Natural Park, where you can visit one of Spain's most beautiful shorelines. Go on a hike, enjoy the view and don't forget to visit Torre Montgró, built to deter pirate attacks.
More information:
Type of sand: fine
Area: 200 by 430 metres
Amenities and services: There are bathrooms (for the disabled too), public showers, lifeguards, kayak rentals and facilities to do water sports.