Besides the best activities in Spain this year, don't overlook these suggestions for the small town l'Estartit. It has a recently renovated beach promenade of 2.5 kilometres and a great variety of popular festivities, restaurants, bars with terraces to enjoy the hot summer nights, a rich and beautiful historical and natural heritage, ... Here's what you need to know about this destination for your perfect holiday!
Discover the Medes Islands
When you arrive in l'Estartit, its natural beauty is surprising. L'Estartit is surrounded by hills and boasts a variety of beaches and a magnificent view of the Medes Islands. Several beaches are protected and part of a nature park, just like the Medes Islands which you can see from the village at about 2 kilometres distance.
We advise you starting your holiday in a relaxed state of mind. You can leave your luggage at your holiday home in L'Estartit and start off with a good walk, a refreshing dip in the crystal clear water of the Mediterranean Sea and an excursion to the Medes Islands. Several small companies located in the harbour offer boat trips and you can even rent a kayak.
On these boat excursions along the coastline of l'Estartit you will see a couple of the no less than 1,300 species of fish and plants such as red coral, groupers and lobsters. During the excursion you can go into the water or observe the sea creatures through the transparent glazed deck of the boat. This is one of the best spots in the Mediterranean for scuba diving so take a dive when you're there!
Discover your favourite beach in l'Estartit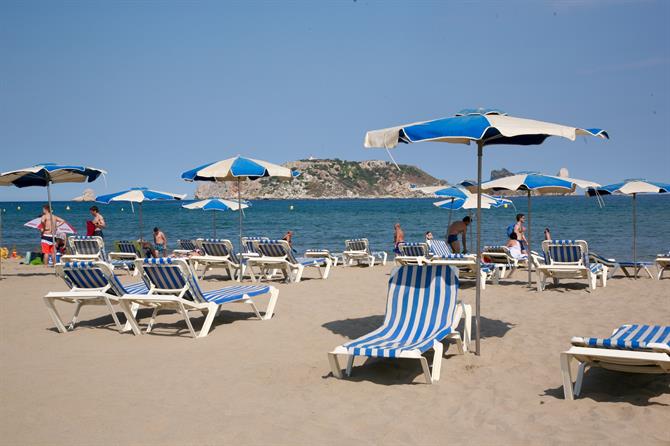 The coastline of l'Estartit can be divided into three main beaches: Playa Gran (1 kilometre long and 100 metres wide), Playa Els Griells (500 metres long and 50 metres wide) and Playa de Pletera (1.8 kilometres long and 70 metres wide).
Choose the one that suits your state of mind when going to the beach and, without a doubt, you will make the most of your day at the beach and the sea. Take note of the following:
Playa Gran is the beach for you if you want to enjoy the sunshine without having to walk too much as it is very close to the city centre. Of course, this also makes it the busiest beach of the three.
Playa Els Griells is the perfect beach for you if you want to enjoy nature as the Ter Vell nature reserve is right next to it. You can practice water sports at Els Griells with some main operators close by.
Ultimately, don't forget to go to Playa de Pletera which offers you quietness and privacy above all. It's located in a natural area further away from the city with a landscape boasting dunes and lakes.
Choose from tens of water sports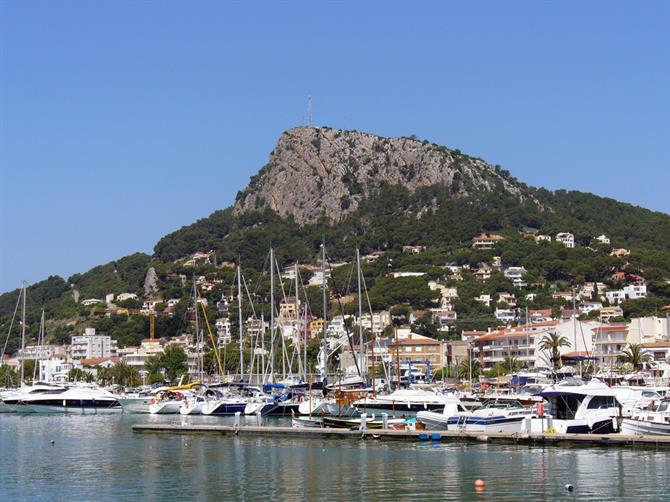 With a marina so close to the city centre there is an abundance of operators to practice water sports. L'Estartit is a city that predominantly focuses on the sea offering you the opportunity to surf, dive, snorkel and water-ski. Plan your water adventure now!
Choose from tens of operators: the Club Nàutic Estartit and Lassdive are the best companies for windsurfing; the Escuela Nautic & Diving is very good for snorkelling; Aquàtica and Calypso organise snorkel and scuba diving sessions; Eolis Kite is the right place for kite surfing; and there are many more to choose from.
Visit medieval villages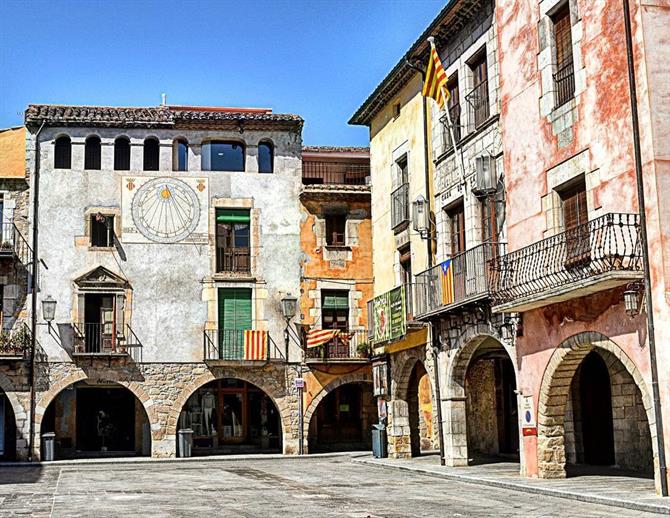 The abundance of medieval villages in the vicinity of l'Estartit takes you back to a past filled with stories and tales of kings and queens waiting to be discovered by you.
The village Pals, for example, situated at 15 kilometres of the city centre, has a unique medieval wall surrounding a large part of the village including a castle and four iconic towers. The view from the Mirador Josep Pla of the Baix Emporda region with the sea in the background is so inspiring that you'll remember it for a long time.
The best way to discover the medieval legacy of Estartit is to get lost on foot, by bike or by car stumbling upon surprising villages. The most interesting are Peratallada with its fortified square, the church of Sant Esteve and the Torre de Homage (Tower of Homage); Ullastret, also known as the "iberian village" harbouring medieval ruins of great historic value. On top of this, it's very probable that you will come across the villages Cruilles, Canapost, Monells, Palau-sator, or Madremana.
Get your original gift at the city market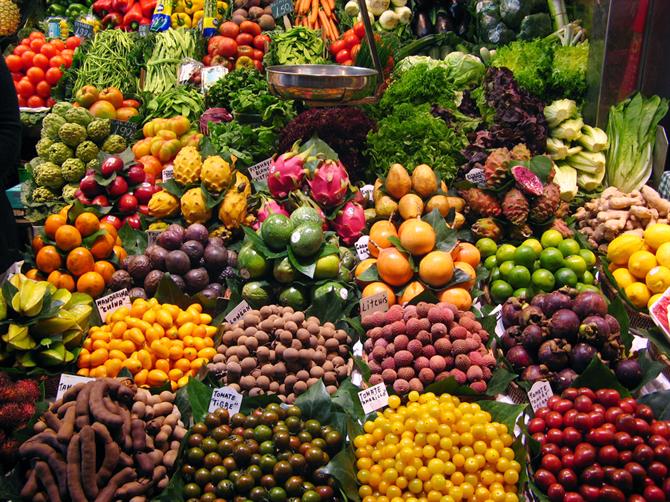 Forget about shopping malls and souvenir shops, because in l'Estartit there is a weekly market on Thursday where you can buy artisan products, toys, handmade clothing and fresh and local products. You'll meet the manufacturers of every single product in person encountering low prices, unique products and, above all, high quality.
It's without a doubt one of the most popular markets of the Costa Brava thanks to its size and the diversity of the products it offers. Another popular market is organised every Monday in the neighboring Torroella de Montgrí.
Experience paddle surfing at the beach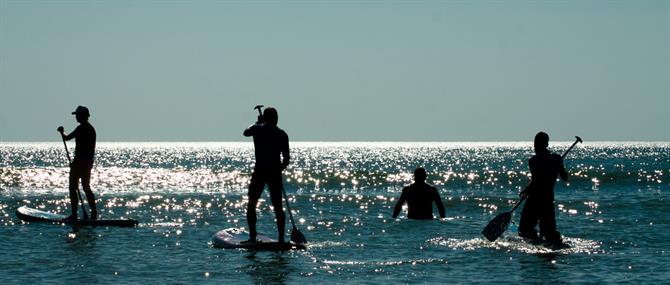 On the main beach of l'Estartit a water sport is becoming increasingly popular while in the past only a dozen people practiced it: paddle surfing or stand-up paddle surfing.
You can get all the necessary equipment and a word or two on how it works at the Clube Náutico de Estartit, very close to the beach. The best thing about this sport: it's very accessible for beginners not used to standing on a surfboard. You use the oars to keep your balance and if the sea is calm it's rather easy to navigate the waves while enjoying the sunset in the background.
This is a great way to get closer to nature and sea in l'Estartit and, on top of this, you'll work your arm and leg muscles improving you overall physical condition.
Explore the natural beauty of l'Estartit on a horse or by bike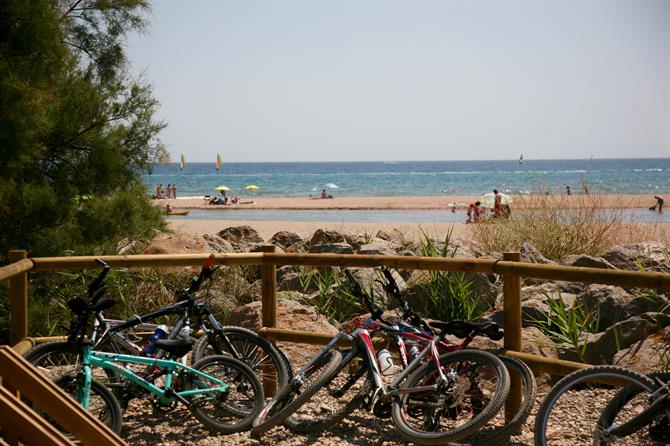 L'Estartit boasts nature parks, reserves and protected areas, beautiful beaches and mountainous sections. It's truly irresistible to discover the nature of l'Estartit in style: in this case, we recommend you start exploring on a horse or by bike.
The horse club Mas Panguina organises unforgettable tours. The only requirement is that you do not weigh more than 90 kg and the price is 27 euros. The perfect plan for nature and animal lovers!
You can also go out and discover the city's beautiful nature by bike. Get your rental bike at CH-16, Medaqua or Electric Bici Moto. It's very easy! You won't get lost thanks to the 17 marked routes, which you can easily do by bike. These routes will guide you along the most beautiful sites of the region.
The best festivities in l'Estartit
L'Estartit is very proud of its cultural heritage and its traditions which include lively parties and gigantic parades, concerts by the sea or social gatherings with people jumping through bonfires and a lot of food and drinks. You'll find something for everyone including activities for families and children.
The main festivities in the city:
Epiphany Parade – on the evening of January 5
Carnival – February
Día de Sant Jordi– April 23
Fiesta del Parque Natural de Montgrí, Islas Medas y Bajo Ter – May
Dia de Sant Juan – June 23
Fiesta de Sant Carmen – June 16
Fiesta Mayor de Santa Anna – July 26
Jazz Festival l'Estartit – July and August
Dia Nacional da Catalunha – September 11
Fiesta de Santa Llúcia – December 13
The entire Costa Brava region where l'Estartit is situated is synonymous with fun activities which will make your summer holiday unforgettable. Let our Costa Brava holiday homes inspire you and enjoy your perfect holiday!