Considering La Gomera has long been regarded as one of the most unspoilt of the Canary Islands, a ruggedly wild island where nature still calls most of the shots, it seems incredible that the island didn't gain UNESCO Biosphere Reserve status until 2012.

The award completed a treble of UNESCO titles. Garajonay National Park was already a World Heritage Site whilst the intriguing whistling language, Silbo, could boast the prestigious but clumsy title of UNESCO Intangible Cultural Heritage.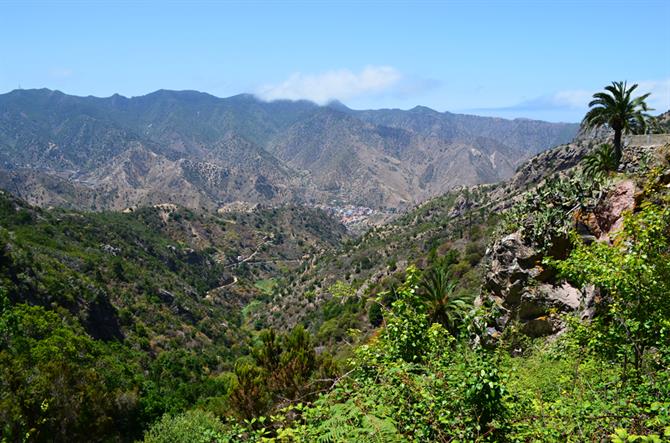 What is a UNESCO Biosphere Reserve?
To be designated a Biosphere Reserve, specific areas have to show that there is a strong historic link between man and nature. For a fuller explanation
see our article on Anaga on Tenerife
being designated a Reserve in 2015.
Why is La Gomera a UNESCO Biosphere Reserve?
Despite being lush and lovely, La Gomera's shape has made it a difficult place for humans to settle and work the land. A mix of volcanic activity and the effects of weather and erosion by the sea over the centuries has created a circular island with a central plateau at approximately 1000m above sea level. From this central ridge, steep barrancos radiate outwards to the sea. Getting anywhere on La Gomera involves a lot of ascending and descending. Even now, there are some places where it's quicker to get to on foot than to drive between them. Subsequently the island has remained nature's stronghold. Laurisilva forests, lost to most of Europe and Africa, continue to thrive and farming and fishing is small scale, more like cottage industries.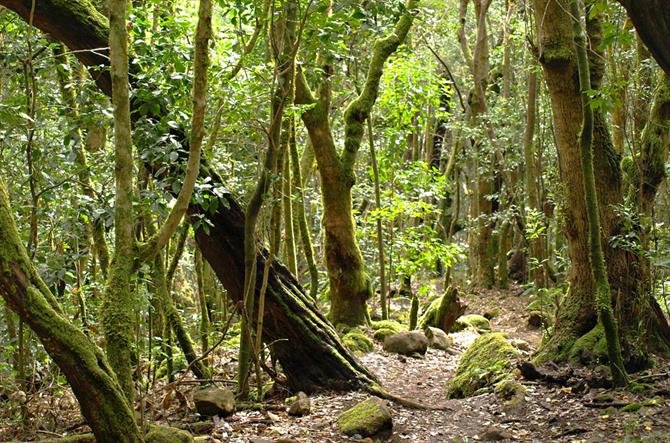 La Gomera Biosphere Reserve highlights
The inhospitality of the terrain means La Gomera is a superb walking destination. Towns are small compared to the those on its Canary Island neighbours. Nature dominates. Even in the capital, San Sebastián you can walk from hotels and apartments and straight onto a hiking trail. Whilst coaches ferry day-trippers from Tenerife, taking them on a whistle stop tour, the best way to get a true taste of La Gomera is on foot.
Whether on foot or by car/coach, these are three scenes of La Gomera which show exactly why it's a UNESCO Biosphere Reserve.
Garajonay National Park
Named after two lovers, Gara and Jonay, the National Park covers forty squares kilometres with seventy per cent of its mass being laurisilva. Clouds often cloak the rainforest, misty wisps meandering through the moss laden trees, giving it an air of enchantment. Atmospheric when in cloud, the park is breathtaking when the clouds lift revealing views that could span three continents.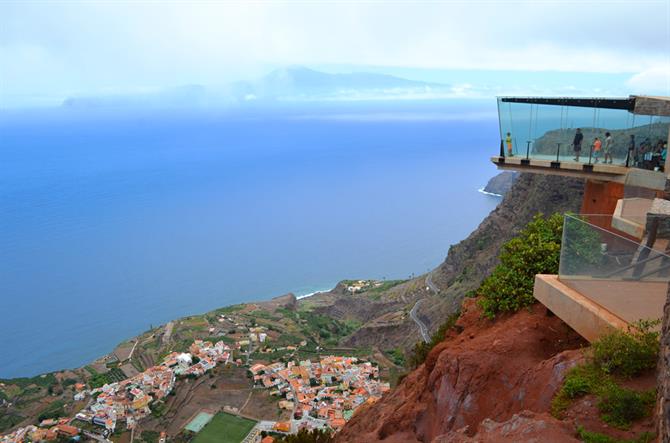 Mirador de Abrante
A recent addition to La Gomera's attractions, the Mirador de Abrante is a restaurant and viewing platform overlooking the coast at Agulo. That might not sound particularly impressive, but two factors make it stand out. The first is that the ceiling to floor windows have some of the best views of Tenerife's Mount Teide you'll see from anywhere on the Canarian Archipelago. The second is that it's a glass-floored viewing platform; not for anyone with even the slightest hint of vertigo. Oh, and the food is really good.
There are more stunning La Gomera viewpoints in our article on where to find the best views on the island.
Roque Agando
Being situated close to San Sebastián and on one of La Gomera's main roads means the viewpoints under the bullet-shaped Roque Agando are the darlings of the coach excursion scene. And deservedly so. As well as the impressive pinnacle, the viewpoints on either side of the road look over quite differing la Gomera landscapes, where the forests morph into arid ravines scarred by abandoned agricultural terraces. In 2012 Agando was devastated by forest fires. Now it's back to its stunning best.


Although I've picked out three highlights, the truth is you will be rewarded with quite wonderful scenery wherever you go on La Gomera.