Located approximately 125 km off the coast of Africa, the Canarian island of Lanzarote is a paradise for holiday seekers, boasting an impressive volcanic landscape as well as gorgeous beaches with warm waters and a mild climate.
With a wide range of activities and entertainment options in the several resorts on the island, the decision about where to stay in Lanzarote is not an easy one to make. Discover our guide about the best places to stay in Lanzarote and the best landmarks, activities and beaches they have on offer for a relaxing, active or sun-soaked holiday.
The Best Places To Stay For Families
Playa Blanca is located in the south of the island. Geared towards tourism, it is the perfect family holiday destination to rent a holiday home in Lanzarote with attractions for all ages. Boasting pretty beaches, an attractive beach promenade lined with restaurants serving delicious local food and a water park (Aqualava), it is a good starting point for fun family excursions. Your children will be amazed by la Montaña Roja (the Red Mountain), the Los Hervidores cliffs, and Timanfaya National Park with its volcanoes.
Families with younger children should consider holidaying in Costa Teguise. Your children will love playing and paddling in the warm waters of the four natural beaches with all the amenities. Not keen on finding your Costa Teguise apartment full of sand? Not a problem, because Costa Teguise boasts its very own aqua park with lots of tubes and slides for your children's entertainment. Furthermore, thanks to its great location, all the main attractions are easily accessible making it one of the best places to stay in Lanzarote for families.
The Best Places To Stay For Beaches
Lanzarote is synonymous with uniques beaches all across the island, from intimate rocky coves to long stretches of golden sand. Feel the Canarian warmth and enjoy a holiday close to one of the beautiful beaches of Lanzarote.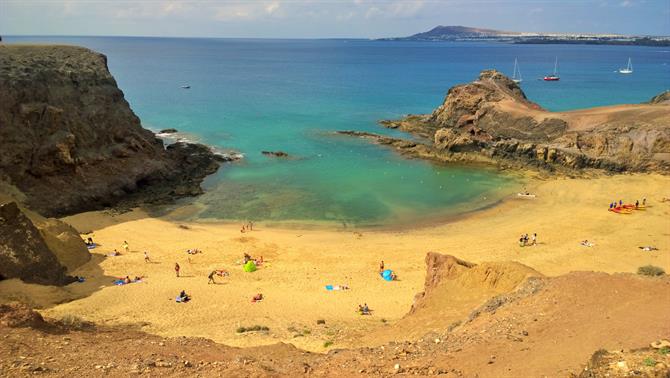 If you fancy a beach holiday in Lanzarote but are driven away by the crowds, you can visit the Papagayo beaches, a collection of beautiful, natural bays perfect for total relaxation and only a stone's throw away from your holiday home in Playa Blanca. Close to the centre of Playa Blanca you will find more picturesque beaches such as Blue Flag Playa Blanca (perfect for families), Playa Dorada (white sand) and Playa Flamingo, all boasting several facilities.
Head towards Arrecife, the island's capital, which is of course a more built-up area, but this does not take the charm away of the local beaches. Beaches such as the beautiful Playa del Reducto and Playa del Cable are well worth a visit when
staying in Arrecife
. Playa de El Reducto is a strong favourite with visitors thanks to the fine, white sand and its wide range of services such as restaurants, showers and changing rooms.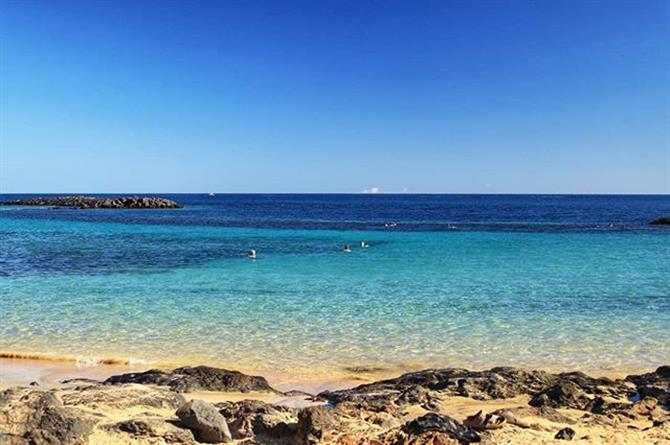 Aforementioned Costa Teguise is another great beach destination to find stunning
villas in Lanzarote
, with natural and well-equipped golden beaches. Visit Playa Las Cucharas, Playa Los Charcos and Playa del Jabillo which attract tourists from all over the world who are eager for some vitamin sea.
Last but not least, choose to
stay in Puerto del Carmen
, the largest resort on the island and another excellent option for a beach break in Lanzarote. If you enjoy a vibrant beach atmosphere you will love Playa Grande and Playa de los Pocillos, both with large golden stretches of sand and all the amenities that you could wish for: showers, toilets, changing rooms, hammocks, umbrellas and water sports equipment. Apart from the main beaches, Puerto del Carmen also boasts smaller, more intimate beaches and bays such as Playa de Fariones and Playa de Pila de la Barrilla.
The Best Places To Stay For Sports & Nature
Lanzarote is not only a great island for relaxing, but it is also a paradise for sports fanatics who love nature. Surfing, windsurfing, road cycling and mountain biking are some of the favourite pastimes of the locals and those seeking an active holiday in Lanzarote. Moreover, the island is also a favoured training location for professional triathletes who are preparing themselves for the yearly Lanzarote Ironman.
Lanzarote is often called the Hawaii of Europe, not only because of the volcanic landscape but also due to the local waves. The good, consistent waves make Lanzarote one of the best surf spots in Europe.
Undoubtedly, one of the best beaches for surfers in Lanzarote and one for all levels is Playa de Famara, in Caleta de Famara. Rent an apartment in Famara, jump out of bed in the morning, put on your wetsuit and go and check out the waves with your surfboard under your arm; the beach is that close and easily accessible. A long stretch of golden sand and beautiful cliffs in its surrounding, Playa Famara is the perfect beach in Lanzarote for learning to surf under the guidance of a local surf school such as Red Star Surf. More experienced surfers should head towards the epic El Quemao (La Santa), also called the pipeline of the Canary Islands. Other surf spots include Orzola, Punta de las Mujeres, San Juan, Arrieta and El Centro. Windsurfing enthusiasts will also find beaches in Lanzarote with ideal conditions. Amongst the best ones are Playa Las Cucharas, Playa Matagorda and Playa Famara.
Cycling holidays in Lanzarote have become popular due to the beautiful views and brilliant roads that have flat and steep parts allowing you to work on your strength as well as your endurance. The whole island is a great holiday destination for cyclists but there are some locations that will offer you more spectacular views from your saddle.
Consider
staying in Haría
for cycling in Lanzarote, one of the most picturesque villages of the island. The beautiful area around the village is better known as the 'Valley of a Thousand Palms', a somewhat greener corner of Lanzarote with steep roads dotted throughout the landscape. Haría is situated in the north where you can explore the Mirador del Río, which has spectacular views of the smaller island La Graciosa as well as stunning Punta de las Mujeres, with its natural rock pools.
Road and mountain bikers alike will find various roads and trails all around Haría. Do not forget to bring your own bike or rent a bike in one of the bigger destinations. Small villages like Haría will not have bicycle rental shops.
Rent
a
holiday home in Yaiza
, a well-located place
to explore other spectacular parts of Lanzarote
. The municipality Yaiza is partly situated in Timanfaya National park, a volcanic area of 51.07 km2 with smooth tarmac roads for road cyclists and trails and steep downhill parts for mountain bikers and adrenaline junkies.
The whole island of Lanzarote is a great destination for cycling enthusiasts. Classic resorts such as Playa Blanca, Costa Teguise and Puerto del Carmen too are great places to stay for active holidaymakers with bike rental shops and the possibility of joining guided road bike or mountain bike tours.
The Best Places To Stay For Luxury
For those seeking a luxury holiday in Lanzarote rent a villa in Puerto Calero. Only a few kilometres away from bustling Puerto del Carmen, Puerto Calero boasts a charming marina lined with attractive palm trees and restaurants. Feel the high society vibe when going for an evening stroll alongside the marina where the rich and famous moor their luxury yachts. Or go on a shopping spree in the boutiques where you will surely find an exclusive item to wear during your holiday.
Another reason to choose Puerto Calero for a luxury holiday is its proximity to the La Geria wine region and its many bodegas (wineries). Here you can savour local Lanzarote wines such as sweet Moscatel. Be sure to take in the unique landscape of La Geria which is dotted with zocos, stone circular walls to protect the vines from the strong prevailing winds in the area.
Still regarded as more upmarket by many than Costa Teguise and Puerto del Carmen, Playa Blanca offers options for those who wish to indulge during their holiday to Lanzarote. The local Marina Rubicón exudes an exclusive atmosphere and there is the possibility to rent jet skis and explore the warm waters of Playa Blanca in style.
The Best Places To Stay On A Budget
For those who want a holiday in Lanzarote without breaking the bank, Puerto del Carmen is the best choice of the three main resorts for budget holiday homes in Lanzarote.
When you go out for dinner try the typical papas arrugadas (literally: wrinkly potatoes) which are traditionally served with a green or red mojo sauce. These potatoes are most of the time among the cheaper dishes on the menu and will fill you up quickly. There are also plenty of other options for eating out in Puerto del Carmen such as Asian food, tapas, British food and much more, all at reasonable prices.
Do not hesitate to book cheap accommodation in Lanzarote away from the attractions that you would like to see and be sure to rent a car. A car will make your life easier when you go sightseeing and petrol is reasonably cheaper in some places than in mainland Spain. Cheap petrol will help you keep to your preset holiday budget when you are exploring the island by car.
The Best Places To Stay To Disconnect
Lanzarote is a good place for those who are looking to disconnect from life back home. The village of Punta Mujeres is perfect for relaxing and enjoying the rocky coves and natural pools with warm, crystal clear water with an abundance of fish species. Enjoy a drink in one of the bars in Punta Mujeres with a view of the sea and take in the laid-back atmosphere. You could also choose to stay in Arrieta, a small unspoilt village on the east coast which is home to the wonderful Playa de La Garita.
For a more rural holiday in Lanzarote choose a
holiday home on La Graciosa
. This island is just 2 km away from Lanzarote and forms part of the Chinijo Archipelago Natural Park. With a population of about 800 people, it is the perfect place to escape from it all. Be sure to visit Playa de Las Conchas on the northwestern side of the island, an oasis of golden sand and turquoise water, where no one will disturb you when you are sunbathing on what will seem like your private island.
If you want to relax and disconnect but still be able to go a popular resort whenever you feel like it, then choose for a
holiday home in Tias
. Tias is a place where you can unwind and do your own thing, but at the same time Puerto del Carmen is only 6 km away. You can easily go there to have a drink and a bite to eat or enjoy the Canarian sun on one of the bustling beaches.
Other excellent options in Lanzarote to disconnect are the quiet white village of Yaiza, voted the most beautiful village of Spain several times, Teguise, Haría and Caleta de Famara.
The Best Places To Stay For Culture
If you think about culture in Lanzarote one name should pop into your head: César Manrique, a painter, sculptor, architect and all-round artist. Born in capital Arrecife in 1919, Manrique shaped the island of Lanzarote safeguarding the natural environment and culture while tourism was developing on the island. Manrique undeniably left his mark on his native island and his work can be found across the island, in museums, gardens and even roundabouts.
Jameos de Agua, the beautiful Mirador del Río viewpoint and the cactus garden are probably the most important creations of Manrique on the island and these are within easy reach if you stay in the northern part of Lanzarote. Orzola is a great place to stay to be close to the main sights designed and inspired by Manrique. Haría is another great northerly located option, since the village is home to the César Manrique House Museum. Other great places to stay in the north of Lanzarote are Arrieta, Punta Mujeres and, more towards the south, Caleta de Famara.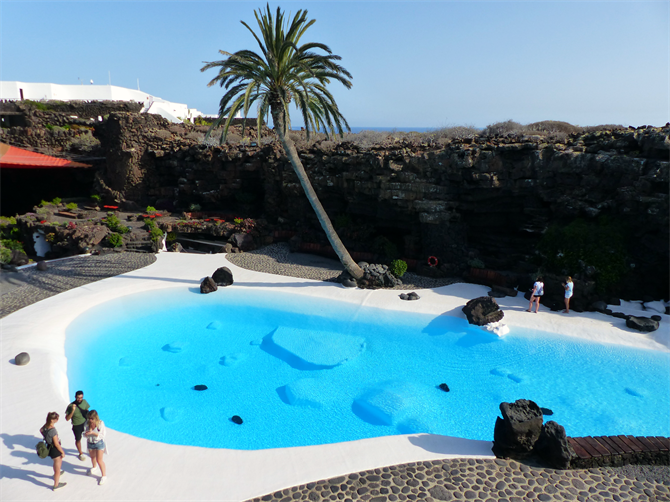 Another hotspot for culture lovers is the capital Arrecife where you can find the International Museum of Contemporary Art in the San José castle. Moreover, Arrecife is only a stone's throw away from the César Manrique foundation in Tahíche.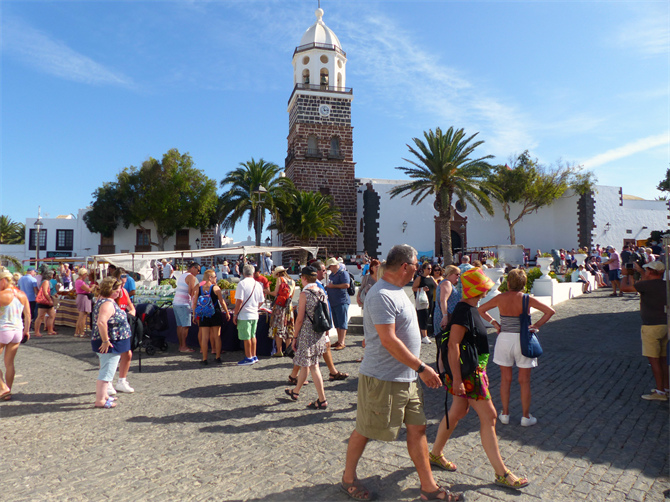 If you want to immerse yourself in the street culture of Lanzarote, visit the Teguise Market organised every Sunday from 9:00 to 14:00 on the doorstep of your
holiday rental in Teguise
. The Teguise Market is the biggest market in Lanzarote with an offer ranging from clothes, souvenirs and food to bags, belts, sunglasses and soap. It is a great place to hunt for bargains.
Lanzarote is a rather small island so if you are looking for culture you can always drive to the things that you want to see. This will give you more options and destinations to choose from.
The Best Places To Stay For Nightlife
Do you fancy painting the town red during your holiday to Lanzarote? Puerto del Carmen is the place for you! It boasts a vibrant nightlife full of discos and live music bars. Head towards the Centro Atlantico on the main strip Avenida de las Playas and the old town area close to the harbour. In Playa Blanca and Costa Teguise there is also nightlife to be found, but Puerto del Carmen is widely known to be the liveliest resort of the three.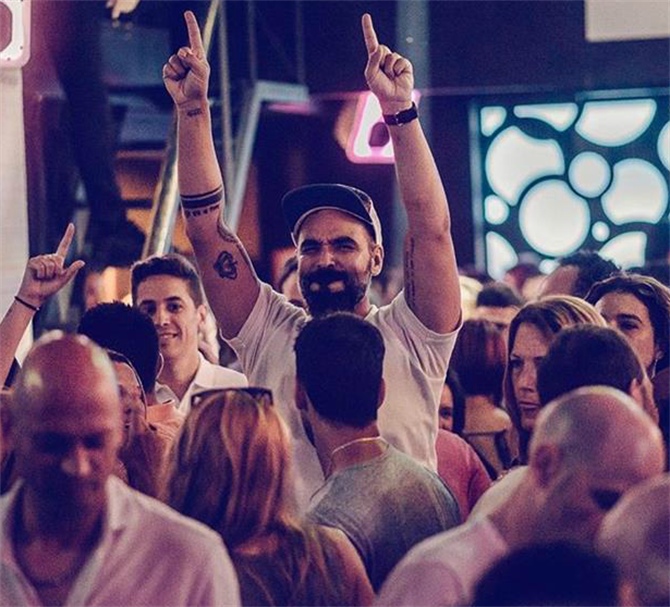 To experience authentic Spanish nightlife in Lanzarote go to Arrecife, more precisely Calle José Antonio or Avenida de Fred Olsen, near Playa del Reducto.
Lanzarote is a beautiful island with a varied offer for all ages and tastes. An interesting culture, a breathtaking natural landscape, incredible beaches … Lanzarote has it all and should be on your list of destinations to visit!