Vegueta's Las Palmas de Gran Canaria's oldest district. So it won't be that much of a surprise when you stumble across the Canary Island's most ancient market. Opposite the neighbouring barrio of Triana, the Mercado de Vegueta's not hard to miss.
The Mercado de Vegueta takes cover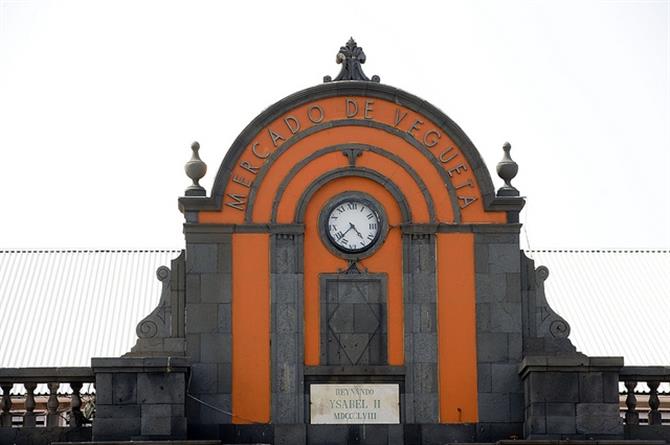 The Mercado de Vegueta began life as an open-air market in 1787. The city's then mayor, José Eguiluz, decided to group the merchants together, close to the mouth of the Guiniguada ravine. Vegueta then was the heart of Las Palmas de Gran Canaria.
Although if you've ever studied Latin, you will be able to tell, from the photograph above, the date that the market hall officially opened. Yes, 1858, during the reign of Isabel II. Although it was actually open for business two years prior to being formally unveiled.
The Mercado de Vegueta, where and when to go
Close to the Teatro Pérez Galdós, Vegueta's market hall's a similarly-acclaimed Las Palmas de Gran Canaria landmark. Its postal address is Calle de Mendizábal 1, 35001, Las Palmas de Gran Canaria, and telephone number, 0034 928 33 41 29. The Mercado de Vegueta's opening hours are from 6:30am-2:00pm Monday to Thursday and from 6:30am-3:00pm Fridays and Saturdays.
Get your five a day
On holiday, nutrition can go out of the window. You might eat well in terms of quantity rather than quality. Which is where a trip to one of Las Palmas de Gran Canaria's markets will help you to ensure a healthier vacation diet.
Although the supermarkets on Gran Canaria don't offer as much range as you're used to, the greengrocers and market stalls offer a comprehensive selection of fresh, seasonal produce. Everything from mangas and mangos which are in season from summer through to the end of the year and tomatoes which predominately hail from La Aldea de San Nicólas in the west of the island.
You say patata, we say papa
One of the signature side dishes of Madrid is patatas bravas. Here, a fiery sauce accompanies fried potatoes. But a potato on the Canary Islands is not a patata but a papa, which can cause some confusion as that's also the word for the pope.
In the Canaries, one of the specialities is papas arrugadas. Again, like patatas bravas, a piquant sauce accompanies the potatoes, but the potatoes are boiled, in plenty of salty water, rather than fried. So important is the potato in Canarian cuisine, try a caldo de papas if you can, that the Mercado de Vegueta has stalls dedicated exclusively to the sale of the humble spud.