It's not true that you have to go to Andalusia to see a flamenco show; you'll find tons of great performances in Madrid. This bustling capital city has a lot to offer and this includes excellent flamenco guitarists, singers and dancers.
Madrid: Flamenco city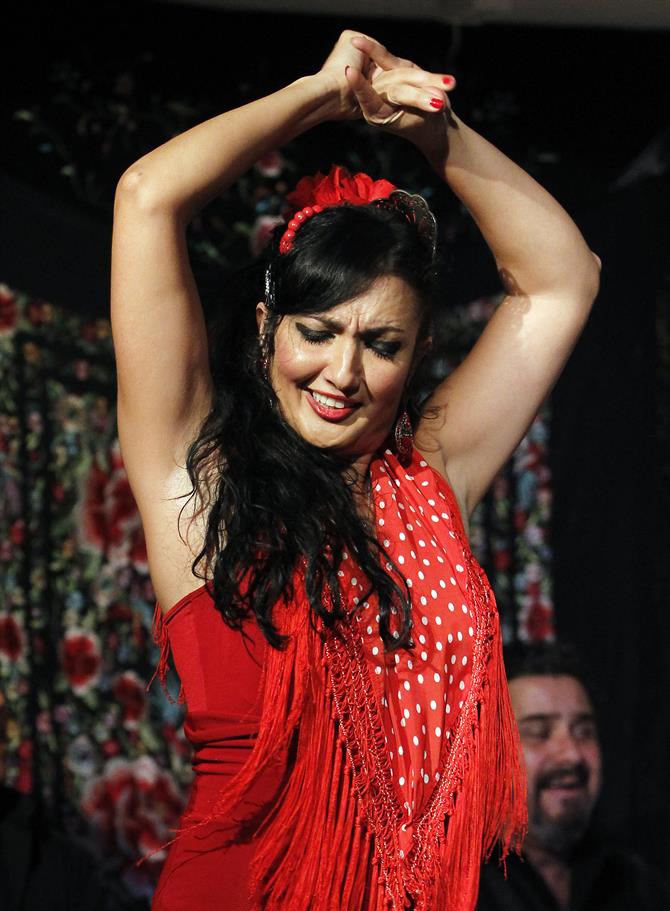 Flamenco in Madrid is not new and it's certainly not just for tourists. Musical culture is deeply rooted in the city, as is
the oldest flamenco school in operation in Spain
. Opened in
1952, it is located
above the
Anton Martin Mercado
in the cool
Lavapiés neighbourhood.
Anyone can go to a class and the artists will share all they know. You can also get flyers there to check up on upcoming flamenco performances.
When Madrid became the capital of Spain in 1562, the city was overrun by immigrants
including Andalusian gitanos (gypsies) and toreros (bullfighters)
. With their arrival in Madrid, they brought flamenco and music to taverns and gave private performances at noble families' homes. Only a little later on, these performances
became the norm
in
cafés cantantes
, and finally flamenco shows made their way to
Plazas de Toros
and theatres.
American actors and film directors came to Madrid in the 20s and flamenco artists and bullfighters gained
international recognition when their characters
emerged in films soon later.
From cafés cantantes to tablaos
Cafés cantantes reached their peak in the mid-19th century and flourished mainly in Madrid. Their subsequent international fame later saw the artists move to theatres, and this began the closure of these cafés. Today, you can get a taste of that old atmosphere in tablaos.
In 2010, UNESCO recognized the art of flamenco as important part of world culture and heritage. Tablaos contribute to preserving and promoting this tradition of music and dance by uniting artists and hosting performances.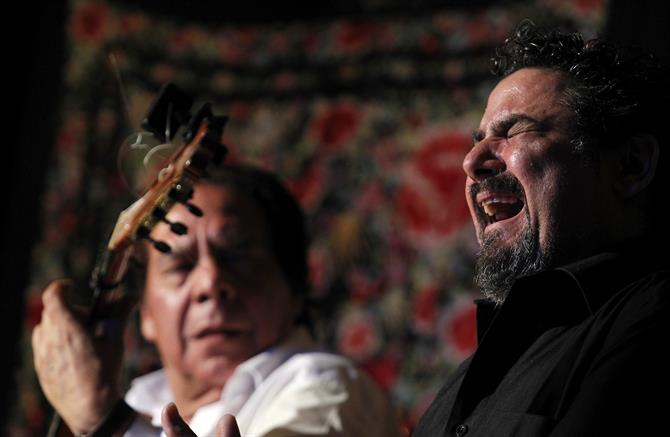 Where are some good flamenco tablaos?
Below are a few recommended tablaos with daily performances in the centre of Madrid. Flamenco can also be found at various locations in the touristic area around Plaza Mayor, but it is important to be aware that a quality show of a longer duration with several good dancers and musicians has its price and it is worth it. You should be looking at between €27 and €50 for a show, taking into account the 21% VAT and an included drink.
1) Café de Chinitas
The Cafe of Chinese Children, as the name can be translated, is near Madrid's Royal Palace. This tablao is named after a popular café cantante that was once in Málaga (1857-1937). Through its name, design, and decor of mirrors and flamenco shawls, Café de Chinitas pays homage to the original Andalusian café where well-known artists and well-known guests, such as writer-poet Federico García Lorca (1898-1936), would go.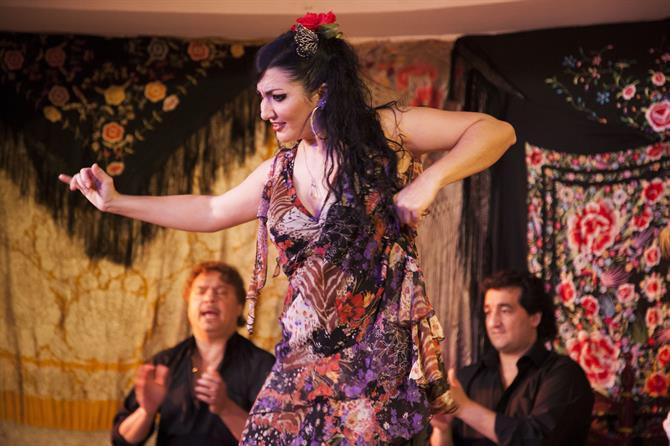 Opening: 1969
Reputation: Very good. Madrid's Café de Chinitas has been paid high-level visits from Al Pacino and Bill Clinton to Lady Diana and Prince Charles.
Prices and menu
: The adjoining restaurant offers one of the best
tablao
kitchens and has received a national award. Although Madrid is not exactly the city of paella, the homemade paella offered here is worth trying.
The price of a show with a glass of sangria is €36. With paella it is about €65.
Special features: Café de Chinitas was opened in a former 18th-century palace in collaboration with the legendary artist "La Chunga"; there are pictures and paintings of her inside, including a self-portrait.
Address and contact: Calle Torija, 7, 28013 Madrid. (+34) 915 59 51 35, (+34) 915 47 15 01, (+34) 915 47 15 02, chinitas@chinitas.com.
2) Corral de la Moreria
This tablao, also close to the Royal Palace, is the oldest in the world. It is known as la Catedral del Arte Flamenco en España, because so many great artists have performed here. That world fame is also reflected in the higher pricing. This beautiful flamenco space consists of charming stone columns, walls that truly resemble those of a cathedral, and furniture and decorations straight from the 18th and 19th century.
Opening: 1956
Reputation
: Excellent. Regularly mentioned in the local leisure guide,
Madrid Vivo
, with
performances by major artists. The reputation and quality has attracted
kings and heads of countries, as well as
celebrities including
Marlon Brando, Nicole Kidman, Richard Gere and Mariah Carey.
Prices and menu: The cuisine of this tablao has the recognition of gourmet guides and it is arguably the most refined from this list. Performance (without meal): €47.06, with drink €49.97.
Special: Part of the famous "1000 places to see before you die" list.
Address and contact: Calle Morería, 17, 28005 Madrid. (+34) 913 65 84 46, (+34) 913 65 11 37, info@corraldelamoreria.com.
3) Las Tablas
Las Tablas was founded by two flamenco dancers, Antonia Moya and M Sol Navarro. They can even sometimes be seen dancing too. Their goal was to create a small-scale artistic flamenco venue.
Opening: 2003
Reputation: One of the most famous names in the world of flamenco in Madrid.
Prices and menu: Show from €27 with a drink and VAT included. With menu: €66-€76.
To note: This tablao works with Círculo de Flamenco Madrid, which many di
stinguished artists are a part of.
Address and contact: Plaza de España, 9, 28008 Madrid. (+34) 915 42 05 20.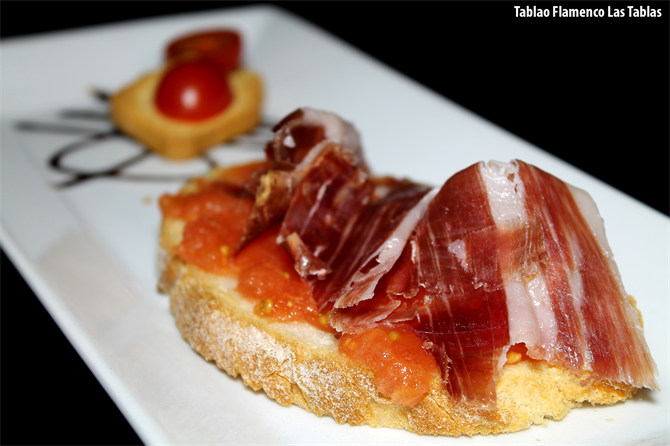 4) Las Carboneras
Las Carboneras is youthful and modern. It started with the idea to return to a café cantante of the past, but in an avant-garde style. Here visitors can enjoy pure flamenco in one of the charming squares of the central neighbourhood of La Latina.
Opening: 2000
Reputation: Known for its excellent shows and excellent service.
Prices and menu
: The s
how with a glass of sangria is €33.40. With a c
hoice from a two-course meal brings pricing to
€65-€75. There is also
a tapas menu.
Address and contact: Conde de Miranda, 1, 28005 Madrid. (+34) 915 42 86 77, sugerencias@tablaolascarboneras.com.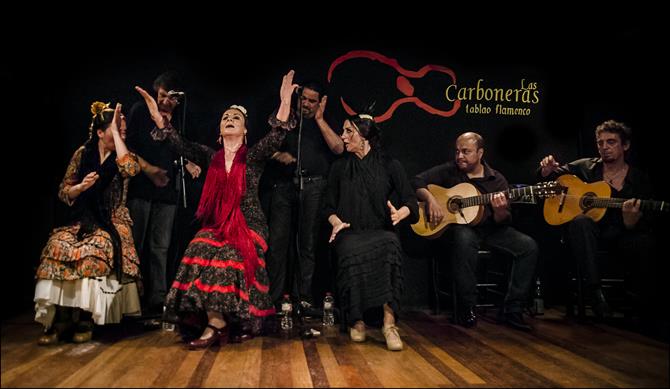 5) Torres Bermejas
Torres Bermejas is named after the fort towers opposite Granada's Alhambra and it is a particularly popular spot because of its magnificent interior. The mudejar architecture is unique and inspired by the Alhambra.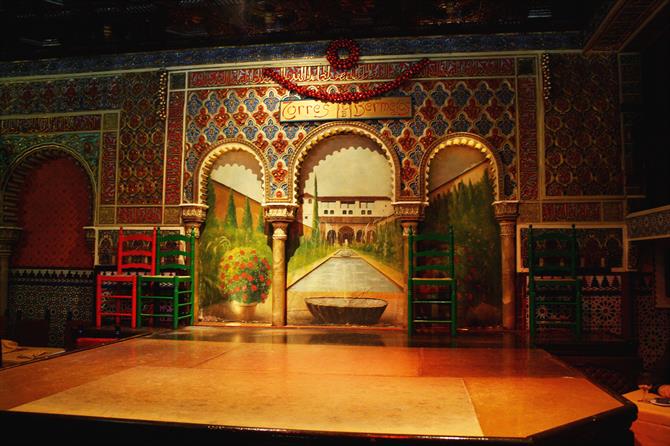 Opening: 1960
Reputation: It is said to be the only tablao flamenco where world-famous flamenco singer Camarón de la Isla (1950-1992) chose to perform at in Madrid.
Prices and menu
:
Show €
41 with a drink. Show with menu gives you choices between €75, €80, or €85.
Details: It was here that Camarón first performed with world-renowned flamenco guitarist Paco de Lucia (1947-2014). Torres Bermejas has been used as a set on multiple occasions, including for the film titled Camarón (2005) by Jaime Chávarri and Alvaro del Amo, about the life of Camarón de la Isla. Torres Bermejas was also the setting for a scene in Morocco in the popular series El tiempo entre costuras.
Address and contact: Mesonero Romanos, 11, 28013 Madrid. (+34) 915 32 33 22, (+34) 915 31 03 53, reservas@torresbermejas.com.
6) Casa Patas
Flamenco performances are purely emotional. Casa Patas is one of those intimate tablaos where it's difficult to remain unmoved.
Opening: 1984
Reputation
: A well-known recommendation
. Regularly mentioned in the local leisure guide
Madrid Vivo,
with performances by major artists.
Prices and menu: Show with a drink included: €36. Casa Patas also has a restaurant-bar with a flamenco feel. Although you can have a meal during the show, Casa Patas encourages visitors to eat before or after. In the afternoon, there is a set daily menu for €12. In the evening, you can choose a la carte for €20 to €40. Tapas and raciones are also available.
Details: Featured in "1000 places to see before you die".
Address and contact
: Calle de los Cañizares, 10,
28012
Madrid. (+34) 913 69 04 96, info@casapatas.com.
7) An insider tip: Candela Bar
At Candela Bar you can blend in with Madrid's flamenco aficionados in the lively and multicultural Lavapiés neighbourhood. Candela has been around for more than 30 years and has become well known among Madrileños. This place has a history of past underground performances by great artists including Camarón de la Isla and Paco de Lucía, and attendances by well-known guests such as director Pedro Almodóvar.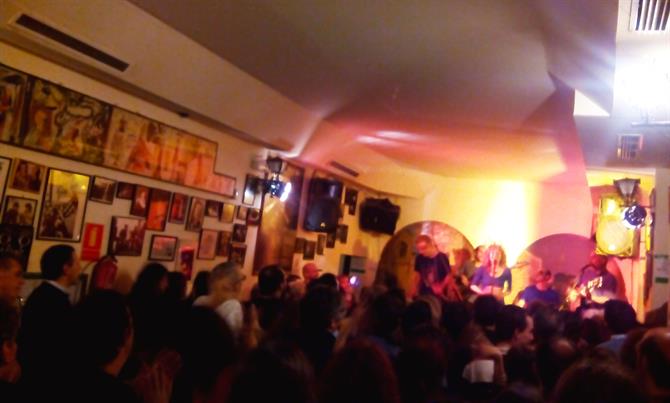 Keep in mind that this isn't a place to sit down and eat while watching a show; this is a popular Spanish bar where you can join in and dance with the crowd. In order to see a performance here you will pay about €12, but there are no daily shows like in classic tablaos. There is usually a performance earlier in the day on Thursday or on the weekends. Shows are announced on the sign outside and on their Facebook page (Candela Flamenco). You can also visit or contact the bar: Calle Olmo, 2, Esq. Olivar, 28012 Madrid. (+34) 914 67 33 82, (+34) 651 53 37 39.
Whichever tablao you choose, we wish you a wonderful time. If you're spending a whole weekend in Madrid, there is tons to do. Check out our budget weekend in Madrid article for a guide to the city and make sure to taste some delicious tapas from our top 10 favourite tapas bars in Madrid.