A weekend getaway can be the perfect opportunity to explore somewhere new while relaxing after a long week. However, the costs associated often do not seem to justify the short time away.
For those who have doubts about affording a weekend away, fear not. I have created a guide to experiencing a budget weekend in one of the most historical and beautiful cities in Spain - its capital, Madrid.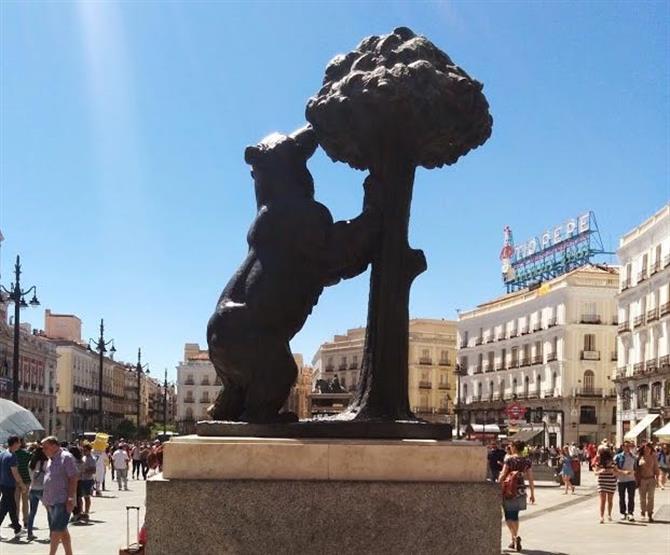 Getting There
Being a major international city, Madrid has affordable transportation options for regional and continental arrivals. If you are coming from the south of Spain, the trip time can be significantly reduced by taking the high-speed train. Though roundtrip train fares are reasonable, taking the bus is probably your most affordable option and they tend to depart frequently from most major Spanish towns.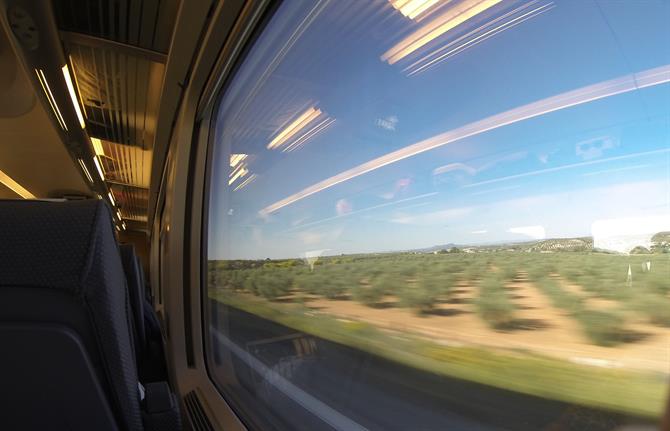 For international departures, flying is probably your cheapest option. Budget airlines such as RyanAir and EasyJet, among others, can you get you to the capital quickly and affordably.
Where to Stay
Madrid is divided into several barrios, each with their own flare. If you are looking to get the most out of the city while sticking to your budget, I recommend finding accommodation in the Centro. Areas such as Sol and La Latina are within walking distance to Madrid's central plazas, shopping streets, the Opera, and other historical attractions.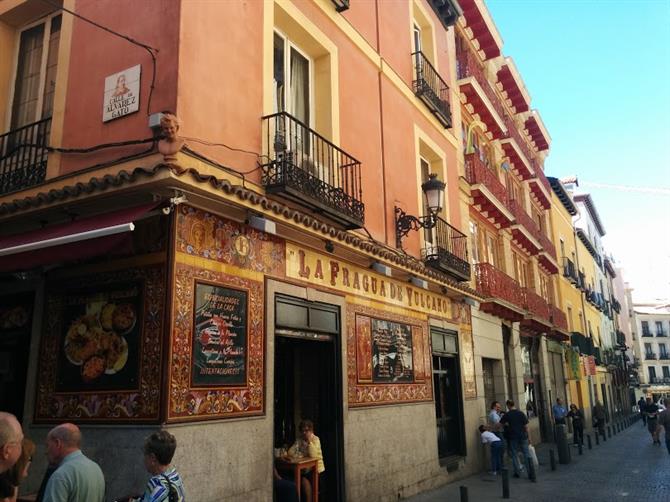 One to avoid is Barrio Salamanca. Here you will find high-end shops and fine dining — not ideal for those wishing to save their pennies. Furthermore, catching the metro from Salamanca is a necessary inconvenience if wanting to get downtown and to the major sights.
Look for hostels, hotels, and holiday apartments in the central barrios and you surely won't miss a beat!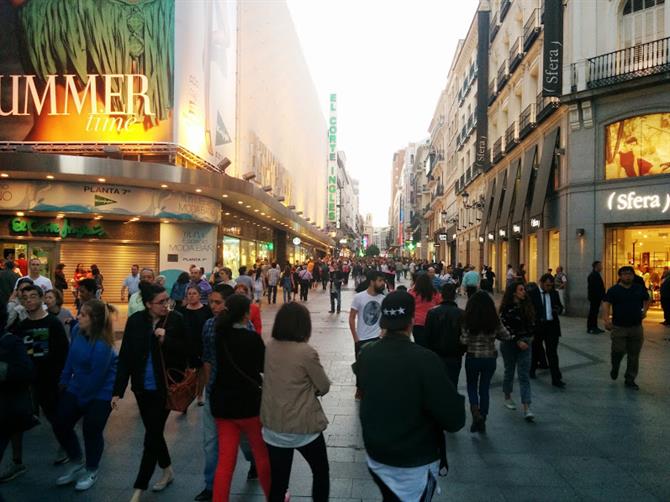 Things to Do
On weekends, many museums offer free admission times, while festivals and live music often occupy the city's plazas.
Sandemans is one tour company that offers free walking tours across Europe, guided by experts who summarize the city's history and main attractions in an entertaining and surprisingly fascinating way. Their tour through Madrid is no exception. Get your bearings in the large city and ask for recommendations to the best tapas bars!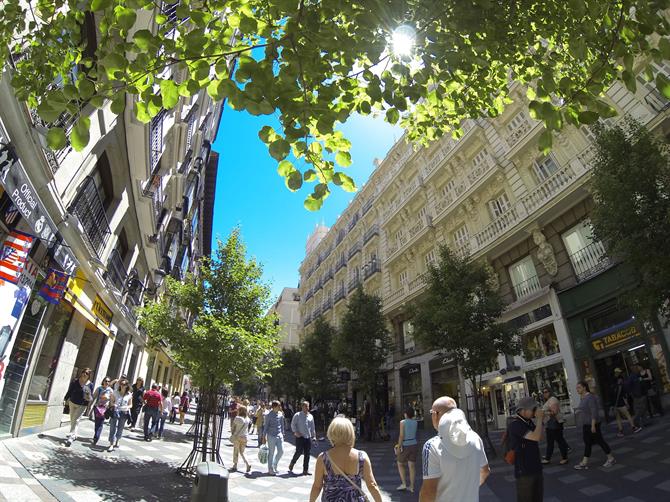 If you do your research before you arrive, you might learn that Madrid is hosting one of its many festivals the weekend of your arrival. In May, you can celebrate San Isidro, in July you could catch the Madrizian Bizarre Fest, and maybe you'll be lucky to eat your way through Gastrofestival Madrid in January.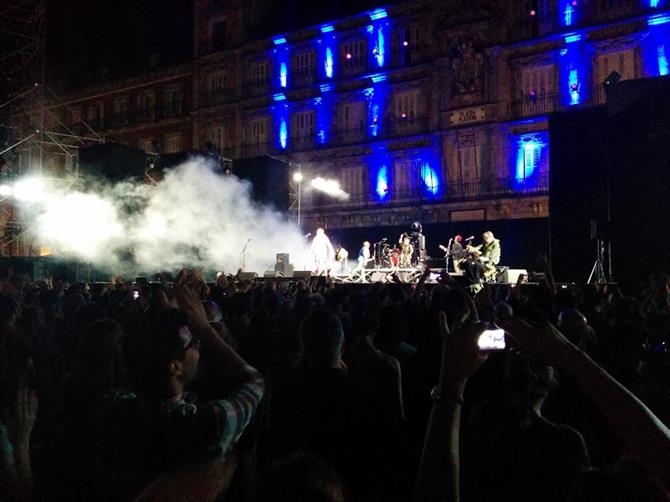 On Sundays, be sure to visit El Rastro, Madrid's lively and extensive flea market. Whatever your niche, you are sure to find something that catches your eye in one of the open air stalls. Browse everything from antiques to clothing, Moroccan leather to souvenirs, and even enjoy some live music.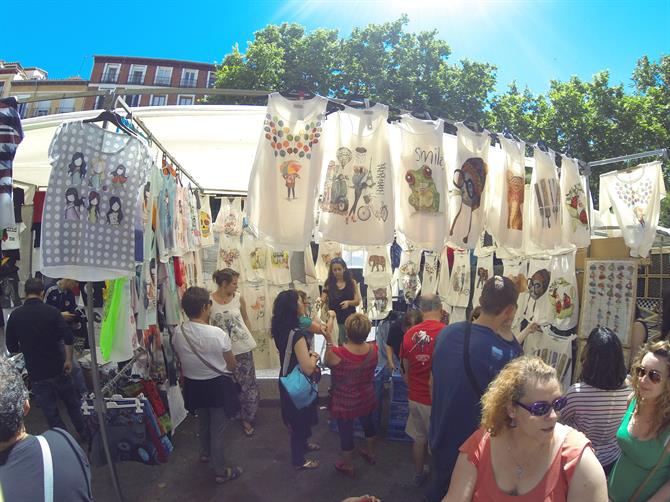 Places to See
Tours don't tickle your fancy? There are many monuments and buildings in Madrid that you can see yourself. Begin at the Egyptian temple, known as El Templo de Debod, and take in the stunning views overlooking the city. Grab a park bench or bring a blanket to lay in the grass after you have finished snapping pictures of the ancient monument.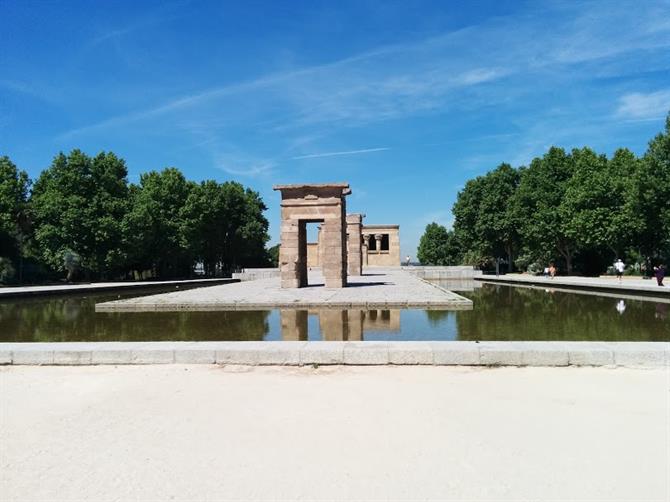 Next, be sure to head over to The Palacio Real de Madrid (you can't miss it if you walk directly South from the Temple!) The stunning 16th century palace is a wonder for the eyes and features beautiful gardens that you can walk through free of charge. From there, you can continue on to Almudena Cathedral.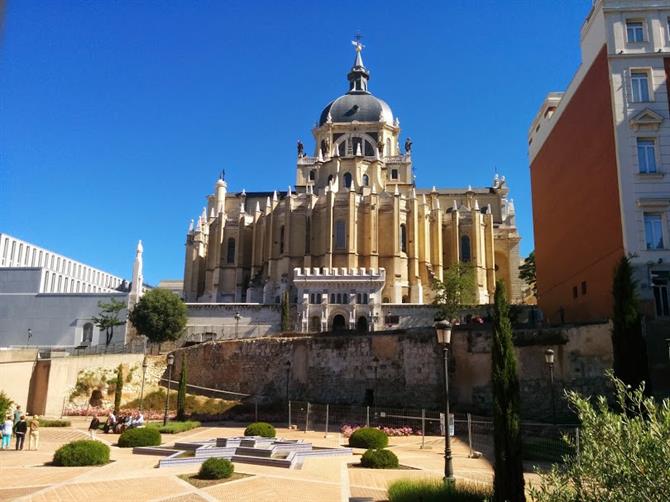 Madrid is home to some of Europe's most famous galleries and museums. Take an afternoon to see the works of Picasso, Dalí, and Goya! On evenings and weekends, La Reina Sofia and Del Prado have free admission to their permanent galleries. Museo Thyssen offers its free admission hours on Mondays, but you may qualify for reduced ticket cost if you are a student, pensioner, or over the age of 65. Many other museums in Madrid are free of charge everyday (but be sure to check opening days/hours).
Though I can't offer you an exact location, a must-see in Madrid is its brilliant street art. If abstract and colourful street murals are your thing, venture into the Malasaña district and walk down any of the small, cobblestone streets. You will discover an entire artistic subculture just by rounding each corner.
Where to Eat
Tapas and picnics are inexpensive meal options for those budget-minded travellers like myself.
If you are planning a day outdoors, stop by a local supermarket or convenience store to grab sandwich ingredients, water, and snacks. Madrid has many plazas and parks where you can sit and enjoy your picnic while people-watching.

Keep an eye out for chalkboards or window signs advertising cheap tapas, too. Often they come with a drink, or as a deal for two people. Bocadillos are another alternative, usually not costing more than €2, and can be found in most bakeries and jamón shops. These sandwiches are typically Spanish and very tasty!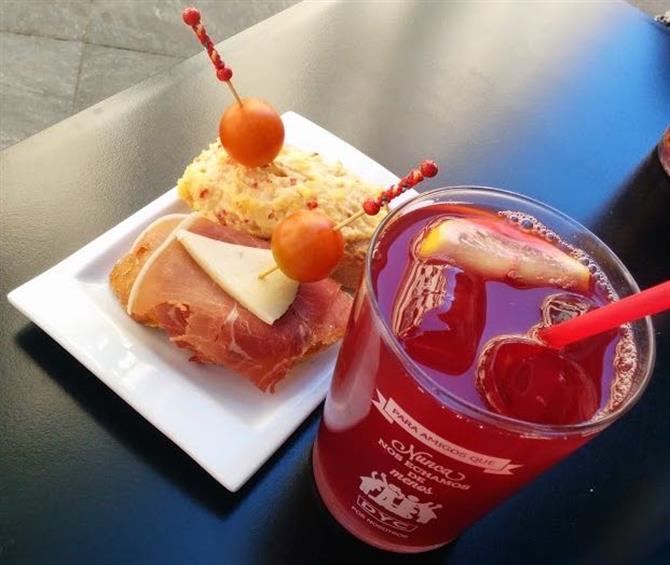 Night on the Town
Lastly, you may have heard about the infamous nightlife in Spain's capital. Though going out and not spending money is pretty difficult to avoid, you can check out a list of bars — one being Tupperware — that don't charge a cover fee. Still, the cover required upon entrance at more popular clubs usually includes your first drink, so I find the cost to be reasonable.
Many companies also host pub-crawls around the city centre for a small charge (and sometimes free). This may be something to ask your guide if you do the free walking tour or something to ask the front desk attendant wherever you are staying.
Get in the local spirit by ordering a cerveza or tinto de verano instead of expensive cocktails to further curtail the cost of your night out!
Madrid has a lot to offer. This is merely a guide to ensure you get the most out of your weekend trip without having to spend your last three paycheques. Hope it helps!
La Reina Sofia free admission times:
Mondays from 19:00 to 21:00, Wednesday-Saturday from 19:00 to 21:00, Sundays from 13:30 to 19:00
Del Prado free admission times:
Monday-Saturday from 18:00 to 20:00, Sundays and holidays from 17:00 to 19:00
Museo Thyssen free admission times:
Mondays from 12:00 to 16:00