Car engineering as a work of art, seems to be the overall motto of the Museo Automovilístico de Málaga, whose doors opened in 2010 and is set up in the spacious splendour of a former tobacco factory, dating from 1923.
The Portuguese collectionist and director of the museum João Magalhães started collecting the cars during the post war years in the late 1940s. He took up the hobby of scouting for cars with his dad at farm houses in Portugal.The museum offers an attractive, approximately 2 hour morning or afternoon visit for both the younger and older generations. It provides a visual feast for all ages.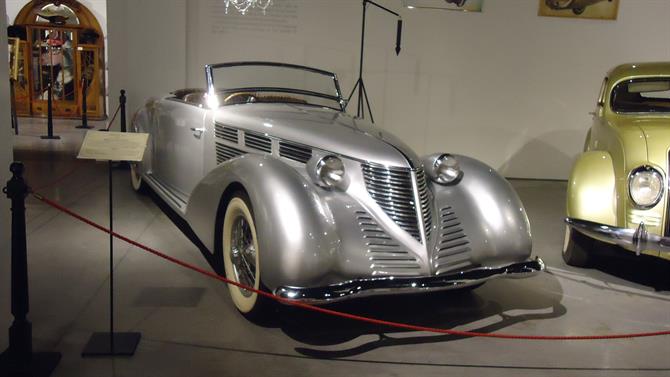 Engineering beauty
Cars,fashion and design all play together in pleasant harmony, in the white and grey interior of the museum that sits south-west of Malaga's city centre.There are over 90, carefully maintained and pristinely polished cars to be found. Each of which, are carefully displayed according to age in a logical layout.
Home to legendary brands such as Hispano Suiza, Bugatti, Delage, Packard,Auburn, Rolls Royce, Bentley, Jaguar, Mercedes and Ferrari enough to set the heart racing of anyone who has ever admired early engineering from the 1900s, or the classical cars belonging to Hollywood movie stars and the rock and roll icons.
The cars are glamorously clad in ostrich or crocodile leather, hardwood and nacre dashboards and embellished with signature hood ornaments by e.g. Lalique and ivory or silver door handles.
One of the museum's signature pieces is the Swarovsky studded Rolls Royce, although it is quite difficult to compare or choose a favourite between the likes of a cool pink Cadillac or the more conservative, but ever so elegant silver grey Bentley, or a historical 540K Mercedes from 1936.
Silks& Cars
And what does fashion have to do with cars? Well for one, they share the same passion for beauty.The permanent Maga Sublime vintage collection, inaugurated in March 2013, is created in an intimate, dimly lit boudoir setting. It sits just across the main entrance of the museum where the haute couture of the 20th century is displayed on approximately 40 mannequins that are wrapped in silks, chiffon,muslin and crepe.



Photo: Lorenzo Hernandez

This part of the museum collection is organized around illustrious social eras: from turn of the century, post-Edwardian to Belle Époque, on to the cocktail dresses of the 50s and the extravagant feminist free soul looks of the 60s. On display are Hollywood stars' favourites such as Dior, Chanel,Valentino, Marilyn Monroe's favourite Givenchy, as well as a collection of fashionable suitcases and other complements: Dali's shoe hat and the Paradise bird by Elsa Schiaparelli, items from Magalhães' accessory collection 'De Balenciaga a Schiaparelli'.
Maga Sublime allows you to linger on all the design wizardry that immortalised women such as Jacky Kennedy, Audrey Hepburn and Rita Hayworth.
Other activities
The fact that the cars are not only works of art to marvel at, but also to use make this museum different than other art museums in Málaga. Everysunday for instance at 12.30 pm one of the cars is taken out 'for a spin', where the sound of a classic engine grumbles throughout the museum.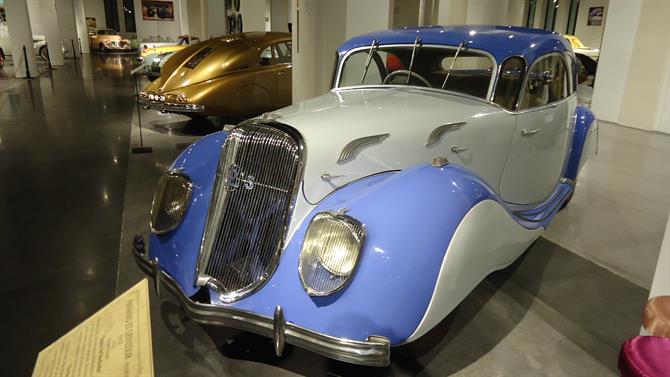 Additionally, on Saturdays at midday, a guided tour enlightens visitors on the use of alternative energy sources in car engineering: we look at a steam driven car from 1910,an electronic car from 1916, the car that was used for a solar race that took place in Australia, in 2009 and a prototype hydrogen car from 2010.Moreover, the museum frequently provides an elegant backdrop for fashion shows,product launch events or acts as one of the side-venues to the Málaga Film festival and the annual Museum Night. Last but not least: the museum is (unsurprisingly) a meeting point for the many national and international get-togethers of classic car associations.

All in all, a glamorous, light hearted and very recommendable experience.
How to get there & more practical information
Opening times: from 10am – 7pm from Tuesday until Sunday. Closed on MONDAYS. Address: Avenida Sor Teresa Prat, 15, 29003 Málaga
Tel:+34 951 137 001
Entrance fees: €6,50 Students, €4,50 for 65+, students and citizens of Málaga; free admittance for children under 3.
(Free) parking is within the gates of the museum
Public transport: approx. 20 minutes; bus 16 and 3 from the Alameda Principal, city centre. Step out at Heroe de Sostoa if you take line 3 and walk 5 minutes south towards the Tobacco building or step out at Avenida Sor Teresa Prat if you take line 16 and walk to the museum in 2 minutes. You can buy a bus card at one of the kiosks on the Alameda.
For more more Malaga excursion tips, please read this article on how to do Malaga in a day.