The MAUS project (Málaga Arte Urbano en el Soho) is an urban renewal initiative that is transforming the SOHO area of Malaga through art.
The triangular-shaped swathe of land, known as SOHO, sits behind the CAC (the Centre for Contemporary Art), just south of the Alameda Principal and runs to Malaga's port area, namely to the Muelle de Heredia. The once important bourgeois neighbourhood is still home to some magnificent examples of nineteenth and twentieth century architecture. Despite SOHO's central location and it's cultural and historical importance, the area has become fairly run down over the last 50 years.
The MAUS project aims to change that. Music, dance, theatre, photography, painting and sculpture are the disciplines that make up this artistic experience. An experience, which is giving Malaga's street art scene increasing international recognition.
All of the activities in the project have been carried out in conjunction with the local residents. SOHO is being turned into a working canvas for artists from all over the world.
Let's take a look.
Video of Malaga's street art
A good way to see and experience the urban street art is by having a walk around the neighbourhood itself. Conveniently situated within easy walking distance from all of Malaga's tourist highlights, a morning's sightseeing and/or shopping can be easily broken up with a wander around SOHO.
A visit to the CAC is also highly recommended. Entrance is free, exhibitions are ongoing and always interesting. There's a good and reasonably priced restaurant within it, or for some nearby and recommended tapas bars in Malaga.
Ten of the biggest and better known paintings have been marked on the map below. There is an additional 'open wall' as well, a place where passing artists can leave their own contributions.
The map is interactive, it can be bookmarked and saved to a mobile device.
D*Face - Dean Stockton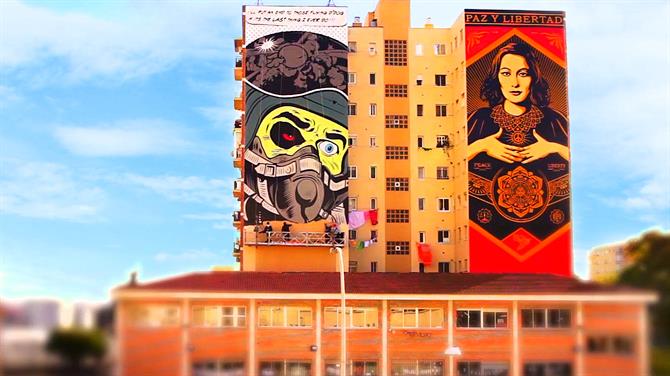 D*Face, aka Dean Stockton, chose the city of Malaga as the place to paint his largest mural to date. He painted a huge seven-storey mural of a fighter pilot, on the facade of the Garcia Lorca secondary school. As his signature stated, "I'll put an end to those flyin D*Dog if it's the last thing I'll ever do."
Dean is a self-taught illustrator, painter and street artist. His works are inspired by Hip Hop culture, comics and urban intervention. "One day I decided to build my own universe from the caricatures that I had propagated like the plague in the streets of London. I've been doing this now for over a decade."
For more information on D*Face in Malaga and a video.
D*Face's fighter pilot is visible from afar and is on Calle Comandante Benitez 14.
OBEY - Shepard Fairey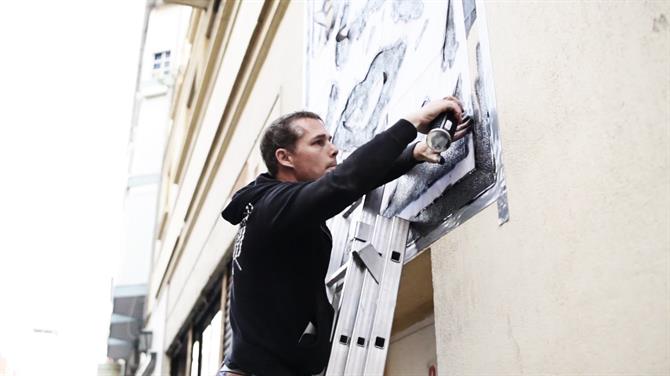 Frank Shepard Fairey (OBEY) is one of the biggest names in urban street art. A street artist, graphic designer and illustrator. The OBEY name is recognised across the globe. His Barack Obama 'Hope' poster came to represent the 2008 Obama presidential campaign.
OBEY's 80' tall x 30' wide mural entitled "Paz y Libertad" - Peace and Liberty sits adjacent to D*Face's. The mural is said to depict his wife, Amanda.
"I am very happy with the results", he said, adding that "this is an incredible project, for street art, for the city and its people. The energy here is fascinating and it makes you want to do your best work."
OBEY's work has been exhibited all over the world. He also runs a very successful clothing line and counts his fans in the millions. For more information on OBEY's Malaga art and a video.
OBEY's "Paz y Libertad" is on Calle Comandante Benitez 14.
ROA
ROA is a Belgian born street artist. He first caught people's attention when a series of painted animal forms began appearing on disused warehouses close to his native Ghent. ROA's work now appears in cities all over the world, from Manhattan to Auckland and now Malaga.
Described by many as an 'Environmental street artist,' his works feature huge animals, with are usually painted in black and white. The subjects are carefully chosen and are wild animals and birds that are native to the area being painted.
His intention is to put these animals back in their rightful habitat. The habitat that was destroyed when the cities were built.
As part of his invitation to the Maus Festival, ROA painted the Chameleon in Calle Casas de Campos and a huge rat-themed mural.
Boamistura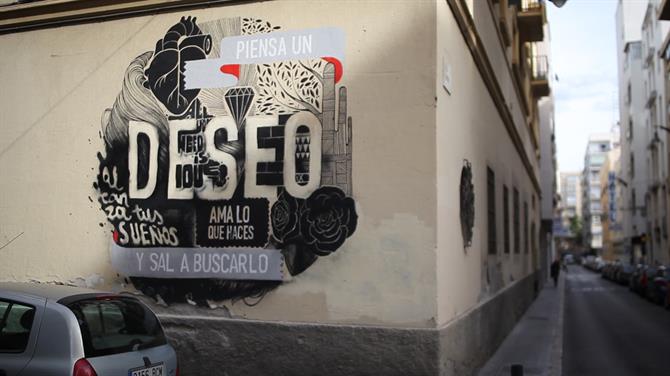 Boamistura - which means 'good blend' in Portuguese - is the name of a group of five urban artists that came together in Madrid at the end of 2001. Despite having street graffiti origins, they now create all kinds of mural paintings, graphic designs and even act as consultants for interior designers and architects.
Their work has been displayed at the Reina Sofia National Museum, the Casa Encendida and the DA2 Museum in Salamanca. They have also collaborated with the ONCE, Intermon Oxfam, Red Cross and the Antonio Gala foundations.
Boamistura's SOHO contributions can be found on Calle San Lorenzo and the Colegio Garcia Lorca.
Manuel León Moreno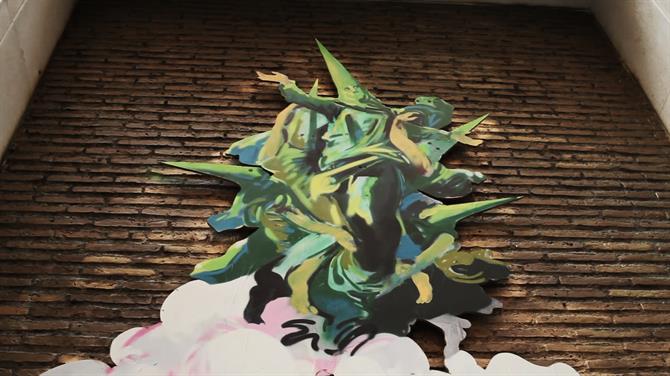 Manuel León was born in Villanueva del Ariscal, Seville, in 1977. He is a painter and one of the original members of a group called Colectivo Intervenciones en Jueves (Collective Interventions on Thursday), which carries out artistic protests at the Calle Feria market in Seville.
Manuel combines his painting with work on other projects such as the UNIA arteypensamiento's Sobre capital y territorio (About capital and territory), La Mirada Creciente (The Growing Look) an educational project that he co-founded with Celia Macias.
Manuel has left his mark on Calle Duquesa de Parcent 12.
Faith47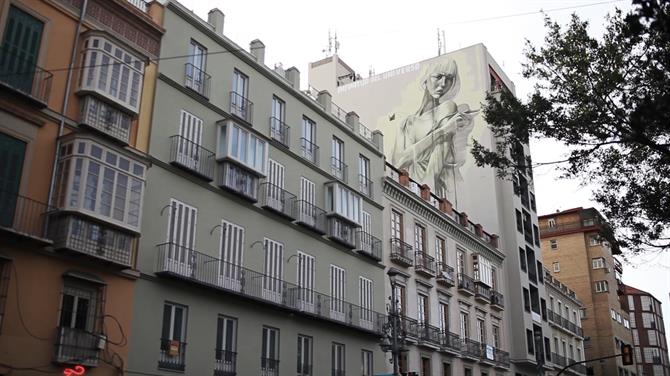 South African born and breed, Faith47 is a renowned street artist from Cape Town. She is best known for her huge murals in Cape Town and Johannesburg. Now internationally recognised and acclaimed, her early works were inspired primarily by the social realities she faced in her own country.
"The identity of the artist is in many ways irrelevant as it can distract the viewer from the actual artwork being created. The artist is a mirror on society. My work is inspired by nature and by human nature — exploring how the two reflect each other. I'm interested in alchemy and the mystery of existence, in symbols, time and the riddles of humanity."
Address - Alameda Principal, 47.
DALeast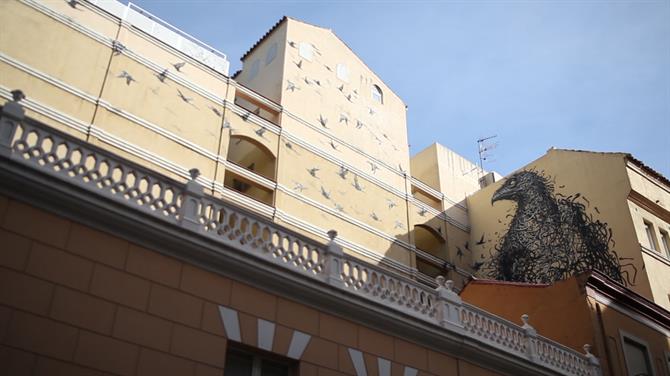 DALeast was born in China in 1984 and currently lives in South Africa, with his artist wife Faith47. He is fast becoming one of the biggest names on the international street art scene.
The Chinese graffiti artist first studied sculpture and began to do street art in Beijing around 2004 under the alias Dal.
His inspiration stems from the way the world revolves, spiritual life, emotions and the infinite space that surrounds us. His use of animals, he says, reflects the human condition.
"I hope I am creating illusions through my paintings that can be a switch for people's minds."
DALeast's art is on Alameda Principal, 25.
Andi Rivas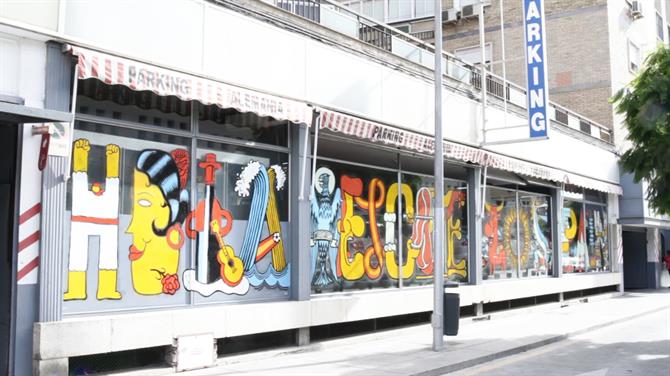 Spanish-born Andi Rivas graduated from the University of Granada in fine arts and has won the prestigious Fernando Quiñones Award twice. Designer, artist, illustrator and video maker, Andi has worked on numerous big projects including the Malaga Film Festival.
Together with his brother Carlos Riva, they created the successful RD2 studio in Madrid. His work is scheduled to be exhibited in Finland and Mexico throughout the coming year.
His "Welcome to Spain" themed collage is on the car park window in Calle Alemania.
Dadi Dreucol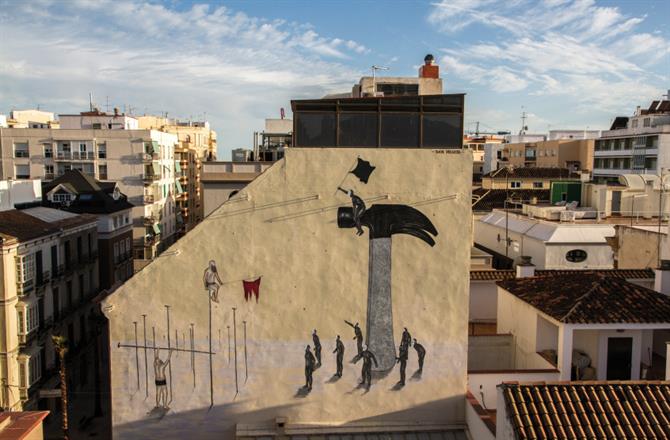 Dadi Dreucol is an street artist from Malaga. 'Dadi Dreucol' read back to front spells out 'locuerdidad,' a word he coined that refers to sanity. Dadi's works are well known and loved in Malaga. With examples found along the banks of the Guadalmedina river and in the streets of the Madre de Dios and the Juan de Medina neighbourhoods - two of Malaga's most marginal.
He studied at the Malaga School of Fine Arts and eventually moved to Valencia to complete his art studies.
A central theme to his works is a half nude, bearded man that, according to the artist, depicts a person who refuses to follow the rules laid down in the city. He is an emblematic character that represents human beings' existential essence.
His work in SOHO can be found on Calle Tomás Heredia, 12.
Pejac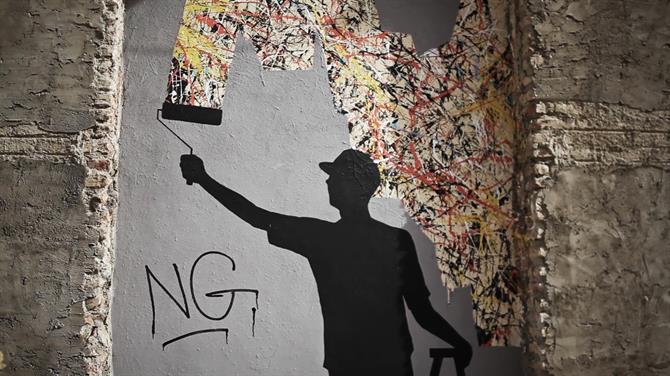 Silvestre Santiago, known as Pejac, was born in Santander, Cantabria in 1977. He studied Fine Arts in Salamanca and subsequently in Barcelona. In 2001, he continued his studies at the Accademia di Belle Arti di Milano.
Pejac usually paints in black and white. His paintings always touch on social-economic themes and deal with topics such as peace, freedom and politics.
His work in SOHO is visible on Calle Tomás Heredia, 15.
A special thanks to MausMalaga.com for their help and support in compiling this article. Be sure to keep an eye on their website for upcoming artists and events.