Discover the best tapas bars in Málaga, the capital of the Costa del Sol capital. These local eateries serve traditional Spanish tapas from Andalucia and are located near the historic centre within easy walking distance of each other, so if you can't squeeze into one busy bar, you can head on to the next...
Cafe-Bar Mercado Atarazanas

Cafe-bar Mercado Atarazanas is situated right in the heart of Málaga's central market - the Atarazanas. The bar puts a whole new meaning into the word 'fresh.' All the ingredients are sourced within the market itself and right on the spot. Tapas will vary according to what is fresh on the day. Expect noise and atmosphere, there are several chairs at the bar, but chances are, you'll be standing and struggling to make yourself heard. A small price to pay for some reasonably priced and brilliant food. This market is a must-visit on your holiday in Málaga city, especially if you are a gastronomy enthusiast.
Recommended - fried fish tapas "Pescado frito," or grilled "Pescado a la plancha" , "Boquerones" anchovies, "Calamares" squid, "Rosada a la plancha" grilled hake with olive oil, garlic and parsley, the "Brocheta de gambas (prawns) and pulpo (octopus)" were fantastic. "Tomate picado con anchoa," tomato salad with anchovies.
If meat is more your thing. The newer Bar Cafeteria El Yerno (stall 218) that sits just across the hall has a good reputation too.
Opening times and address - 9.00-15.00 Monday to Saturday. Closed on Sundays. Mercado de Atarazanas, Calle Atarazanas 10, 29005 Málaga.
El Refectorium Catedral

The original Refectorium is located in one of the most popular areas for renting a holiday home in Málaga, La Malagueta.
The more central and newer sister of the famed El Refectorium is situated just across the street from the cathedral has quickly gained a name for itself as being every bit as good as its older sibling, which has now been renamed to El Refectorium Malagueta.
The food is top notch with the owner Sergio Ramírez, personally selecting the best ingredients on offer. Fish from Málaga's bay area, red Garrucha prawns from Almeria, lamb from Burgos and red tuna from Barbate.
Recommended - "Guiso de bacalao con garbanzos," cod with chickpeas, "Arroz negro con sepia," black rice with sepia, "Croquetas caseras con jamón ibérico" house croquettes with Iberian ham, "Ajoblanco" a cold garlic and almond soup.
They also serve various famous wines from the region of Málaga, particularly wine from Ronda.
Opening times and address - 13:00-17:00 and 20:00-00:00. Closed on Sunday afternoons and Mondays. Calle Postigo de Los Abades 4, 29015 Málaga - 952218990
Taberna Uvedoble
A little gem of a restaurant in the centre of Málaga. Taberna Uvedoble is easy to miss and one you'll regret if you did. The bar is often referred by Spanish food critics as being one of a new generation of "Gastrobars" or "Gastrotapas." The minimalist and modern decor has a very different feel to it than to the traditional Andalusian bar. Clean, light and modern.
Recommended - "Tataki de atún con porra Antequerana," is one of his flagship dishes and one that must be tried, tuna fish with a thick tomato and garlic sauce. "Ensaladilla Rusa con gambas" Russian salad with prawns. "Bacalao con patata y alioli de piquillos," cod with potatoes, garlic mayonnaise and piquillo peppers, "Fideos negros con calamaritos de Málaga," local squid on a bed of black noodles.
Opening times and address - 12:00-16:00 and 20:00-24:00 Monday to Saturday. Calle Cister, 15 29012, Málaga - 951248478
KGB - Kisko Garcia Bar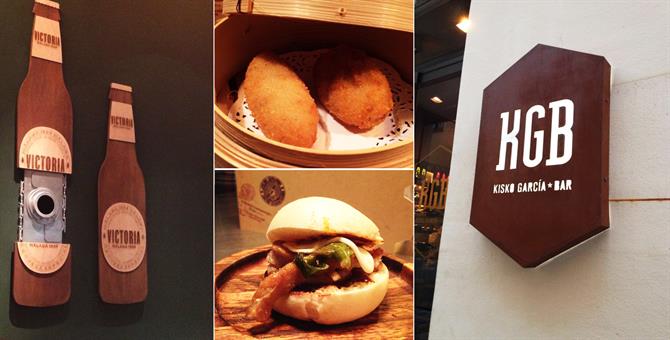 "KGB" is run by the chef Kisko Garcia, from Cordoba. The Michelin star chef promises the venue, KGB to be a "Gastronomic spying venture."
Kisko Garcia made a name for himself working with the Malagueño chef Jose Carlos Garcia in "El Cafe de Paris" and gaining his own Michelin Star in Cordoba's El Choco restaurant.
Recommended - a visit to KGB will take you on an authentic culinary adventure. Combining contemporary Andalusian cuisine with Asian specialities. Spanish favourites such as "Flamenquines Cordobeses" and "Tortillitas de Camarones de Cádiz" are served alongside Chinese Spring rolls. Whatever is on the menu, it's bound to be good!
Opening times and address - Monday 8.30-11.30, Tuesday to Saturday 13-16.30 and 20-11.30. Calle Fresca, 12. 29015 Málaga.
Taberna Las Merchanas

Tapas bars don't come much more Spanish than Taberna Cofrade Las Merchanas. Decorated from floor to ceiling in traditional artefacts that celebrate one of the most important traditions in Andalusia which is holy week, known as Semana Santa.
With everything from paintings of Jesus on the cross to small figures of Nazarenos (procession participants dressed in the distinctive pointy caps) and classic Easter music. Las Merchanas have been in Málaga for four years and is very popular among the locals, young and old alike. The food is traditional, well cooked and tasty.
Las Merchanas located in a small side street to the Plaza Martires, and it does not look like much from the outside. But you move through the "garden path" to get into the back room, where there is plenty of room, and there are several more rooms upstairs.
Recommended: Try the house croquettes, tomato salad with tuna, patatas bravas or the ensaladilla rusa; classic, simple and good. The montaditos de la cresta are great, a simple sandwich of white bread with spicy meat.
Opening times and address - 12:30-16:30 and 20:00-23:30 daily. Calle Mosquera 5, 29008 Málaga.
Bodega-bar El Pimpi

Bodega-bar El Pimpi is a Málaga institution. When people think of Málaga, El Pimpi often jumps to mind. So much so, that El Pimpi representatives often travel with the official Málaga tourism board when they go to international trade shows.
The setting, atmosphere and the history, as well as the new outdoor terrace, is a joy on those long, hot summer nights with views of the floodlit Alcazaba and Roman theatre.
El Pimpi offers famous wines from the region, food and a great ambience. A popular haunt with all nationalities, at any time of the year and most nights of the week.
Recommended - Málaga's sweet wines, salads, cheese and ham platters, but best of all, are the "Tostas" and "Molletitos" mini-sandwiches. "Surtido de tostas Pimpi" the "Bacalao y salmorejo," and "Queso de Cabra" goats cheese ones were fantastic.
Opening times and address - 10.00–03.00 Monday to Sunday. Calle Granada, 62, 2015 Málaga - 95222899
Bodeguita El Gallo

Bodeguita El Gallo is situated in Calle San Agustin, in one of the most picturesque and best neighbourhoods in Málaga city. A stone's throw from the Picasso museum in the historic centre. A visit provides a welcomed break from a day of sightseeing.
A family-run restaurant, Pepe Vega uses recipes that have been handed down through generations. The emphasis is on simple, wholesome food at affordable prices.
Recommended - "Magro con tomate," pork in tomato sauce, "Huevos rotos con jamón," egg and ham tortilla, "flamenquines caseros," various kinds of flamenquín, "croquetas de puchero," "Vinos de Málaga," local Málaga wines.
Opening times and address - 12:00-16:00 and 20:00-00:00 Monday to Saturday. Sundays 12:00-16:00. Calle San Agustín 19, 2015 Málaga - 654553963.
Cervecería Los Gatos

With beautifully painted ceilings and an open plan kitchen, welcome to Cervecería Los Gatos. If you are staying in an apartment in Málaga's historic centre you will be located near this bar located right in the heart of Málaga's historic centre in Plaza Uncibay.
Consistently voted as being one of Málaga's best tapas bars. The service, in particular, is often singled out for praise. Quick and friendly, a bit of novelty for many places in Málaga. You also get a free tapa with every drink.
Cerveceria Los Gatos is run by Miguel. Having established and run a successful tapas bar in Madrid with the same name for over 30 years, Miguel wanted to take the same theme back to his hometown - opening Málaga's Cerveceria Los Gatos in Easter of 2012. "Los Gatos" is a slang term used by Spaniards to describe people from Madrid.
Recommended - "Salmón con queso de cabra y cebolla caramelizada," salmon with goat's cheese and caramelized onion, "Gambas con alioli," prawns in garlic sauce, Montadillos - particularly the Cantabrian anchovy with tomato and grilled solomillo (steak) with peppers.
Opening times and address - 11:00– 01:00 Monday– Sunday. Plaza Uncibay 9, 29008 Málaga - 952222340.
Cortijo de Pepe

Traditional Andalusian tapas at its best. Cortijo de Pepe is situated right on Plaza de la Merced and is a firm favourite with locals, this no-frills bar serves exceptional tapas at very reasonable prices.
Cortijo de Pepe has stood the tests of time and was first opened over 40 years ago, in 1971.

Recommended - Known for its "Montaditos de Lomo," "Pimiento del Piquillo, habas con jamón" pepper and bean salad with ham. The bar has a wide selection of cheeses and Iberian hams.
Opening times and address - 12:30-16:00 and 20:00-01:00 Wednesday to Monday. Closed on Tuesdays. Plaza Merced, 2, 29012 Málaga - 952224071
El Tapeo de Cervantes
El Tapeo de Cervantes is located next to the Teatro de Cervantes. One of Málaga's most popular tapas bars is also one of its smallest. With space for just 28 people. Reserve beforehand, arrive early or be prepared to wait. The wait is most definitely worth it, the food is excellent.
Run by an Argentinian who speaks several languages, El Tapeo de Cervantes is a popular haunt with tourists.
They recently opened a sister restaurant, just around the corner and one that offers more space. They both have pretty much the same menu and wine list. If El Tapeo is heaving, just walk around the corner and check out El Meson de Cervantes.
Recommended - "Ibérico y queso manchego," Iberian pork and manchego cheese, "Croquetas caseras de Pollo con mermelada de Piña," chicken croquets with pineapple marmalade. "Porra Antequerana," Antequerana tomato soup, "Tostas de anchoas, salmón y sardinillas," anchovy, sardine and salmon sandwiches, "Revuelto de salmón y espinacas," scrambled eggs with smoked salmon and spinach.
Opening times and address - 13:00-15:30 and 19:30-23:30 Tuesday to Sunday. Calle Cárcer, 8, 29008 Málaga - 952609458
Map Of The Best Tapas Bars In Málaga