A history of Andalusian horses
Andalusian horses are members of the Iberian horse family which originates from the Iberian Peninsula, an area in south west Europe that encompasses regions of Portugal, Spain and Andorra. The Andalusian horse from Spain and the Lusitano from Portugal are the most well known members of the Iberian family but their population is very small - around 12,500 purebred Andalusians in Spain and 4,000 Lusitanos in Portugal. The reason behind these small numbers is that historically, these breeds were the warhorse of choice due to their speed, strength and agility combined with a kind disposition.
Today, these horses excel at classical disciplines such as Dressage and Haute Ecole (high school) and are now the focus of numerous classical riding academies all over Europe including the Spanish Riding School of Vienna and the Royal Andalusian School of Equestrian Art in Jerez de la Frontera. Jerez is also home to Spain´s Feria del Caballo (Horse Fair), an annual celebration of the Andalusian horse.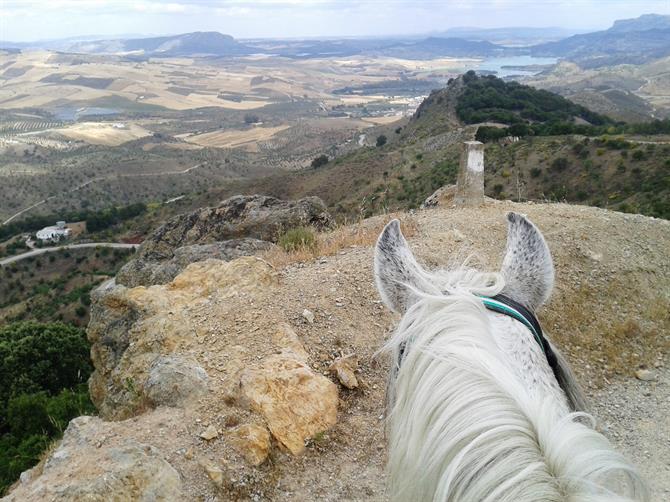 Andalusian horses are a huge part of Spain´s history, the traditional working riding discipline of Doma Vaquera "cowboy training" originates from the use of horses to herd aggressive fighting bulls on countryside ranches, something which is still done today, proof that these horses are still an integral and ubiquitous aspect of Spanish history and life.
Horse-riding in Spain
Anyone that is part of the equine world in some way will know something about Andalusian horses, riding in Spain is a very popular pastime for holidaymakers, with numerous riding and trekking centres dotted around the country. Riding is a unique and relaxing way to see Spain, it offers a different point of view if you don´t enjoy hiking or cycling - you can just jump on a horse, sit back and enjoy the ride.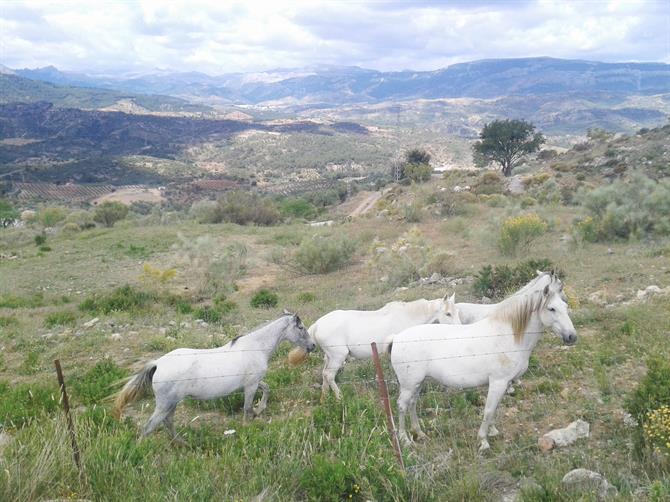 So, as any self-respecting horse-lover like myself would do, my first expedition on arriving to Andalusia was not to lie on the beach and bake, but to seek out the nearest herd of horses and see if I was allowed to get on one.
I was lucky enough to find a small trekking company in the hills of Casarabonela, a charming pueblo about 60km outside of Malaga surrounded by mountains and the promise of adventure. The company had about eight horses which were used for trekking and also trained in Doma Clásica which is a Spanish discipline very similar to Dressage.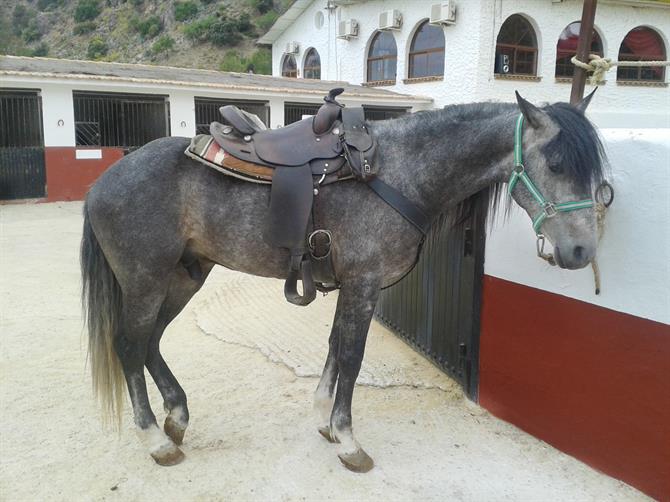 If my memory serves me right, I believe the horses were a mix of Andalusians and Lusitanos but each one a very beautiful specimen of Iberian equine pedigree. This company was particularly holistic and rode the trekking horses in Western saddles and Hackamores (gentle, bitless bridles). I had never ridden Western before but I was assured that the horses would obediently and expertly deliver me up the mountain side without much need for guidance, leaving me to soak up the amazing views, dodge low hanging branches and try to stay in the saddle.
Trekking from Casarabonela to Carratraca
The trek began with us shimmying our way up the mountain side and onto the main track which would lead us winding around the mountain sides to our destination of Carratraca.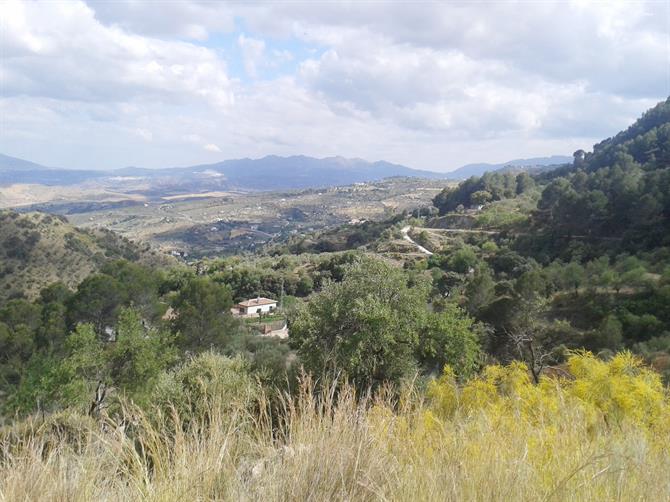 First, we were given a breath-taking view of Casarabonela and the valley below, we were able to see the whole 60km across the valley and out to the sea. The town of Coín was visible in the distance as were what I was told was known locally as ´La Puerta de los Pescadores´- The Fisherman´s Door, two mountains crating a U-shaped valley which looked like a door to the sea.
Once we had picked our way up the treacherous, potentially ankle-snapping path we came out into a flat valley, surrounded on all sides by mountains and mountainside pueblos.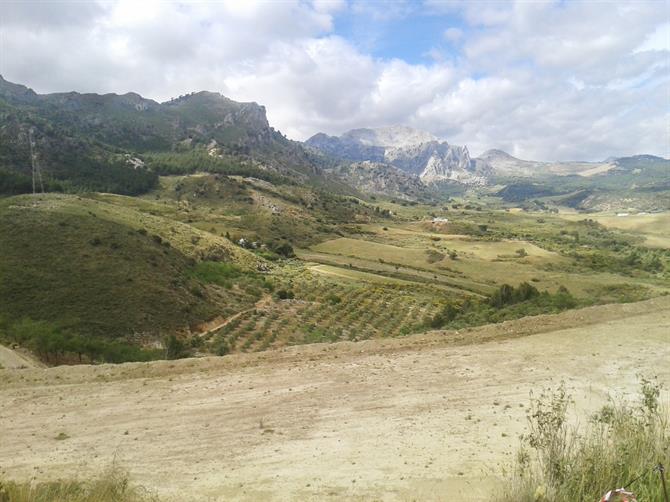 We saw horses, goat herders, dogs and a vulture. The experience was like being dropped into a Wild Western film, nothing but fields of scrub and flora, clusters of white dots and the beauty of the Spanish countryside at it´s most luscious.
We took advantage of the flat ground to have lots of good gallops, which were made even more entertaining for me by my horse´s penchant for bucking throughout. Once we were through the valley we climbed back up the mountain side and galloped around the narrow mountain paths with sheer drops on one side and a rock wall on the other. I had to trust my horse to choose a suitable path while I dodged high velocity pine branches.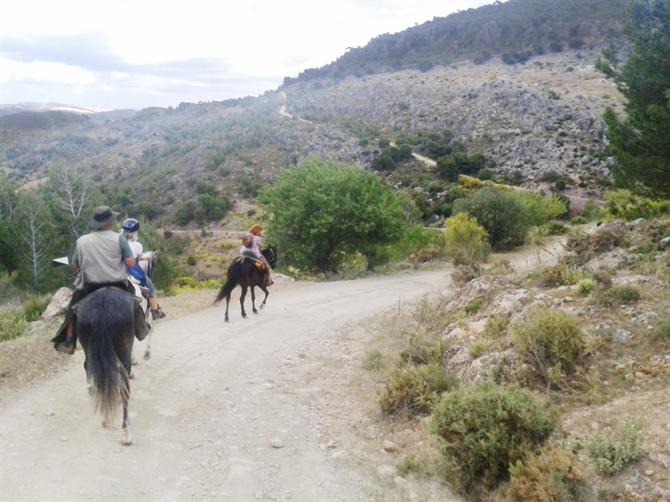 After all that commotion we slowly wound our way to Carratraca, we passed mountain homes carved out of the rock walls and the mystical blue lakes at Ardales and El Chorro.
We landed in Carratraca about four hours later and stuffed our ravenous, sweaty faces with refreshing tomato and onion tapas while the horses cooled down and rested in the shade of the palm trees and drank water from troughs. Horses are no strangers on the streets of Spain, there are plenty of places which accommodate horses with shade and water.
The best way to see Spain
If you are a confident rider a good trekking business will give you fun horses to ride, lots of galloping and breath taking views. It really is the best way for horse-lovers and adventurers alike to experience the real Spanish countryside, far away from shiny resorts and sun-burnt tourists.
There´s nothing better than seeing this landscape from horseback, the experience is like none other and seeing Spain from this point of view is truly inspiring.
Things to remember...
Always cover up shoulders and legs in t-shirts and long trousers. Although it is tempting to wear as little as possible to keep cool and build a tan, the sun is intense and will burn bare shoulders and bare legs will pinch on the saddle. Make sure to wear boots or trainers if you can and novices should also wear a riding hat. I know it sounds like a lot of layers for a day in the Spanish sun but comfort and safety are paramount. A bum bag is also a good idea to carry personal belongings.