Although technically the same fish as the anchovy, which is caught mainly off the coast of Northern Spain, the Boqueron is largely found in the Alboran sea which forms the coast of Malaga.
Video of Malaga's Boquerones - anchovies
The Boquerón which should measure between 9 to 12 centimeters when caught (there is a minimum legal size of 9 centimeters), is much larger and more fleshy, with a distinct aromatic flavour, which favours it for cooking fresh. Whereas, the anchovy is mostly preserved.
The distinctive development of the Boquerón is attributed to the dynamics of the feeding grounds; the ebb and flow of waters through the Straits of Gibraltar washes a nutrient rich biomass from the depths of the Atlantic into the warmer Mediterranean. It is this 'superfood' that gives the Boqueron it's unique character.
Preparing Boquerones
The Boquerón is usually prepared following a traditional recipe that has been passed down from one generation to the next. 'Boquerones fritos,' are the most popular and traditional way to cook Boquerones in the Malaga area. Clusters of Boquerones are coated in a thick batter, shaken in flour and deep fried in olive oil.
The Boquerones should be eaten whole as the spines are soft, easily digested and present no risk of harm, they are in fact a good source of calcium.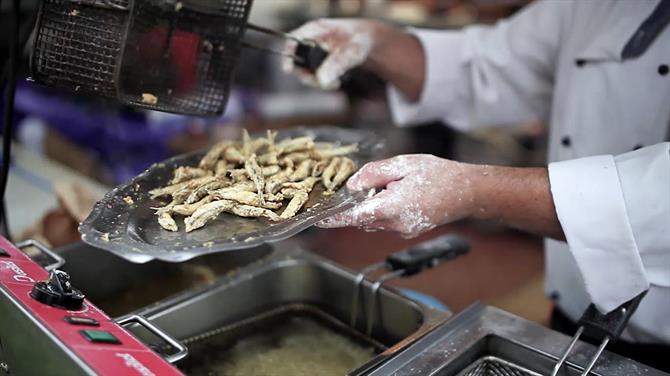 One of the best ways of experiencing the delights of this dish must be at Rincon de la Victoria during the celebrations of the "Virgen de la Victoria," on September 8th.
A day that is known locally as 'The Day of the Boquerón' as it is the central feature of the festivities.
Boquerones can be seen being prepared and cooked in large marquees, and it is quite common to find renowned chefs preparing the delicacy. Last year, Rincon's own and the Michelin-starred Jose Carlos García was there.
There are numerous other ways of preparing Boquerones, such as 'Abierto al limón', cleaned, marinated in lemon and then fried and 'Boquerones en vinagre', another popular dish, in which they are marinated in vinegar and served cold.
No visit to the Costa del Sol would be complete without trying a plate of Boquerones or Malaga's other traditional dish, Grilled Sardines - the espetos de Sardinas.
El Boqueron, proudly Malagueño
The Boquerón is so integral of the culture Malaga that it is not just a symbol of the province, but is also a popular nickname for the people of Malaga, one of which they are proud.
Don't be surprised if you hear a local exclaim, "Soy Malagueño! Soy Boquerón!"