The definitive insider's guide to Malaga's Atarazanas market.
We compiled this list using plenty of local knowledge, we also spoke with some of Malaga's most renowned chefs and the people behind Malaga's best tapas bars and restaurants. We asked them where they sourced their ingredients. The same market stalls came up over and over again.
If looking to buy the freshest and best produce in Malaga…...look no further.
Malaga's Atarazanas market - a little history
No visit to Malaga is complete without a visit to the Atarazanas market.
The market is more commonly known to Malagueños as the 'Mercado central.' As with most landmarks in Malaga, it is richly steeped in history, dating back hundreds of years.
The name Atarazanas comes from Arabic and means shipyard. Under Moorish rule, the market was the site of an important shipbuilding yard, with the sea lapping right up to its door.
Wandering around the market is a joy. The Arabic archways, the carefully forged iron works and the stained glass windows, all open up into a paradise of fresh food and spices. The market itself is a blaze of colours, sounds and smells. The people are pure exhibitionist and full of life. The natural warmth of the Malagueños, leaves visitors feeling completely energised and ready for more.
For more information on the market - see Atarazanas - Malaga's central market

If you really want to discover this wonderful food market in a fun and different way, we recommend a unique experience with the local company Spain Food Sherpas. Its qualified staff will accompany you on an hour and a half guided tour through the bustling aisles of this famous market, full of exquisite flavours and aromas. And, don't worry about the language barrier; they speak German, English and Spanish.
Hermanos Medina - Best for meat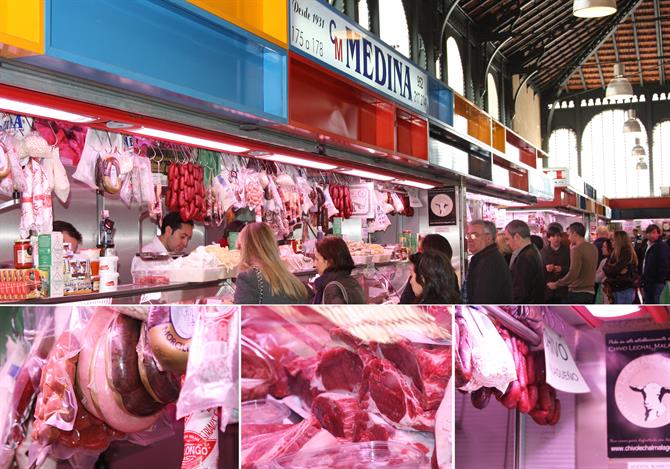 Hermanos Medina (the Medina brothers) stall is the place to buy meat. The family is now in its fourth generation to be working in the market. They have an extensive range of meats and some vegetables.
Their Iberian pork (cerdo ibérico), Malaga's suckling goat (chivo lechal malagueño - the only goat meat with its own Denomination of Quality), the sirloin lamb from Burgos (solomillo cordero lechal de Burgos), Galician beef (ternera gallega), and their homemade/elaborated hamburgers are all recommended.
If looking for a good cut of meat, the 'beef steak' from the Sierra de Madrid is another one of their specialities.
Stalls: nº 175 to 178
Calle Sagasta, on the corner of Plaza Ariola, first door on the left.
+34 952 217 274

Run by - Diego Medina
El Ruina - Best for Malaga prawns and crayfish
Upon entering the market from the main entrance, take a right and you'll come across stall 109. Home to the best prawns (gambas) and shellfish around. Run by another well known character in the market, Sergio is the son of Oscar "El Ruina," renowned for his all-penetrating voice and singing out his wares.
Prawns (gambas), mussels (mejillones), crayfish (cigalas), and various kinds of clams (coquinas) including the much-loved local 'almejas.'
Their locally sourced prawns and crayfish are in a class of their own.
Stalls nº 109 and 131
Entrance via calle Atarazanas
650 64 24 99
Run by - Sergio & Oscar
Frutas y Verduras Juani - Best for fruits and vegetables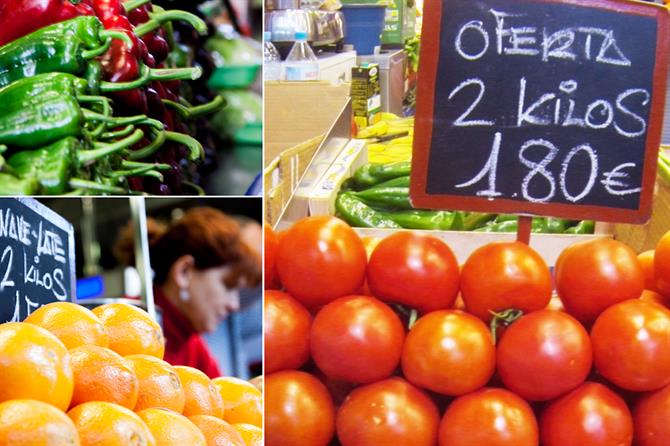 One of the largest and
most colourful stalls in the market
. Three stalls have been combined into one and are covered with every conceivable kind of fruit and vegetable. A blaze of colour and light.
The second generation of their family to be in the market, Juani and his wife provide fresh fruits and vegetables to many of the local bars and restaurants in the area. Their delivery service is well known and respected in culinary circles.
Apples, avocados, bananas, chirimoyas, cranberries, cherries, figs, lemons, mangoes, oranges, sweet bell peppers, squashes...you name it, they'll have it.
If your Spanish is up to it, orders can be made by phone.
Services:
Delivery service
Orders by phone
Stalls nº 61,62,63
+34 655 876 329
+34 952 213 944
Run by - Juan Nieto
Frutas y Verduras Ernesto - Best for mushrooms and truffles
Elena, Paco and Ernesto have continued the family tradition, being the third generation to work in the Atarazanas market. They supply many of Málaga's specialist shops, bars and restaurants. If you like mushrooms, this is the place to be. Offering all kinds of mushrooms, including black trumpets, boletus and homegrown amanitas. You can also buy black truffle, bearing in mind, of course, that it costs around 1400€ a kilo.
They also offer a hand-picked selection of exotic fruits and vegetables, with products from South America, Africa and seasonal (often organic) produce from Malaga. The bullsteak tomatoes (tomates de huevo de toro del terreno) when available are fantastic.
Stalls nº33,34,35,36,97 & 98
+34 660 283 311
Run by - Ernesto Sánchez
Pescado Belman - Best for tuna and salmon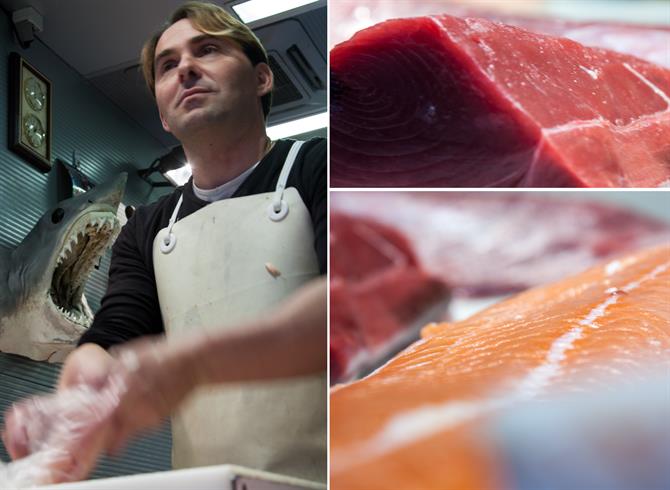 The smallish and discrete market stall specialises in fresh tuna fish (atún fresco), Mediterranean swordfish (pez espada del mediterráneo), wild Norwegian salmon (salmón salvaje de Noruega), Spanish hake (rosada nacional - known as 'nacional' despite being fished outside of Spanish waters) and shark from Cádiz (cazón de Cádiz).
From spring until summer, this is one of the only places to buy traditionally Almadraba-caught tuna from Zahara de los Atunes. A fishing method that was first developed by the Phoenicians and still practised in parts of the Costa de la Luz. A very popular stall with Malaga's cooking elite.
Stall nº 144
+34 952 213 129
+34 615 641 887
Run by - Javier and Roberto Belman Cruz
Mariscos La Pepa - Best for shellfish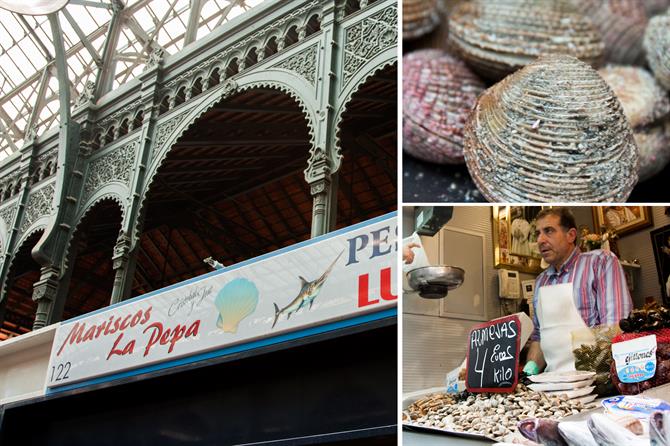 This stall was recommended by Carlos Caballero from the renowned La Rebaná restaurant in Malaga's city centre. A restaurant that has won numerous awards for its quality tapas and main courses. Freshness and quality of produce is of the essence.
Mariscos La Pepa, run by José Cristobal, specialises in fresh fish and seafood that has been caught in Malaga's bay area.
Stall nº 122
+34 696 980 121
Run by - José Cristóbal Ruiz
Services:
Orders by phone
ceitunas
Olives, olives galore. No holiday in Spain would be complete without them. And Aceitunas Roldan is the place to buy them. A stall with plenty of local history behind it and with a sister shop on Malaga's calle Carretería de Málaga that first opened its doors in 1967. Specialising in, you guessed it…..olives as well.
Be sure to try the Aloreña variety, the only one in the whole of Spain that has a Denomination of Origin. The olives are carefully selected and then seasoned in brine with garlic, thyme, fennel and pepper. Delicious.
Stall nº 82,83
+34 952 325 725
El Reloj - Best for Malaga almonds, salted cod and spices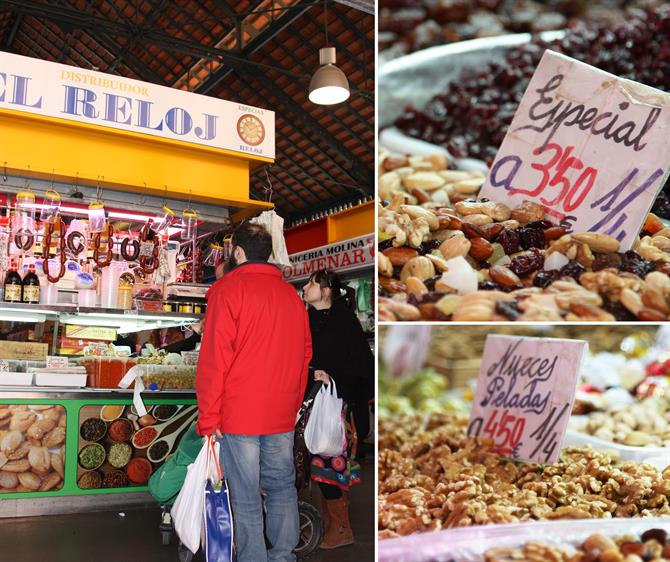 The family behind El Reloj (the watch) have various stalls throughout the market. Their biggest is in the meat section.
El Reloj specialising in all kinds of spices, sweets and dried fruits. They are renowned for their quality salted cod (bacalao).
Stall 252
+34 600 620 120
Run by - Jesús Cómitre
Services:
Orders by phone
Manuel Belman - Best for fish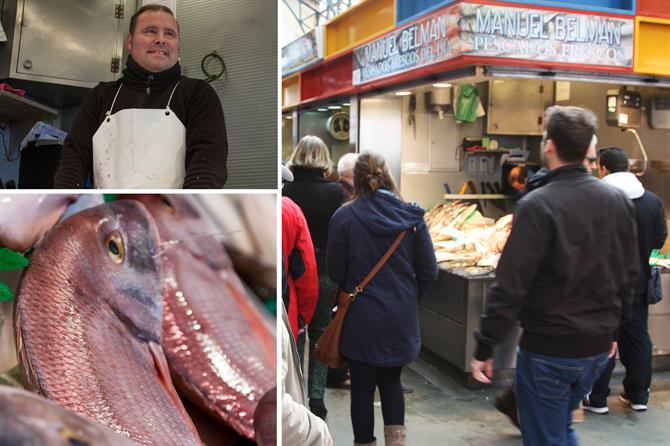 Right at the end of the market if entering through the main entrance you'll find the Belman brothers fish stall. Specialising in wild and freshly caught fish. Everything has been caught on the day.
The pre-cut pieces tend to be large making them ideal for salting or baking. Amid such variety, the highlights are the bream (doradas), sole (lenguados), sea bass (lubinas) or monkfish (rapes)
If looking for fresh and quality fish, you can't go wrong.
Stall 147
+34 658 554 737
Run by - Manuel Belman Gonzalez
Services:
Orders by phone
Hermanos Castro - Best for 'Almejas' white clams
With a privileged location it is almost impossible not to pass it by the Hermanos Castro (Castro brothers). They only sell clams from Isla Cristina and occasionally little bags of razor clams (navajas) that are snapped up quickly.
Stall 112
+34 670 604 715
Run by - Enrique and José Antonio
We hope this little guide will be of use to you the next time you visit this fantastic market.
How to get there - map