Marbella is renowned for being the playground of the rich and famous. Synonymous with glitz and glamour it has become one of the most notorious, luxury party destinations in the world.
Located on the Costa del Sol, Marbella is home to some of the best beach clubs in Spain. Perfect for those seeking a day of relaxation and sunbathing as well as those wanting to party through until sunrise,
staying in Marbella
is a clubbers paradise.
Nikki Beach
Carretera de Cádiz, Km. 192, 29600 Marbella, Málaga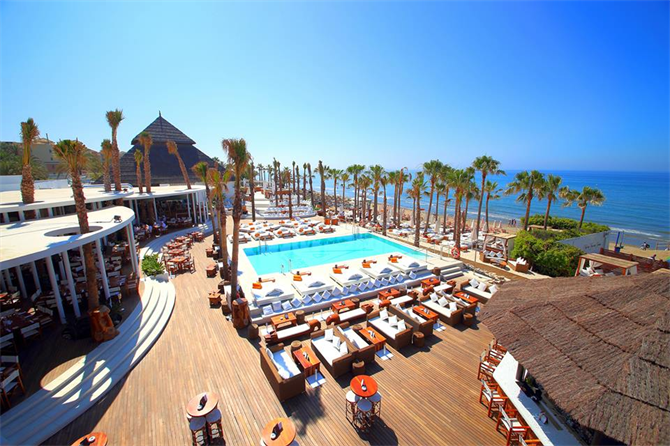 About The Beach Club
Located on one of Marbella's finest sandy beaches, Nikki Beach has an open-air restaurant, large pool and stylish sun loungers. The layout and sophisticated decoration of this beach club implies an ambiance of elegance and class.
Nikki Beach Marbella
offers the full VIP experience from sun loungers to the terrace alongside resident and world-class DJ's.
Opening at the end of April through until September, this club is famous for its themed parties and spectacular views of the Mediterranean.
How Much Will It Cost?
With the coolest crowds and hottest parties, it is free to get into Nikki Beach and once inside sunbeds can range from €50 to €100+. The globally designed menu is not cheap but there is a lot to choose from and is famous for its sushi and caviar selection.
'Nikki at night' starts with an initial entry fee and drinks are expensive. Many people choose to visit the beach club in groups, reserve a table with a bottle and split the cost.
What Is The Dress Code?
The dress code at Nikki beach depends on the day and time you go as well as the event you attend. In the day the style depicts a more relaxed beachy feel, with many guests lounging in swimwear. Flashes of diamonds, perfectly blow-dried hair and plenty of designer items will also be on display.
At night a strict, sophisticated dress code is enforced and men will not be allowed to enter in tank tops, as is the case at many of the Marbella beach clubs.
La Cabane
Calle Jabalí, 29603 Marbella, Málaga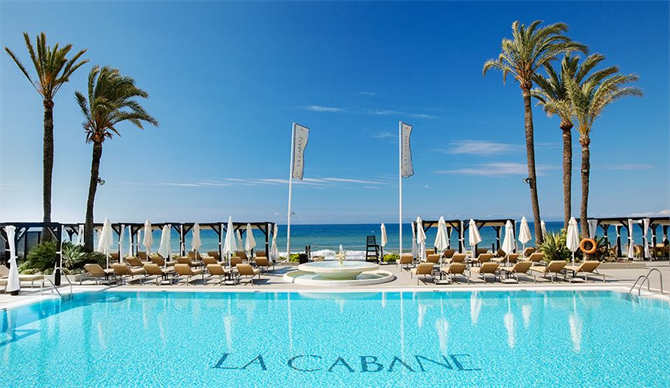 About The Beach Club
As the first top beach club in Marbella and on the Costa del Sol, La Cabane is one of the most elegant and exclusive destinations along this coastline. Set on the beach with panoramic views of the Mediterranean this beach club boasts royal clientele.
In April, May and October,
La Cabane
opens on a Friday, Saturday and Sunday. During the summer months, the beach club is open daily for an unforgettable day of luxury.
How Much Will It Cost?
Sun loungers with a parasol start from €35 per person which includes a fruit skewer and a personalised service. The VIP experience for two is €190 which includes a bottle of Champagne, fresh fruit, towels and a personal service.
The famous 'Grand Buffet La Cabane' is €88 per person, with more than 60 fresh fish products to choose from, they also serve paella and rice dishes cooked to your taste.
What Is The Dress Code?
The dress code at this Marbella beach club is glamorous and chic. With direct access to the beach and the option of hammocks and sunbeds, swimwear is perfect for sunbathing by the pool, but it may be more appropriate to wear a cover-up in the restaurant and at the buffet.
As one Marbella's most exclusive beach clubs expect to see flashing of Rolexes, impeccably preened guests and an abundance of designer brands.
Ocean Beach Club
Avda. Lola Flores, s/n, 29660 Marbella, Málaga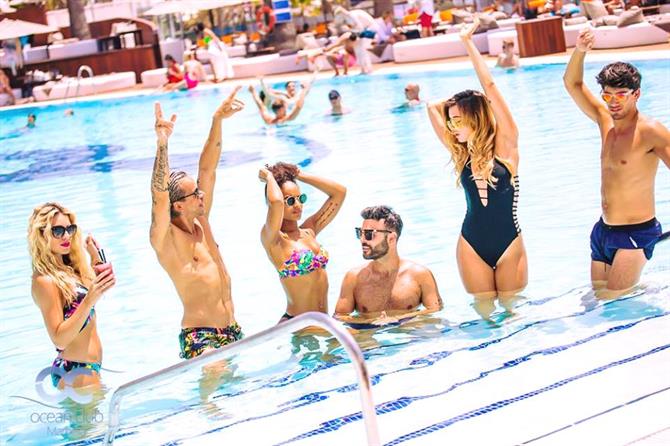 About The Beach Club
Located next to the Puerto Banús promenade,
Ocean Beach Marbella
is one of Europe's largest and best beach clubs, offering some of the best nightlife in Marbella. Synonymous with style and modern luxury, Ocean beach boasts a salt-water pool, large Bali-beds and panoramic views of the Mediterranean.
Relax in the sun with a highly accredited team of service professionals, listening to a mixture of soulful house and chill music. Renowned for their events, especially their pool and champagne parties, this club attracts famous clientele from across the globe.
Ocean club Marbella kicks off the party season at the end of April, with their white and silver opening party. They continue to provide a lavish and unique beach club experience throughout the summer until the end of September when they have their black and gold closing party.
How Much Will It Cost?
The budget option at this beach club will cost a minimum of €125 per person. For this price, you can enjoy a sunbed, attentive service and a few drinks. Prices differ between high season and low season and entry into one of the world famous champagne parties prices start from €110 per person.
With an extensive menu, Amai by OC offers some of the best national cuisine from the Costa del Sol. Prices for a sandwich start from €24 and the menu is not cheap, however, Amai provides a fine dining experience overlooking the sea.
What Is The Dress Code?
Located next to the designer boutiques on
Puerto Banús
there will be no shortage of people displaying their love for high-end brands. Men are required to wear tops on admission as well as when they are leaving the venue, with football shirts being strictly prohibited. All guests must also wear appropriate footwear.
Amàre Beach
Paseo Alfonso Cañas Nogueras, 29603 Marbella, Málaga
About The Beach Club
Located on the beachfront near the old town of Marbella, Amàre Beach Club is the ideal chill-out destination for an afternoon and evening in the sun. This venue has a reputation for being one of the most tasteful and nicest beach clubs in Marbella. As an adult-only venue, set on a private beach, enjoy the classic combination of sun, sea, sand and champagne.
The wooden decking, music and flavours are synonymous with a more relaxed beach vibe. Enjoy sunbathing by the pool with a personal waiter service and Jacuzzi, in a sophisticated and tranquil beach club setting.
Am
àre Beach
hosts
some of the best events, shows and performers
on the Costa del Sol.
How Much Will It Cost?
Amàre Beach has been rated as being the best value for money compared to the other best beach clubs in Marbella. Enjoy a selection of healthy and fresh Mediterranean cuisine on the shoreline.
What Is The Dress Code?
Amàre beach club encourages guests to immerse themselves in the 'Amàre mood', expect to see loungers in designer swimwear and classy kaftans, the essence of poolside glamour.
La Sala By The Sea
Av José Banús, 29660 Marbella, Málaga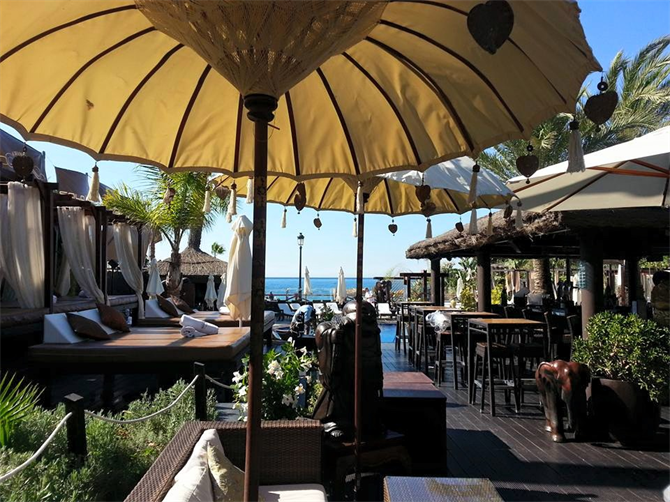 About The Beach Club
La Sala by the Sea
is located on the sandy beach of Puerto Banús. Relax under the warm sun in this cool, stylish and luxurious beach club in Marbella. Inspired by Thailand, enjoy Thai cuisine, take a dip in the pool, or sip a cocktail in the hot tub. During the weekends the beach club has a livelier scene with top DJs playing throughout the day.
This club hosts weekly events from Fruitilicious Thursdays to Sunkissed Sundays and is also famous for various parties throughout the year, such as the white and gold party and the Kiss FM pool party. Enjoy waiter service to your lounger by the pool, or go VIP with a private rock pool and large cabana beds with a spectacular view of the Mediterranean.
How Much Will It Cost?
Entry into this top Marbella beach club is free but you must rent a sunbed to use the pool. Unwind by the pool with sunbeds starting from €40 for a single bed per person, this includes a towel, fruit and water. Stay in
budget accommodation in Marbella
so you can splash out on a 'Cama Cabana' for €275 and enjoy lounging in the sun on a four-poster bed.
From fresh seafood and sushi to Thai cuisine, food prices start from €14.50 for a starter or devour a steak for €34.
What Is The Dress Code?
Also located next to the glamorous boutiques of Puerto Banús, many guests will be clad in designer clothes, a style synonymous with the beach clubs in Marbella. With a slightly bohemian vibe, relax in swimwear and enjoy dining in a colourful cover-up.
Funky Buddha Beach
Autovía del Mediterráneo, 2, 29603 Marbella, Málaga
About The Beach Club
Opening its doors in March, you can enjoy the Funky Buddha beach club experience up until September. Known for its young and lively vibe, this club is a popular Marbella landmark.
Home to a more raucous scene, Funky Buddha hosts a number of pool parties throughout the summer. Enjoy relaxing in the sun by day, and join in with the ultimate party scene by night featuring music by some of the best international DJs.
How Much Will It Cost?
The price list for summer at this Marbella beach club is still to be confirmed.
What Is The Dress Code?
Attracting a younger crowd, Funky Buddha is one of the top beach clubs in Marbella for groups of boys and girls. Expect to see an array of swimwear and poolside fashion with a mix of high street and designer brands. By night the venue transforms into one of the best nightclubs in Marbella, with a sea of sequins, sparkles and metallic outfits.
Puro Beach
Km 159, Autovía del Mediterráneo, 29680 Estepona, Málaga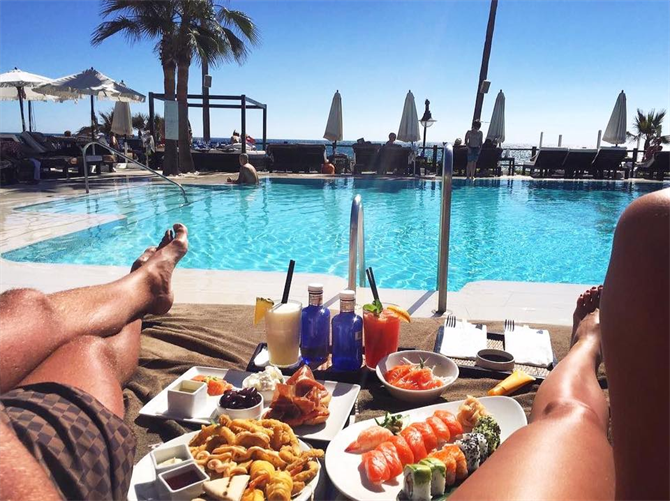 About The Beach Club
Located slightly further down the coast in Laguna Village and closer to Estepona, is one of the best beach clubs on the Costa del Sol, Puro Beach. Relax by the sea in a hammock, with impressive views of Gibraltar and the Atlas mountains of Morocco. This Marbella beach club offers a refined setting with an elegant white finish and is a popular wedding venue.
Puro Beach is open all year, with the exception of Mondays and Tuesdays from November through to March. In the summer season, Puro Beach is famous among the nightlife in Marbella and also opens its doors for visitors to party through the night, with famous house DJs frequenting the decks.
How Much Will It Cost?
Serving food from the morning, enjoy a selection of healthy Mediterranean cuisine. This beach club also has a creative Japanese inspired menu. Enjoy dining in the scenic poolside restaurant with menu prices start from €11 for a salad and cocktails for €14.
What Is The Dress Code?
The dress code for this Marbella beach club connotes a more sophisticated and classy vibe. Attracting an array of clientele, soak up the sun with relaxed poolside fashion and by night dress to impress.
Beach Club Estrella Del Mar
Carretera 340 km 190, 7 Urbanización Estrella del Mar, desvío Urbanización Golden Beach, 29604 Marbella, Málaga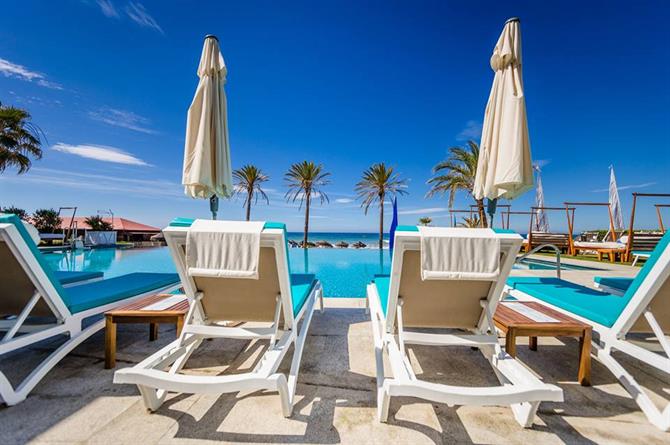 About The Beach Club
Open all year round, Estrella del Mar is the perfect beach club to soak up the Mediterranean sun, lounging on a Bali bed next to one of the
best beaches in Marbella
. With a stunning infinity pool and attentive staff, enjoy a luxury beach club experience.
With a more chilled out beach club vibe, Estrella del Mar is not for those seeking the wilder party scene that can be found in some of the other beach clubs in Marbella. It is also a popular venue for weddings and offers relaxation treatments in its wellness spa. Reside here during the day, then retire to your
luxury villa in Marbella
by night.
How Much Will It Cost?
The luxury Bali beds looking out over the Mediterranean start from €100 for half a day, where you will be spoilt with an exclusive service and champagne. Prices of sunbeds vary depending on the season and where they are positioned in the beach club, starting from €25 next to the pool.
Estrella del Mar menu prices start from €12 for a starter. Enjoy the flavours of the Mediterranean with a traditional seafood paella for €27 in a tranquil beach club setting.
What Is The Dress Code?
Estrella del Mar boasts many beach club members. They enjoy a sophisticated environment and you will see a range of chic poolside loungewear, with a sprinkling of shiny accessories and designer attire.
There is a reason why the rich and famous have crowned Marbella as the party destination on the Costa del Sol. With some of the worlds best beach clubs in Marbella, whether you seek a day relaxing by the pool, soaking up the Meditteranean sun or a lively poolside party with world famous DJ's, look no further than Marbella for
the ultimate beach club experience.