Marbella is one of Spain's most popular destinations, its appeal is easy to understand. It's also a beach lover's paradise. There are a staggering 23 beaches along its 27 km of coastline, home to some of the best beaches on the Costa del Sol.
Over the years, Marbella's beaches have been awarded the most blue flags in Andalucia for their cleanliness, quality and preservation of the natural surroundings. No other coastal town in the province of Andalucia has more, although Marbella now shares its first place position with Roquetas de Mar (Almería) and Rota (Cádiz).
The best beaches in Marbella
What makes Marbella's beaches so special? Blue flags aside - what are the best beaches to visit when renting a holiday villa in Marbella? Everyone has their favourites, here are ten of ours.
For convenience purposes, the beaches have been listed by the ones that are east of Marbella's city centre, followed by the ones that are west of the centre.
All the beaches fall within a 20kms radius from Marbella's centre.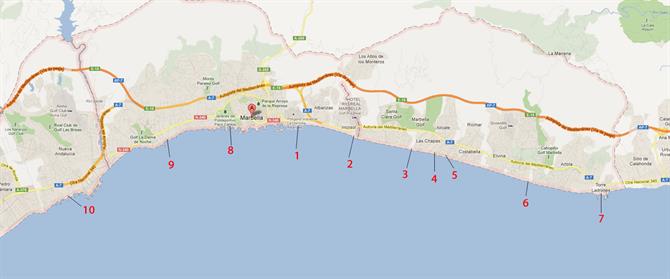 1. Bounty Beach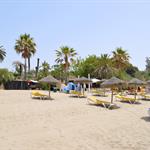 One of the youngest and coolest places to be on the Costa del Sol.
If you are looking for a good beach near the centre of Marbella, chilled out music, a relaxed atmosphere and reasonable prices - look no further. Bounty beach is actually the name of the beach bar - the beach itself is officially known as Playa del Cable. You can rent sun-loungers, pedalos and canoes from the bar. There are also showers and public toilets. Bounty beach is popular with volleyball players and people looking to practice water sports.
See here for more information on Playa del Cable and Bounty beach Marbella.
2. Playa de Rio Real
Five minutes away from Bounty beach you have the beautiful Playa de Rio Real.
Situated right at the beginning of Los Monteros and part of the same extension of the beach as Alicate and Costabella. It's another fantastic beach right on Marbella's doorstep. The beach is home to Marbella's only windsurf club - windsurf Marbella, where you can rent all kinds of boards and have lessons. There are also parasols, sun-loungers, jet skis to banana boats to rent.
See here for more information on Rio Real beach.
3. Playa de Alicate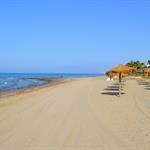 Playa de Alicate is one of Marbella's most popular beaches.
Long, sandy stretches with all the amenities you could hope for. Alicate beach is a popular choice for residents and holidaymakers alike, with plenty of beach bars, restaurants, a beach club, showers, toilets, parasols and sun loungers. Classified as 'medium occupancy,' even in the height of the summer it doesn't get as busy as some of the more urban beaches if you're looking for more privacy.
See here for more information on Alicate beach.
4. Playa Hermosa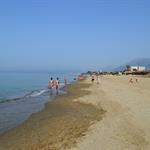 Heading east for a couple of kilometres - just off the El Rosario exit you have a beach that really lives up to its name - Playa Hermosa. A beautiful spot and less than 15 minutes from the centre of Marbella.
The water is clean and very shallow, making the beach very child friendly. There are plenty of restaurants, beach bars, showers, toilets, parasols and sun loungers. You can also rent pedalos and canoes from several locations nearby.
See here for more information on Hermosa beach.
5. Playa Real de Zaragoza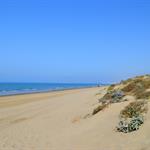 Playa Real de Zaragoza is quite simply a gem. With Fine, golden sand, clean waters and some fantastic chiringuitos - what more could you ask for?
It is one of the largest beaches in the area so even in the height of summer you may be lucky enough to find a quiet part of the beach to yourself. There are plenty of beach bars, restaurants, showers, bins and toilets. Parasols and sun-loungers can be rented from various places along the beach.
See here for more information on Real de Zaragoza beach.
6. Nikki Beach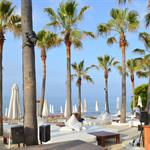 Nikki beach needs very little introduction, known throughout the world for its prestige, parties, high rollers, Champagne, sunsets and beach parties.
Situated on a beautiful stretch of beach it is adjacent to the Don Carlos Hotel and part of the stretch of that makes up Playa Real de Zaragoza, you couldn't hope for a more beautiful setting. Renting a sun-lounger here cost upwards of 50€ for the day. But you will enjoy the open-air restaurant, large pool and Dj's playing chilled tunes.
See here for more information on Nikki beach.
7. Cabopino Beach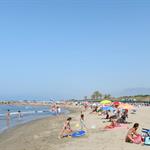 An increasingly popular place to be and understandably so with exceptionally clean water, long sandy beaches and plenty of amenities to keep the whole family entertained.
Cabopino beach borders the picturesque Cabopino port and the protected Las Dunas de Artola natural park - you couldn't hope for a better place to spend the day.
See here for more information on Cabopino beach.
8. Playa Fontanilla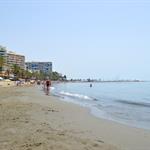 The nicest of Marbella's inner city beaches, Playa de la Fontanilla is within easy walking distance from the centre of Marbella and is a popular destination for those looking to soak up some Spanish sun.
The beach has everything on its doorstep. Plenty of bars, restaurants and activities. Public amenities include showers, toilets and lifeguards. The newly constructed Paseo marítimo - promenade - also has a number of kiosks, bars and restaurants.
See here for more information on Fontanilla beach.
9. Playa Nagüeles
They don't come much more exclusive than Playa Nagüeles, situated on Marbella's Golden Mile, Playa de Nagueles is somewhere that needs to be seen.
With clear waters, clean sandy beaches, the surrounding area offers all the amenities, from luxury yacht rentals to parasols. Eating can be expensive in this area. There are, however, numerous kiosks along the Paseo Maritimo that offer a cheaper alternative for snacks and water. One popular activity is cycling along the promenade, many of the bar/restaurants offer bike rentals.
See here for more information on Nagüeles beach.


10. Playa de Nueva Andalucia
Starting from Puerto Banus's exclusive Marina and heading west are the beaches of Nueva Andalucia.
Offering a very different feel than the ones closer to Marbella. They are most definitely high on anyone's 'best beach' list. A popular urban beach it offers all amenities. There are numerous bars, restaurants and chiringuitos. Sunbeds, parasols and all watersports are catered for. Holiday water-sports is the place to stop for your sporting activities.
See here for more information on Nueva Andalucia's beach.
We would like to thank our home-owners and friends who helped us compile this 'Top ten beaches in Marbella list' - in particular Marbella Family Fun - without your help and insider tips, this list would not have been possible.
Suggested reading for you: