Menorca has plenty of beautiful, pristine beaches which are often hard to reach. More often than not one will have to walk at least half an hour to get there. This would put off a lot parents with young children, and who would blame them?
However, Menorca can be the perfect destination for a family holiday. Although a lot of the island's beaches are indeed for those people who like to wander, walk and discover secret beaches, there are also quite a lot of beaches that are perfect for families with children.
Here is our selection of seven beaches that will make your next family holiday unforgettable!
1. Cala Galdana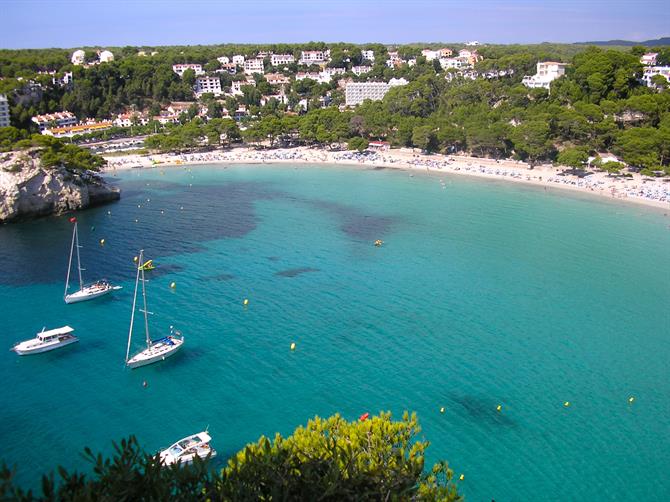 Ten kilometres from Ferreries you can find Cala Galdana: a little corner of paradise on the south coast of Menorca.
Despite the hotel built right at the beach (the unfortunate result of the lack of zoning laws in the 60s), this beach is a favourite among the visitors as well as the islanders. If you really want to appreciate its beauty, climb the Mirador de Sa Punta. You can reach it by car before you go to enjoy the beach itself: when coming from Ferreries, turn left at the roundabout before the bridge. You will not regret it.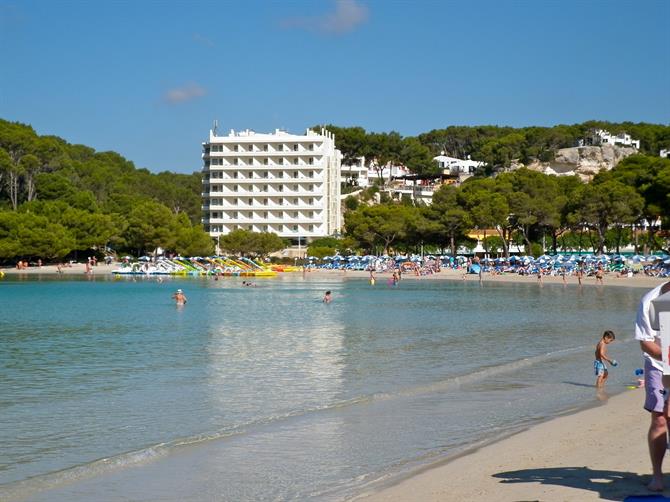 There are various things that make this beach an ideal choice for families. The services - restaurants, bars, shops, boat and kayak rentals - are excellent, and the beach itself is very wide: there is enough room to play!
The cove does not get any large waves and its water is warm, making it look like a large swimming pool. The pine forest provides shelter from the summer sun, and children have many possibilities for entertainment. They can go and watch the ducklings and goslings play in the creek, have fun on the water slides, or play mini golf at the restaurant Tobogán. Every evening there are dance activities for children at the shopping centre, and the Hotel Cala Galdana offers free children's animation as well.
2. Son Bou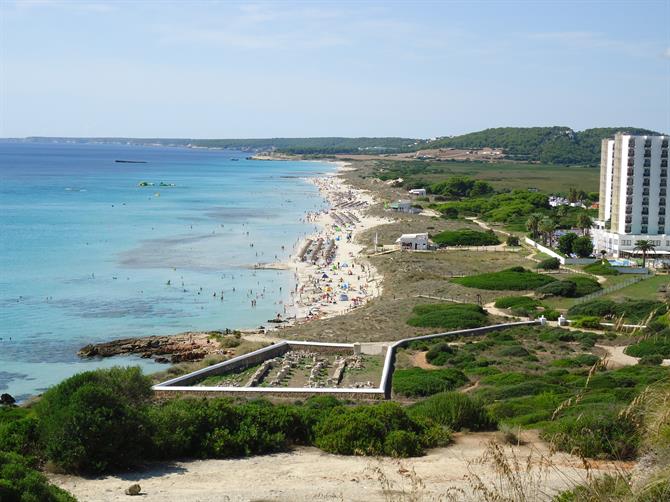 Son Bou beach is located on the south coast of Menorca. It is the island's longest beach, and with 2.5 kilometres of fine white sand it is also an oddity since most Southern beaches are small sandy coves between rocky cliffs.
Only a third of the beach is occupied by the hotel, the rest is unspoiled nature. So, if you are a more adventurous family and don't like to see the sun beds you can hire, the bars and the restaurants of the urbanisation, just walk a little bit to the west. Otherwise you can stay in the urbanised part which is very close to the (free!) carpark.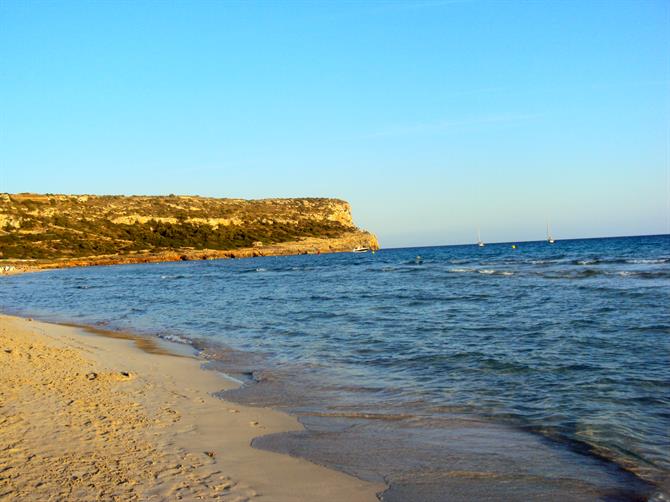 Younger children will love the play-farm next to the hotel and the 'Paleolithic' village, both on the eastern part of the beach. Older children can have fun on the large inflatable slides in the sea!
If your children are interested in culture, history or archaeology, take them to the east end of the beach where you can find the remains of the Christian basilica of Son Bou (5th century A.D.), which is a silent witness of the African and oriental influences that can be found on the island.
3. Punta Prima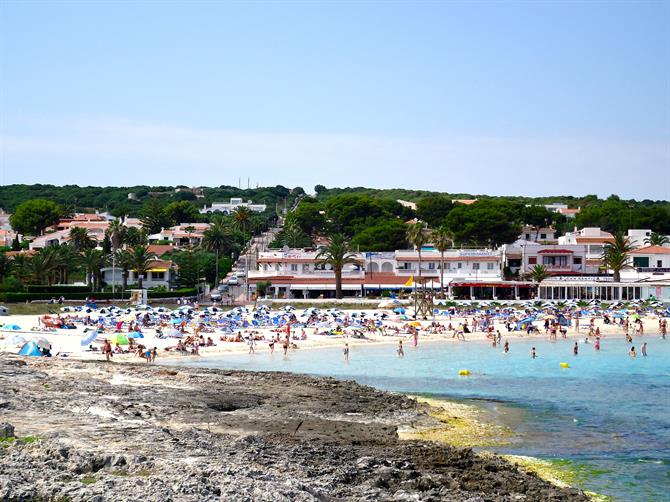 Punta Prima, a few kilometres from San Lluis, boasts incredibly blue waters. It is a favourite among local families because there a rarely any waves, the water isn't that deep and it's free of big rocks. You can park for free next to the beach and there all kinds of services like bars, restaurants, kayak rentals and pedal boat rentals.
In case your kids get tired of the beach, they can have plenty of fun at the island's newest water park, Splash Sur Menorca, at one kilometre from Punta Prima!
4. Santo Tomas
Santo Tomas will certainly ring bell for families with children that have been to Menorca already. This beach at 11 kilometres of Ferreries is wide and long. You can rent sun beds and umbrellas, you can park your car close to the beach and there are even walkways that are easily accessible with pushchairs. The water is among the cleanest of the island, even in high season, and it is not deep for many metres beyond the shore.
Because it is close to an urbanisation, Santo Tomas offers an endless choice of restaurants, bars and shops.
5. Es Grau
The Es Grau is beach is loved among the locals, who spend many lazy Sundays enjoying the sun and sea there. At just a few kilometres from Mahon, Es Grau is a white sandy beach with all types of services like bars, restaurants and water sports.
To get there you can take the Mahon-Fornells road and then divert to Es Grau. Shortly before reaching the beach you will pass the entrance of the Albufera Natural Park, a great attraction for children and any aspiring ornithologists.
6. Cala Algaiarens (or La Vall)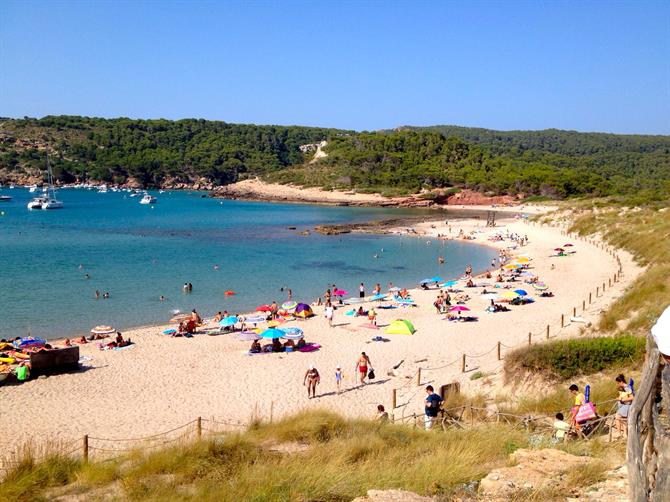 La Vall is one a few beaches in the north of Menorca that are kid-friendly. It is a favourite among the locals for many reasons: it's just a 10-minute drive from Ciutadella, you can park only five minutes away and it is a beautiful virgin beach with reddish sand and transparent waters. Despite all of this, it is never crowded. Children will have a lot of fun playing in one of the two bays, and they can do so safely, because there are almost no currents at La Vall.
In high season you can buy snacks and drinks from street vendor, but we recommend that you bring water, food and an umbrella, because there is only a kayak rental and a coast guard. And don't forget to bring your goggles and flippers, because this is a Marine Reserve area. You will certainly see some very interesting marine life!
7. Cala'n Bosch and Son Xoriguer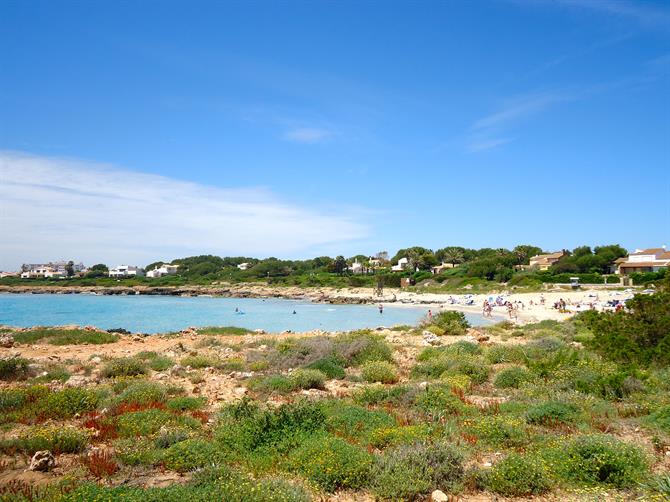 The resort of Cala'n Bosch, eight kilometres from Ciutadella, is another great option for a family holiday.
Both Cala'n Bosch and Son Xoriguer are coves and offer various types of services. If you want something else than beach side restaurants and bars, take a stroll through the heart of the marina and you will find everything from pizzerias to steak houses, creperies, bars, ice cream shops, boutiques and street vendors with colourful balloons that will certainly distract the little ones.
The sand of the coves is fine and white, and there is a coast guard as well as umbrella and sun bed rentals.
For an alternative outing, you can have fun on all sorts of slides at the water park Aquarock or race your children at Kartingrock, at only one kilometre of the beach.
Map: The best kid-friendly beaches of Menorca
Are you planning a holiday in Menorca? We offer beautiful and comfortable holiday homes on the island