According to many Spaniards, Menorca is the most authentic of the Balearic Islands. Together with Formentera, it is also the least visited.
Since 1993, Menorca has been a protected UNESCO Biosphere Reserve. It truly is a different world, full of calas (beach coves) and crystal clear turquoise waters. A total paradise.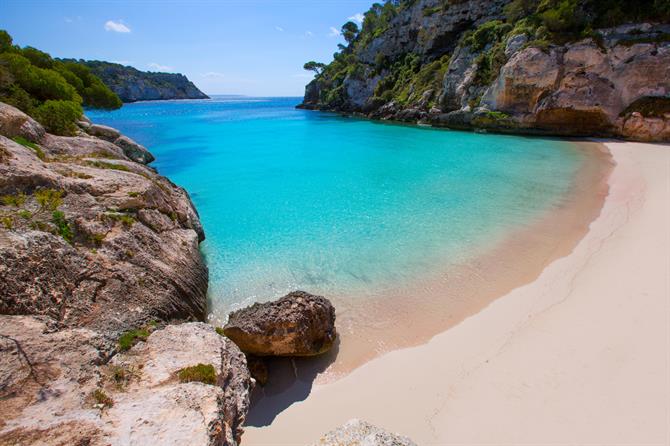 Beach hopping
Although Menorca is the smaller sister island of Mallorca, it has more beaches. There are nearly 700 square kilometres of beach on the island and 216 kilometres of coastline; lots of options to set up a new tanning spot every day during your stay in one of the villas in Menorca.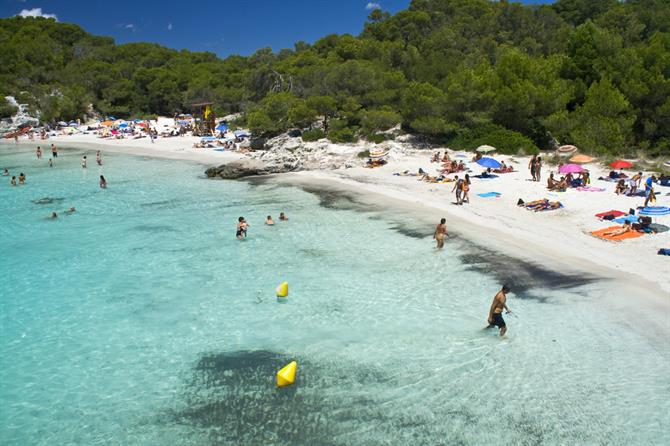 If you want to tour the beaches, the best way to go about it would be by car (you can rent one for just under 200 euros per week). There are also many hidden or protected beaches that are only accessible by foot or from the sea, which means walking a little after parking and also explains why so many boats and yachts can be found anchored nearby various coves.
When visiting many of the following beaches, you will need to bring your own drinking water and picnic food. There is often not even any bins on these natural beaches, which means you'll need to take your rubbish away with you.
300 days of sunshine per year
On average there are about 300 days of sunshine per year and up to 12 hours of sunshine a day in the summertime. Spring and autumn are also excellent times to visit the island, and you'll be sure to enjoy the best beaches in Menorca without the summer crowds.
Here's our guide to some of the best beaches in Menorca:
The southern part of the island has lush green vegetation on limestone grounds, with ravines that run across the white sand beaches to turquoise waters. In the northern part of the island, Menorca has a rugged, rocky coastline with little vegetation.
Starting with the southern side of the island, there are some spectacular beaches. Between the rock formations and Mediterranean cliffs, there are countless bays with crystal clear water straight out of a travel magazine.
Cala Turqueta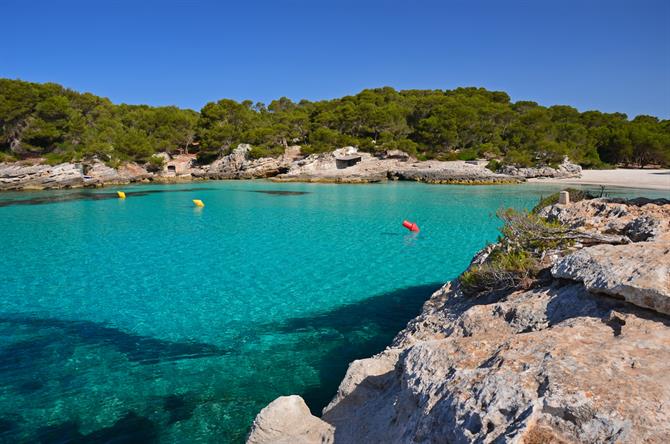 Cala Turqueta is one of Menorca's most famous beaches. Head towards Mahon to get there and you'll find it about ten kilometres south of Ciutadella. Because this beach is so small and quite popular, it's best to go early in the morning to find a parking spot nearby. Once you're parked, it's about a ten-minute walk away.
Although this cove is practically untouched, there are bathrooms and lifeguards. There is also a chiringuito beach bar next to the car park.
Cala Macarella and Cala Macarelleta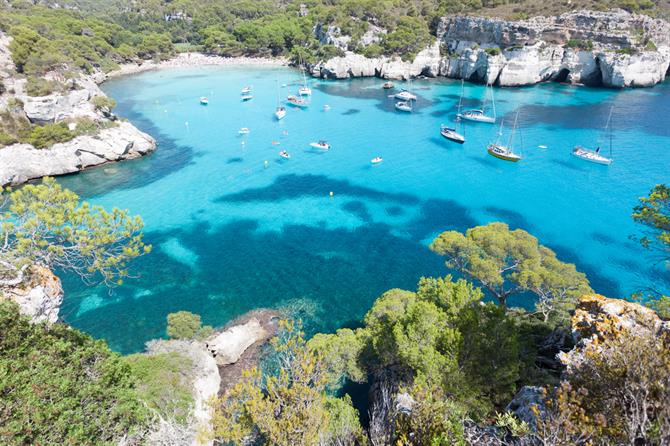 Cala Macarella is one of the island's most famous Menorca beaches, which also includes the more secluded Cala Macarelleta. This bay is located next to Cala Turqueta, above, and you can park a 15-minute walk away or pay for a closer spot with only a 5-minute walk.
The beaches of Cala Macarella and Cala Macarelleta are connected by a trail with amazing views. Definitely bring a camera, and a good pair of shoes wouldn't hurt either. Flip-flops don't make life so easy on this trail!
Cala Mitjana and Cala Mitjaneta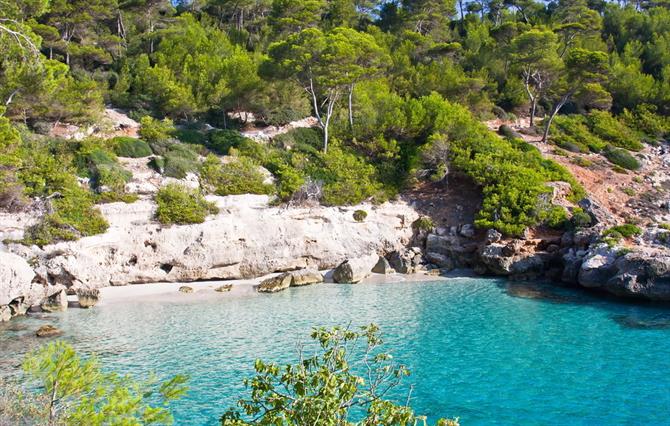 White sand, clear water, picturesque cliffs and forest in the background. Cala Mitjana and Cala Mitjaneta shouldn't be missed.
To get there, drive along the road to Cala Galdana (the main beach next to Cala Mitjana that is known for water sports), park and walk through the Mediterranean forest towards the sea. There is also a small paid parking closer by, but it can get very busy.
Both beaches are just metres from each other, so swimming back and forth between the two is possible. You can also use the dirt road that connects them and take in the view of the two pristine bays. There are no restaurants or shops on these beaches, so you'll need to bring your beach supplies with you.
Cala Trebaluger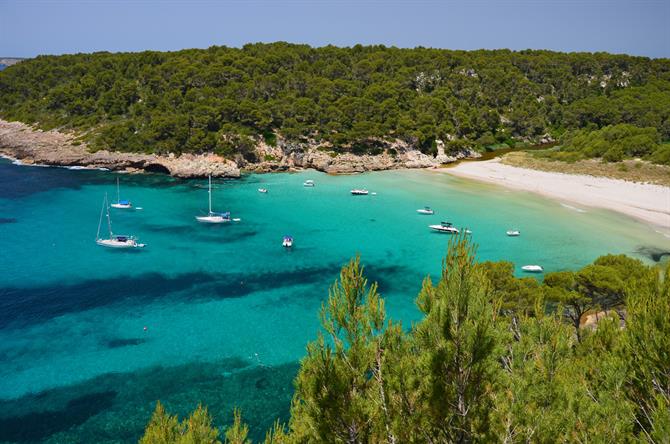 Cala Trebaluger is within walking distance of Cala Mitjana, along a pleasant path through the forest. You'll have to bring your own food and drinks here too because there are no facilities at this natural beach.
As with Cala Macarella, there are many who like to anchor their boats here for the day. This is one of the most popular nudist beaches in Menorca.
Cala Binidalí
Cala Binidalí is a small cove near a village that goes by the same name, nine kilometres from Mahon. The beach is characterised by fine sand, clear blue water and a beautiful natural environment.

A little further away is the village of Sant Climent, perfect for discovering a couple of restaurants after a day at the beach. The atmosphere is quiet and relaxed.
Son Bou
If you like a beach with great amenities, then Son Bou is perfect for you. At 20 kilometres from Mahon and 40 kilometres from Ciutadella, it is the longest of Menorca's beaches, stretching almost four kilometres. This beach is ideal for a family with children, and it has many amenities, including water sports.
Cala Pregonda, Cala Cavallería and Cala del Pilar
Welcome to the north of the island. Among the beaches of this area, some of the most famous are Cala Pregonda, Cala Cavallería and Cala del Pilar, which all have a red glow to them.
To get to these beaches, you need to do quite a bit of walking after parking. The path to the sea runs through a unique natural landscape, and the beaches are quiet and shielded.
Cala Tortuga and Cala Presili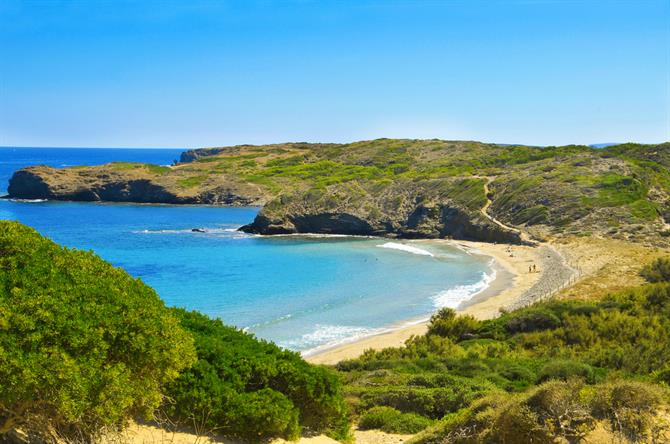 The fine white sand of Cala Tortuga is an exception towards the north of the island. It lies in a cove located in Grau Albufera Natural Park, a marsh on the east coast and home to many bird species.

The park is located along the Mahon-Fornells road. Take the exit towards Cape Favaritx and, once you have reached the lighthouse, you can park the car along the road and follow the trails through the park to Cala Tortuga.
Enveloped in a silence broken only by the sound of the waves, the crystal waters, tranquillity, and beauty of the landscapes are unlike anything else.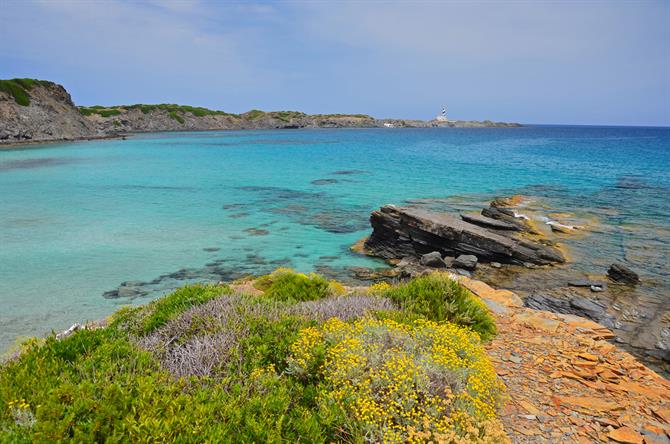 Above is Cala Presili, one of the most famous nudist beaches in Menorca. Looking across you'll see Favartix, a distant lighthouse.
Cala Sa Mesquida
The beach of Sa Mesquida is located about 10 kilometres north of Mahon, the capital, where the main port of the island is located. Cala Sa Mesquida is one of the favourite beaches among local residents, especially on the weekends.
Free parking is 100 metres from the beach, and there are lifeguards and a small kiosk where you can buy drinks and ice cream.
Suggested reading for you: